Analyze subject line performance
What will this help with
Improve open rates

Save hours writing new subject lines
How to analyze subject lines?
Note down the subject lines of the past 10-15 campaigns and their respective open rates. Pick only campaigns that have more than 2% open rates.
💡 Note We have 2% open rate as a cutoff as open rates below 2% can also result from bad deliverability instead of just bad subject lines.
Analyze the campaigns to understand any anomaly or trend that might have caused a spike in open rates. Remove any such spiked campaigns from your analysis,
For example, an email with a good subject line on a weekend/holiday would have less engagement when compared to weekdays.
From this list, pick the 5 subject lines that got the most open rates. Mark why they worked under one of these headers-
Humor

Emotions

Outcomes

Urgency
Come up with a list of the best-performing subject lines. Now you will know what your audience prefers.

Keep this list handy for inspiration while creating your next campaign.
💡 Note The best strategy is to always test your subject lines before using them. You can always plan A/B tests and vetting with your colleagues. We also want to clarify that the above doesn't mean you shouldn't try out new ideas, tonality, or expressions in the subject line.
How to A/B test subject lines in Mailmodo
In Mailmodo, when you run an A/B test on subject lines, you can choose the contact percentage for each subject line and auto-send the winner to the rest of the audience. Here's how you can do this.
After selecting the template and entering campaign details, to begin creating your A/B test campaign, click Create A/B test on the right.

Select the A/B test option of subject lines and enter the different variations you have created.

Select the segments/lists for your campaign and move to the next step to configure.

Configure the sample size of your contacts that will receive your A/B tests, the winning criteria, and the time your A/B test should run before automatically deciding the winner.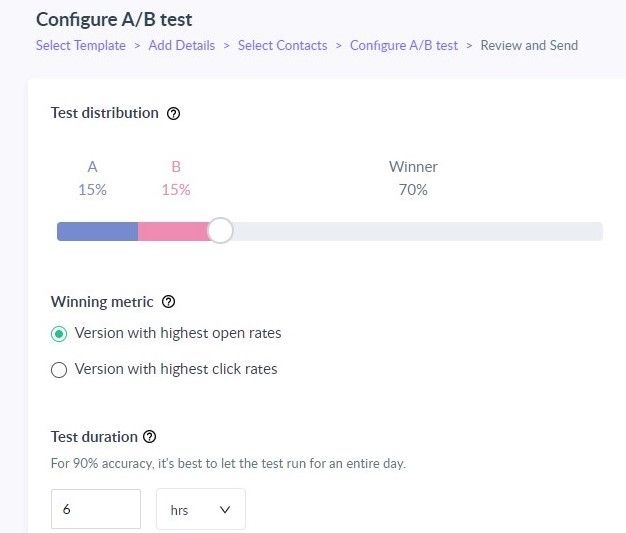 💡 Note
Mailmodo also shows the best-performing subject line from recent campaigns exactly when you enter the subject line for the campaign. So you can pick one and use that in your upcoming campaign.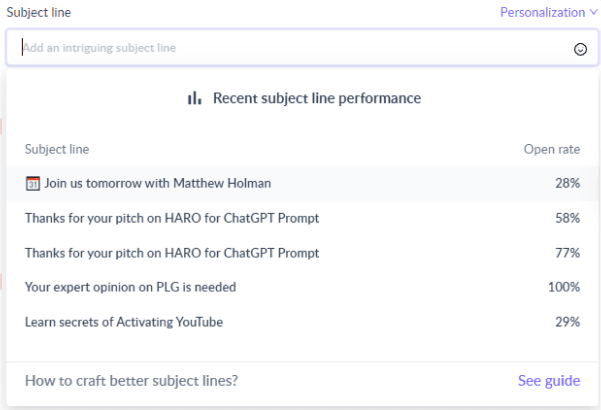 What you should do next
Hey there, thanks for reading till the end. What now?
Complete the task with Mailmodo Take action and complete the task to improve your email performance using Mailmodo. Try it for free for 21 days.

Join the challenge If you want to get daily emails with actionable tasks with step-by-step instructions to stay motivated to improve your email performance then register for the the challenge here.

Need some help? If you have any questions about the task, ask us on our Slack community and get answers from experts. Join the community here.
Complete the tasks and improve your email performance using Mailmodo
Take the 21 Day Email Performance Challenge
In association with
Samar Owais
Email Strategist and
Conversion Copywriter