Improve your email footer
What will this help with?
Boost the credibility of your emails and brand.

Reduce spam reports with a proper opt-out option.
How to improve your email footer
Here is a list of things you can add to your email footer to make it better.
🌟 Must haves
1. Opt-out option: Ensure you include a way for people to opt-out with the unsubscribe or preference center.
2. Contact information: Add your address and details of your privacy policies as they establish credibility and comply with legal requirements.
🌟️ Good to have
1. Brand logo: Including the logo and motto helps with brand awareness and recall.
2. Social media buttons: Adding these to your email footer is a great way to drive traffic to your social media.
3. CTA: Adding a CTA can be great to retain people's attention and direct readers to install your app or sign up on your platform.
How to add a footer in Mailmodo?
Edit the template where you want to add a footer. In the editor, click on '+' to add a block. Select 'Pre-made blocks.' Next, choose footers under the pre-made blocks.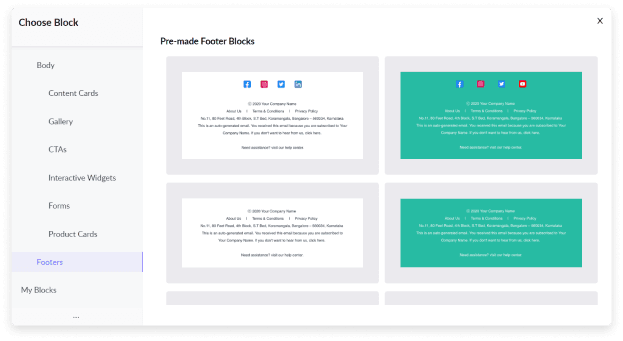 Choose a footer that fulfils all your requirements. You can even customize the footer by adding more elements, updating links and addresses, changing colors, etc.

Once you have created your ideal email footer, you can save and use the block in all your templates. Learn how to save and reuse a block.
What you should do next
Hey there, thanks for reading till the end. What now?
Complete the task with Mailmodo Take action and complete the task to improve your email performance using Mailmodo. Try it for free for 21 days.

Join the challenge If you want to get daily emails with actionable tasks with step-by-step instructions to stay motivated to improve your email performance then register for the the challenge here.

Need some help? If you have any questions about the task, ask us on our Slack community and get answers from experts. Join the community here.
Complete the tasks and improve your email performance using Mailmodo
Take the 21 Day Email Performance Challenge
In association with
Samar Owais
Email Strategist and
Conversion Copywriter