Optimize your CTAs to get more clicks
What will this help with?
Increase clicks and engagement

Boost conversion rate
How to optimize your CTA?
Use specific CTAs action words like Get, Start, and Join instead of generic ones.
Example: "Get the ebook" would work better than "Know More" if the end goal is downloading the ebook.
Make sure your CTA button is readable. Use contrasting background and text color for better readability.

Make sure your CTA appears clearly at first glance. This increases the probability of the user clicking on the CTA button.

Track which CTAs performed the best using your campaign data.
Mailmodo makes it easier to analyze the CTA copy and placement that has worked best in your previous campaigns.
How to optimize your CTA in Mailmodo?
⚡ Measuring and optimizing CTA is difficult. Mailmodo's Click Map allows you to understand the impact of your CTAs design, copy, and position visually and to fix or optimize the email for the best one. To access Click Maps for a sent template in Mailmodo, follow the below steps.
On your individual campaign dashboard, click on "Click Maps"

You can use this data to improve the copy, design, and placement of your CTAs for future campaigns. Here's a click map of one of our campaigns 👇.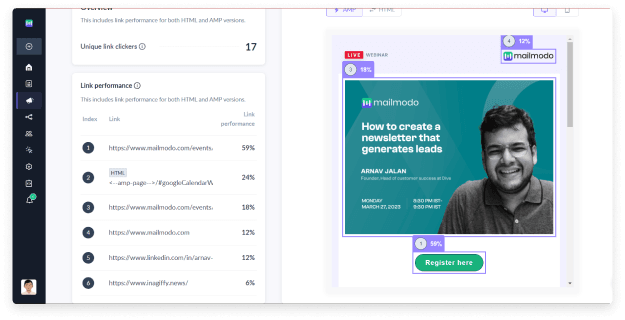 What you should do next
Hey there, thanks for reading till the end. What now?
Complete the task with Mailmodo Take action and complete the task to improve your email performance using Mailmodo. Try it for free for 21 days.

Join the challenge If you want to get daily emails with actionable tasks with step-by-step instructions to stay motivated to improve your email performance then register for the the challenge here.

Need some help? If you have any questions about the task, ask us on our Slack community and get answers from experts. Join the community here.
Complete the tasks and improve your email performance using Mailmodo
Take the 21 Day Email Performance Challenge
In association with
Samar Owais
Email Strategist and
Conversion Copywriter