Set up a preference center
What will this help with?
Reduce unsubscribe rate and spam reports

Improve email experience for subscribers
What is a preference center?
An email preference center is a page on a company's website that allows subscribers to customize the type of emails they want to receive from a brand. It enables users to opt out of certain emails and get more relevant ones.
How to set up a preference center?
Usually, ESPs have preference center options to help you set one up. It usually involves the following steps -
1. Classifying emails into different categories
Classify your emails into different folders/categories to list in the preference center so that subscribers can choose from. For this, you need to add tags/classify emails accordingly you email marketing tool.
💡 Tips:
Some ways to classify emails are as follows -
Group emails based on content into newsletters, promotional emails, industry news updates, etc.

You might also group users based on projects. For e.g. 21-day challenge campaign is a specific folder in our preference center.

If you have multi-lingual content, classify as per languages as well so as to add a section on language preferences.
2. Frequency and timing of emails:
This is applicable if you send daily email updates, news, or RSS feed-based emails to your subscribers. Add an option for users to customize the frequency of receiving emails to daily, weekly, bi-weekly, or monthly.
💡 Tips:
Keep an unsubscribe option on the preference center.

Make sure your preference center is responsive across devices.
In Mailmodo, you can easily set it up by classifying the templates and adding them to respective labels/folders.
How to set up a preference center in Mailmodo?
Go to "Your templates," click on the three dots of any template and click on "Rename."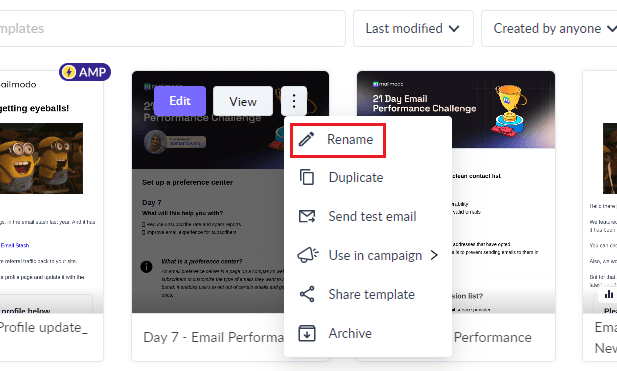 Click on the dropdown for "email type". Click "Create New" and create categories for all your templates like promotional, transactional, etc.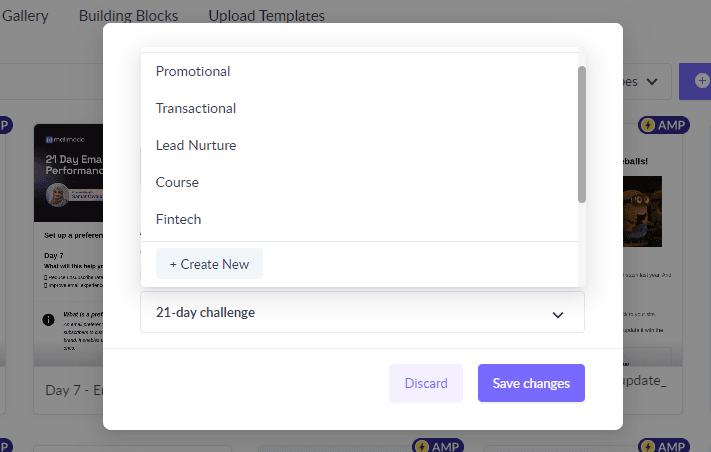 Categorize all your templates into these email types. So when subscribers click on unsubscribe, they'll be able to choose what they want to unsubscribe from, as shown below.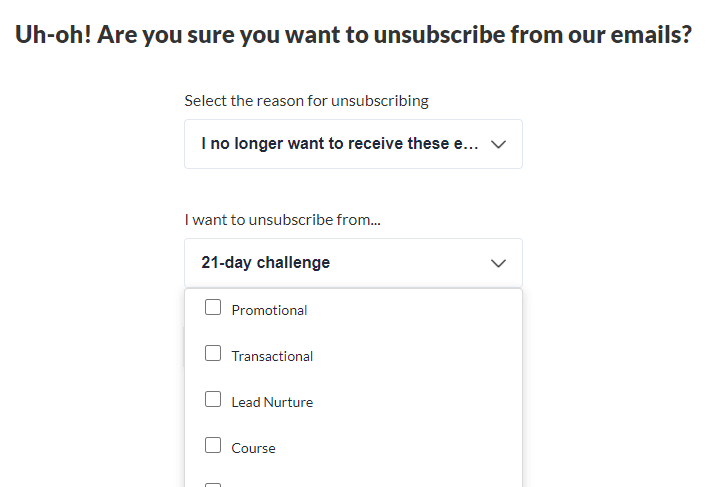 What you should do next
Hey there, thanks for reading till the end. What now?
Complete the task with Mailmodo Take action and complete the task to improve your email performance using Mailmodo. Try it for free for 21 days.

Join the challenge If you want to get daily emails with actionable tasks with step-by-step instructions to stay motivated to improve your email performance then register for the the challenge here.

Need some help? If you have any questions about the task, ask us on our Slack community and get answers from experts. Join the community here.
Complete the tasks and improve your email performance using Mailmodo
Take the 21 Day Email Performance Challenge
In association with
Samar Owais
Email Strategist and
Conversion Copywriter