Create a domain warm-up plan
What will this help with?
Get better email deliverability by warming up a new domain or an existing one with a poor reputation.

Have a schedule for domain warm-up that you can use in the future.
What is domain warmup?
Domain warmup is the process of sending emails from a new or existing domain to improve domain reputation. In this process, the sender slowly increases the number of emails they send daily for at least 21 days to build a reputation as a legitimate sender and avoid being labeled as spam.
How to create a domain warmup plan?
Identify new domains or any existing ones that need a warm-up
💡 Use the Google Postmaster setup from the Day 3 task to find unhealthy domains.
For each domain, get an estimate of the number of emails you can send in a day, depending on your email strategy.

Next step is to plan and note a domain warmup frequency and schedule.
The basic idea is to increase your email volume, ideally by 1.5X the previous day's volume. Iterate this every day by increasing the email volume till you hit the email requirement from Step 2 or your seed list limit.
💡 Use this sheet to build this schedule and note it down.
Create your warm-up emails. Make them fun using anecdotes, trivia, or stories to get recipients to engage with them.

Set up a campaign from your ESP and send it to the seed list you created for yesterday's task.

Inform your seed list about the incoming emails and ask them to engage by doing the following -
Mark the emails as "Not Spam" if they land in spam.

Request them to visit the links in your email.

Request them to send replies to your emails.

If your emails have AMP elements, ask them to interact with them.
Make sure you keep the email content interesting and personalized.
Doing domain warmup on Mailmodo (with Fragmented Scheduling)
⚡ Mailmodo's fragmented scheduling helps you to schedule bulk campaigns in increments over seven days. This comes in really handy for warm-up campaigns when you want to increase your sending volume gradually.
To use this feature and warm up easily, follow the steps 1-4 as mentioned above. When you reach the step of sending emails, do the following.
Create a bulk campaign in Mailmodo. Select the option "Send in batches at regular intervals" on the review page while sending. It looks like below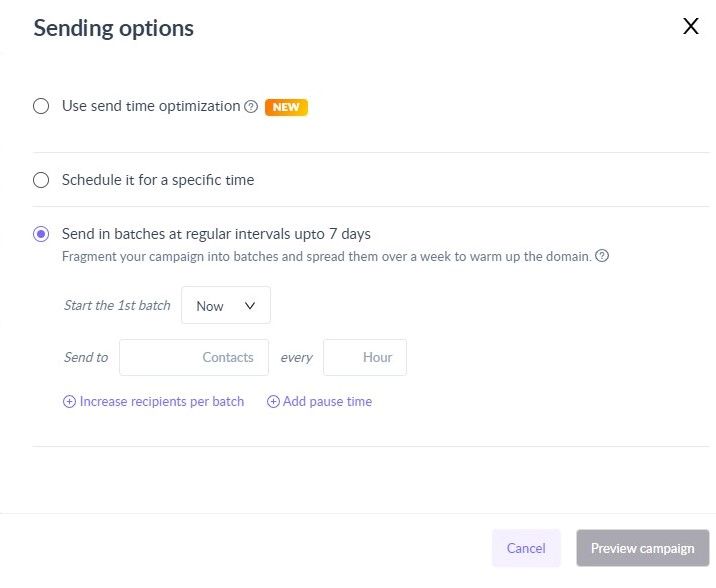 Fill in the initial volume of users and the time interval between batches. You can increase the volume of every batch by a certain factor, as shown in the below image.
E.g., If you select 1.2x, then the batch volume of the next batch would be 1.2 times the batch volume of the previous batch. We generally recommend 1.5X increments.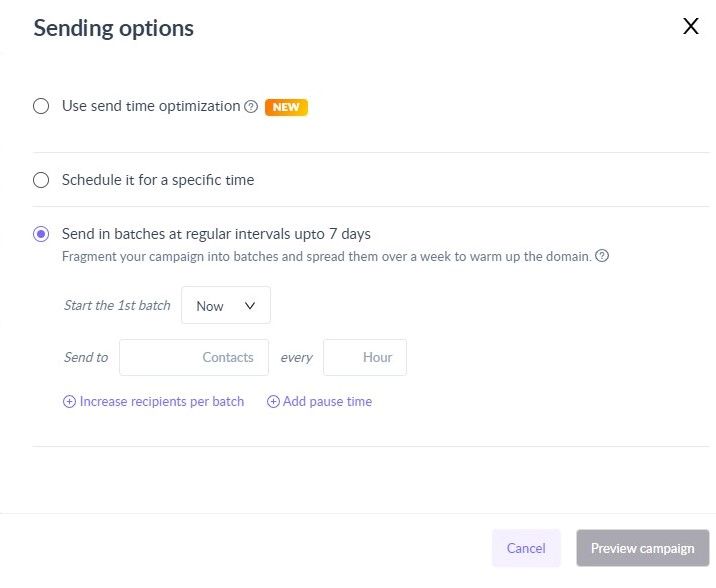 Once you have configured the schedule, click on 'Preview Campaign'. You will get an overview of your campaign schedule. You can now schedule your domain warm-up campaign.
Read this guide for more details on fragmented scheduling.
What you should do next
Hey there, thanks for reading till the end. What now?
Complete the task with Mailmodo Take action and complete the task to improve your email performance using Mailmodo. Try it for free for 21 days.

Join the challenge If you want to get daily emails with actionable tasks with step-by-step instructions to stay motivated to improve your email performance then register for the the challenge here.

Need some help? If you have any questions about the task, ask us on our Slack community and get answers from experts. Join the community here.
Complete the tasks and improve your email performance using Mailmodo
Take the 21 Day Email Performance Challenge
In association with
Samar Owais
Email Strategist and
Conversion Copywriter