Crafting a good and compelling cold email is tough, but you know what's tougher? Getting those emails opened and the response. We've gathered a list of some reliable and interesting insights on cold email outreach. This guide covers helpful, cold email statistics around response rates, open rates, and follow-ups to increase your response rate.
10+ Super helpful cold email statistics
This list will help you uncover the response rates, open rates, and how to follow up the right way to get that response.
Cold email open rate statistics
Here are some cold email open rate statistics you should know:
The average open rate of cold emails is only 23.9%.
According to Yes Lifecycle Marketing study, personalized email subject lines boost open rates by 50%.
Subject lines with emojis have an 8% higher open rate. - Klenty
Cold email response rate statistics
Here's how the response rate is affected by different types of email marketing tactics:
According to Backlinko's email outreach study, only 8.5% of emails receive a response.
Cold outreach emails with long subject lines have a 24.6% higher average response rate. - Backlinko
According to a Belkin's study, C-level executives are 23% more likely to answer cold B2B emails than employees outside the C-suite.
Personalized emails of a cold email boost response rate by 30.5%. - Backlinko's case study
The highest response rates of 16.5% and more mainly and mostly come from museums, non-profit, and religious institutions. - Belkins
70% of outreach reps stop sending emails after not getting a response from the first email. - Yesware
💡 Related guide: How to Craft Email Subject Lines to Skyrocket Email Open Rates
Did you know? : An average sales rep spends 21% of their day writing cold emails. - Hubspot
Best time to send follow-ups
If you think sending one cold email is enough, make sure to check these cold email statistics about follow-up emails: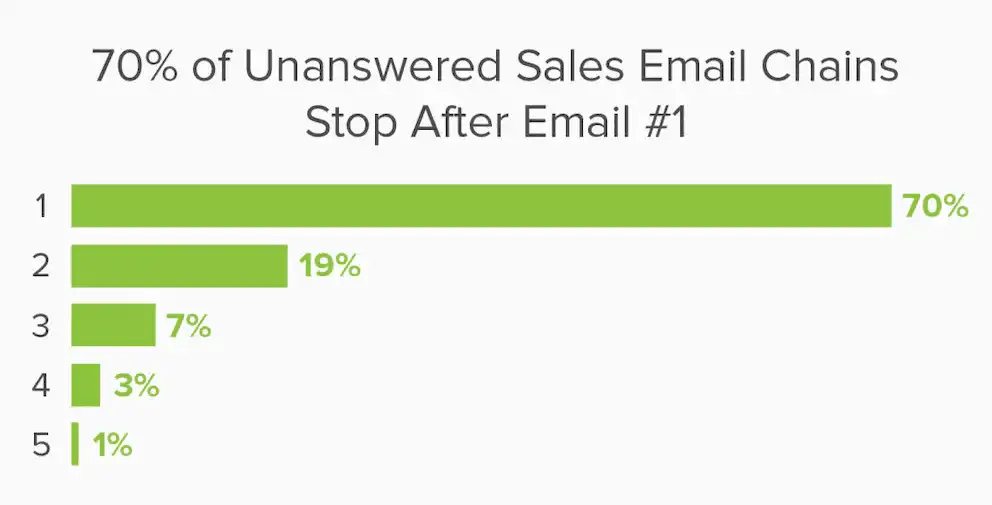 Following up within one day decreases the response rates by 11%, and not sending a follow-up for 5 days or more also decreases reply rates by 24%. - Belkins
Sending the first follow-up in 3 days gives up to 31% more replies. - Data from Belkin
According to the data from Yesware, if a reply is not received to your first email, you have a 21% chance of getting a reply to the second one.
Takeaway
Cold emails can be hard to craft; getting them opened and responded to is even more difficult. These cold email statistics are reported from real businesses and real-life scenarios that can help you try out new content, work on improving your subject lines and find the best time to send your emails.
What you should do next
Hey there, thanks for reading till the end. Here are 3 ways we can help you grow your business: