EmailOctopus stands out from the competition by offering one of the most affordable email service packages. It has a forever free plan for up to 2500 email list sizes and a 10k monthly email list.
But, on closer inspection, we discovered that its features could be more advanced. It's best if you are a beginner email marketer, but it needs to catch up to the advancements in the email marketing field.
We take a deep look at all its features in this EmailOctopus review. Read on to know if this is the right ESP for you.
Table of contents
What is EmailOctopus?
EmailOctopus is a complete email marketing solution, best suited to build marketing email campaigns and automated series. They have a lifetime free plan, and the paid pricing starts at $16/month.
EmailOctopus's key features
Although EmailOctopus is primarily recognized for its exceptional automation feature, its email builder and onsite messaging tools such as forms and pop-ups are no less impressive. Here is an overview of its powerful offerings:
1. Email template builder
EmailOctopus's drag-and-drop email editor and offers only 34 templates, which is quite less compared to other email marketing platforms like Mailmodo which has 400+ high-quality, well-designed templates. Lack of templates might be a drawback if you want huge template library for inspiration.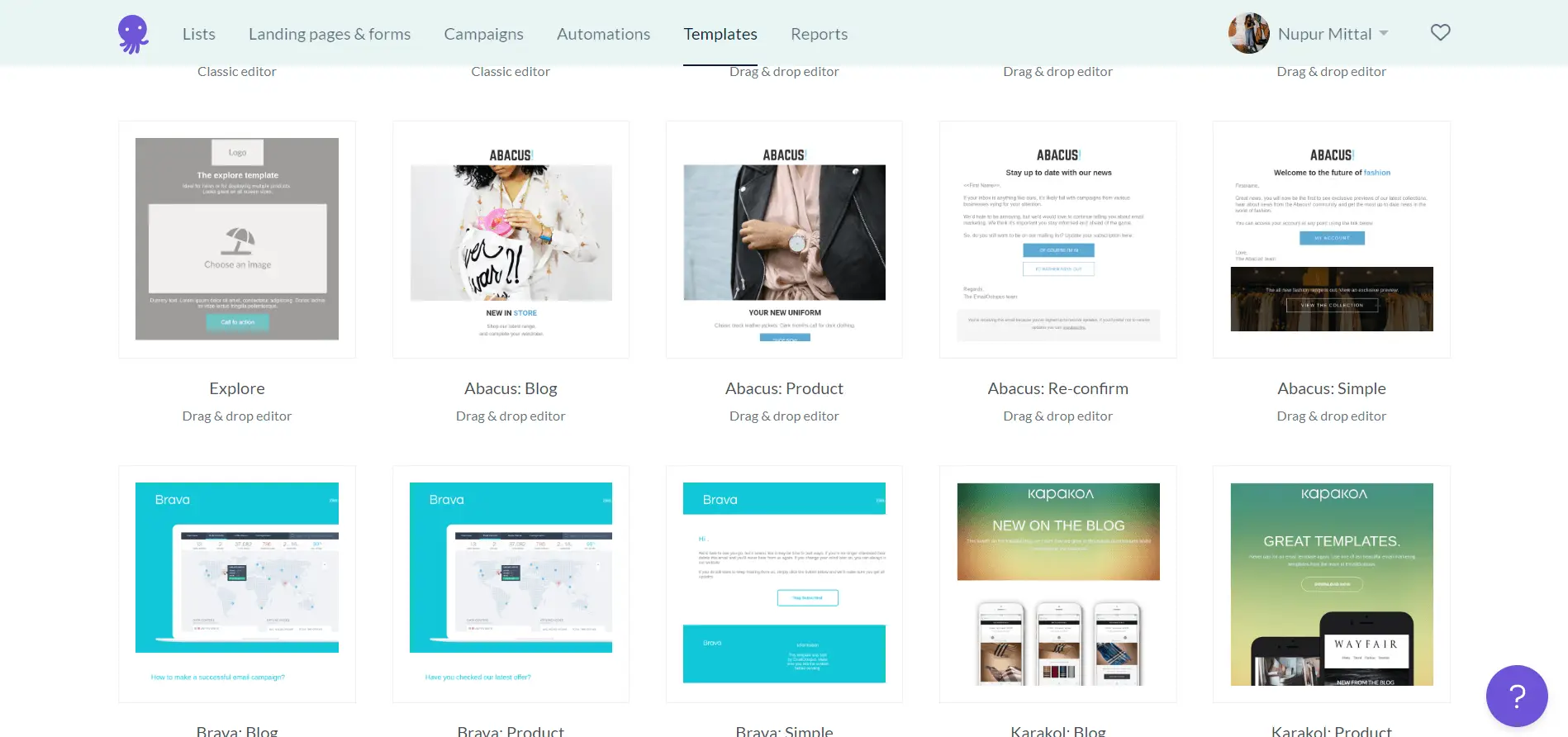 The drag-and-drop editor is easy to use and navigate. You get all the customization options within the editor such as theme configuration, typography, layout adjustment, and more. You can get the desktop and mobile preview and also send test emails.
On the downside, there is no option to save modules or blocks, so you can use them again. No pre-made content blocks for headers, footers, or layouts exist. This is one of the key features ESPs offer within their editor that make them stand out.
On the plus side, subscriber personalization is quick and easy. You click on the Merge tags options, and this pop-up will be visible. You can copy-paste the tags and make your emails more targeted.
2. Email automation builder
To begin automation, you must have your email list ready. You can add a contact manually or upload a CSV file. There is also an option to assign tags to each contact and list, which will be helpful during the segmentation process. For instance, you can assign tags to differentiate between new users and repeat users
Once you click on create automation, you'll get this pop-up asking you to choose the trigger you want to use.
The automation builder is visual and intuitive. You can customize the series by defining the condition, actions, and delays to send emails at the right time to the right user.
On the downside, no pre-made automation flows exist, like the ones you'd find in Mailmodo, Active Campaign and Klaviyo. Also, the automation builder is fairly basic and doesn't offer advanced feature such as workflow A/B testing, trigger emails based on form response, etc.
3. Landing pages
The landing page builder offers 5 templates which could be a starting point for creating landing pages.
The builder is user-friendly. You can customize the page's design and content and set up tracking parameters. Another helpful feature is you can change the SEO settings of the page by assigning it a compelling title and meta description.
On the downside, the builder needs more advanced features. It doesn't give SEO suggestions or track clicks. There is no option to add gamified elements such as accordion or carousel to make it more compelling. You cannot trigger automation if someone takes action on a specific landing page.
4. Opt-in form builder
EmailOctopus's opt-in form builder allows you to create different types of forms - pop-ups, embedded banners, or slide-in. Once the form format is selected, you will see 5 templates each? for all the formats.
You can customize the form by configuring its design and content settings. There is also an option to specify when you want to show this form to the visitors i.e. visitor entry, exit, or post-scroll. You can even impose a delay based on the time the visitor spends on the page. Once you're done editing, you can copy and add the code to your website.
EmailOctopus pricing
EmailOctopus has a lifetime free plan for up to 2500 subscribers using which you can access all its features. Its paid plans start from $16/month. On each plan, you get a limited email send limit. For instance, if you have 75k contacts, your monthly email limit will be 750K emails.
| Number of contacts | Free | Pro |
| --- | --- | --- |
| 2.5k | $0/mo | $16/mo |
| 7.5k | NA | $30/mo |
| 15k | NA | $30/mo |
| 25k | NA | $80/mo |
| 50k | NA | $150/mo |
| 75k | NA | $220/mo |
| 100k | NA | $290/mo |
| 120k | NA | $340/mo |
| 150k | NA | $440/mo |
Get a complete overview of EmailOctopus's pricing here.
EmailOctopus's key strengths and weaknesses
Based on EmailOctopus's customer reviews, we have highlighted the pros and cons of the tool:
EmailOctopus pros
Easy to use: All the editors and automation builders have a typical dashboard reducing the learning curve.
The interface is extremely clean with no clutter or bloat. The website runs smoothly with no lag when I'm adding lots of info to a newsletter. - Phillip, Illustrator and Director in UK
Budget friendly: EmailOctopus's is one of the most affordable ESP in the market. The free plan has a limit of 2.5k subscriber list and 10k monthly email send limit. Even the paid plans start as low as $16 for 2.5k subscribers.

Superb free plan: The free plan offered by EmailOctopus makes it an attractive ESP, as you can access all the features in this plan. It gives you more flexibility to explore its features without paying any money.
EmailOctopus cons
No pre-made content blocks: The email editor has no content blocks for headers, footers, or layouts. Many ESPs offer this now to expedite the design process, but EmailOctopus needs to catch up.

No option to organize templates: There is no option to categorize templates, which is helpful when you create multiple templates for your campaigns. Without it, you need to look for the template you have used before which can be tedious.

No dark mode preview: Apart from the desktop and mobile preview, you cannot check the email preview in dark mode. As dark mode has popularized, you must optimize your emails for dark mode. Mailmodo, on the other hand, allows you to preview emails in dark mode with its free dark mode email checker.
Is EmailOctopus the right tool for you?
We've listed key points to help you decide if EmailOctopus is the right ESP for you:
When it's recommended
If you are a beginner: You would be able to master all its features pretty quickly, from template builder to automation workflows.

If you want a budget-friendly ESP: If you're looking to get good features at affordable pricing, EmailOctopus might be the right choice.
When it's not
If you want advanced features: EmailOctopus is best suited to run simple email marketing campaigns, as all the features cater to such campaigns. If you want advanced automation with 100s of pre-made templates, trigger options, and analytics, you're another ESPs.

If you want to send interactive AMP emails: EmailOctopus currently doesn't support interactive AMP emails. If you want to create and send AMP emails, Mailmodo is the right choice as it's one of the leading ESPs that offers 20+ AMP widgets, including spin-the-wheel, polls, quizzes, and shopping carts. You can build engaging emails and add these widgets using its no-code email template editor.
EmailOctopus alternatives
Here are some of the best EmailOctopus alternatives with the top-notch feature at an affordable price:
Mailmodo
Mailmodo is one of the emerging and most popular email marketing platforms. It helps you create and send interactive AMP emails, build automated journeys, and create trigger campaigns. The tool offers competitive pricing, advanced automation, and a vast library of templates.
EmailOctopus vs Mailmodo: Which one should you use?
Criterion
Mailmodo
EmailOctopus
No-code email builder
For both AMP and HTML emails with 200+ premade templates to start with.
Only for HTML emails with 30+ premade themed templates
AMP email support
Supports 20+ AMP widgets.
Not supported
Transactional emails
Available on all plans
Available on all plans
Customer support
Email, chat, video, and phone support. There is also a knowledge base containing detailed help guides.
Email, live chat, knowledge base, and video tutorials. Priority support is available only for the paid plan users.
Email automation
✅
✅
Dynamic email & personalization
✅
✅
List Management
✅
✅
Reports and Analysis
✅
✅
Subject line A/B testing
✅
❌
Supported integrations
20+ integrations
47 integrations
Pricing
Upto 40k contacts
- Lite: $199/mo
Upto 100k contacts:
- Pro - $459/mo
Upto 50k contacts: $150/mo
Upto 100k contacts: $290/mo
When should you choose Mailmodo over EmailOctopus?
Here are the key reasons to choose Mailmodo over EmailOctopus as your email marketing service provider.
If you want to access a huge library of interactive AMP widgets
AMP emails are the future of email marketing as they reduce friction and let your recipient act inside the email. Mailmodo is the only ESP that helps you create and send responsive and engaging AMP emails with its no-code email editor. So, if you want both AMP and HTML emails, pick Mailmodo.
If you want top-notch features at an affordable price
Comparatively, EmailOctopus is much cheaper, but the basic features are only suitable for some businesses. In such a case, Mailmodo can be the right choice as it offers competitive pricing with top-notch features, including a no-code editor with 20+ AMP widgets, 50+ premade content blocks, an advanced automation builder, and higher deliverability.
You can start with its 21-day free trial, and its paid plans start at only $99/mo, where you will get access to all the features to explore the benefits you can get from it.
Other EmailOctopus alternatives
Check out these EmailOctopus alternatives that are much cheaper and might be the right choice.
MailerLite
MailerLite wins over EmailOctopus with its top-notch advanced features, including automation builder, vast template library, and landing page builder. It offers all these features even to its free plan users.
Sendgrid
Sendgrid is also an all-in-one ESP with more advanced features than EmailOctopus. Sendgrid's reporting dashboard is its strongest suite as it gives a holistic view of metrics, including geographical metrics, email metrics, client usage, and more.
Constant Contact
Constant Contact offers niche features such as creating a logo, selling products, and scheduling social media posts. The tool integrates with 500+ apps making it super easy to streamline your workflows. You can consider Constant Contact if you want to run multi-channel marketing campaigns.
EmailOctopus's rating overview
Feature
Ratings
Comments
Ease of use
⭐⭐⭐⭐
The ESP is simple and extremely easy-to use. The email, landing page, and form builders share a similar interface making it easy to get familiar. The automation and list management feature is also not complicated.
Email template editor
⭐⭐⭐
EmailOctopus has a drag and drop editor and content customization features. The editor offers no premade content blocks or the option to save repeatable sections. Many ESPs today offer such functionality making the entire design process time efficient.
Premade templates
⭐⭐
EmailOctopus has only 34 basic templates for different use cases.
Email automation
⭐⭐⭐
EmailOctopus has a visual journey builder with only 6 trigger options and limited conditions and actions. The automation helps create basic series, but you limit the targeting due to a lack of integrations and conditions.
List management
⭐⭐⭐⭐
You can add lists manually or upload a CSV file. There is an option to assign tags to each list, making it easy to segment them later on.
Signup form builder
⭐⭐⭐
The form builder has four formats: pop-ups, in-line banners, and side pop-ups. Each has 5 premade templates, and the editor is easy to use. However, one key thing missing is that you cannot trigger automation based on the form responses.
Landing page builder
⭐⭐⭐
The landing page builder can get the job done and is also available for free plan users. But it's basic and doesn't help you create compelling pages. You can opt for landing page builders or other ESPs like MailerLite, which offer advanced landing page builders.
Reporting and analytics
⭐⭐⭐
You can check your email campaigns' opens, clicks, bounces, and unsubscribes. There is also an option to view the historical database of your campaigns.
Personalization
⭐⭐⭐
There are merge tags in the template builder, using which you can make your emails personalized. Besides, it's super easy to personalize the subject line and preheader text.
Authentications
⭐⭐⭐⭐⭐
SPF, SKIM, and DMARC supported.
Own domain for landing pages
❌
Not available
Spam and design testing
⭐⭐⭐
EmailOctopus doesn't have spam or inbox testing. You can preview the email on desktop and mobile only and send test emails.
Bounce management
⭐⭐⭐⭐⭐
Hard bounces are removed from your email list at once. Soft bounces remain within your email list, and you can remove them whenever possible.
Blocklist
❌
EmailOctopus doesn't offer a blocklist.
Interactive elements
❌
Not available
Integrations
⭐⭐⭐⭐
47 integrations including Revue, Pabbly, WordPress, and many form builder tools.
Customer support
⭐⭐⭐⭐
EmailOctopus offers email and live chat support to all its customers. They also have video tutorials and a knowledge base. Priority support is available only for paid users.
Overall ratings
4.2/5 (G2)
4.4/5 (Capterra)
EmailOctopus is a user-friendly and affordable ESP and is best if you're a beginner email marketer. It is still far in the competitive race as the features need to be advanced and might not fit you if you want to scale your email marketing efforts.
The verdict
If you're looking for an affordable, easy-to-use ESP, EmailOctopus might be the right choice. You can easily build forms, landing pages, and automation workflow.
On the downside, EmailOctopus doesn't support interactive AMP emails, and the features aren't competitive. In this case, explore Mailmodo, which is super easy to use and supports 20+ your widgets. You can start with a 21-day free trial and explore all the features.