TL;DR: The tactics discussed in this guide will be helpful if you use event management platforms like Hopin, Luma, Airmeet, Eventbrite, Bizzabo, Airtribe, Goldcast, and more.
Event marketing is the latest growth hack that every marketer seems to have discovered of late. And why not?
It helps educate your customers about the niche or topics you care about along with your product or brand. On the sides, you also get those MQLs in the form of event registrations.
However, conducting an event that has good registrations and decent attendance is a huge challenge faced by event marketers.
In this guide, you'll learn how to get more event registrations and attendance using a simple event registration email flow.
Table of content
Why do you get low event registrations and attendance?
One of the reasons why people don't register for events is because of the unending form fills and countless redirects. This long process leads to drop-offs.
Out of sight, out of mind
The ones who do register often miss out on attending because it wasn't on their calendars. They forget about the events they register for if time isn't blocked out on their calendars.
Today, we are discussing an easy solution to this problem using a simple Zapier workflow and Mailmodo's Add-to-Calendar widget.
Who will this work for?
There are many event platforms, and the solution suggested here works for almost all of these. If you use any of the following to host your events, this will help set up a seamless workflow. Check out the full list of event management platforms compatible with Zapier.
Hopin

Airmeet

Airtribe

Eventbrite

Bizzabo

Luma

Cvent

Whova

Goldcast
How to set up event registration email flow using Mailmodo and Zapier
1. Create an email template
Select an email template of your choice from various email templates available on Mailmodo, or create a custom template from scratch.
Create an email with your event's banner, a brief introduction, and what the attendees can expect. Then, insert an AMP form on your email template asking for basic information.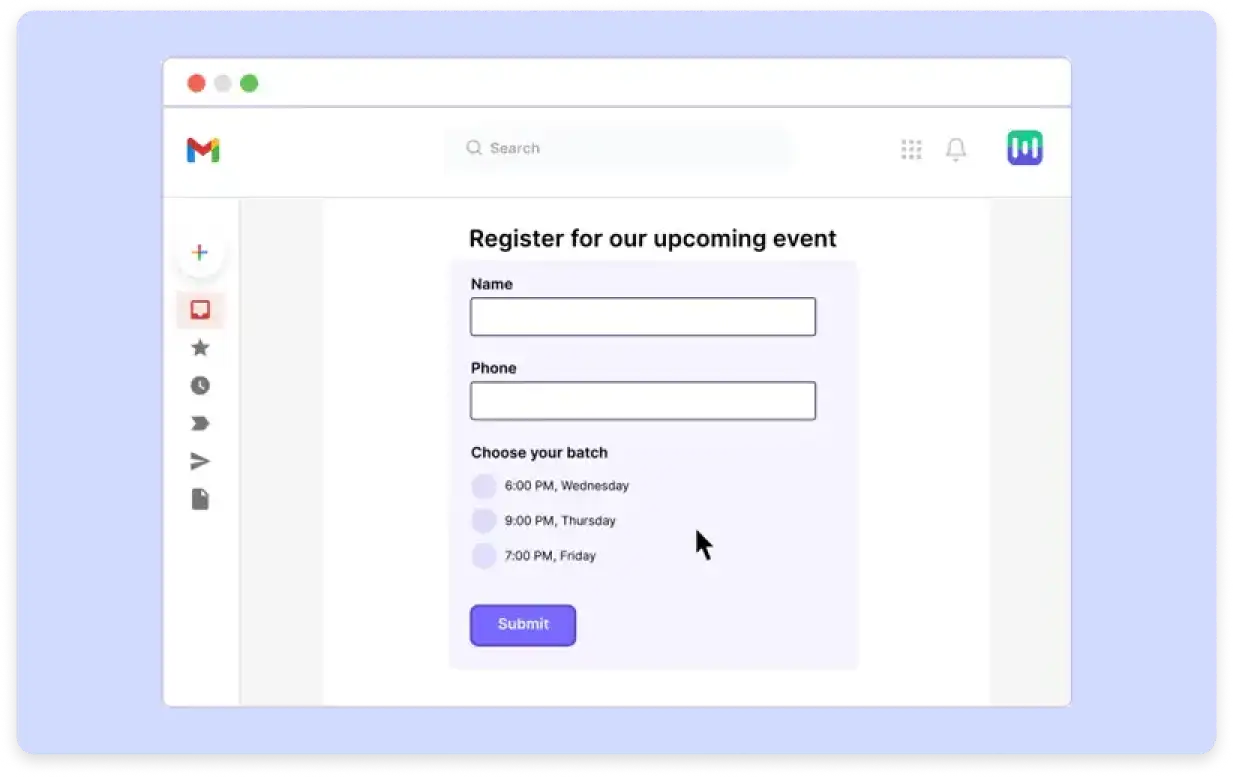 This information is required from a user to register them on event platforms.
| Event platform | Detail required in the form |
| --- | --- |
| Hopin, Luma, Airtribe, Goldcast, Cvent, Whova | First and last name |
| Airmeet | First and last name, job title, organization, city and country |
2. Integrate your event platform and Mailmodo with Zapier
Once a user fills up the email form, they should be added to the event platform.
For this, you will have to create a customized workflow called a Zap on Zapier, integrating your event platform with Maimodo. For example, here we'll show you how to integrate using the event platform - Hopin.
How to create a customized Zap:
Step 1: Create a Trigger
Then, add Mailmodo Template Submission and fill in the details:
Choose your account

Name your Zap

Select the template you wish to export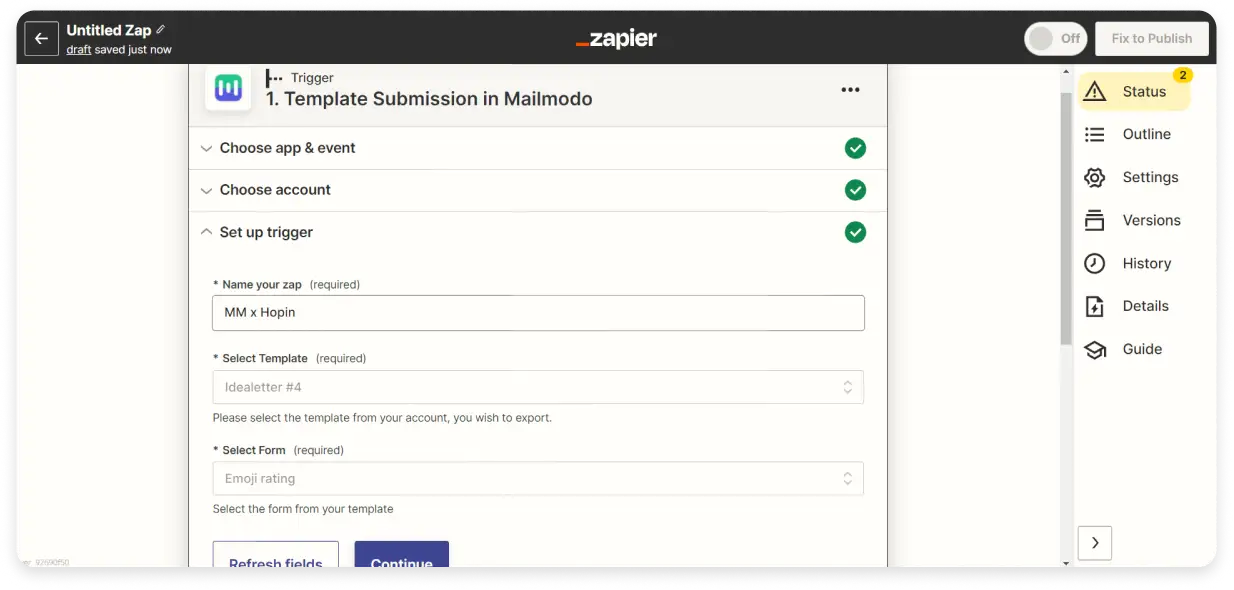 Step 2: Create an action
Next, Select Hopin and create a redeem on it. Choose your account and sign in to connect Hopin with Zapier. Read more on how to set up Zapier for registrations here.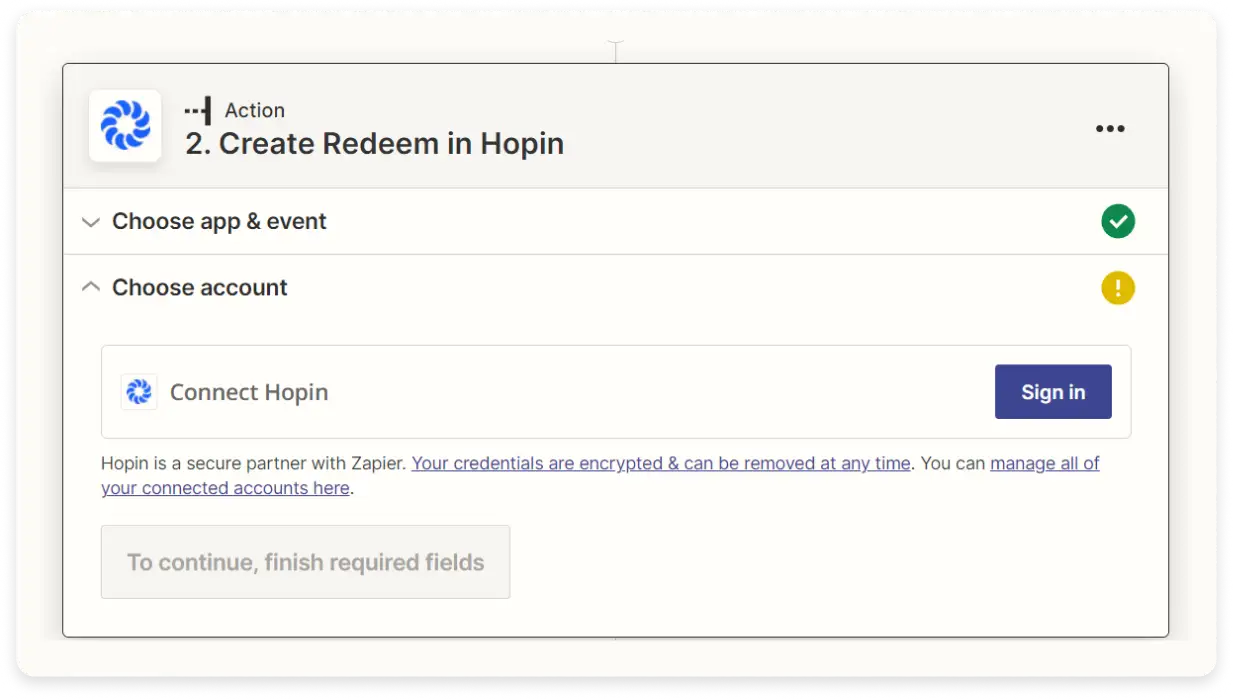 Step 3: Create confirmation email on Mailmodo and action on Zapier
Create an event confirmation email via Mailmodo, and add the "Add to Calendar '' widget in it to help users add the event directly to their calendar in one click.
You can use our ready-to-use add-to-calendar email template or create a custom template and add the widget.
Now, on Zapier, select action, choose your account, and trigger your journey to proceed. Read more on creating Zaps with Zapier here.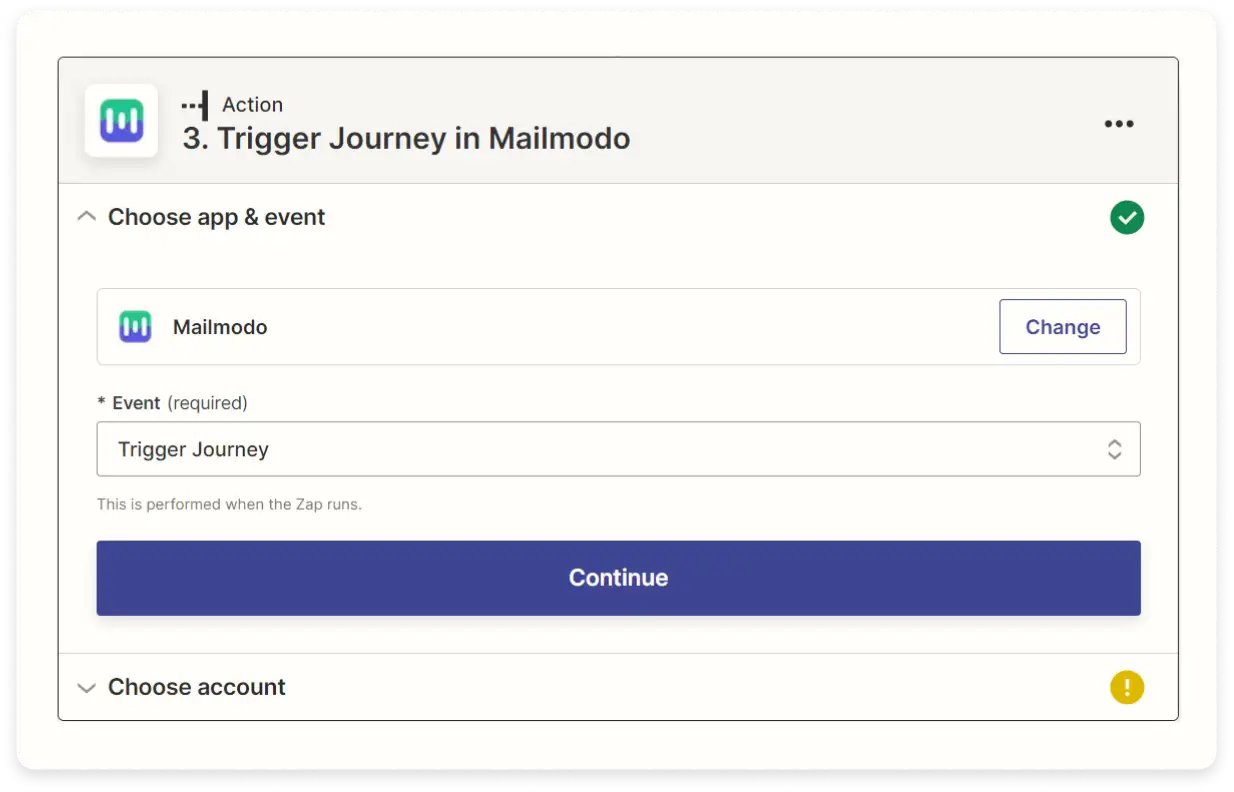 Once this setup is complete, your users can register on the event platform directly without getting redirected to their page and filling out their information again. If you don't use Zapier, here are a few alternatives that can help you build a similar workflow:
3. Send confirmation emails
Once the user is registered, Hopin will send them a confirmation email with an event login link.

They will also receive an email from your end with an add to calendar button, using which they can add the event to their calendar in a single click.
Your email can look something like this.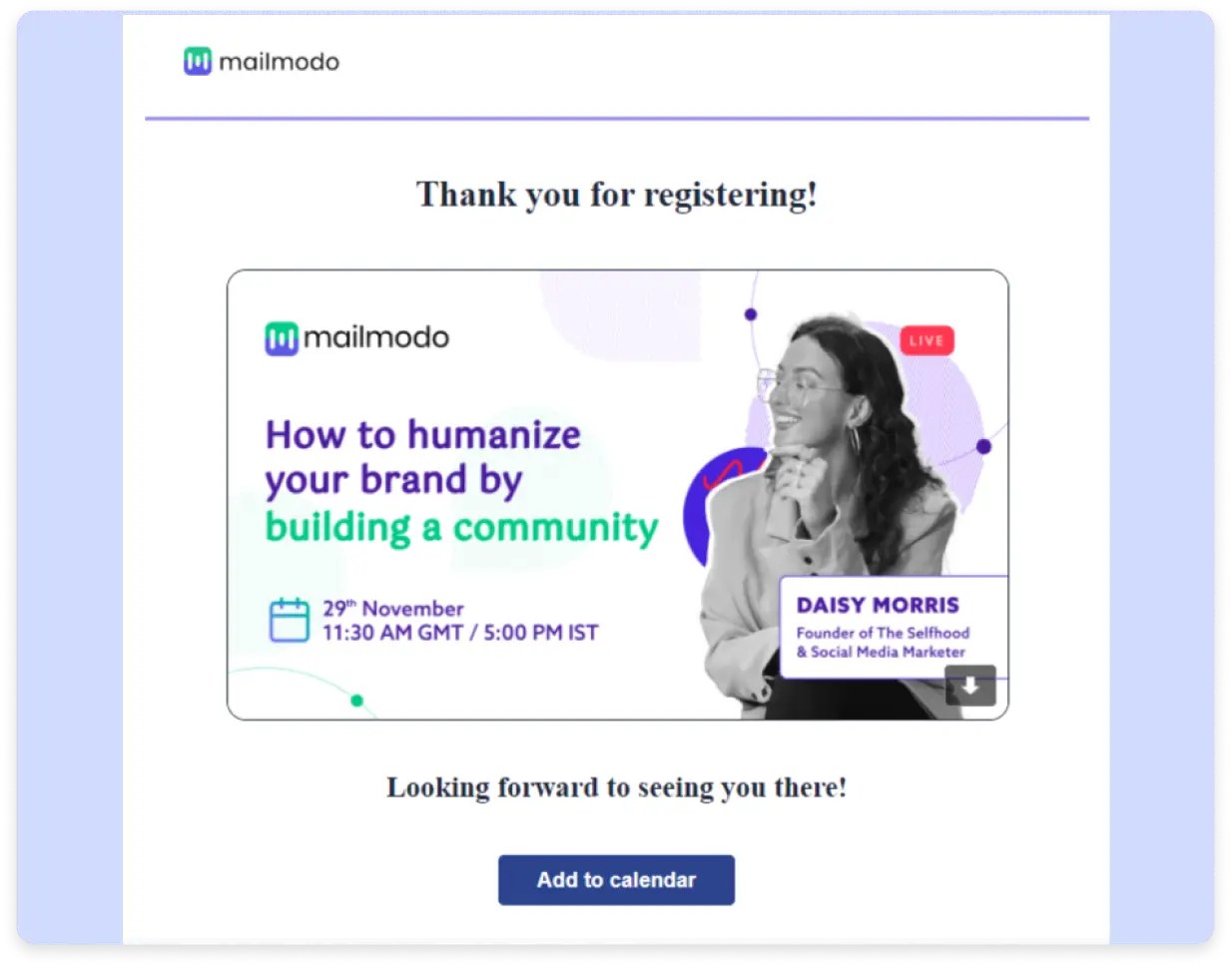 Setting up a post-registration email automation drip
You can send an email thanking your users for registering for your event.

In your run-up to the event, you can send follow-up emails to engage your audience with quizzes, collect questions beforehand for the guests, ask for what they would like to learn from the event, questions they want to ask suggestions, etc.

You can also trigger reminder email campaigns from time to time to increase attendance. Here is a sample reminder email journey for an event.

Here's an event registration sequence to help you set this up for your event.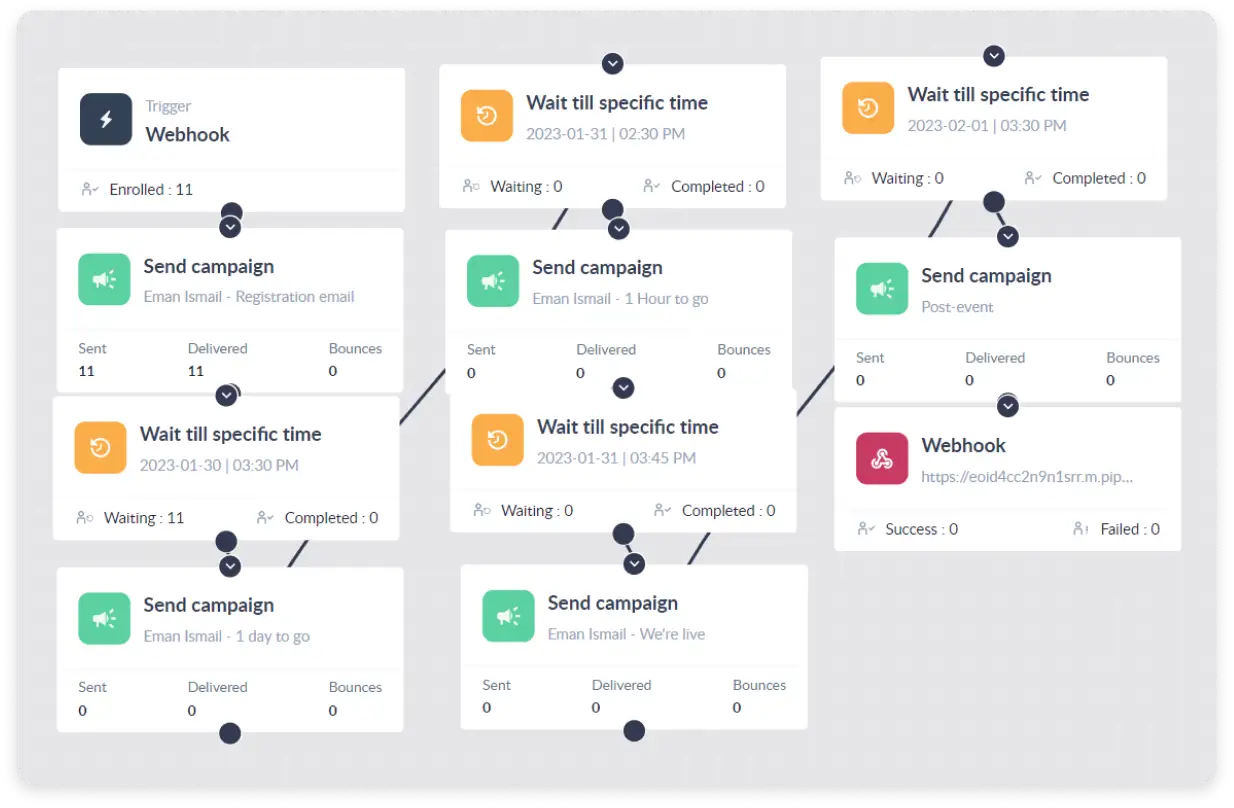 | | Email name | When to send | Why |
| --- | --- | --- | --- |
| 1 | Thank you email | As soon as registers | To acknowledge, add to calendar link |
| 2 | Reminder email 1 | T minus 1-day | Reminder, questions for the speaker |
| 3 | Reminder email 2 | T minus 1-hour | Reminder |
| 4 | Reminder email 3 | When the event starts | The event is live, join in |
| 5 | We are live | When the event has started | We are live |
After the event, you can nurture your attendees using a post-event nurture series similar to this.
Inspired by this sequence? Book a demo with us and learn how to do this and more with Mailmodo.
Conclusion
We hope this simple workflow is easy to set up and drives more registrations and attendance to your next event!
If you need assistance setting up these integrations, Hit us up!
What you should do next
Hey there, thanks for reading till the end. Here are 3 ways we can help you grow your business:
Talk to an email expert. Need someone to take your email marketing to the next level? Mailmodo's experts are here for you. Schedule a 30-minute email consultation. Don't worry, and it's on the house. Book a meet here.

Send emails that bring higher conversions. Mailmodo is an ESP that helps you to create and send app-like interactive emails with forms, carts, calendars, games, and other widgets for higher conversions. Get started for free.

Get smarter with our email resources. Explore all our knowledge here and learn about email marketing, strategies, best practices, growth hacks, case studies, templates, and more. Access guides here.