Mailjet is one of the most affordable email service providers that helps you create and send beautiful emails, automated workflows, transactional emails, and sign-up forms.
One cool feature that's unique to Mailjet is its multi-user collaboration. This feature allows designers and developers to work simultaneously and share real-time feedback.
Despite this, the question remains: Is Mailjet a great ESP, given the pricing structure? Let's find that out in this in-depth Mailjet review.
Table of contents
What is Mailjet?
Mailjet is an email service provider that helps you create email templates, automated series, and sign-up forms with an extensive email analytics dashboard. It was founded in 2010 and used by millions worldwide for various use cases. The tool is best known for its ease of use and real-time multi-user collaboration.
What are Mailjet's core features?
Mailjet stands out among its competitors due to its wide range of features not limited to email marketing. Let's have a look at some of its core features:
1. Drag-and-drop email builder
Mialjet has an easy-to-use drag-and-drop email template builder to create HTML and plain text emails. You can start from scratch, choose from pre-made templates, or upload HTML code.
Like most ESPs, you don't get pre-made content blocks such as headers, footers, or layouts. But the editor offers basic customization options, preview, and test emails to detect errors.
2. Opt-in form builder
The sign-up form builder allows you to create basic forms with limited fields. You can change the background color, add images, a social share button, and HTML blocks. With form builder, you can create embedded forms and pop-up forms.
No conditional formatting exists to personalize questions based on previous responses, and the tool doesn't offer any pre-made form templates.
A good thing about the form builder is that you can check the mobile preview, but I didn't find any option to make the form responsive.
3. Email automation builder
Mailjet's email automation builder offers only four trigger options, i.e., When a contact joins your email list, contact property update, date, and anniversary. But, one key drawback of automation is limited condition options – you can add only delay conditions. There are no if/then open/clicked conditions.
You can create automation easily as every step is displayed. But another drawback is once you make a journey live, you can't modify it. You must duplicate the existing journey, make the changes, and lock the workflow. After that, replace the existing one with the new one, and activate the journey.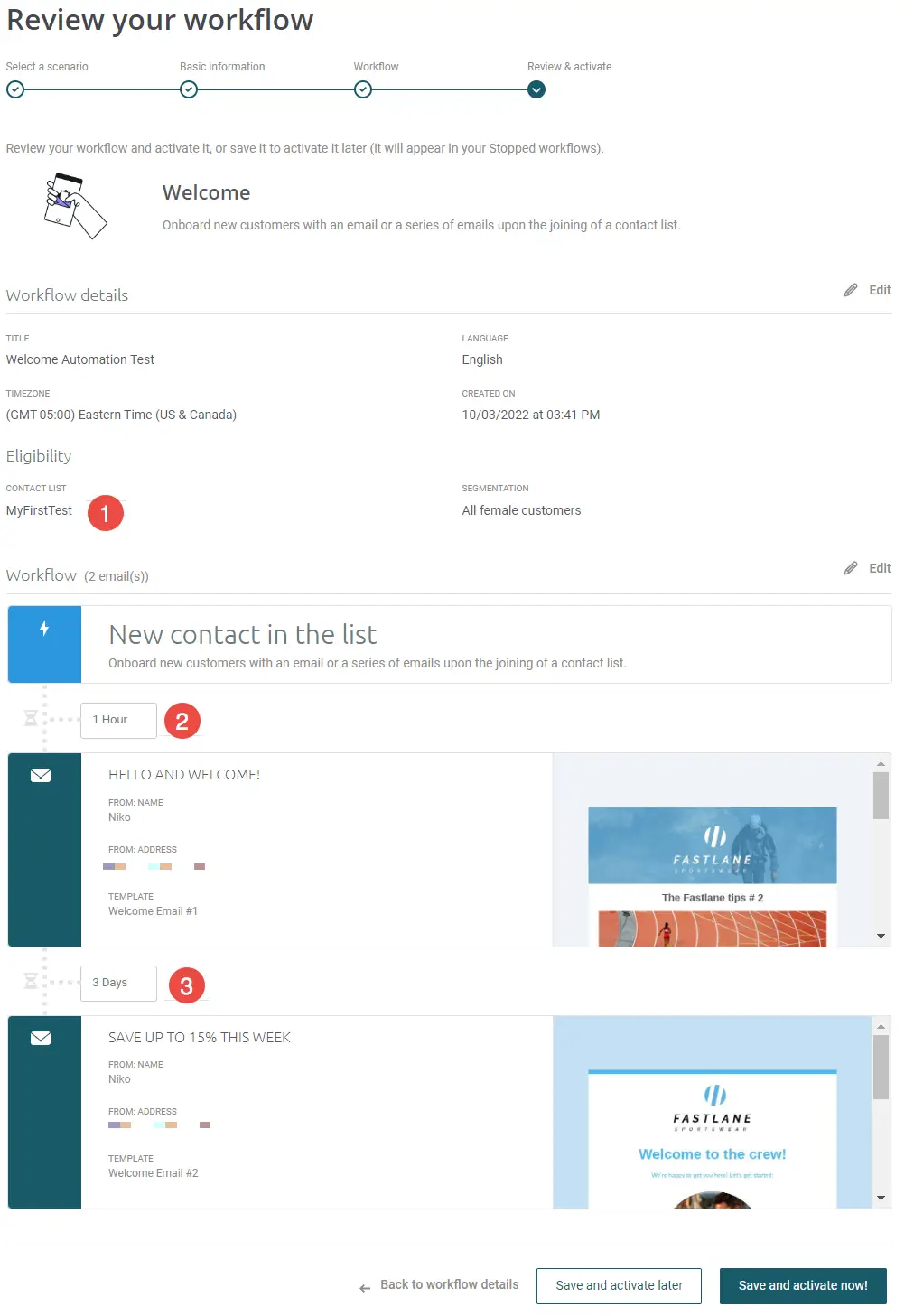 Mailjet pricing details
Mailjet's pricing is based on the number of contacts; each plan has a set limit of emails you can send. For instance, no matter the contact list size, you can send only 50k emails monthly if you're on its essential plan. If your sending limit exceeds that, you'll be charged extra.
| | Free | Essential | Premium |
| --- | --- | --- | --- |
| 15k | $0/month | $15/month | $25/month |
| 50k | $0/month | $35/month | $50/month |
| 100k | $0/month | $0/month | $95/month |
| 250k | $0/month | $0/month | $225/month |
| 500k | $0/month | $0/month | $425/month |
| 500k+ | Custom plan | Custom plan | Custom plan |
Check Mailjet's detailed pricing.
Mailjet's key strengths and weaknesses
Based on Mailjet's customer review, we have highlighted the pros and cons of the tool:
Mailjet pros
Easy to use: From template builder to automation setup, all features are easy to use, even for a beginner.
The overall design of the platform and the email builder is one of the best I've seen. It makes it possible for even novice users to design templates and send email campaigns. - Mark, Vice President of Information Technology
Multi-user collaboration: One distinguishing feature is Mailjet allows multi-user collaboration in real time. It means more than one user can work on the email template editor or the automation journey builder. You can comment and collect feedback while working on the campaign.

Extremely affordable ESP: The pricing structure provides access to all the features. It's best if you're just starting in email marketing. Additionally, its forever free plan makes it an appealing choice of ESP as you can easily send 2000 emails per month without paying a dime.
Mailjet cons
Limited automation conditions: The available trigger options are limited, and no if/then or opened/clicked conditions are available. Besides, you can't edit or reactivate an inactive journey once you make automation live.

List management isn't user-friendly: Automatically removing unsubscribed or bounced users is impossible. You have to download the list and remove them via the removal interface.
There doesn't seem to be any way to remove Unsubscribed Contacts automatically: you have to download them manually, then upload them to remove them. Same thing with Bounced or other Contacts that you discover from the post-Campaign analysis: there's no button to say "Remove these from my Contact List": you must download them, then remove them through the removal interface. Reviewer on Capterra
Is Mailjet the right tool for you?
Now, the biggest question. Should you use Mailjet as your email service provider? We've jotted down key pointers to help you decide:
When it's recommended
You want to collaborate with your team members: With Mailjet, you can collaborate with other team members and get their feedback on template design.

You want an affordable ESP: Mailjet is one of the most affordable ESPs, and its free plan is also a good place to start sending emails.
When it's not
You want to use advanced automation: The automation sequences aren't very useful and come with limited segmentation and trigger options. So, if you rely heavily on email automation, you should consider other ESPs.
Mailjet alternatives
Check out these Mailjet alternatives that are much more affordable and might be the right choice.
Mailmodo
Mailmodo is one of the emerging and best email marketing platforms that help you create and send interactive AMP emails, build automated journeys, and create trigger campaigns. Apart from this, the tool is much cheaper than Mailjet and is also known for its excellent customer support, one of the major issues Mailjet users face.
Compare: Mailjet vs. Mailmodo
Mailjet vs. Mailmodo: Which one should you use?
Criterion
Mailmodo
Mailjet
No-code email builder
For AMP and HTML emails with 200+ pre-made templates.
For HTML emails with 60 pre-made templates for various use cases.
Transactional emails
Available on all plans
Available on all plans
Custom template import
Available on all plans
Available on all plans
Email automation
✅
✅
Dynamic email & personalization
✅
✅
List Management
✅
✅
Reports and Analysis
✅
✅
Subject line A/B testing
✅
✅
Pricing

- For 40k contacts: $199/month
- For 100k contacts: $459/month

- For 50k contacts: $35/month and $50/month
- For 100k contacts: $95/month
When should you choose Mailmodo over Mailjet?
There are various reasons for choosing Mailmodo over Mailjet:
If you want to create advanced automated journeys.
Mailmodo offers multiple triggers and conditions, such as if/then, open/clicked, and delays, to help you create a much more targeted email series at affordable pricing.
If excellent customer support matters to you.
Our customers have praised us for our reliable and excellent customer support. The CS team can readily resolve customers' queries and lead them in the right direction, even if you're on the free plan.
If you want to send interactive AMP emails.
AMP emails are the future of email marketing as they allow you to reduce friction and let your recipient take action inside the email. Mailmodo is the only ESP that helps you create and send responsive and engaging AMP emails with its no-code email template builder. So, if you want to use both AMP and HTML email, go for Mailmodo.
Other Mailjet alternatives
Check out these Mailjet alternatives that are much more affordable and might be the right choice.
MailerLite
MailerLite is one of the closest alternatives to Mailjet in terms of pricing and ease of use. Read MailerLite's in-depth review to know more about it.
Campaign Monitor
The tool offers a more detailed analysis of your email campaign performance as its dashboard is more visually appealing. You can easily compare campaigns and learn actionable insights.
Active Campaign
Active campaigns must be your go-to choice for a more advanced and robust ESP. It beats Mailjet with its super advanced and flexible email automation.
Mailjet's rating overview
Feature
Ratings
Comments
Ease of use
⭐⭐⭐⭐
The tool is easy to use and navigate. You will be able to find all the options in the navigation bar, making it even simpler and hassle-free to work.
Email template editor
⭐⭐⭐
The editor is drag-and-drop and user-friendly. It's easy to customize existing templates or upload HTML code as per your preferences. Team collaboration makes it even easier to invite other team members and work with them to improve the design. Although you won't find any pre-made blocks such as layouts, buttons, or layouts in the editor.
Email automation
⭐⭐
Email automation isn't the strongest suite of Mailjet. There are only 4 trigger options: welcome, date, anniversary, and contact property update. There is only a single condition (time delay) available. All this reflects that you can't create segmented journeys in Mailjet, which is often essential for a higher conversion rate.
List management
⭐⭐⭐
You can create segments based on contact properties and create as many properties as you want. There is an option to remove a contact entirely from the list or mark them as unsubscribed, not to send them emails but keep them in the list.
Sign-up forms
⭐⭐⭐⭐
The registration form builder is easy to use, and you can create a basic sign-up form within minutes. You can embed these forms or use them as a pop-up to collect leads. Although the design and personalization elements are limited, it's best for basic forms.
Reporting and analytics
⭐⭐⭐
The email reporting dashboard gives you an overview of all important metrics, such as clicks, bounces, unsubscribes, and blocked. By integrating it with eCommerce apps such as Shopify, you can also get insights into the performance of those campaigns.
Personalization
⭐⭐⭐⭐
You can personalize subject lines and email text using contact field data. The conditional display is also available. For example, you can select content to display to male and female subscribers.
Authentications
⭐⭐⭐⭐⭐
SP, DKIM, and DMARC are supported.
User access
⭐⭐⭐⭐
You can invite and collaborate with other team members, collecting their feedback in real time. For example, you can give access to your contacts, templates, or automation workflow
Spam and design testing
⭐⭐⭐
No spam testing option is available in Mailjet. But you can preview email on mobile and desktop and send test emails.
Bounce management
⭐⭐⭐⭐⭐
Mailjet will automatically attempt to resend the email if your soft email bounces. If the email is not delivered after 3 days, it is marked as a bounce. All hard bounces in Mailjet are automatically blocked within 90 days.
Blocklist
⭐⭐⭐⭐
Mailjet adds all blocked contacts to an 'exclusion list.' You can import or export this list easily.
Interactive elements
❌
Not available
Integrations
⭐⭐⭐⭐
Mailjet has 120 integrations, including CRM, e-commerce platforms, CMS, and connectors such as Zapier.
Landing page builder
❌
Not available
Languages
⭐⭐⭐⭐
The platform is available in 9 languages: English, German, Italian, French, and Spanish. Knowledge-based is only available in English, French, Spanish, and German.
Customer support
⭐⭐⭐
The response rate is quick, and their knowledge base is also helpful. Online ticket support is available for all users, but if you want advanced support, such as talking to an email deliverability expert, you need to opt for their custom plan.
Overall ratings

- 4.3/5 (Capterra)
- 3.9/5 (G2)
- 3.7/5 (Emailtool tester)
Overall, Mailjet is a pretty affordable ESP giving you access to many features (segmentation, automation, personalization) but on a basic level. Creating advanced workflows, creative templates, and forms might not be the right tool.
The verdict
IIn a nutshell, Mailjet is the most affordable email service provider with basic features such as an email template and sign-up form builder, 120 integrations, and transactional email APIs. You can start with its free plan that allows you to send 2000 emails monthly, which is a good starting point, especially if you're a beginner.
A major drawback is that the automation builder only supports limited triggers and conditions. As a result, you cannot create targeted email workflows in Mailjet. In addition, you cannot modify the automation flow once it's activated.
So, if you are happy with basic email marketing features at affordable pricing, Mailjet can be a good choice. But, there might be a better fit if you plan to scale or want to create advanced workflows.
FAQs
Is Mailjet really free?
Mailjet offers a lifetime free plan to send 2000 monthly and 200 emails daily. And even Mailjet's paid plans are quite affordable than any other ESPs.
Is Mailjet easy-to-use?
Mailjet is a super easy tool, even for an email marketer beginner. From email template creation to analyzing various reports, all features are easy to understand and learn quickly.
Can I build advanced email automated journeys?
The trigger and conditions are limited in Mailjet, which restricts the type of email workflow you can create. There are no if/then open/clicked conditions to add to a workflow to create more targeted journeys.