No matter the size of the non-profit, it will be short on people and time compared to the size of the cause. Pareto's 80:20 principle is a great guiding rule in such scenarios. The non-profit organizations also find it efficient to focus fund collection activities on the top 20%, who contribute 80% of the funds.
Read this guide to understand how to drive donations from the top 20% with our non-profit email marketing strategy.
Table of contents
Why is email marketing a must for non-profits?
Despite many goals, it is important for non-profits to keep operational costs to a minimum. Each dollar saved helps one more kid, one more cause, and one more life that can be changed. Automated email marketing is the perfect way to cut costs and save time.
Email marketing has a low CAC and contributes to a higher CLV. It is a budget-friendly way to reach a wide range of audiences, share quality personalized content over drip campaigns, collect information and responses, and keep them meaningfully engaged.
Related guide: A Guide to Email Drip Campaign and How to Get Started With it
What is a good open rate for non-profit emails?
Source: Statista
In 2020, non-profits in the US for hunger or poverty saw an email open rate of 24%. 20% and 21% of emails sent by the environmental and the disaster/international aid non-profit sector respectively were opened.
According to The Nonprofit Times, non-profit-open rates are at a whopping 26.6% in 2022 compared to 20.39% pre-pandemic. Click-to-open rates are at 10.2%, with 2.7% of click-through rates. An open rate that meets or surpasses the average mentioned is a good open rate.
5 non-profit email marketing strategies
1. Use data-driven campaigns
Utilize data to understand your target audience. For example, which day is the best for your audience to read your newsletters? On Which day there is a higher chance of converting new readers into donors.
You can export Mailmodo email campaign data to your software stack via API to understand the average donation amount and conversion rate for audiences segmented based on age, career, location, etc. Design smarter campaigns around date-range-specific or campaign-level data.
2. Optimize the non-profit marketing funnel
You can create a workflow to help new supporters stay with you for longer using the ​​AAARRR framework (Awareness, Acquisition, Activation, Retention, Referral, Revenue).
When interacting with a new audience, the first aim should be to sign them on for your newsletter. Through the newsletter, users can become aware of your cause and know details of your activities. Then, asking for funds in later interactions, it will be easier to convert them into donors.
To ensure repeat donations, you can share updates about what you achieved with the money they contributed through success stories.
3. Tell stories
People contribute because of their emotional connection to the cause. When communicating with a larger audience, do not talk about how many kids you feed or how many shelters you have created.
Talk about that one kid who was hungry and fed a nutritious meal. Instead of shaping your email like a performance report, zoom in on a particular success story. Talk about that one family rescued from the urban floods because of your shelters.
4. Keep communication frequency moderate
Charity is personal. People want to feel like they made a real difference through their contribution, no matter how small. They want to feel happy through the difference they are making.
However, frequent messaging will get blocked, marked spam, or unsubscribed. Emails for non-profits have the highest unsubscribed rate. People do not like feeling guilty and sad, so you unsubscribed.
Add quality and punch over quantity to reach out to your target audience.
5. Make it easy to donate
It takes only a moment. A passing moment of resolve before the reader remembers their credit card bills and other emails gets distracted.
Make it a one-step, one-click to act on the CTA - to find payment information, to sign up for a newsletter, etc. Use AMP emails with dynamic content and webpage functionalities to make this happen within the email body. Use a prominent DONATE button in your communication. As shown below, you can create a landing page to request users to donate.
Source: Morweb
Related guide: 15 Deadly Email Marketing Mistakes You Must Avoid in 2022
Non-profit email marketing best practices
Certain best practices will always apply no matter which organization or industry you create an email marketing campaign for.
Personalize the subject line

Create organic email lists

Clean mail lists regularly

Keep a clear CTA

Allow readers to subscribe to your newsletter

Do not use "no-reply"

Use dynamic email templates
However, these 5 best practices are more important for non-profits.
1. Integrate with CRM
Every person associated with your non-profit is a potential donor, and every small or big donation makes a difference. Use a CRM to keep track of all your donors, volunteers, and supporters in different capacities. There are many free CRMs available for non-profit organizations to use.
Integrate your email marketing automation tool with CRM. Use the information from CRM to create meaningful target audience segmentation. Mailmodo seamlessly works with almost all CRM tools and requires minimal developer support for integration. Simply connect your CRM integration in 2 minutes with Mailmodo to sync data and send actionable campaigns.
2. Highlight the timeline for donations
Many crowd-funding companies use this best practice to highlight the urgency of fund collection. You can also use this best practice for other non-profit program-related funding. Highlighting the time you require a specific amount of funds is a great way to spur the reader into action.
3. Close the loop for donations
Closing the loop is very important to increase repeat donations. To create a real supporter, you need to show how their donation has gone in the right place. You can start with a thank you email and create a workflow to keep them posted about the cause to which they have donated. Many crowdfunding initiatives also use this best practice to update the case status to which one may have donated.
Anyone can donate just once and maybe forget about it. Only a real supporter of the cause would return and make repeat donations. Eventually, repeat donors spread the good word for your non-profit, creating organic and sustainable growth.
4. A/B test emails
A/B testing is more than a mere hygiene routine. A/B testing beyond checking the subject line allows us to see which target audience responds to what kind of funding/action appeal.
For non-profits, simply bombarding the target audience with emails daily is not an option, lest it is marked as spam. Because sending impactful, quality content is pivotal to the campaign's success; even a single email should not go without A/B testing it with a smaller audience first.
5. Email security
A lot of effort goes into establishing credibility. It takes only one security incident to wipe out years of hard work. Taking serious measures will make sure your campaign emails are going into spam. Aware readers appreciate security measures like using a CAPTCHA image because it is good to know that you are serious about security.
When assured about adequate security best practices, supporters feel more confident about larger and repeat donations.
Related guide: Email Security Best Practices to Keep Your Business Safe
6 best non-profit email campaigns non-profits should send
1. Newsletters
Make it easy to sign up for the newsletter, with easy-to-spot buttons on reach-out emails, website, and landing pages. They are free, so easy to sign up for. Through newsletters, you can create your context, thereby creating the opportunity to highlight various aspects of your work. They are an excellent way to establish the credibility and value of the work. Over time, newsletters become instrumental in creating a committed supporter base.
2. Donation appeal
This is a simple campaign. It includes informing the reader about your initiatives and asking for a reasonable donation. It may also include signing up for the mail list/newsletter to get regular updates. A donation appeal must be simple and have a prominent donate button and options.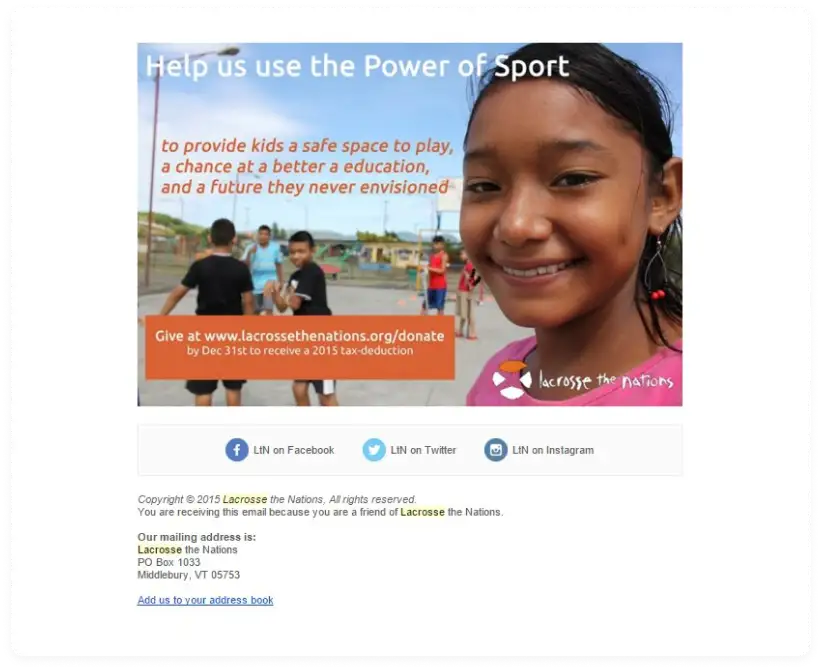 Source: 4 a Good Cause
3. Fundraising events
Such events can be conducted online or even in offline mode. These events help create awareness about the cause at hand and generate funds. They help bring together a network of supporters who can influence each other to create an impact through the activity. Marketing about such events through email to a wide audience effectively makes such events successful. Below is an example of a follow-up/feedback email after such an event.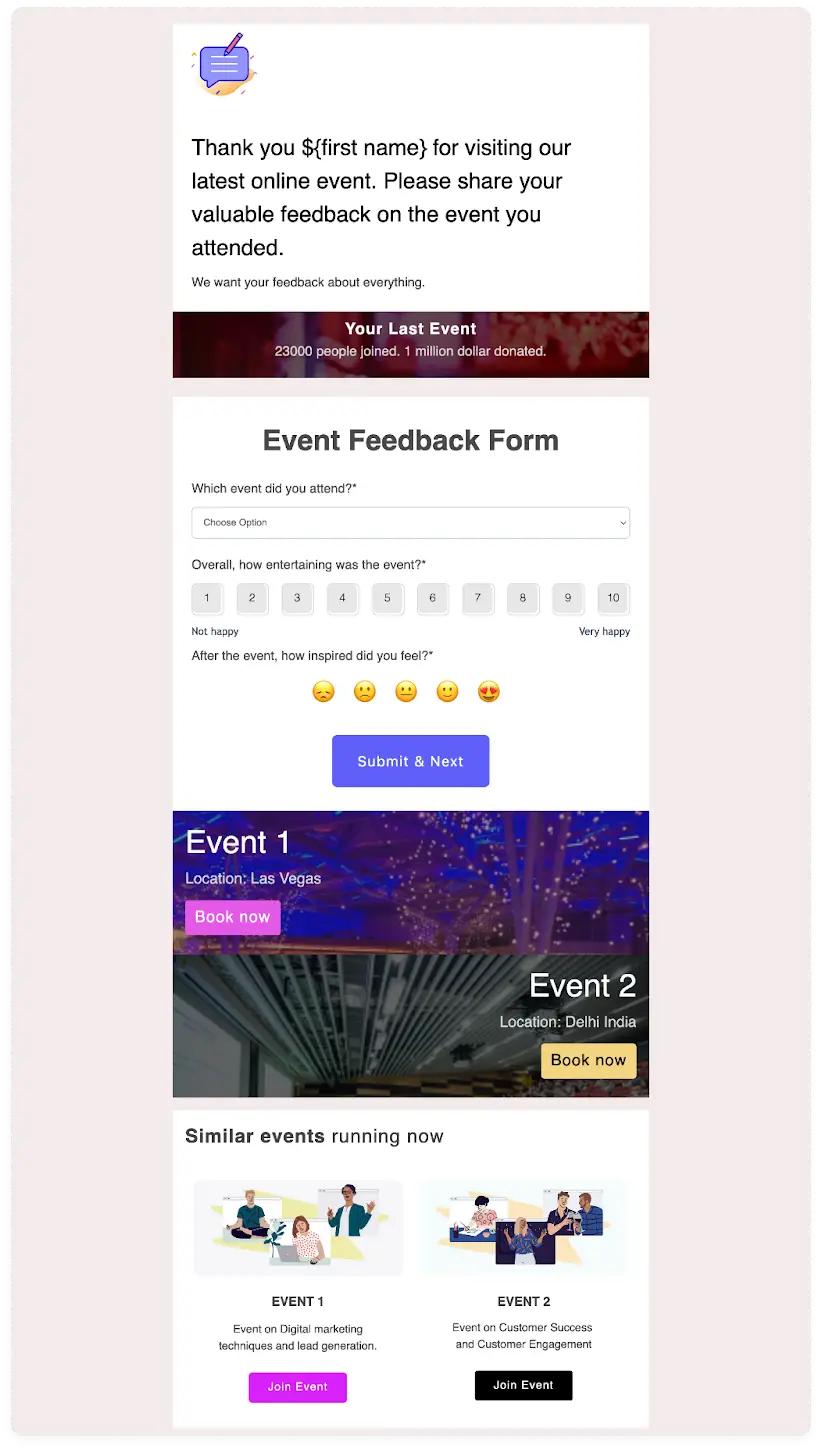 Source: Mailmodo
4. Thank you email to show appreciation
Thank you email immediately after a contribution is a great "well-done" boost to the supporter. It helps to reinforce the message about the impact that their donations can create. The email below is a great example of that.
Source: Water.org
5. Update emails
'Update' emails keep the supporters updated about the initiatives they have shown interest in earlier. This helps to get repeat donations because it gets supporters to become more involved with the initiatives. Such emails can also help motivate first-time donors by creating a sense of urgency.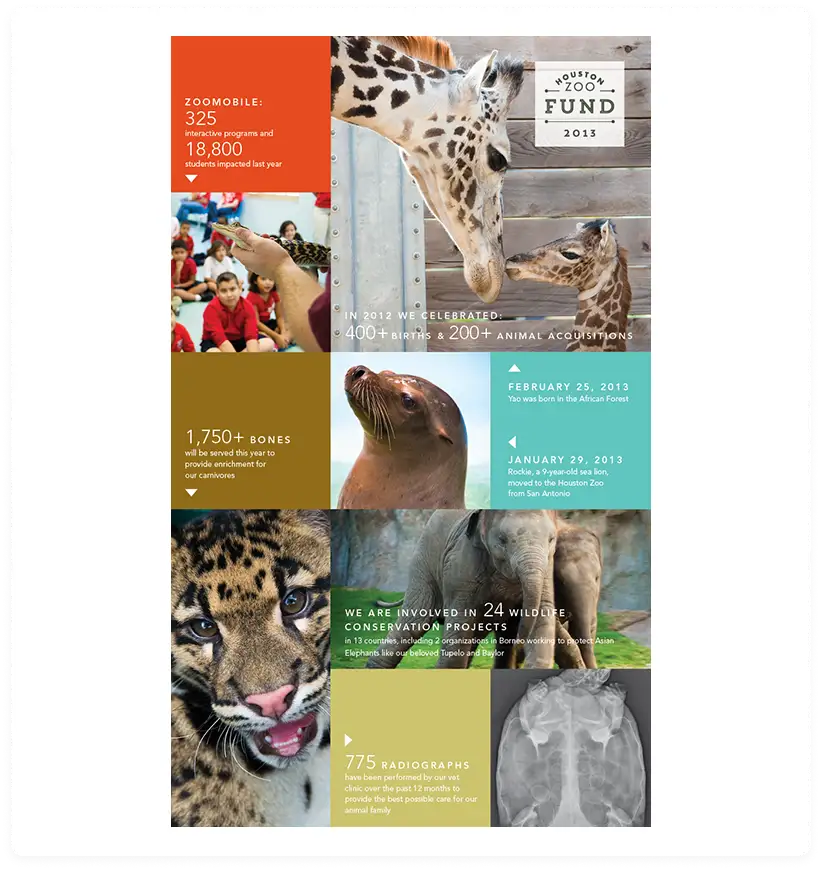 Source: Houston Zoo Fund
6. Share success stories
Success stories can inspire new supporters to donate. Even people who have contributed earlier can understand that their efforts have been successful. This helps increase the chances of repeat donations. The email below is a great example of sharing a success story to motivate new users to donate.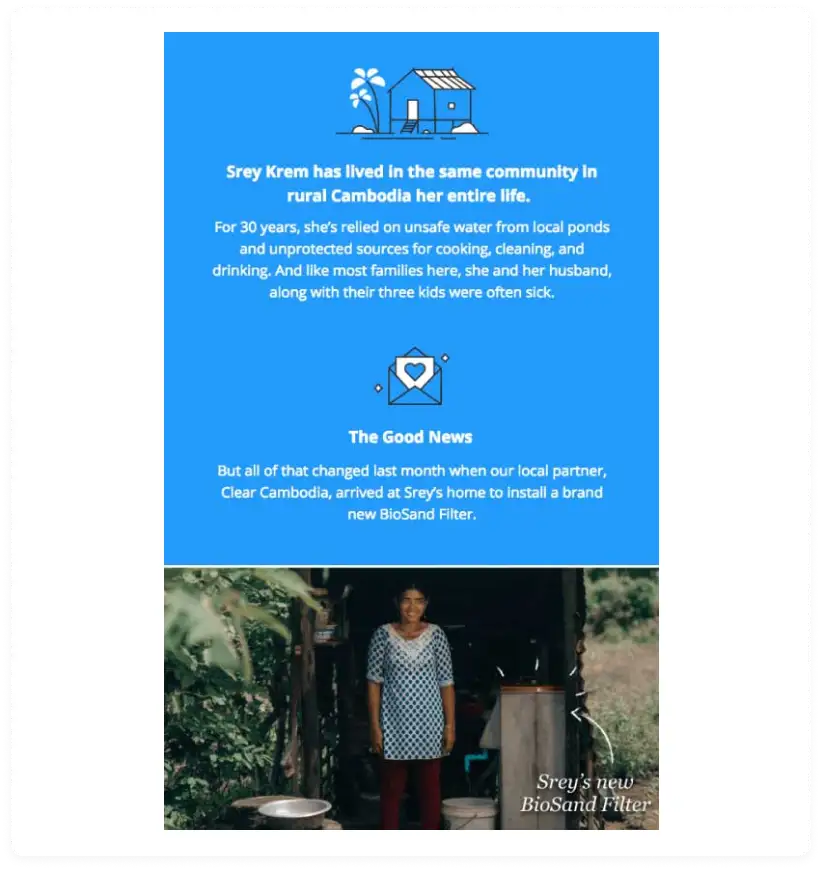 Source: Clear Cambodia
Why use Mailmodo to upscale your non-profit email campaigns?
Mailmodo is a great email marketing solutions tool that helps you make dynamic content come alive with website functionalities within the email body. You can scale your campaigns without help from developers or designers.
Check out why you must use Mailmodo for your non-profit email marketing campaigns.
Create dynamic emails with our no-code template builder and add many pre-made content blocks and AMP widgets.

Hyper-personalize emails to customize the name, company, event attendance, geography, contact details, etc. You can even create custom personalization if you don't find your preferred factor.

Send test emails and preview your email in both HTML and AMP format on desktop and mobile devices.

Automate transactional emails at scale based on the events triggered, like donor onboarding email, abandoned donation email, donation receipt email, event confirmation email, etc.

Measure automated email campaign performance with Mailmodo's email analytics suite.

Connect your marketing stack with 360 integrations for smoother workflows.
Wrap up
Paraphrasing Jana Stanfield's quote, "you cannot do all the good the world needs. But the world needs all the good that you can do."
Email marketing is a wonderful opportunity for non-profits to promote their good deeds and grow a loyal supporter base without spending a dime. We've shared all the essentials in this article to use email as a channel to its fullest potential. You can also check out our guide on creating engaging newsletters to convert your subscribers into your strongest advocates.
What you should do next
Hey there, thanks for reading till the end. Here are 3 ways we can help you grow your business:
Talk to an email expert. Need someone to take your email marketing to the next level? Mailmodo's experts are here for you. Schedule a 30-minute email consultation. Don't worry, it's on the house. Book a meet here.

Send emails that bring higher conversions. Mailmodo is an ESP that helps you to create and send app-like interactive emails with forms, carts, calendars, games, and other widgets for higher conversions. Get started for free.

Get smarter with our email resources. Explore all our knowledge base here and learn about email marketing, marketing strategies, best practices, growth hacks, case studies, templates, and more. Access guides here.