Being a decade-old ESP, Sendinblue gives tough competition to old players like Mailchimp and Getresponse with its generous plans and top-notch features.
The tool also received a value-for-money badge 2023 by EmailToolTester as its pricing plans beat most ESPs. With its premium plan, you can send up to 100k emails for just $69. Over time, Sendinblue added new features to its tool stack, making it more than just an email marketing platform.
But, it still has some cons, such as limited user access and a less generous free plan. So, how well does Sendinblue's core feature perform, and does it really offer value for money?
Let's find that out in this Sendinblue review based on personal analysis of the tool and customers' feedback.
Table of contents
What is Sendinblue?
Sendinblue is an email service provider that helps small and medium-sized businesses to scale their email marketing campaigns. It offers features such as a drag-and-drop editor, email automation builder, and transactional email.
Apart from email marketing, it offers various services such as free Customer Relationship Management (CRM) tools to keep track of leads and a sign-up form builder. It also has tools to create and send SMS and website push notifications.
What are Sendinblue's core features?
Here are some of the notable features of Sendinblue with what I liked and disliked about each feature:
1. Email template builder
Sendinblue has an easy-to-use drag-and-drop email builder. Currently, it has 40+ pre-made templates organized in categories such as onboarding, re-engagement, anniversary, welcome, etc.
You can begin by choosing these pre-made templates or creating your own from scratch using HTML code. The builder is quite intuitive, as every option is perfectly mapped out.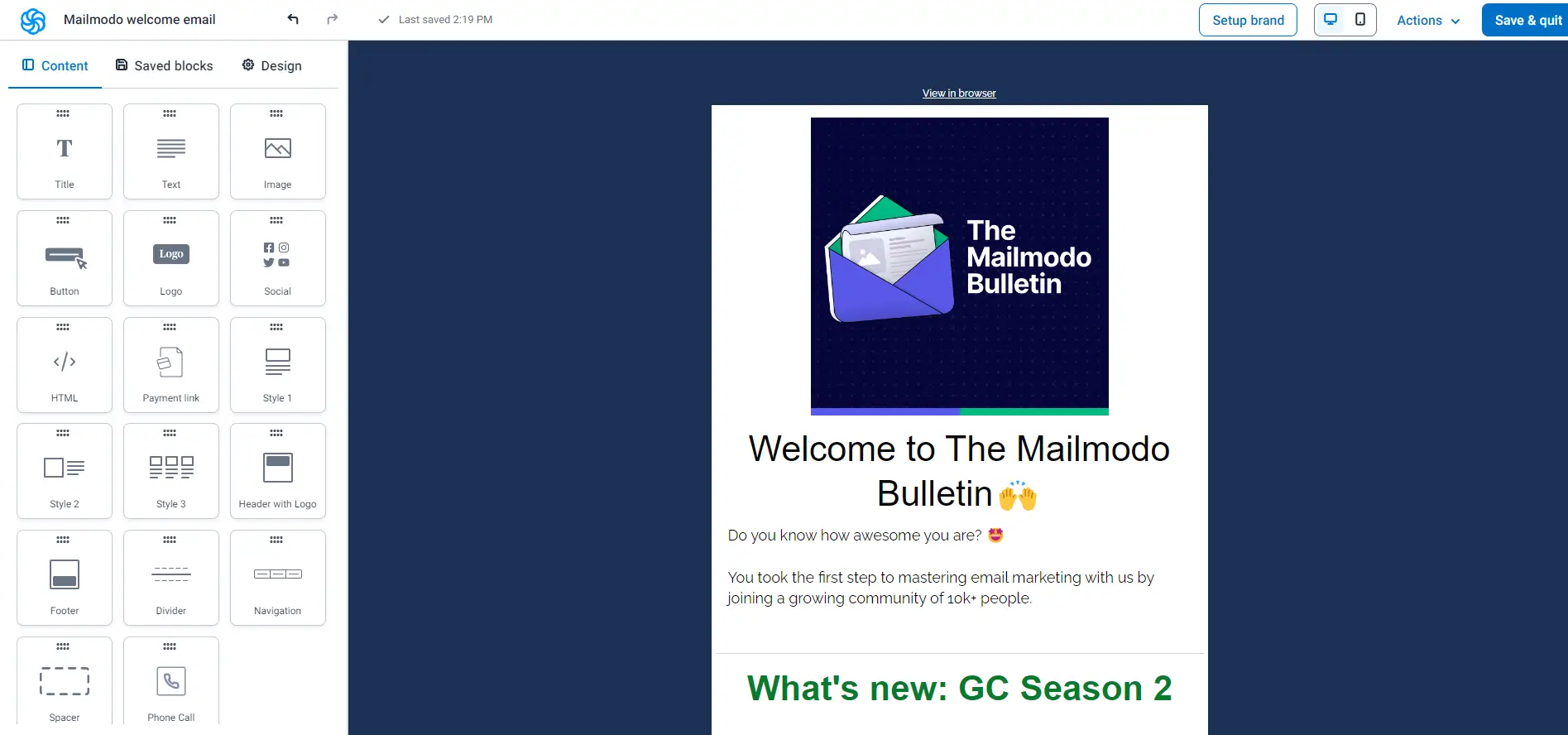 One unique feature of Sendinblue is that you can set up your brand kit setup. This feature can fetch your website assets - logos, colors, fonts, and social links. Use them to create a consistent design, or if you don't have a website, you can create it from scratch.
2. Email workflow builder
Sendinblue's email automation builder is one of the best due to multiple trigger options, pre-made email workflows for various use cases, testing, and ease of use.
No matter your plan, you can access Sendinblue's 15+ pre-made workflow templates for various goals, including increasing engagement, traffic, and revenue or building relationships. These workflows are helpful to inspire if you're a beginner email marketer.
When it comes to building a workflow, you get 4 trigger options (starting point):
Email activity

Marketing email activity
Transactional email activity

Contact details

Anniversary
Contact attributes condition
A contact is added to an email list
Contact filter conditions

When a contact submits a form

Website Activity

A contact visits a page

A contacts click on an external link

An event happens
You can add multiple entering points to trigger similar emails to contacts in your list. Apart from triggers, you get 13 events and 4 conditions to customize the workflow. Unlike many ESPs, Sendinblue allows you to test the entire workflow.
Another thing to note about the workflow builder is you can edit and add new contacts when the workflow is active. If you pause the workflow, you won't be able to add new contacts. Also, you can activate the workflow if you're on a paid plan. This feature is not available for free plan users.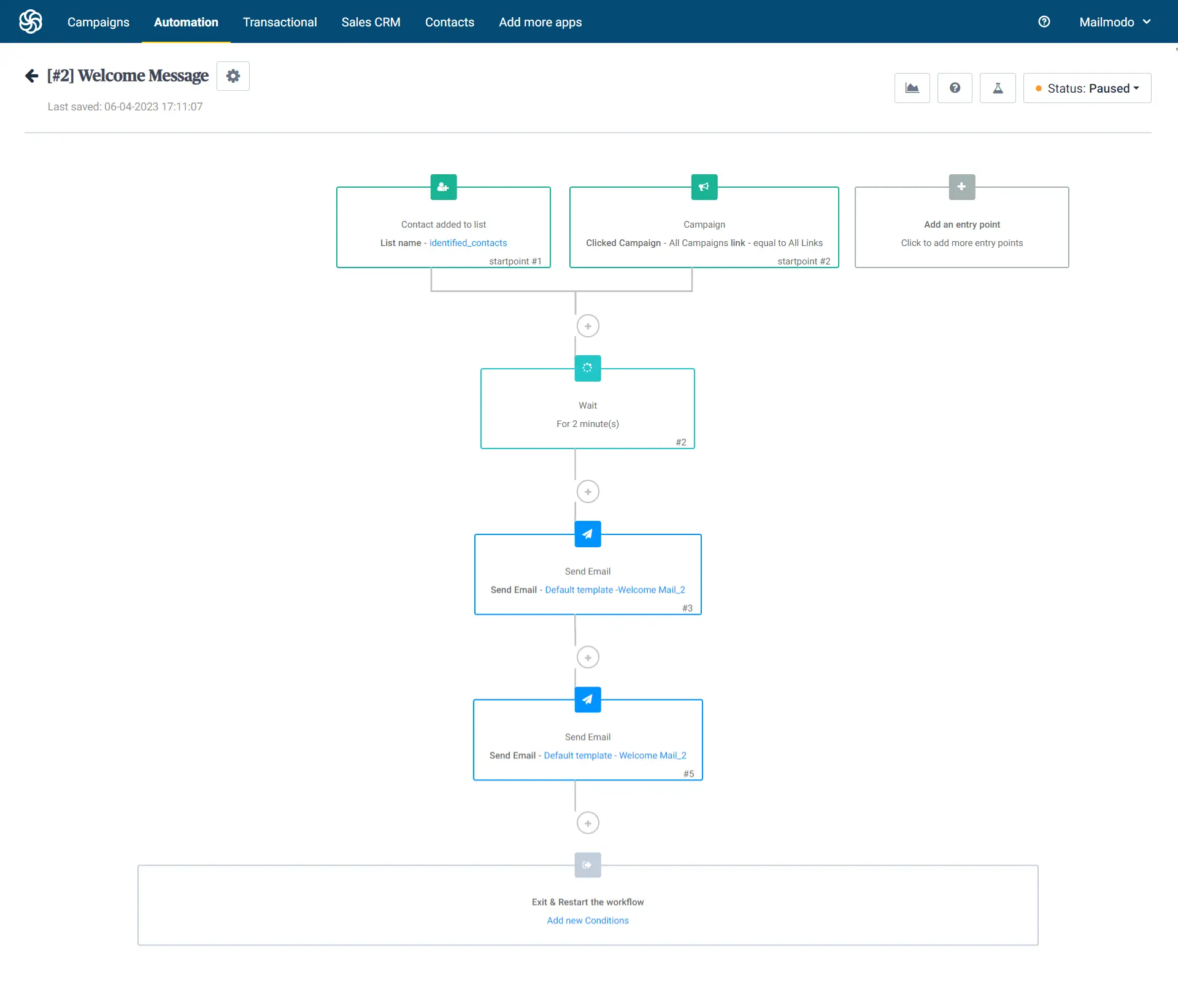 3. Sendinblue SMS Marketing
SMS services offered by Sendinblue have different pricing depending upon the countries you're sending these SMS to. For example, it will cost $10.10 to send 1000 SMS within the US, while it costs $74.69 to send the same SMS within Brazil.
This unique feature offered by Sendinblue makes it an attractive ESP as you can target users with emails and SMS and drive more revenue.
The SMS creator is also advanced, as you can customize SMS based on the user's behavioral data:
Email
Name
Added date
Last changed
Email activity
Engaged contacts
Unengaged contacts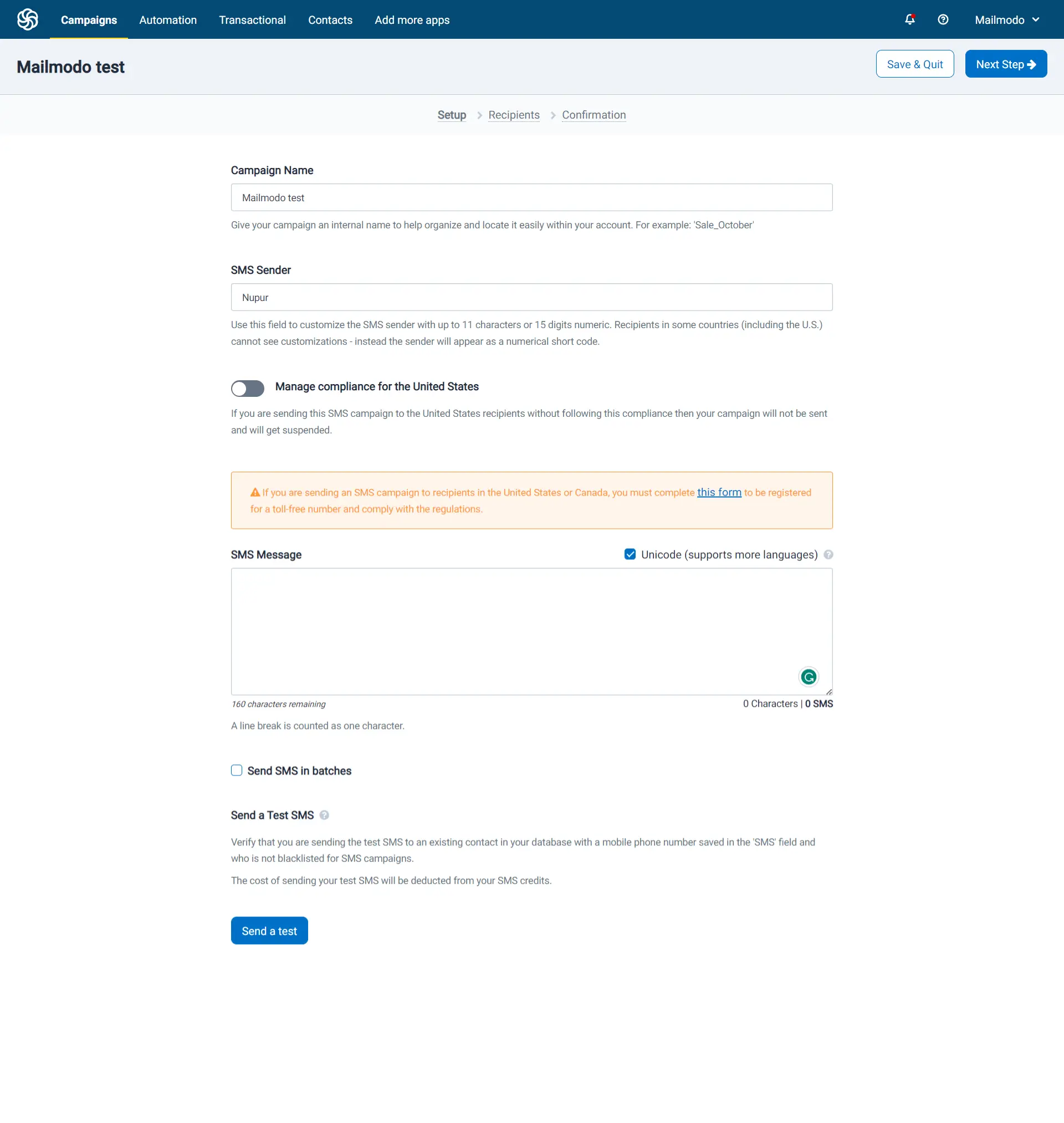 4. Sendinblue CRM
The free plan also comes with a sales CRM, which makes Sendinblue an attractive choice. Many ESPs, such as Mailchimp, charge you extra to access this feature, but Sendinblue wins over it by giving it for free. The CRM is easy to use as everything is perfectly laid out.
Some notable features of Sendinblue's sales CRM:
Outline various stages your leads go through, and assign estimated revenue value and closing date to each.

Create tasks, delegate them to the respective team, and track the progress over time.

Get an overview of deals closed, in progress, and overdue in the main dashboard.
In a nutshell, Sendinblue CRM is a great addition as it comes with a forever free plan, and for this very reason, EmailToolTester has added it to their best CRM for a small business listing.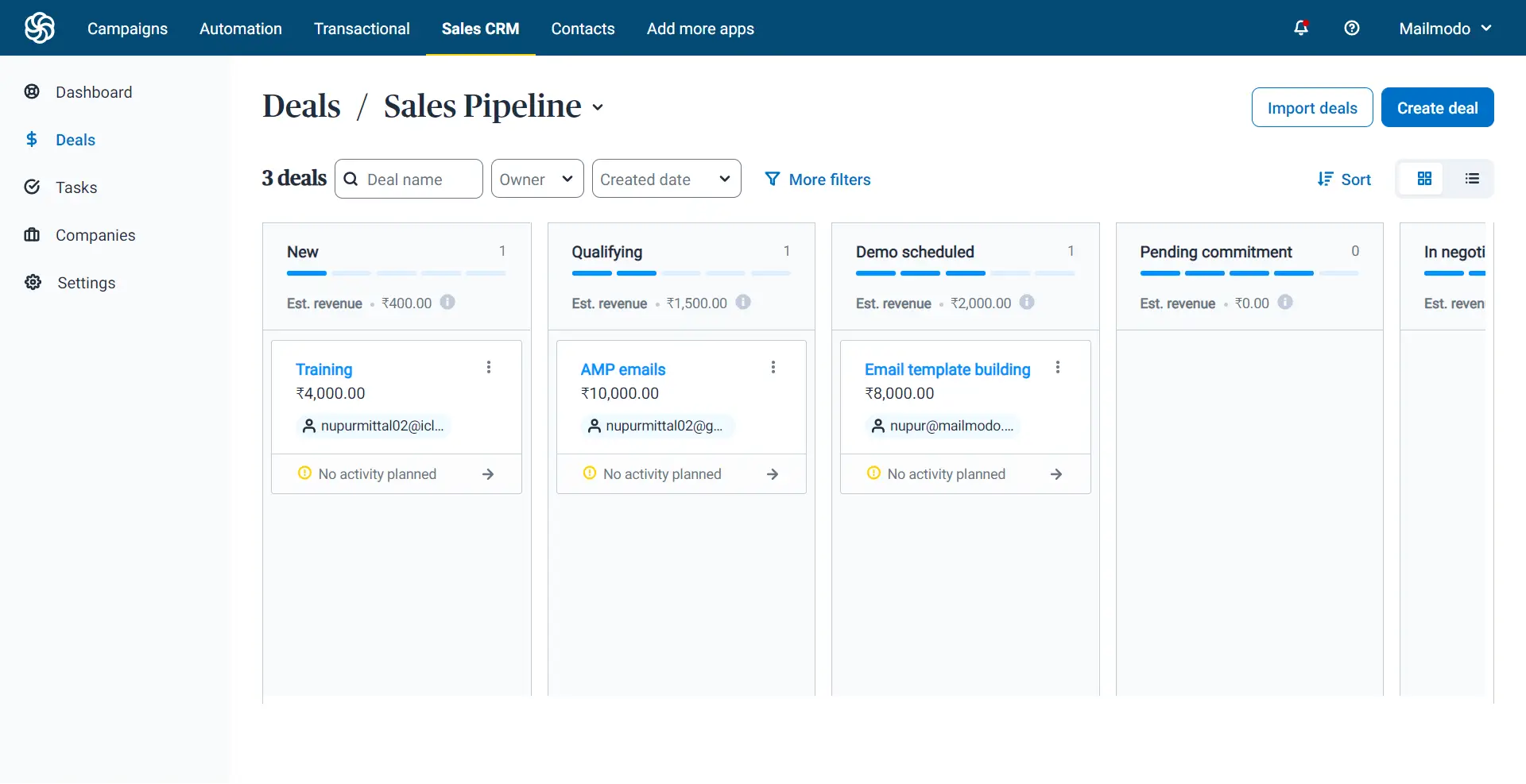 Sendinblue pricing details
Sendinblue is more than an ESP and, as a result, has a different pricing structure for all its features - marketing platform, Chat, SMS marketing, and transactional emails.
We've outlined its marketing platform pricing in the table below:
| Number of emails | Free | Starter | Business |
| --- | --- | --- | --- |
| Upto 300 emails daily | $0/mo with unlimited contacts | NA | NA |
| Upto 20k | NA | $25/mo with unlimited contacts | $65/mo with unlimited contacts |
| Upto 40k | NA | $35/mo | $75/mo |
| Upto 60k | NA | $49/mo | $89/mo |
| Upto 100k | NA | $69/mo | $129/mo |
| Upto 150k | NA | NA | $169/mo |
| Upto 250k | NA | NA | $239/mo |
| Upto 350k | NA | NA | $289/mo |
| Upto 500k | NA | NA | $399/mo |
| Upto 750k | NA | NA | $559/mo |
| Upto 1M | NA | NA | $669/mo |
Here's the breakdown of its transactional email services:
| Number of emails | Free |
| --- | --- |
| Upto 300 emails daily | $0/mo with unlimited contacts |
| Upto 20k | $15/month |
| Upto 60k | $39/month |
| Upto 100k | $65/month |
| Upto 150k | $95/month |
| Upto 250k | $160/month |
| Upto 500k | $300/month |
| Upto 1M | $550/month |
It offers Sales CRM for free to all its users, and as for the Chat services, the pricing changes based on the number of users. You can access this feature for up to one user for free, but for every additional user, you will have to pay $15/month.
Get a complete analysis of Sendinblue's pricing plans.
Sendinblue's key strengths and weaknesses
Based on Sendinblue's customer review, we have highlighted the pros and cons of the tool:
Sendinblue pros
Advanced email automation builder: Sendinblue workflow builder has multiple trigger options, events, and conditions to help you create targeted email automation. You must be on the paid plan to activate the series, but it's worth the money.

Money's worth: Sendinblue offers the most competitive price in the market. Its features in that pricing are top-notch, from powerful email automation to SMS marketing.

Free sales CRM feature: Sendinblue offers in-build sales CRM even to its free plan users. Many ESPs like Mailchimp charge extra for this service.
Sendinblue cons
Low email sends limit on the free plan: Even though the free plan offers access to many features, the daily send limit is quite low, i.e., 300 emails/day.
Is Sendinblue the right tool for you?
The biggest question is whether you use Sendinblue as your email service provider. We've jotted down key pointers to help you decide:
When it's recommended
You want an all-in-one tool on a low budget: Seninblue comes across as an all-around email marketing and CRM tool with the best pricing. The pricing starts at $25 for up to 20k monthly emails with unlimited contacts. Its free plan is also one of the best and offers many features, including sales CRM.
The best thing about Sendinblue is its user interface, through which we can easily create a perfect email marketing campaign; we just need to sign up for the platform and start using its ready-made templates. Also, the pricing plan offered by Sendinblue is affordable and competitive. -Sapna B., Digital Marketing Manager
You are e-commerce: Sendinblue offers pre-made email workflow for e-commerce use cases such as abandoned carts and post-purchase emails. Also, you can trigger emails based on purchase data making it an appealing ESP. Its SMS marketing feature is also helpful if you're e-commerce and want to send promotional messages.

You want to run SMS marketing campaigns: Sendinblue offers more than email marketing services. It has in-built apps for WhatsApp, transactional, and text messaging so that you can target your audience outside emails. All this is available at affordable pricing.
When it's not
You need multiple logins and different user access levels: Unfortunately, Sendinblue only allows you to set up logins for multiple users on their Business and Enterprise plans.

If you're an enterprise: Sendinblue is best suited for small or midsize businesses than enterprises.
Sendinblue alternatives
Check out these Sendinblue alternatives that are much more affordable and might be the right choice.
Mailmodo
Mailmodo is one of the emerging and best email marketing platforms that help you create and send interactive AMP emails, build automated journeys, and create trigger campaigns. Apart from this, the tool is much cheaper than Sendinblue and is also known for its excellent customer support, one of the major issues Sendinblue users face.
Check out the comparison between Mailmodo and Sendinblue.
Sendinblue vs. Mailmodo: Which one should you use?
Criterion
Mailmodo
ConvertKit
No-code email builder
For both AMP and HTML emails with 200+ pre-made templates
Only HTML emails with 60+ pre-made templates.
AMP email support
✅
❌
Transactional emails
Available on all plans
Have a separate pricing structure for transactional emails.
Dedicated support
Email, chat, video & phone support
Live chat and knowledge base are available for all users, and phone call support is only for premium account users.
Custom template import
Available on all plans
Available on all plans
Email automation
12 trigger options divided into 5 categories:
1. Manual Trigger
2. Contacts
3. AMP activities
4. Custom events
5. External Platform
4 trigger categories:
- Email activity
- Contacts
- Submits a form, and
- Website Activity.

Apart from trigger points, you also get 13 actions and 4 conditions.
Dynamic email & personalization
✅
✅
List Management
✅
✅
Reports and Analysis
✅
✅
Subject line A/B testing
✅
✅
Supported integrations
20+ integrations
50+ integrations. Sendinblue is also a part of the Zapier library, meaning you get multiple integrations with different CRM, analytics, and other apps.
Pricing
For 40k contacts:
- Lite - $199/mo
For 100k contacts:
- Pro - $459/mo
For 40k contacts:
- Starter: $35/mo
- Business: $75/mo
For 100k contacts:
- Starter: $69/mo
- Business: $129/mo
When should you choose Mailmodo over Sendinblue?
There are various reasons for choosing Mailmodo over Sendinblue:
If you want to embed interactive elements in your emails.
Mailmodo is one of the ESP that helps you create and send responsive and engaging interactive AMP emails. It offers 20+ AMP email widgets you can add to your emails using its no-code email editor. So, if you want to create highly engaging AMP and HTML emails, Mailmodo is your go-to ESP.
You want to set up custom events as a condition
With Mailmodo, you can use the 'custom event condition' to create a check based on the event property selected in the trigger - Occurrence of an event. This helps you create more targeted workflows based on your user's behavioral data
You want a huge library of pre-made templates and content blocks
Mailmodo's editor has 120+ pre-made AMP and HTML email templates and content blocks for headers, footers, CTA, and layouts. It makes template creation easier by giving you a predefined structure. Sendinblue is limited as it offers only 40+ templates and 4 content blocks.
Other Sendinblue alternatives
Check out these Sendinblue alternatives that are much more affordable and might be the right choice.
Mailchimp
Mailchimp is a better alternative if you want to create landing pages and sign-up forms to collect leads. Even though Mailchimp is more expensive than Sendinblue, it offers many advanced features, such as an email template builder and analytics.
Campaign Monitor
Campaign Monitor is a good alternative to Sendinblue if you run an agency, as it has special plans and features. It also has better pre-made email templates than any other ESP.
Mailerlite
Mailerlite is the closest and best alternative to Sendinblue as it has the highest price-to-feature ratio with advanced automation, customer support, and templates.
Sendinblue's rating overview
Feature
Ratings
Comments
Ease of use
⭐⭐⭐⭐
The software is easy to use, and the navigation menu creates a good user experience. The automation and template builder is cluttered-free, and each option is clear and makes it easy to get the job done.
Email template editor
⭐⭐⭐⭐⭐
Sendinblue offers a drag-and-drop editor which works smoothly. One unique feature is its brand kit creator. By entering your domain, you can get your website assets - logo, color, and font in the doctor to create a consistent email design.
Email automation
⭐⭐⭐⭐
Sendinblue shines with its email workflow builder with 4 trigger points based on contact data, email engagement, web behavior, and ecommerce activity.

It also gets brownie points as it has 15+ pre-made workflows for various use cases:
- Abandoned cart workflow
- Welcome new subscriber series
- Re-engagement series

One interesting benefit is it allows workflow testing before you make it live.
List management
⭐⭐⭐⭐
You can segment your contact list based on various filters, such as email activity, SMS activity, and engagement level. You can also add and/or condition.
Sign-up form and landing page builder
⭐⭐⭐⭐⭐
Sign-up and landing page builder is advanced, offering various segmentation conditions and filters. There is also an option to enable catch verification.
Email deliverability
⭐⭐⭐
In EmailToolTester's deliverability test, the Sendinblue score kept fluctuating, but it stayed in the nineties on average in the last 3 tests, with an average score of 81.07.
Reporting and analytics
⭐⭐⭐
Sendinblue offer many required reports, such as most clicked link data, geo data, and Google Analytics integration. You can also access conversion data.
Personalization
⭐⭐⭐⭐
You can add personalization parameters based on contact attributes such as first name, age, gender, etc.>br>
In addition, you can add more conditional content, such as hide or show Contact to certain segments using the if/else condition.
Pre-made templates
⭐⭐⭐⭐
It also has 47 pre-made templates and 4 layout blocks. If you can't find what you're looking for, you can upload your templates from Stripo.
Authentications
⭐⭐⭐⭐⭐
SPF, SKIM, and DMARC
Own domain
⭐⭐⭐⭐⭐
You can use your own custom subdomain to host the landing page you built using Sendinblue. If you want a new domain, you must be on a dedicated IP with Sendinblue, which is expensive.
Spam and design testing
⭐⭐⭐
The editor has preview mode for both desktop and mobile. You can also send test emails to see an email in your inbox. But there is no spam testing available.
Bounce management
⭐⭐⭐⭐⭐
The tool will attempt to resend the email over the next 36 hours until the email is delivered. They stop trying and mark it as a soft bounce in the campaign report if it remains undelivered.

The hard bounces are automatically added to the blocklist, and no second attempt is made. It's also marked as hard-bounced in the campaign report.
Blocklist
⭐⭐⭐⭐⭐
You can import blocklist from Sendinblue.
Interactive elements
❌
Not available
Integrations
⭐⭐⭐
Sendinblue offers integrations with CRM, lead generation, ecommerce, and CMS. It also connects with Zapier giving you access to thousands of integrations.
Languages
⭐⭐⭐⭐
The website and help center is available in 6 languages (EN, ES, PT, DE, IT, FR)
Customer support
⭐⭐⭐⭐
Sendinblue offers reliable and quick customer support. There is a universal help button to raise tickets, and a live chat option is also available. It also offers a well-written knowledge base to help out its customers.

There is also Sendinblue academy offering various videos covering different aspects of email marketing and features of Sendinblue.

The phone call is only available for its premium users.
Overall ratings

- 4.5/5 (G2)
- 4/5 (EmailToolTester)
In a nutshell, Sendinblue is a great email marketing software offering the best value for money. Its excellent customer support, powerful automation builder, and SMS marketing feature give strong competition to its rivals.
The verdict
Sendinblue wins in email marketing with its most competitive pricing becoming the go-to choice for small and midsize businesses. Its advanced automation features and template builder can help these businesses optimize their email marketing campaign to drive business results.
Sendinblue offers an easy-to-use SMS marketing feature that lets you send transactional, Whatsapp, and text messages to target your customers. It also gets extra points with its free sales CRM.
Apart from their lifetime free plan, their paid plans are also cheap. For instance, you can send up to 60k monthly emails for just $49/mo and $89/mo in their business plan.
Overall, Sendinblue is an appealing choice for an email marketing platform.
FAQs
How do I cancel the Sendinblue subscription?
Canceling your account can be done online. Simply log in and go to your account My Plan page. At the bottom, you will see the option to cancel the monthly plan or to close the account.
If you don't close the account entirely, you can use your remaining credits until the end of your billing month.
Is Sendinblue good for email marketing?
Yes, Sendinblue is one of the best email marketing software offering top-notch features at affordable pricing. However, it doesn't support interactive AMP emails yet. You can check out Mailmodo, which helps you create and send an interactive email and offers 20+ AMP email widgets.
What are the advantages of Sendinblue?
Here are some of the major advantages of Sendinblue:
Sendinblue workflow builder has multiple trigger options, events, and conditions to help you create targeted email automation.
Sendinblue offers the most competitive price in the market, along with advanced features such as marketing automation, SMS marketing, and landing page builder.
Sendinblue offers an in-build sales CRM even to its free plan users.
Is Sendinblue a CRM tool?
Yes, Sendinblue has a free sales CRM which is intuitive and easy to understand. It's one of the best CRM, as per EmailToolTester's analysis.
Does Sendinblue have a free version?
Sendinblue offers a lifetime free version using which you can send up to 300 emails/daily. You can access almost all its features, such as template builder, analytics, and sales CRM. But, to use email automation, you must buy its premium plans.