Audit and optimize your templates
What will this help with?
Better template functionality

Improved email experience for your subscribers
How to audit and optimize your email templates?
Below is a checklist that you can use to do this. We would recommend you tick these off one by one.
1. Live links: Check your templates to ensure all the links in the CTAs, sign-up buttons, social buttons, etc., are valid and correct.
2. Accessibility: Ensure all your email's images have alt text. And that text in your email is not an image. (Avoid using all-image email at all cost.)
3. Email sizes: Make sure your HTML emails don't exceed 102kb and individual images in your email don't exceed 100kb in size. Inbox providers clip large emails, and heavy images take longer to load.
4. Button size: Make sure the buttons in your email are big enough to accommodate a fingertip for mobile users.
5. Personalization: Make sure the personalization parameters and fallbacks for the same are used correctly in the email.
💡 Bonus:
You can use this pre-deployment checklist to optimize your email templates. Bookmark this page to use it any time you create one.

You can also get your templates peer-reviewed by colleagues and friends.
There are other things that one needs to do for responsiveness and dark mode, which we will discuss in the following days.
How can you do this on-fly with Mailmodo's Smart Template Suggestions?
Auditing your templates and making them error-free is easier with Mailmodo because of our in-built smart suggestions. Here's how this happens.
In the template editor, click the 💡 icon on the top left corner to see the template suggestions.

The recommendations are categorized as Errors, Warnings, and Suggestions.

Review and implement the suggestions given by the tool. Prioritize resolving the issues mentioned under Errors and Warnings.

Click on "refresh and update" to fetch updated suggestions.
Here's how it looks in the product 👇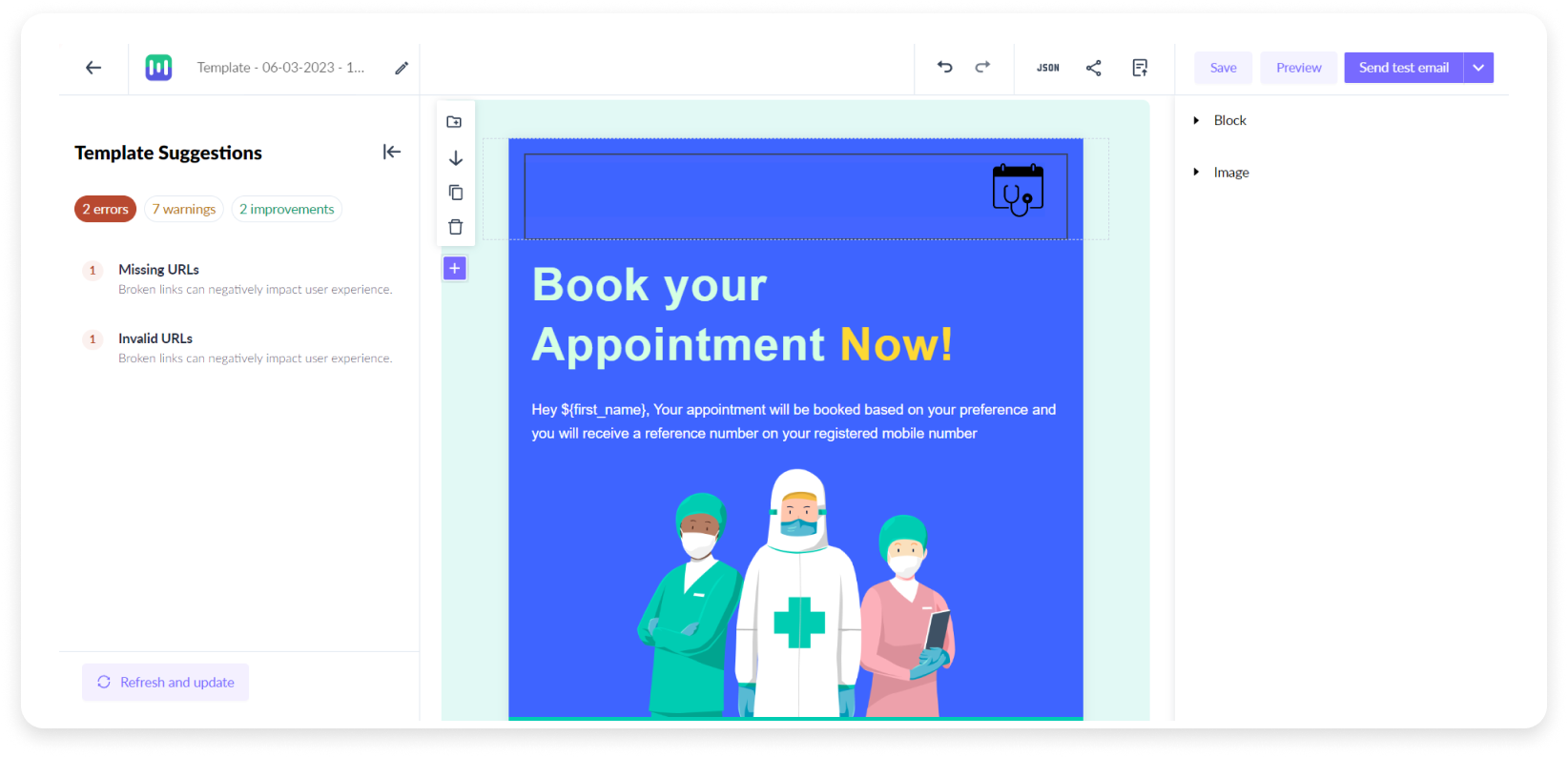 What you should do next
Hey there, thanks for reading till the end. What now?
Complete the task with Mailmodo Take action and complete the task to improve your email performance using Mailmodo. Try it for free for 21 days.

Join the challenge If you want to get daily emails with actionable tasks with step-by-step instructions to stay motivated to improve your email performance then register for the the challenge here.

Need some help? If you have any questions about the task, ask us on our Slack community and get answers from experts. Join the community here.
Complete the tasks and improve your email performance using Mailmodo
Take the 21 Day Email Performance Challenge
In association with
Samar Owais
Email Strategist and
Conversion Copywriter