Omnisend has made a name in the ecommerce email marketing space with its marketing automation, signup form builder, and SMS marketing features. They serve customers globally and have come a long way since their inception in 2014.
However, upon analysis, we found the tool performs poorly in the email deliverability sector and the template editor lacks many must-have features.
So, how much value does this tool add for ecommerce brands?
We cover that in our Omnisend review where we analyze the tool's core features and give you an unbiased opinion on whether it's worth investing in.
Table of contents
What is Omnisend?
Omnisend is an ecommerce email marketing platform that helps scale your email marketing program with its easy-to-use features. The tool also offers SMS marketing services and integrates with 30+ apps, giving you flexibility in campaign creation and management. From a pricing perspective, it seems affordable and best suited for small and midsize businesses.
Omnisend's key features
Omnisend has an email editor, automation builder, and pop-up builder to help you create campaigns, collect and nurture email subscribers, and retain existing customers. Besides these, a reporting dashboard gives you an overview of your campaigns' performance.
Let's discuss three key features in detail:
1. Omnisend drag-and-drop email template builder
Omnisend offers 150+ pre-made templates for different use cases, but majority of these are basic and require extensive copy and design edit.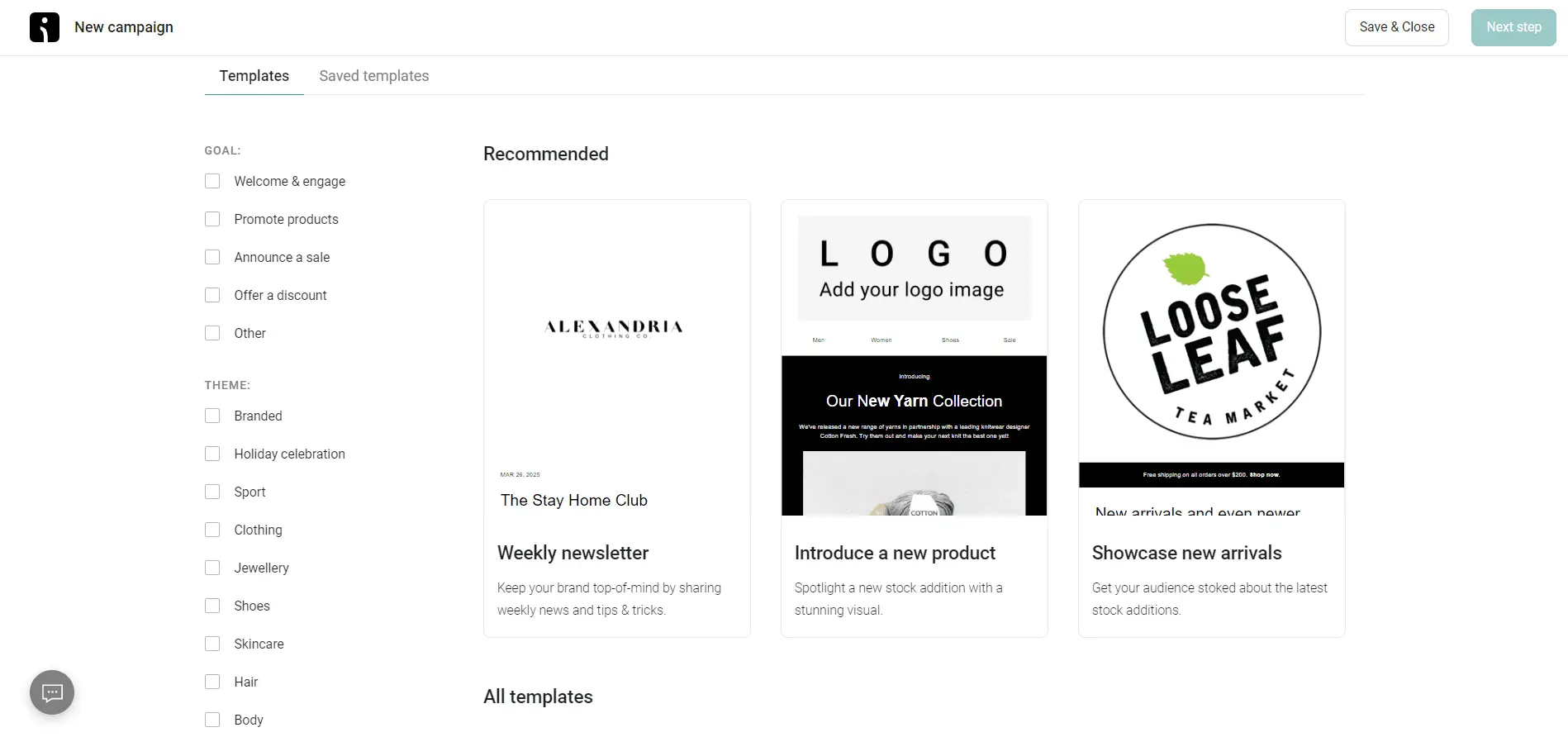 There is an option to assign a tag to each form to identify which form helped you obtain a subscriber. Then, you can add them to the right automation series based on this information.
Omnisend's email editor is simple to use as it's drag and drop, and the navigation panel outlines goals, themes, and blocks. You'll find pre-made blocks for various elements — headers, footers, text, product listings, and hero images. You can also hide/show certain elements on desktop and mobile, giving you more design flexibility.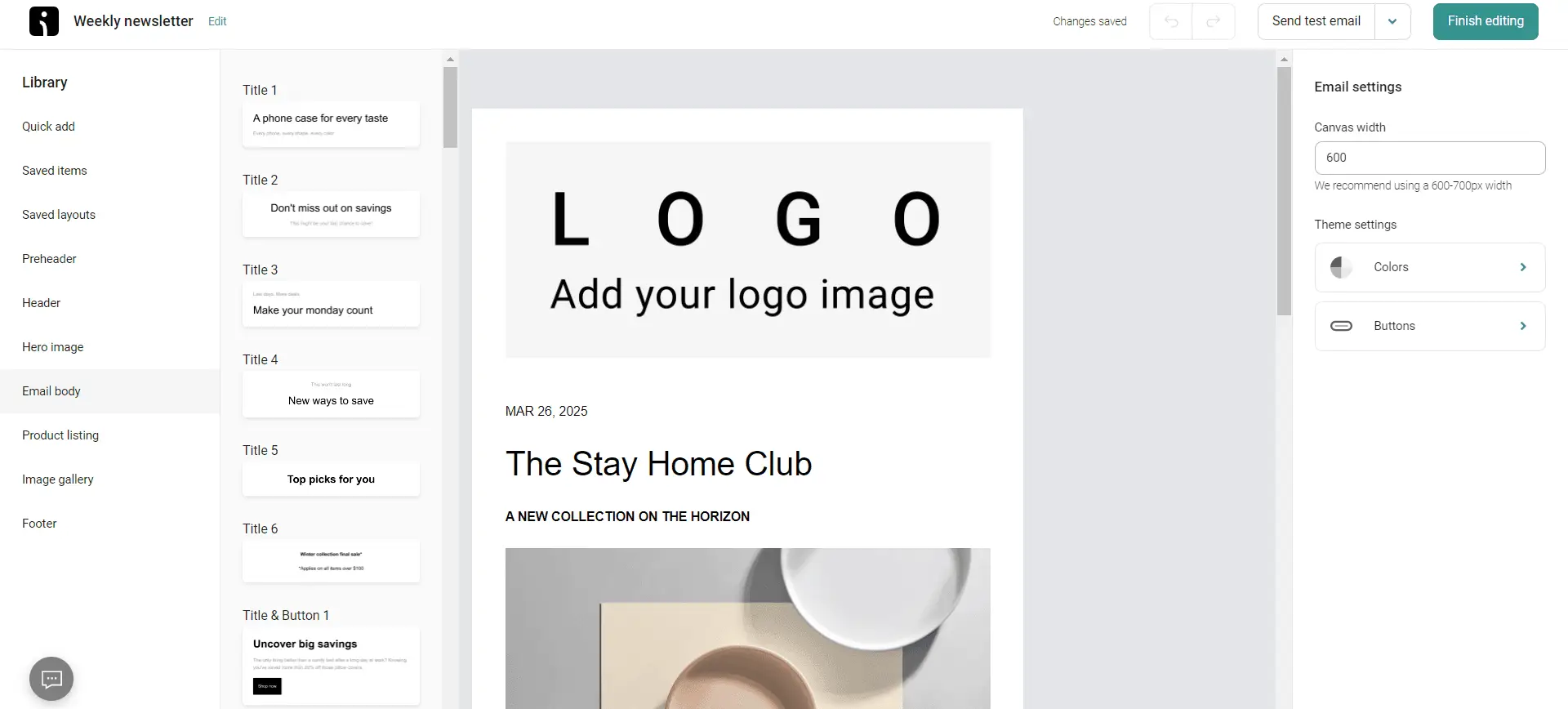 One helpful option is Omnisend's product picker tool. By integrating your Shopify store with Omnisend, you only need to choose a product from your online store. The product picker tool fills in all the product details automatically, meaning you won't have to manually add its name, price, image, etc. Hence, you can save time and design an email faster.
2. Omnisend marketing automation
There are 25 pre-made workflows divided into various use cases, including welcome email, abandoned cart email, and cross-selling email series. You must connect your ecommerce store to Omnisend to customize these flows as per your needs.
Once you click on customization, you can change the following elements in the trigger block.
Trigger and Trigger Filter: Defines user's action that should trigger the email.

Audience filter: Defines what category of customers should receive this message.

Exit conditions: Specified condition applies to when a customer exits.

Frequency: Defines when you want to trigger an email in the series.
For instance, if you select the trigger for 'product ordered,' you can add filters for product type, pricing, order ID, etc. This is helpful as you can personalize the automation workflow and target it to the most relevant customers.
Note: You can add up to 5 trigger filters to each workflow trigger.
Additionally, you can test the content and subject line of each email and send an SMS as part of the workflows. You can edit the SMS content within the workflow itself.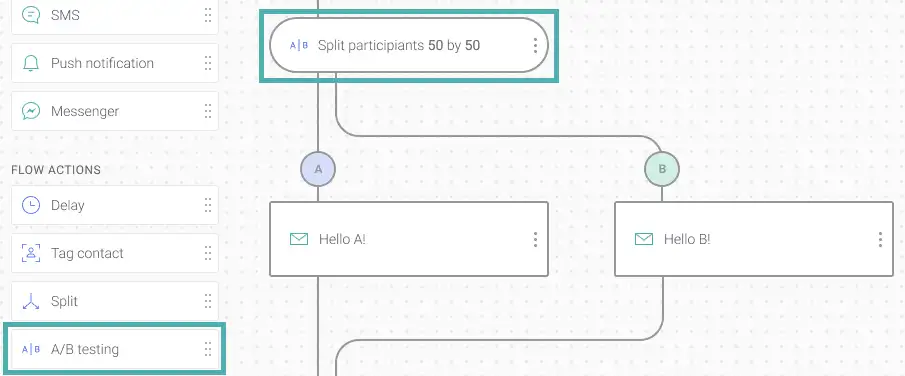 3. Omnisend form builder
Omnisend's form builder has 70+ templates for three types of forms — pop-ups, embedded forms, and landing page forms. The templates are quite creative and require minimal design edits. The email editor is also easy to understand as the goals, themes, and blocks are mapped extensively.
There are multiple ways to customize the form display settings - based on page visits, time on page, exit intents, or scroll based. You can also adjust the form scheduling — specify the start and end date to display the form or choose to show it every day.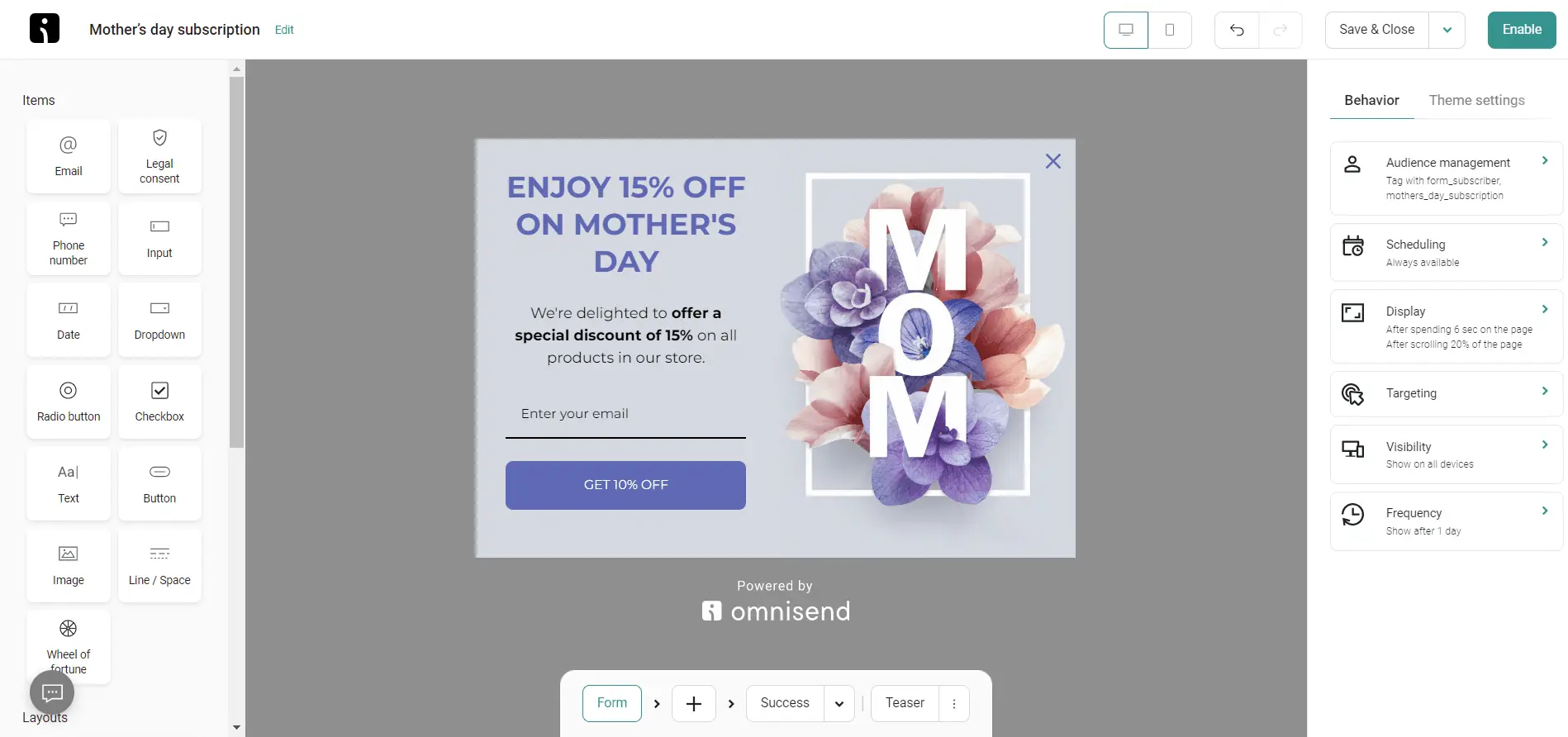 Omnisend pricing details
Omnisend email marketing prices
| Number of contacts | Free | Standard | Pro |
| --- | --- | --- | --- |
| 0-250 | $0/mo | $16/mo | $25/mo |
| 1k - 1.5k | NA | $25/mo | $59/mo |
| 4.5k - 5k | NA | $65/mo | $90/mo |
| 9k - 10k | NA | $115/mo | $150/mo |
| 13.5k - 15k | NA | $180/mo | $290/mo |
| 45k - 50k | NA | $330/mo | $650/mo |
| 70k - 75k | NA | $520/mo | $900/mo |
| 95k - 100k | NA | $720/mo | $1150/mo |
| 115k - 120k | NA | $880/mo | $1350/mo |
| 145k - 150k | NA | $1120/mo | $1650/mo |
Get a complete overview of Omnisend's pricing.
Omnisend's key strengths and weaknesses
Based on Omnisend's customer reviews, we have highlighted the pros and cons of the tool:
Omnisend pros
Good customer support: Omnisend's support team is responsive and responds to customer queries quickly.
The fantastic onboarding and migration team works with you to ensure everything is set up and you are completely happy. The ongoing support is also spot on. - Elliot, Ecommerce Manager
Ease of integration: The tool offers one-click integrations with major e-commerce platforms such as WooCommerce and Shopify with less technical know-how.

Product picker tool: One interesting feature is that you can select the product you want to add to your emails, and the product picker tool will fetch all its details automatically in your email.
Omnisend cons
Basic email editor: The template editor lacks advanced features, making designing tedious. For instance, there is no inbox and dark mode preview option, no interactive AMP email support and the premade templates are also basic.
There needs to be more customization options in the email editor. Some competitors offer a much more robust email builder (for more advanced emails). - Joe, Director of Marketing & Digital Sales in the US
Low deliverability rate: Omnisend had an average 75.1% email deliverability rate, far below its competitors. So, your emails might end up in spam.

Limited integrations: Even though Omnisend integrates with major e-commerce brands, it doesn't integrate with Google Analytics or many CRM software.
Is Omnisend the right tool for you?
We've listed key points to help you decide if Omnisend is the right ESP for you:
When it's recommended
If you're an e-commerce brand: Omnisend offers useful integration with various ecommerce shopping platforms, making it easy to send targeted emails based on user activity in your store. Besides, they have SMS and push notification tools to help you send timely notifications to the right customers.

If you are a small or medium-sized business: With its more affordable pricing than other e-commerce-oriented ESPs such as Klaviyo, it's excellent for small or midsize businesses. It has all the necessary tools to start and scale email marketing campaigns for your business.

If you want to run omnichannel marketing: Omnisend offers you to run your campaigns across five channels - email, SMS, Google, Facebook, and push notifications. You can manage all these campaigns from a single dashboard, giving you centralized control.
When it's not
If you want to send interactive AMP emails: Omnisend offers an AMP carousel that you can embed without coding knowledge. But, to add other AMP elements, you must code your emails in HTML. In such a scenario, your best bet is Mailmodo, where you can create and send interactive AMP emails with its no-code email builder.

If you want a more advanced email template editor: Omnisend's template editor doesn't offer extensive features such as AMP email widgets or the option to spam test emails. So, if you want these features, look for other ESP like Mailmodo that offers 20+ AMP email widgets.
Omnisend alternatives
Here are some of the best Omnisend alternatives with the top-notch feature at an affordable price:
Mailmodo
Mailmodo is one of the emerging and most popular email marketing platforms. It helps you create and send interactive AMP emails, build automated journeys, and create trigger campaigns. Apart from this, the tool is much cheaper than Omnisend and is known for its excellent deliverability and customer support.
Find out which ESP is right for you: Mailmodo vs. Omnisend
Omnisend vs Mailmodo: Which one should you use?
Criterion
Mailmodo
Omnisend
No-code email builder
For both AMP and HTML emails with 200+ premade templates to start with.
HTML email editor with 150+ premade templates
AMP email support
Supports 20+ AMP widgets.
Not supported
Transactional emails
Available on all plans
Available on all plans
Customer support
Email, chat, video, and phone support.
In-app live chat, email, help center, and Omnisend academy.
Email automation
✅
✅
Dynamic email & personalization
✅
✅
List Management
✅
✅
Reports and Analysis
✅
✅
Subject line A/B testing
✅
✅
Supported integrations
20+ integrations
30+ integrations
Pricing
Upto 40k contacts
- Lite: $199/mo
Upto 100k contacts:
- Pro - $459/mo
45k - 50k contacts
Standard: $330/mo
Pro: $650/mo
95k - 100k contacts
Standard: $720/mo
Pro: $1150/mo
When should you choose Mailmodo over Omnisend?
Here are the key reasons to choose Mailmodo over Omnisend as your email marketing service provider.
If you want a higher deliverability rate
One key disadvantage Omnisend users face is its low inbox placement rate. But, Mailmodo has a dedicated deliverability experts team readily available to customers. They offer personalized recommendations and reports to improve email infrastructure to ensure higher deliverability.
If you want an advanced no-code email editor
Mailmodo's editor is much better than Omnisend's. Apart from the basic design requirements, you get access to dark mode preview and template suggestions to improve your template's design and deliverability.
If you want to access a huge library of interactive AMP widgets
Omnisend doesn't support AMP emails yet and if you want to send such emails, go for Mailmodo. The ESP has a library of 20+ AMP email widgets that you can embed in emails using its no-code email editor. Some interesting widgets you can add to your ecommerce email campaigns include shopping carts, spin the wheel, quizzes, and polls. These widgets can enhance customer experience and generate 10X more conversions.
Other Omnisend alternatives
Check out these Omnisend alternatives that are much cheaper and might be the right choice.
Klaviyo
Klaviyo offers a better and more advanced email template builder and reporting features. Its email automation and signup form builder is one of the best for e-commerce brands.
MailerLite
MailerLite has a solid email template builder and an attractive free plan. Its free plans offer multiple features, such as email automation builder, landing page builder, website builder (only 1), and form and pop-up builder. Besides, if you opt for their paid plan, you'll get even more advanced features.
ActiveCampaign
If you want to build powerful and advanced marketing automation, ActiveCampaign is the best choice. The tool has 750+ integrations and 700+ pre-made email workflows to help you create relevant automation to target the right user.
Omnisend's rating overview
Feature
Ratings
Comments
Ease of use
⭐⭐⭐⭐
The tool is easy to use and user-friendly. From its template editor to form builder, the navigation is clear, and every option is easy to understand.
Email template editor
⭐⭐⭐
The editor is straightforward and offers various premade blocks (for headers, footers, product embeds, etc.), making the design process faster.

But, the editor lacks advanced features, such as no AMP email widgets and no spam or design testing.
Premade templates
⭐⭐⭐
Omnisend has 150+ pre-made templates for various use cases - welcome emails, abandoned cart emails, re-engagement emails, etc. The templates are basic and need a lot of edits from your end.
Email automation
⭐⭐⭐
Omnisend's automation feature is helpful and has relevant triggers to target the right customer. There are pre-made workflows that you can customize.

One interesting feature is that you can do email split tests within the email series. You can also trigger SMS based on the recipient's previous action. This gives you more control over how you communicate with the message recipient.
List management
⭐⭐⭐⭐
You can add existing contacts manually by uploading an Excel file, importing from a file, or importing directly from Mailchimp. Once you have the contact list, you can segment them and use these segments to send relevant emails later on.

Note: You won't be charged extra if a contact appears in more than one segment. You pay once for one contact.
Signup form builder
⭐⭐⭐⭐
You can use the form builder for three purposes:
- Add pop-ups
- Create embeddable forms, and
- Build landing pages.

There are 100+ premade templates for all three use cases, many of which are creative and require minimal design edits.

The form builder is easy to get familiar with and offers many customization options, like adding interactive widgets, setting up behavioral triggers, adjusting the visibility of forms, and more.
Landing page builder
⭐⭐
There is no separate builder for landing pages. Moreover, you cannot build a complete landing page using Omnisend. There is an option to build a landing page with a signup form, allowing you to collect subscribers.

Even the premade templates are limited, with only 8 in number.
Email deliverability
⭐⭐⭐
Omnisend's deliverability rate is different from the standard requirement. In EmailToolTester's last three tests, it scored an average of 75.1, far below that of other ESP. The tool offers you a deliverability report, so ensure to check that report periodically and resolve any errors that might hamper your inbox placement rate.
Reporting and analytics
⭐⭐⭐
Omnisend's reporting dashboard provides insights into your email campaigns, automated workflows, and forms. With advanced reporting, you can get a visual representation of your campaign's performance.

Along with these dashboards, there is a separate dashboard to track and manage the email deliverability of your campaigns. This report is helpful as it offers insights into email list hygiene, sender domain, and relevant factors affecting your deliverability rate.
Personalization
⭐⭐⭐
Personalization available based on account, contact, and date details.
Authentications
⭐⭐⭐⭐⭐
SPF, DKIM, and DMARC are supported.
Own domain for landing pages
⭐⭐⭐⭐⭐
Available on Pro plan.
Spam and design testing
⭐⭐
No spam testing or inbox testing is available. You can only send test emails and preview emails on desktop and mobile.
Bounce management
⭐⭐⭐⭐⭐
If an email soft-bounces four times, it is a hard bounce. Hard-bounced email addresses are automatically unsubscribed.
Blocklist
❌
Not available
Interactive elements
❌
Not available
Integrations
⭐⭐⭐
30+ integrations with various apps, including Shopify, Woocommerce, Bigcommerxe, Magneto, etc. No integration with Google Analytics.
Languages
⭐⭐⭐
15+ languages available
Customer support
⭐⭐⭐⭐⭐
The customer support team is fast and friendly. You can contact support via email or live chat. There are plenty of articles to help you, and Omnisend also has an academy teaching you various aspects of email marketing.
Overall ratings
- 4.7/5 (Capterra)
- 4.5/5 (G2)
Omnisend offers some of the best features at affordable pricing. It's easy to use and helps you create omnichannel marketing campaigns. Conversely, the team must improve the deliverability rate and add features like spam testing and geo-tracking.
The verdict
In a nutshell, Omnisend is a compelling choice for e-commerce brands and individuals with online stores. It has all the features required to start, run, and manage email campaigns to grow an online store. It also builds a loyal customer base. You can leverage its pre-made automation workflows to set up relevant email series. You can also build signup forms to capture new visitors, and use a reporting dashboard to keep track of your campaign's performance.
The only downside is its low deliverability rate, no support for interactive AMP emails, and lack of integration with Google Analytics. Omnisend can become a go-to choice for more e-commerce brands if they improve upon these two factors.
If you are looking for an ESP with an excellent deliverability rate that helps you create and send interactive AMP emails, explore Mailmodo for free for 21 days. It's one of the emerging ESP in the market and offers a suite of helpful features at affordable pricing starting at $99/month.