Free HTML & AMP Email Templates for Higher Conversions
Build interactive email templates that capture the reader's attention. Choose from our gallery and customize your favorite ones in our no-code email template editor.
What is an email template?
An email template is a pre-designed and pre-formatted email that can be customized for various purposes, such as sending newsletters, promotional messages, announcements, and more. It typically includes a pre-written message or content that can be edited and customized to suit the needs of the specific email campaign or message.
What are reusable email templates?
A reusable email template is a designed email template that can be used multiple times for various purposes. Unlike one-off email templates, which are designed for a specific email campaign or message, reusable email templates are versatile and can be used for different types of emails.
For example, a company may have a reusable email template for their monthly newsletter, which includes the same general layout and formatting but with updated content each month. By using reusable email templates, businesses, and individuals can save time and effort in creating and formatting emails and ensure consistency in branding, messaging, and design across all email communications.
What are no-code email templates?
No-code email templates are email templates that can be easily customized and used without requiring any coding skills or knowledge. They are designed to be user-friendly, allowing anyone to create and send professional-looking emails without writing or modifying any code.
They are usually built with WYSIWYG, drag-and-drop, or no-code email template builders. These drag-and-drop or no-code interfaces allow users to select and arrange design elements, such as text, images, buttons, and more, to create custom email templates. Some no-code email template platforms may also provide pre-built email templates that can be customized to suit specific needs.
What are the benefits of email templates?
There are numerous benefits of email templates as follows
These can be especially helpful for individuals and small businesses that do not have access to dedicated design or development resources.

They can save time and money by eliminating the need for coding skills and ensuring that emails are consistent in design and messaging.

They can help maintain consistent on-brand design.

They help build ideate email design and layout better, as these templates can be used as inspiration.
What are the different types of email templates?
While email templates can be used for several different purposes and vary depending on every organization's unique needs, some general types of templates can be used across various organizations to serve similar purposes. Some commonly available types of templates are -
1. Newsletter email templates
A newsletter email template is a customizable, pre-made email template to send regularly scheduled email updates that typically contain a mix of news, promotions, and other relevant information.
2. Promotional email templates
Promotional email templates are used for sending subscribers promotional offers, discounts, or product launch announcements.
3. Event invitation email templates
Event invitation templates are used to invite subscribers to upcoming events such as webinars, conferences, or workshops.
4. Ecommerce email templates
Ecommerce templates are used to promote products, enable sales, and engage and retain customers. An example is an abandoned cart email which helps send reminders to subscribers who have abandoned items in their online shopping cart.
5. Welcome email templates
Welcome email templates are used to welcome new subscribers to a mailing list or introduce them to a product or service. This email template is very popular in SaaS, ecommerce, and other segments.
6. Survey email templates
Survey email templates are used to collect subscribers' feedback on a product, service, or customer experience. These can be run as AMP emails for greater effectiveness since AMP emails allow one to conduct surveys inside the email.
7. Confirmation email templates
These are used for confirming transactions, orders, or subscriber reservations. These are usually transactional emails sent to users triggered by user actions during certain transactions or activities.
8. Follow-up email templates
These are used for following up with subscribers after an event, purchase, or customer service interaction.
Why should you use Mailmodo's prebuilt email templates?
Whether you're a beginner marketer getting to know the industry or a marketing head looking to scale your email campaigns, our ready-to-go HTML & AMP email template collection has something for everyone.
Here is the reason why you should check out our email templates:
1. You will find email templates for all use cases, industries, and business models
You'll find templates for different use cases – promotional, welcome, seasonal, or win-back emails. Our templates cover all the business models, i.e., B2C/DTC, B2B, Saas, Enterprises, and even industries like real estate, e-commerce, airline, food, etc.
2. Get responsive email templates that do not break on various devices
Mailmodo offers responsive email templates that render properly across different screen sizes and email clients. Each element, be it an email header, footer, images, or button, is responsive and adapts to the screen size of the device it is viewed on.
You can configure the responsiveness of each element/block based on how you want it to render in the recipient's inbox. Learn more about responsive email design.
3. Each template follows email accessibility guidelines
Each template complies with the email accessibility guidelines to create a better user experience for all users, irrespective of any disability or technical issue, such as a lack of support for images in some email clients.
We have considered the Web Content Accessibility Guidelines developed by WAI and tried to use them as guidelines while creating these templates. Some of the accessibility best practices that we have followed while creating these templates are
None of these templates are image-based.
We used a standard font size of 16px for paragraph text and 24px for the heading.
All the templates' images have updated alternative text or alt-text for images.
We have tried to use a color contrast of at least 4.5:1.
Adequate white spacing around each email element.
4. Save, reuse, and mix and match with pre-made email blocks
We, at Mailmodo, have tried to make email templates even more agile with pre-made content blocks. No matter which template you start with, you can add, remove and customize different content blocks per your needs. You can even save these blocks and use them in another template.
We have customizable email content blocks for each element - header, footer, layouts, CTA buttons, email signatures, etc. You can easily customize the email copy and image with Mailmodo's WYSIWYG email editor, and you're good to go.
5. Conduct a survey with customizable forms in the email
Our survey templates come with AMP email forms inside them. These forms can be used for running surveys in emails to collect user feedback. Such in-email forms also make the submission process less of a hassle.
Be it a feedback form, registration form, or lead generation form, you'll find a pre-made block for every use case. You can also add pre-made survey blocks for all types of surveys - NPS, CSAT, Pulse, product review, etc.
With such AMP email surveys and forms, you can reduce recipients' redirects to complete the submission process. Such a shorter conversion cycle gets you more responses. One of our clients, Razorpay, got a 257% higher response by adding a form within email while another client, Interview Vector got 45% survey responses.
6. Boost engagement with interactive email templates powered by AMP email
Mailmodo allows you to create and send interactive AMP emails. This means that you can add forms, carts, calendars, and other gamification widgets to the email. Each email template carries an interactive twist or engagement factor to help you engage your subscribers and get better results with email marketing.
Our AMP email widget library allows you to access several exclusive interactive widgets, making your emails unique and engaging. Here are some examples of widgets that these templates have and that you can use-
1. Polls
Run polls via email and show the result in real-time.
2. Spin the wheel
Make email gamified by embedding the spin the wheel widget within the email and letting users play and interact with it. You can configure the offers within the wheel without any coding skills.
3. Calendly calendar widget
Add a calendar within the email and allow clients and leads to book a demo call by integrating your Calendly account with Mailmodo.
4. Shopify product recommendations
Add product recommendations by integrating your Shopify account with Mailmodo and allowing recipients to add items to the cart without leaving the inbox. You can also add shopping carts to recover abandoned carts and drive more sales, as the cart within email reduces friction by eliminating the redirect to a browser.
5. Quiz widget
Add a variety of informative, fun, or trivia quizzes into your email to drive engagement.
6. Live price ticker
Keep your users updated with real-time market data by embedding our live price ticker widget.
7. NPS and rating widgets
Collect customer feedback on your product, events, customer support team, etc., by embedding NPS widgets, emojis, thumbs up, and star ratings within the email.
7. Customize email content for each subscriber with personalization parameters
Some templates already have personalization parameters in the email content that you can use to personalize content for different users in your email list.
In our no-code email template editor, you can add personalization to the email content, images, and CTA buttons based on factors such as name, company, event attendance, geography, contact details, ID, etc. You can even create custom personalization if you don't find your preferred factor.
Learn more about how to map personalization in Mailmodo's template editor.
8. Send dynamic data in your emails
Mailmodo's usage of AMP emails in these templates can help you to configure these and send dynamic data that changes in real time.
In fact, one of our clients, Indian Express sent emails that got updated in the users' inboxes with this feature with the most relevant and latest news.
9. Preview and test your emails in the inbox
Each template is well-tested for responsiveness and rendering. You can even enter your email id provided in the field on each template page and have the template sent to your inbox for testing. On the template pages, you can even toggle between mobile and desktop views.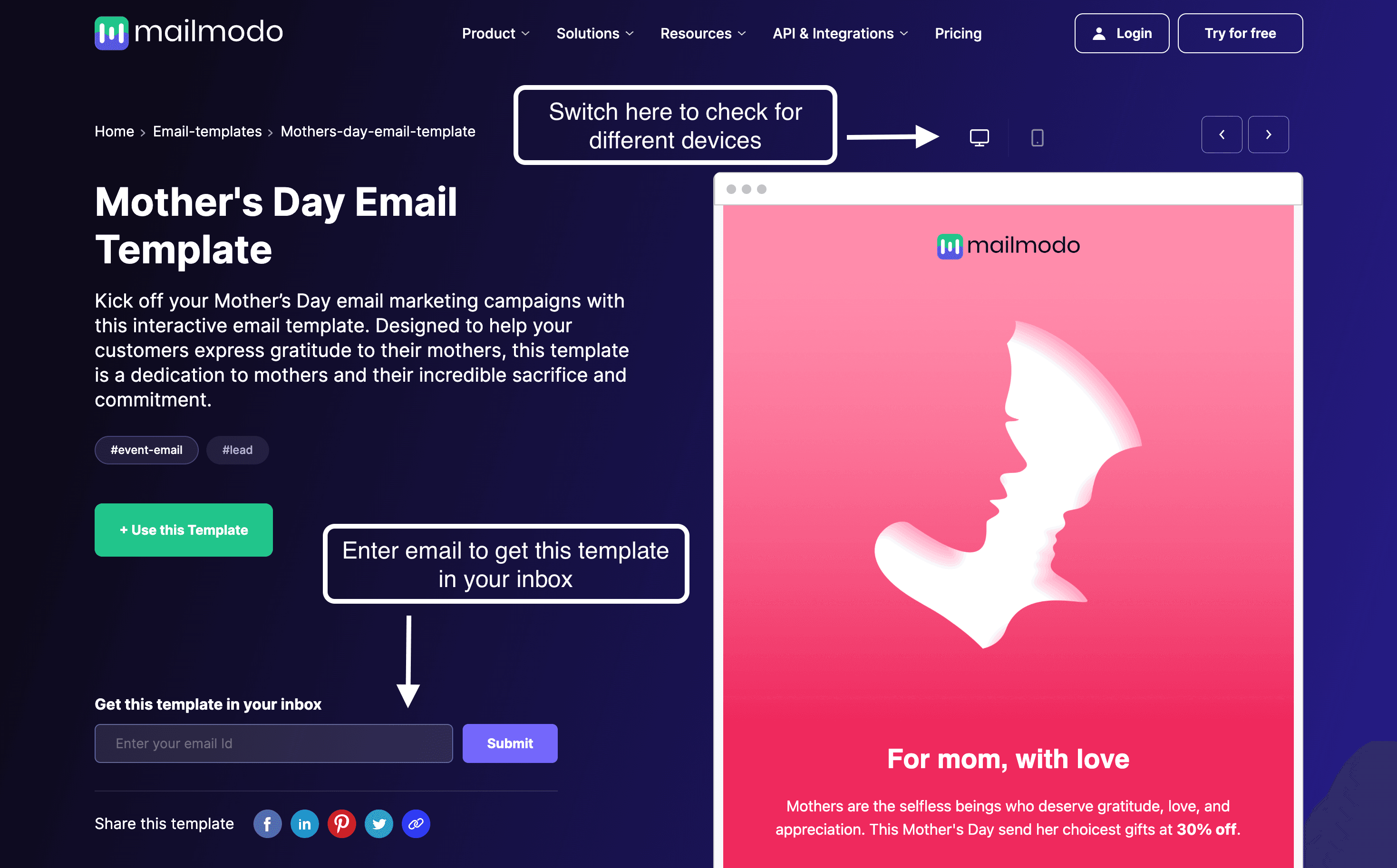 Even when you customize it, you can use Mailmodo's Preview options or Send test email feature to ensure it renders well.
The Preview option in the editor shows
AMP & HTML version of the email contains any AMP widget
Rendering on both desktop and mobile.
The Send test email option allows you to send the email to three recipients to test it out before it goes out to your subscribers.
To learn more, check out our helpful guide on Why you should test your emails and How to preview, test, and validate AMP emals.
What are the different categories or types of templates?
There are many types of email templates. However, we can categorize them into four main types for marketing-related usage-
Seasonal or festival-based email templates
Sales and marketing funnel-based email templates
Industry-based email templates
Email MIME-type email templates
Seasonal or festival-based email templates
Seasonal or festival-based email templates are based on events, festivals, special occasions, milestones, conferences, etc.
What are seasonal or festival-based templates?
Brands use seasonal or event email templates to reach out and greet their audience on festivals/holidays while capitalizing on festive occasions and popular events. Some examples of such emails are holiday season sale emails and festive occasion greetings and discounts.
Our collection has templates for all the below events-
Sales and marketing funnel-based email templates
These templates are used for the acquisition, engagement, retention, monetization, or sales of a product or service by brand. The goal of the template might not be directly one of these but may just aid or supplement these funnels as well. Customer feedback survey emails are a good example. They help in improving retention and also upsell and thus impact the marting and sales funnel at large.
Broadly, these templates can be classified into email marketing templates and sales templates.
What are email marketing templates?
Email marketing templates are pre-designed and pre-formatted emails specifically used for marketing campaigns. These templates help businesses and individuals create effective and engaging email campaigns promoting their products, services, or brand.
They can include various elements, such as headers, images, text, buttons, and more, designed to catch the reader's attention and convey a specific message or call to action. They may also include responsive design elements to ensure the email displays properly on various devices and email clients.
What are sales email templates?
Sales email templates are those that are used specifically for sales-related communications. They are designed to help sales teams to outreach and communicate with potential customers clearly, concisely, and persuasively.
Sales email templates can include various elements, such as personalized greetings, compelling subject lines, attention-grabbing openings, value propositions, product or service descriptions, and calls to action. They may also include testimonials, case studies, or other forms of social proof to help build trust and credibility with potential customers.
Industry-based email templates
Industry-based email templates are email templates that are specifically tailored to the needs and characteristics of a particular industry or business niche. These templates help businesses and individuals in a particular industry communicate effectively with their target audience and achieve their marketing goals.
Industry-based email templates can include various elements, such as industry-specific terminology, product or service features that are particularly relevant to the industry and examples of how the product or service has been successfully used in the industry. They may also include testimonials or case studies from industry experts or customers to help build trust and credibility with the target audience. Industry-based email templates can be particularly useful for businesses that operate in multiple industries or for individuals who may not have a deep understanding of a particular industry but need to communicate effectively with its stakeholders.
What are recruitment email templates?
Recruitment email templates are email templates that are used for communicating with job candidates during the recruitment process. These templates are designed to help recruiters and hiring managers create effective and engaging communication with candidates that can help attract them to the organization and move them through the recruitment process.
Recruitment email templates can include various elements, such as personalized greetings, information about the company and the position, questions about the candidate's qualifications and interests, and details about the recruitment process. They may include invitations to events or interviews, follow-up, or rejection messages.
What are ecommerce industry email templates?
Ecommerce email templates are pre-made emails that can be customized by ecommerce and D2C brands to send promotional and transactional content to their customers and subscribers.
The most common templates in these include-
Browse abandonment email template
Discount/offer email templates
Cart abandonment email templates
Promotional email templates
Refill email templates
Re-engagement email templates
Email MIME-type based email templates
Email MIME-type email templates are email templates that are designed based on the different MIME or Multipurpose Internet Mail Extensions (MIME) standards that they deploy during development or creation.
Email MIME-type templates can include various elements, such as HTML code, images, multimedia files, and other types of content. These templates ensure the email is properly formatted and displayed correctly on different email clients and devices.
There are typically 3 types of email templates that can be included here-
Text or RTF email templates
HTML email templates
AMP email templates
What is MIME?
Multipurpose Internet Mail Extensions (MIME) is an Internet standard that extends the format of email messages to support text in character sets other than ASCII, as well as attachments of audio, video, images, and application programs. Message bodies may consist of multiple parts, and header information may be specified in non-ASCII character sets. – Read more about MIME types here.
What is Text email template?
Text email templates are the simplest type of email and only contain plain text. They do not contain any images or formatting and are often used for plain and straightforward communication. Text-based emails are usually small in file size and can be delivered quickly.
What is an HTML email template?
HTML email templates are templates that are coded using HTML and can contain text, images, and formatting. HTML emails are more visually appealing than plain text emails and can be used to create more engaging and interactive emails. HTML emails can include links, buttons, and other interactive features.
HTML or Hypertext Markup Language is a coding language used extensively to develop webpages. It also is used in developing email templates using the same.
HTML emails also employ Cascading Style Sheets or CSS which reflects how the email elements will be displayed on various browsers and email clients. Basically, HTML provides the structure or outline of your email, while CSS adds life to it by displaying colors, images, etc.
What is an AMP email template?
AMP (Accelerated Mobile Pages) emails are designed using AMP for Email MIME type introduced by Google as part of Project AMP. These emails provide a more interactive and engaging experience for email recipients using components like forms, calendars, and carousels inside an email.
AMP emails include multimedia elements, interactive features, and dynamic content that can help increase engagement and improve the user experience. AMP emails are designed to load quickly and provide a seamless user experience across different email clients and devices.
How to use these templates
Filter Templates by Categories.
Search for Templates Using the Search Bar.
Click on the "Use This Template" Button to Select a Template.
The Template will Open in Mailmodo After You Sign Up or Log In.
Customize the Email Template Copy and Design Elements as Needed.
Add Your Branding Elements to Make the Email Your Own.
Create a Campaign and Send the Template to Your Subscribers.
Save the Template for Future Use.
What are the best practices for using email templates?
Responsiveness
Dark modes
Accessibility
Testing
Follow the best practices listed below to ensure that your email templates are user-friendly and accessible and provide a positive user experience across different devices and email clients.
Responsiveness
Use responsive email templates that can adjust to different screen sizes and devices. Ensure the email templates are designed to fit the device's screen size and that the text and images are readable and easy to navigate.
Dark mode
Consider implementing dark mode versions of your email templates to cater to users who prefer a darker interface. This can help improve user experience and make your emails more accessible to a wider audience.
Accessibility
Ensure that your email templates are accessible to all users, including those with disabilities. Use clear, easy-to-read fonts, provide alternative text for images, and ensure the email is navigable with a keyboard.
Testing
Test your email templates on multiple email clients and devices to ensure that they display correctly and that all links and features are functional. This can help prevent issues such as broken links or images not loading properly.
How to create email templates
Here are some general steps to create email templates:
1. Define the purpose and audience of the email
Before creating an email template, it's important to define the purpose of the email and the audience it will be sent. This can help you determine the email's tone, language, and content.
2. Choose a platform or email editor
There are many email marketing platforms and email editors available, such as Mailmodo, Mailchimp, ConvertKit, and others. Choose a platform or editor that meets your needs and has the required features.
3. Design the email template
Create a design for your email template using the platform or email editor. This can include choosing colors, fonts, images, and layout. Ensure that the design is consistent with your branding and the purpose of the email.
4. Write the content and copy
Once you have the design in place, write the content for the email. Use clear, concise language and include a clear call to action. Be sure to proofread the content for errors and ensure it is engaging and relevant to the audience.
5. Save the email template
Once you have completed the design and content, save the email template in your email marketing platform or editor. Make sure to give the email template a clear and descriptive name to help you identify it later.
6. Test the email template
Before sending it to a large audience, test it on different email clients and devices to ensure that it displays correctly and that all links and features are functional.
Following these steps, you can create effective and engaging email templates to help you connect with your audience and achieve your marketing goals.
Where are these email templates by Mailmodo supported?
Our email templates are generally supported by all email clients. It's important to consider the compatibility of email templates across various email clients when designing and creating email templates. Also, do note that AMP email templates at present are not generally supported on all email clients. For the non-supported email clients, however, we provide an HTML fallback that can also be customized as per your need. The HTML email template are however supported by all major email clients, including:
Microsoft Outlook
Gmail
Apple Mail
Yahoo! Mail
Thunderbird
Airmail
Spark
ProtonMail
Zoho Mail
Mailbird
However, it's important to remember that the render and compatibility for any email template may vary depending on the specific email client, browser, device, and device-OS being used. It's best to test email templates across multiple email clients to ensure proper display and functionality.
How to personalize email templates
Personalizing email templates can increase engagement, build trust, and ultimately drive more conversions. Here are some common ways to personalize email templates:
Personalized greeting: Address the recipient by name in the email greeting, such as "Hi, John" or "Dear Sarah."

Dynamic content: Use dynamic content to tailor the email content to the recipient's interests or past behavior. This can include product recommendations based on their previous purchases, or content recommendations based on their past engagement.

Personalized subject line: Use the recipient's name or other personal details in the subject line to make the email stand out and increase the likelihood of it being opened.

Segmentation: Segment your email list based on demographics, behavior, or other factors to send more targeted and relevant emails to each group.

Personalized call-to-action: Tailor the call-to-action (CTA) in the email to the recipient's interests or behavior, such as offering a discount on a product they previously viewed or purchased.

Personalized signature: Use a personalized signature that includes your name, title, and contact information to make the email feel more personal and authentic.
Features of these email templates
Interactive widgets
Beautiful
Gamified
Responsive
Dark mode compatible
Accessible
Web-safe & Email-safe fonts
Email templates generally consist of the following features to make them engaging and ultimately achieve the marketing objectives of the email campaigns.
1. Interactive
Interactive email templates allow users to engage with the content of the email through features such as quizzes, surveys, and social media integration.
2. Beautiful
Beautiful email templates are visually appealing and well-designed. They use color, typography, and images to create an engaging and memorable user experience.
3. Gamified
Gamified email templates incorporate gaming elements to make the email more interactive and engaging. This can include mini-games, challenges, and rewards.
4. Responsive
Responsive email templates are designed to adjust to different screen sizes and devices, ensuring that the email displays correctly and is easy to read on any device.
5. Dark mode compatible
Dark mode compatible email templates are designed to be readable and visually appealing in dark mode settings.
6. Accessible
Accessible email templates are designed to be accessible to users with disabilities. This includes features such as clear fonts, alt text for images, and keyboard accessibility.
7. Web-safe & Email-safe fonts
Web-safe and email-safe fonts are fonts that are compatible with different email clients and devices. Using these fonts ensures that the email displays correctly and that the content is easily readable for all users.
The layout of email templates
Inverted pyramid
Single column
Hybrid
Multi-column
Link to guide for more details
Email templates can incorporate various layouts depending on the objectives of the email campaigns, the audiences, the organization's products or services, etc. Here are some layouts generally seen in email templates.
1. Inverted pyramid
The inverted pyramid layout places the most important information at the top of the email and then gradually moves down to less important information. This layout is effective for emails that need to grab the reader's attention quickly and deliver a clear message.
2. Single column
The single-column layout features one column of content, making it easy for users to read and scroll through the email. This layout is simple and effective for most types of emails.
3. Hybrid
The hybrid layout combines elements of the single-column and multi-column layouts, featuring a main single column for the main content and one or more smaller columns for additional information or calls-to-action. This layout is flexible and allows for customization while still maintaining simplicity and readability.
4. Multi-column
The multi-column layout features two or more columns of content, allowing for more information to be included in the email without requiring excessive scrolling. This layout is effective for newsletters and promotional emails that feature a lot of content. However, it can be less mobile-friendly and require more design and coding expertise.
5. Zig zag
The zig zag layout is a creative and unique layout that features alternating columns of content that create a visual "zig zag" effect. This layout can be effective for showcasing images or products in a visually interesting way, but can also be more difficult to design and code. It may also be less mobile-friendly than other layouts.
Frequently Asked Questions