As a marketer, you want to create aesthetic, successful campaigns using your branding elements (color, imagery, font) to make them look cohesive.
Unfortunately, you might not be able to use your brand's unique font in your email marketing campaigns. Most email clients only support a few standard web-safe fonts, so they may not render your unique font.
That's devastating for sure. But in this case, you will have to choose functionality over aesthetics to ensure the email renders well for everyone.
This guide will reveal some of the best fonts for email and some fonts you can use for your email marketing campaigns.
Table of contents
Why do fonts matter?
Before we get into the best fonts for email, let's first look at why a font matters inside an email.
If you use an intricate font like Pacifico, it can take readers a lot of time to figure out what's written in the email, and they might just leave without reading the email. This can lead to a loss of potential engagement and conversion.

And, if you use risky and unprofessional fonts like Comic Sans, you might be mistaken for a scam or fraudulent email.

Most importantly, if you don't use a font that most email clients support, they will display the text in their default font like Helvetica, Calibri, or Arial. So, it's best to use a supported font to control how it'll render in most email clients.
What is the best font for email?
Well, there is no one best font for email. It depends on your email marketing needs and the email client support. The best font for emails should be:
Email-safe and Web-safe fonts are standard fonts that display well on websites, email, apps, etc., and are supported by most email clients. When you use an email-safe font, you can be assured that they'll render well on all online platforms and devices. So, even if the email is opened on the browser or mobile, it'll render how you intended it.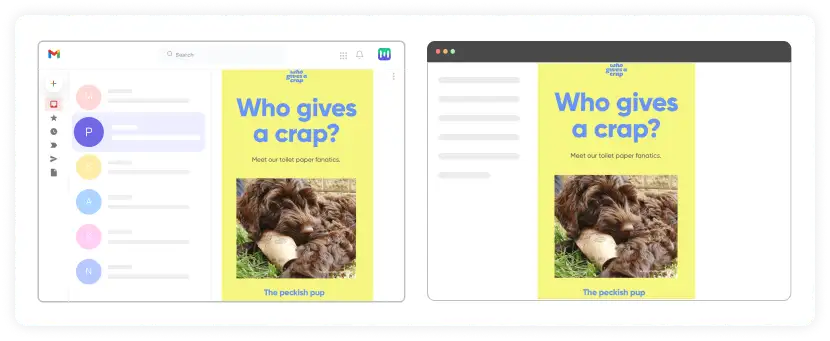 Check out this article to learn more about web-safe fonts.
Appropriate for the topic or area of use
The best font for email is something that fits the brand and purpose of the email. If your brand is modern and targets a younger audience, you can go for fonts like Roboto or Verdana.
You can use Georgia or Times New Roman if you are more old school. However, some fonts like Comic sans, Trajan, Papyrus, etc., are inappropriate for any type of email, and it's best to avoid them entirely.
People usually skim through their emails, so you need to use fonts that are easy to read to ensure readers understand the email quickly. Complicated script fonts take time to read and can be confusing. So stick to crisp and clear fonts that are not too thin and have good spacing to ensure that your emails are readable.
7 best fonts for email marketing in 2023
Here are some of the best fonts for email that you can try out for your next email campaign.
1. Arial

San serif typeface

A versatile font that's simple and modest

Supported by all email clients

Commonly used for print and digital media

It can be bland, so avoid it if you want to stand out.
2. Times New Roman

Serif typeface

An authoritative font that has a traditional look

Supported by most email clients

Commonly used for printed media like books, newspapers

Not as widely used in an email, so you can use it to stand out

Use it with trendy visuals to show a beautiful juxtaposition of new and old
3. Helvetica

San serif typeface

Bold and modern

Supported by most email clients and web browsers

Perfect for the header and logo.

Not suitable for email copy because the letters are spaced too close together.
4. Verdana

San serif typeface

Simple and versatile

Supported by most email clients

Highly readable

Designed specifically to be used on screen

Suitable for all age groups

Looks good on low-resolution screens
5. Georgia

Serif typeface

An elegant and dignified look

Similar to Times New Roman

Commonly used online newspapers, magazines, etc

It was designed to be clear and readable on screens, even at small sizes.

It is great for reading long paragraphs, so use it for your email newsletters.
6. Lucida

San serif

Modern and friendly

Works well for print as well as digital media

The letters are spaced wide, so it's highly readable.

Perfect for the email copy.
7. Trebuchet MS

San serif typeface

Subtle curves in the letters make it look artistic

Designed to be read easily on screens

But not suitable for the email copy.

Best use it for headers, CTA, etc.
We know that most of these fonts are pretty basic. But accessibility is more important than aesthetics in emails. So, choose a font from those mentioned above that closely matches your brand's typeface to stay accessible while maintaining your brand's aesthetics.
Experiment with email fonts on Mailmodo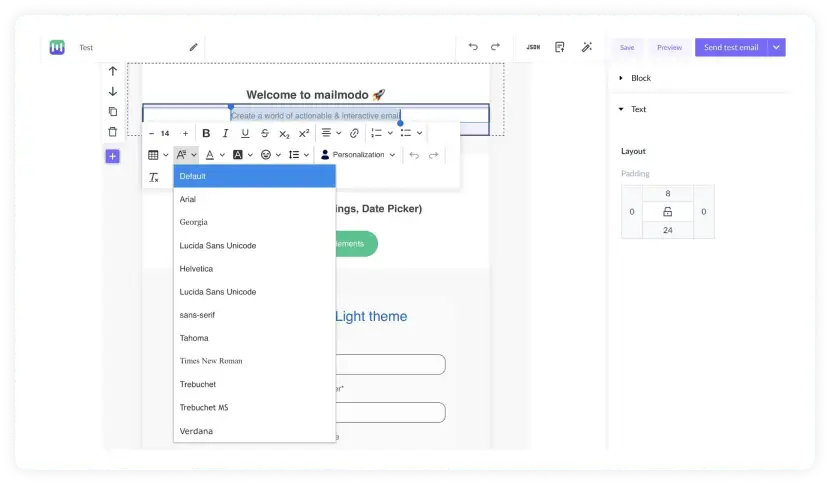 At Mailmodo, we offer only web-safe fonts because we want to make it easy for you to find a font that renders well in most email clients. Get started on Mailmodo by signing up and trying out these web-safe fonts in your next email campaign.
Check our guide on email design if you want to learn about the other aspects of email design apart from email fonts that impact your email marketing efforts.
What you should do next
Hey there, thanks for reading till the end. Here are 3 ways we can help you grow your business:
Talk to an email expert. Need someone to take your email marketing to the next level? Mailmodo's experts are here for you. Schedule a 30-minute email consultation. Don't worry; it's on the house. Book a meet here.

Send emails that bring higher conversions. Mailmodo is an ESP that helps you to create and send app-like interactive emails with forms, carts, calendars, games, and other widgets for higher conversions. Get started for free.

Get smarter with our email resources. Explore all our knowledge here and learn about email marketing, strategies, best practices, growth hacks, case studies, templates, and more. Access guides here.