Email marketing has forever challenged its critics in continuing to give a variety of advantages to advertisers, from building trust to providing the most prominent ROIs of any digital channel available today.
Confronted with the blasting prevalence of social media and search, email, despite everything, presents a particular set of advantages that other media streams battle to provide.
Yet, there are other advancements that you should be set up for and some email marketing trends that should be considered for better email marketing.
Table of contents
7 Email marketing trends for 2023
Here are 7 notable email marketing trends you should watch out for and incorporate into your email marketing strategy for better results.
1. Interactivity within the inbox
Interactive emails have been rising in popularity, and we expect marketers to use interactive elements in emails.
An interactive email contains dynamic elements like forms, accordions, carousels, calendars, etc., that allow a website like an experience inside the inbox. Such elements help reduce the friction in the sales funnel, increasing conversions.
2. Super-personalized email campaigns
Personalized emails have become a necessity among marketers as 33% say it will be the most crucial thing in marketing in the coming years. - AdAge.
Besides, 60% of consumers say they will likely become repeat buyers after a personalized shopping experience. - Segment, The State of Personalization 2021
Hence, there is no doubt that you should include personalization in your emails.
Read our guide to know in detail: An Ultimate Guide to Creating Personalized Emails
Maximize your email performance with our free ebook
Optimize the right email metrics for higher ROI
3. Bold colors
Minimalism and neutral colors were a consistent trend for the past few years. But, marketers have been experimenting with bold colors in their emails.
If you want to try out this trend and are unsure where to start, check out Pantone's report spring-summer 2022. It'll give you an idea of what colors brands might use next year, and think of ways to align them with your brand identity creatively.
For example, The Caker has used colors like Pantone Spun Sugar and their signature photography to keep up with the trends while not straying from their brand identity
When using such colors, make sure to test your emails for dark mode so that the color won't look too jarring against a black background.
4. The emergence of artificial intelligence (AI)
AI has been rising in all technological fields the past few years and has come to the email marketing world. In email marketing, AI can help with the following things:
Write marketing content like a copy, subject lines, CTAs based on performance data

Analyze data points to create a well-crafted email campaign

Identify trends and create tailored content that is more personalized for your audience.

Shorten your campaign creation time.

Analyze customer behavior and understand what they expect from you.

Restructuring your marketing campaign to be efficient.

Clean email lists
5. Rising trends of brand newsletters
Newsletters have always been there and will continue to be a big part of email campaigns. Newsletters help brands convey stories industry news, offer valuable insights, and much more.
And it doesn't have to be those long boring paragraphs that are often associated with the word newsletters.
For example, Nisolo used images to break up the copy making it easier to read.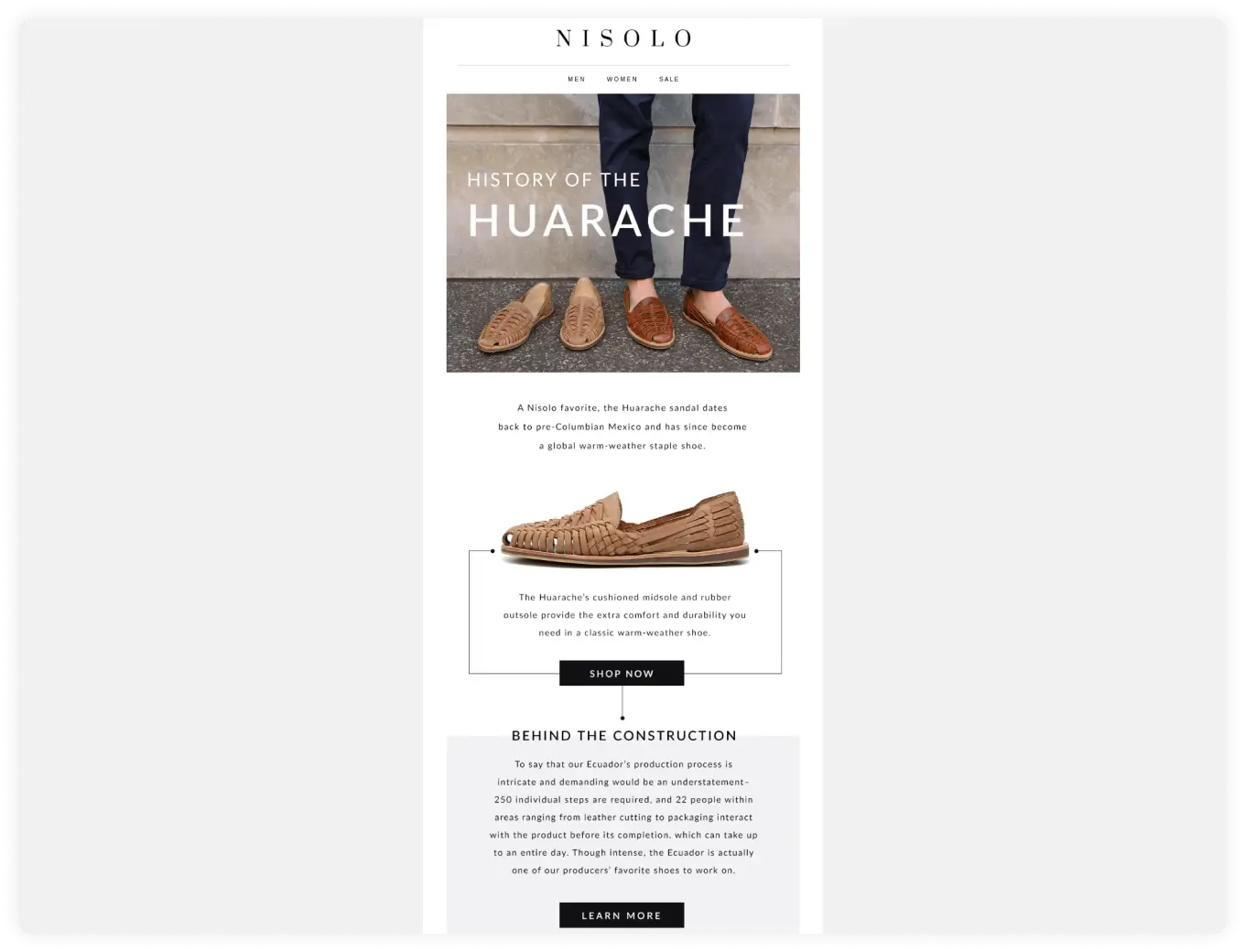 If you want to spice your newsletters further, you can use animated GIFs, videos, or infographics to highlight information. And, you can go a step further to create specific newsletters customized for different audiences based on their interests.
Struggling to find newsletter ideas? Read our guide on 12 trending newsletters ideas for higher engagements.
6. Open rate no longer reliable
Apple has recently released a new feature - Mail privacy protection, to offer privacy to its users. The new update says,
"In the Mail app, Mail Privacy Protection (MPP) stops senders from using invisible pixels to collect information about the user. The new feature helps users prevent senders from knowing when they open an email and masks their IP address so it can't be linked to other online activity or used to determine their location."
It means that Apple will preload the content of your email. As a result, tracking pixels will not give you accurate open data. Instead, it will reflect inflated opens from apple mail users.
To know in detail, read our guide - How Apple MPP will affect email marketers.
7. User-generated content in emails
User-generated content is any content made by your users that you can showcase in your emails. UGC includes - testimonials, reviews, feedback, and case studies. Including such content helps you develop trust and credibility, especially among new customers.
Get a sample AMP email in your inbox
Experience the power of interactivity right now
The future of email marketing
So those were our seven picks for 2023 that you can use in your next email campaign. Besides, we have also listed the email design trends that will dominate the industry in 2023. Have a look at it to bring creativity to your email design.
At last, it's impossible to tell what changes will happen in the following 5, 10, or 20 years. But, one thing is without a doubt - the eventual fate of email is solid, and that's the core belief behind Mailmodo's vision.