Travel
How Musafir leveraged Mailmodo's interactive forms in email to 2X sales
Mailmodo was a huge game-changer as it helped the sales team segment and pick the users to focus on every month, in order to achieve a particular target.
Teresa Coutinho
Asst. Marketing Manager
About Musafir
Musafir.com is UAE's leading online travel agency that's been in the industry for 17 years. They provide airline ticket booking assistance to over 3,000 destinations, hotel accommodation booking in over 1,000,000 properties around the world, processing UAE Tourist Visas as well as assistance on international tourist & business visas, and packaged holiday experiences. Musafir.com is headquartered in the UAE with branches in India and Qatar.
Challenge
One of Musafir's key verticals is the UAE tourist visa application and processing. Being their most popular self-serve product, the company was getting leads from a number of sources - both online and offline. Online sources included website's contact forms, social media, ads and offline sources including their retail branches and stores. Data was also coming in through their corporate clients and trade partners. The agency had multiple repeat customers as well making it challenging to prioritize leads effectively for sales outreach.
"The UAE tourist visa has multiple options for 14, 30, 60 and 90 days. With this product variety, repeat customers, different order requirements, and repetition in subscriber names; segmenting and prioritizing leads to be processed became a cumbersome task." - Teresa Coutinho, Assistant Marketing Manager
Teresa was looking for ways to segment and prioritize subscribers so that leads could be routed to the right the sales representative.
Approach:
Teresa identified that getting additional details about subscribers' travel plans would help to solve this problem. To do this, she sent out an email campaign with an interactive form with Mailmodo. The form contained fields like name, contact number, length of stay in the UAE, and preferred travel dates. It also included a date picker which helped users choose the date intuitively.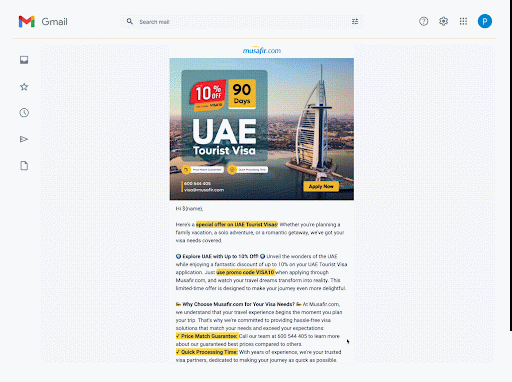 The form submissions collected in the email were extremely helpful to the sales team. This approach allowed the sales team to segment subscribers into "hot" or "cold" leads, enabling them to focus their efforts more effectively to meet monthly targets. The new method has proven especially beneficial for the UAE Tourist Visa vertical and has had a direct impact on revenue generation.
"It helped the sales team segment and pick the users to focus on every month, in order to achieve a particular target. And it was a huge game changer, as it helped boost sales & revenue from the UAE Tourist Visa product." says Teresa.
Result
The implementation of interactive emails drove 2X higher sales for the UAE Tourist Visa application through Musafir.
Other campaigns: Gamified Partner Campaign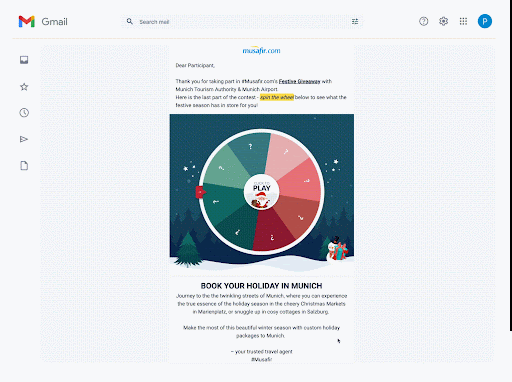 After the success of their first interactive campaign, the team tried a gamified campaign to drive sales in the holiday season in partnership with the Munich Tourism Board. It had a Christmas-themed "spin the wheel" widget where users can test their luck and win prizes. It not only drove sales but received excellent feedback, particularly from Munich tourism.
Journey Forward Going forward, Teresa and her team are looking to include a cart abandonment template from Mailmodo with discount or upgrade offers to boost sales. It would also promote cross-selling by offering cruise trips, tours, activities, airport meet-and-greets and more as value-added services. The excitement for this innovative approach is high as it not only optimizes the sales process but also provides multiple conversion pathways.