How Preplaced leveraged Mailmodo's spin-the-wheel widget to 5X their conversions
I had used a couple of other alternatives for email marketing, but I must say it's Mailmodo for the win! Through AMP emails, the engagement rate boomed and brought a considerable increase in conversions.
Sayali A Kulkarni
Content Marketing Manager at Preplaced
About
Preplaced is a personalized, 1:1 mentor-led interview preparation platform that operates with one objective: getting people placed in their dream companies.
Preplaced brings the world's most influential tech enthusiasts and professionals to impart their wisdom to freshers and young working professionals. These mentors guide their mentees throughout their interview preparation journey while also helping them grow personally and professionally.
The Focus
Sayali, the Content Marketing Manager at Preplaced, started off with email marketing recently. The emails sent out by Preplaced were boring and saw a low conversion rate. So, Sayali wanted to create better and more engaging emails to drive conversions through email marketing.
We were struggling with email marketing in the beginning because our emails were really boring. We were not getting many clicks from our email campaigns. After finally using AMP emails, I noticed a positive shift in open and click-through rates."
- Sayali A Kulkarni, Content Marketing Manager at Preplaced
Approach
Sayali was trying out different ways to increase engagement through email marketing and wanted to give interactive emails a shot.
While experimenting with creating interactive emails on Mailmodo's platform, Sayali spoke to the team who introduced her to the spin-the-wheel widget. The idea of gamifying her emails using an interactive widget intrigued her, and she wanted to use this interactive widget in her future campaigns.
She designed her Christmas campaign using the Christmas-themed template from Mailmodo's template gallery and customized it.

She used the spin-the-wheel widget in the emails as a coupon distribution mechanism to send out special holiday discount coupons to her customers. This was an attempt to get meaningful engagement and a good conversion rate.

When the customers opened the emails, they got a Christmas-themed wheel to spin inside it, and upon spinning the wheel, they received the holiday discount coupons, which could be redeemed on Preplaced's website.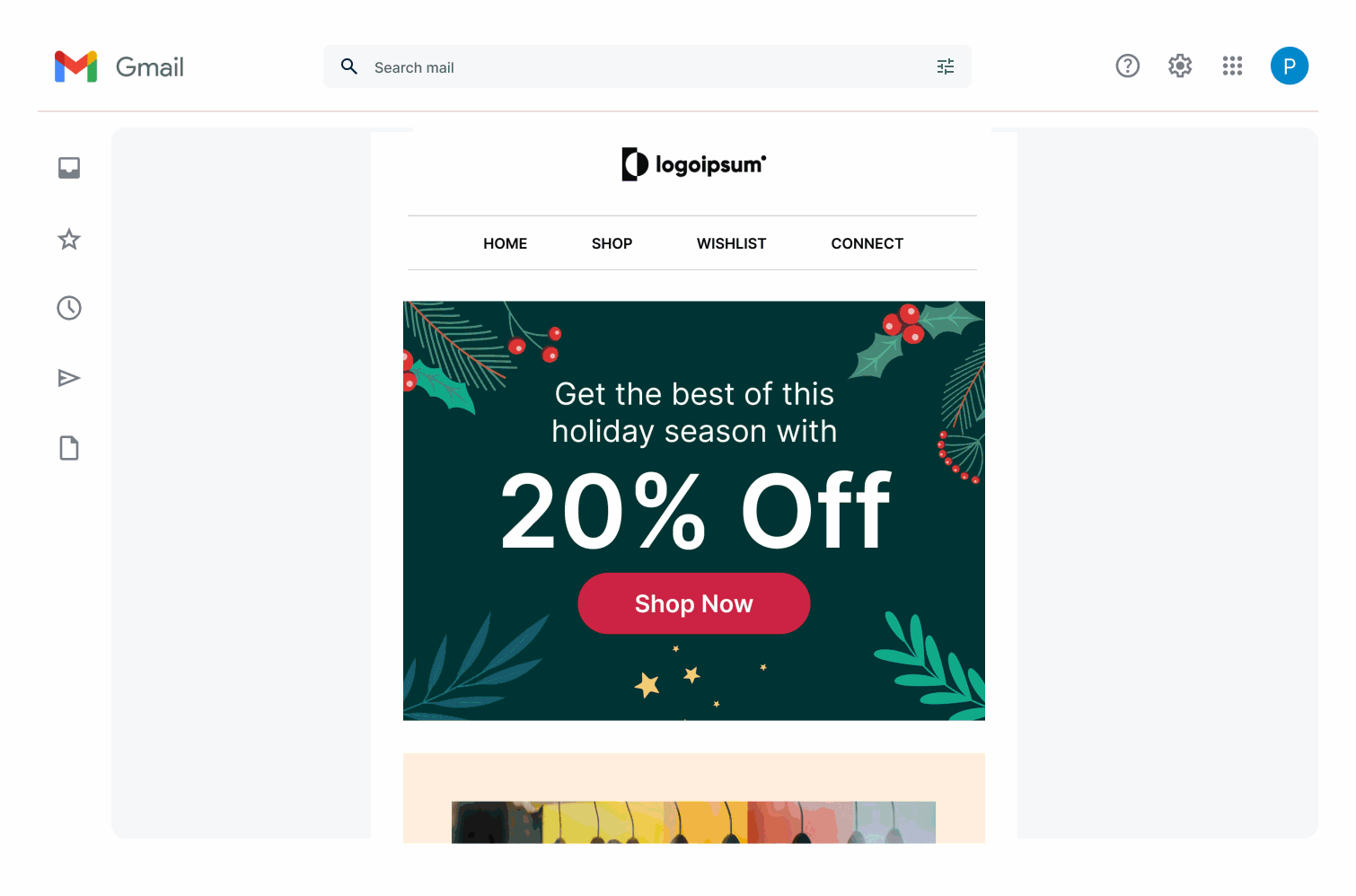 This gamified experience delighted the customers, and they ended up using the coupons to purchase sessions from Preplaced.
It was fascinating to see promotional emails getting all the action for a change. On Mailmodo, I could create beautiful and engaging email templates without a graphic designer.
- Sayali A Kulkarni, Content Marketing Manager at Preplaced
Outcome
By including the interactive spin-the-wheel widget in the Christmas email campaign, Preplaced was able to boost its user engagement, where the CTOR grew to 10% from 2-4%. They recorded their best sales impact through email marketing, where their conversion rates saw a 5X increase.
| Key Metrics | Without interactivity | With interactive Mailmodo email templates | Increase |
| --- | --- | --- | --- |
| CTOR | 2-4% | 10% | ~3X |
| Sales Conversions | 3% | 15% | 5X |
Journey forward
The team at Preplaced is extremely happy with the results they are seeing with their email marketing efforts using Mailmodo. They are excited to get more conversions through email. The team has already started exploring the following:
More AMP emails: Looking at the response from the interactive spin-the-wheel widget, Preplaced has started using more interactive widgets in their campaigns to see higher conversion.
Metrics Tracking: They are tracking their email metrics using Mailmodo to get insights on their campaigns.
Lead nurture journey: They are also exploring creating automated email lead nurture journeys on Mailmodo.
Want to get such results? Talk to our experts.