Is Active Campaign really worth it?
ActiveCampaign is an automation platform that helps businesses with customer support and management. In order to help businesses improve the customer experience, it offers marketing automation features, email marketing and customer relationship management tools. While ActiveCampaign has an extensive set of features, it can be overwhelming for entrepreneurs and even the first ones on their way to marketing automation.
The complexity of software is one of the most frequently complained about by users. While Active Campaign offers a number of features, the user interface can be overwhelming and users find it difficult to navigate within the tool for creating emails and sending them to their audience. A new user may find the experience frustrating and difficult to learn and may need a dedicated person to run such complicated tools. For businesses which are new to the use of email marketing automation or who have no dedicated marketing teams, this can be a challenge which might result in lack of brand awareness and conversion rates.
Customer support is another weakness of Active Campaign. In addition to providing email and chat support, there is no phone support available in Active Campaign. For businesses that require quick answers to their questions, this may not be a pleasant experience, which can be frustrating if you're paying a premium price for the platform.
Another issue with Active Campaign's pricing is that it can be difficult to justify the cost if you're only using the platform for basic email marketing. Many businesses may only require a few features offered by Active Campaign, meaning they're paying for those features which aren't actually being used in the email marketing.
Updates on Active Campaign pricing
Four plans are available in the Active Campaign, each with increasingly advanced features. When you first start using this platform, it may appear relatively cheap but as your number of contacts grows, its price goes up for each plan. Choosing a plan with only the features you need in your email marketing is very important for your constrained budget, so you don't have to pay extra for the functionality you don't use.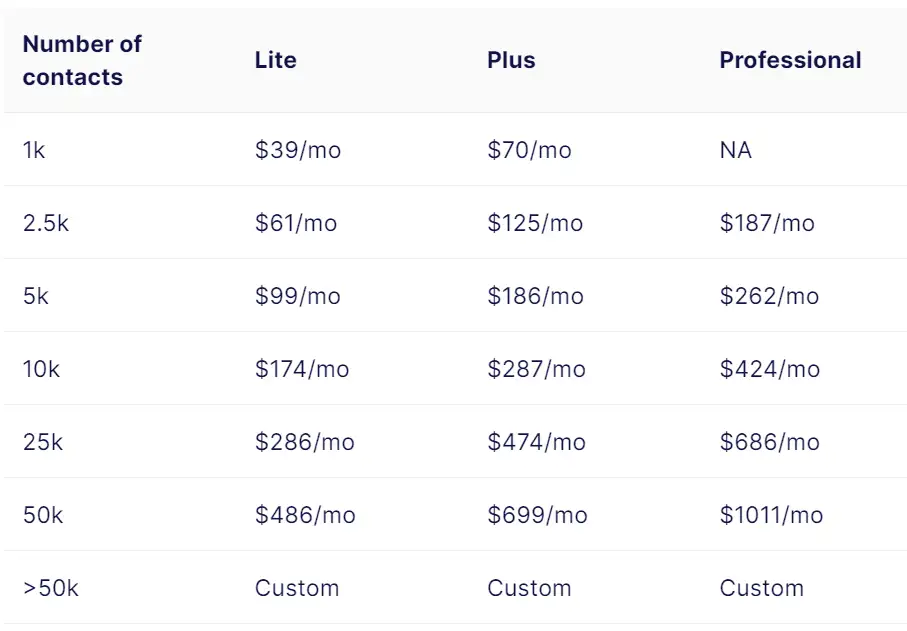 For 1000 contacts, 1 user, live chat and email support, the Marketing Lite plan starts at $39 a month. It offers email marketing automation, drag and drop editor, and basic forms. More than 150 email templates are available to create email campaigns. To help users optimize their campaigns, the lite plan also includes campaign report and goal reports. However, this plan lacks a customer relationship management (CRM) tool and channels like SMS marketing and site messaging.
Starting at $70 a month, Marketing Plus includes 1K contacts and 3 users. It's got everything a user needs with Lite plan, including advanced forms, unlimited landing pages, database sync, SMS marketing and conditional content. It'll give users the ability to integrate Ecommerce Platforms on a variety of platforms. In order to make the user visualize their workflows, a map of automations is included in the Active Campaign plus plan because marketing automation can get complicated very quickly. The plus plan is missing some more advanced features, such as machine learning technology and site messaging.
Professional Plans start at $159 for 1000 contacts with its high level features, one on one consultations, assistance to 50 users and support of up to 50 users, would be a perfect fit for medium sized businesses. While the professional plan has almost everything a midsized firm would need to implement marketing automation, there is very little room for customization. The Active Campaign Professional plan is not sufficiently balanced with the corresponding Plus and Lite packages. In view of the fact that the package allows them to add as many as 50 users, only businesses with large departments and growing marketing agencies would find this useful.
The Enterprise Plan will cost you two to three times as much as the professional plan, but includes a dedicated account agent, phone support and unlimited users. This plan would be a serious overkill to most small and medium sized businesses. The lowest amount you can spend here is $229 per month.
Verdict
Active Campaign offers a wide range of built-in marketing tools and automation features that all come with relatively high price tags. Active Campaign would be a good investment if you have a midsize or large business dependent on the creation of leads and sales automation. You can nurture leads, drive sales, and cultivate loyal customers with the Professional Plan.
However, Active Campaign may not be able to provide the necessary value if you are a freelance or small business owner. It's expensive to run an active campaign, and you may not need all of the features.
Active Campaign is a powerful marketing automation system with numerous benefits, but for some businesses its high cost can be an important drawback. You might want to think of other options with more affordable pricing plans if you are a small business or sole proprietor whose budget is limited.
Hence, it's important to carefully consider whether you actually need all of the features offered by Active Campaign before committing to a high-priced plan.