WordPress email automation helps businesses and website owners engage with their audience. As of today, effective communication through email is vital for building and nurturing relationships, driving conversions, and enhancing user experiences.
Bloggers continue to flock to WordPress to take their blogs online, while small and medium business owners continue to use it to take their shop online. This automated approach enables you to send targeted and timely emails to your subscribers, customers, or leads without manual intervention.
Let's delve into WordPress email automation and discover how it can elevate your online communication and engagement efforts.
Table of Contents
What is WordPress email automation?
WordPress email automation uses email automation tools or plugins within WordPress's content management system to create, send, manage, and personalize emails based on specific triggers or user interactions.
By implementing WordPress email automation, website owners can save time, increase the effectiveness of their email marketing efforts, and deliver a more personalized experience to their subscribers.
Why use email automation with WordPress?
WordPress email automation offers numerous benefits for website owners and marketers looking to streamline their email marketing automation efforts and engage their audience effectively.
Here are some of the following benefits:
Engage your subscribers by curating newsletters or product offers tailored to their preferences, acquired from customer data.

The right emails reach the recipient at the right time. Automated scheduling helps the right emails reach the right audience as and when they're ready to buy or have just signed up.

Automating emails enables you to send personalized emails to your subscribers. Engagement and conversion rates can be increased by tailoring content, offers, and recommendations.

You can segment your email list into specific groups. This allows you to send targeted messages to different audience segments, ensuring that your emails are relevant to each recipient, which boosts open and click-through rates.

Automation ensures your emails are consistently delivered at the right times. Whether it's a weekly newsletter or a series of onboarding emails, automation guarantees that your audience receives content as scheduled.
What are the various types of emails that can be automated using WordPress email automation?
There are no limits regarding the types of emails that can be automated. Some common types of emails include:
Welcome emails: Welcome emails are essential as they help welcome new customers to the brand, take you through the next step, or even recommend products that go well with the purchase.

Post notification emails: They are another set of emails where you will receive notifications on the new posts from the blogger as it helps the readers/recipients stay up to date than those with post notifications.

Lead nurture emails: Automating the lead nurture emails helps business owners reduce a major chunk of their time in replying to emails related to initial queries or common questions.

Abandoned cart emails: Cart abandonment emails are designed to remind customers of the item they have added to the cart but haven't completed checkout. This is similar to nudging them that they've left something behind and it's waiting for them. This type of auto responder helps ecommerce stores make better business.

Product recommendation: Utilize email automation to recommend products to customers based on their browsing and purchase history. This can help increase sales and customer engagement.

Feedback & Survey emails: Send automated emails requesting feedback or conducting surveys to gather user opinions and improve your website or products.
How to set up email automation in WordPress
WordPress uses different PHP configurations to send emails. But this limits the capabilities of the native wp_mail on the types of emails that you can send. Therefore, setting up WordPress email automation is essential, and we can do so in the following ways:
  You can connect WordPress to Mailmodo in the following manner- Action form URLs or Zapier
1. Action form URLs
You can use contact form plugins like WPform and collect leads using these forms and send the contact data to an email service provider to automate and send emails. A good tool for this is Mailmodo.
Mailmodo lets you import contacts through a form action URL, which specifies where a web form's data will be submitted when the user clicks the "submit" button.
To simplify, you just need to add a link to your forms in WordPress, and you will start seeing form submissions as contacts in Mailmodo. Easy, right?
You can import contacts in real-time without any complex programs or integrations.
Let me take you through this step by step,
After signing up with Mailmodo, proceed to the Integration tab. There, you need to select Connect forms.


Select contacts. Here, you can start building contacts. Select add contacts via forms.

You can connect your form by creating a new list or the existing one. And type in the accepted domains and subdomains. If you have an address for the success page, add emails.
👇This URL is the form action URL.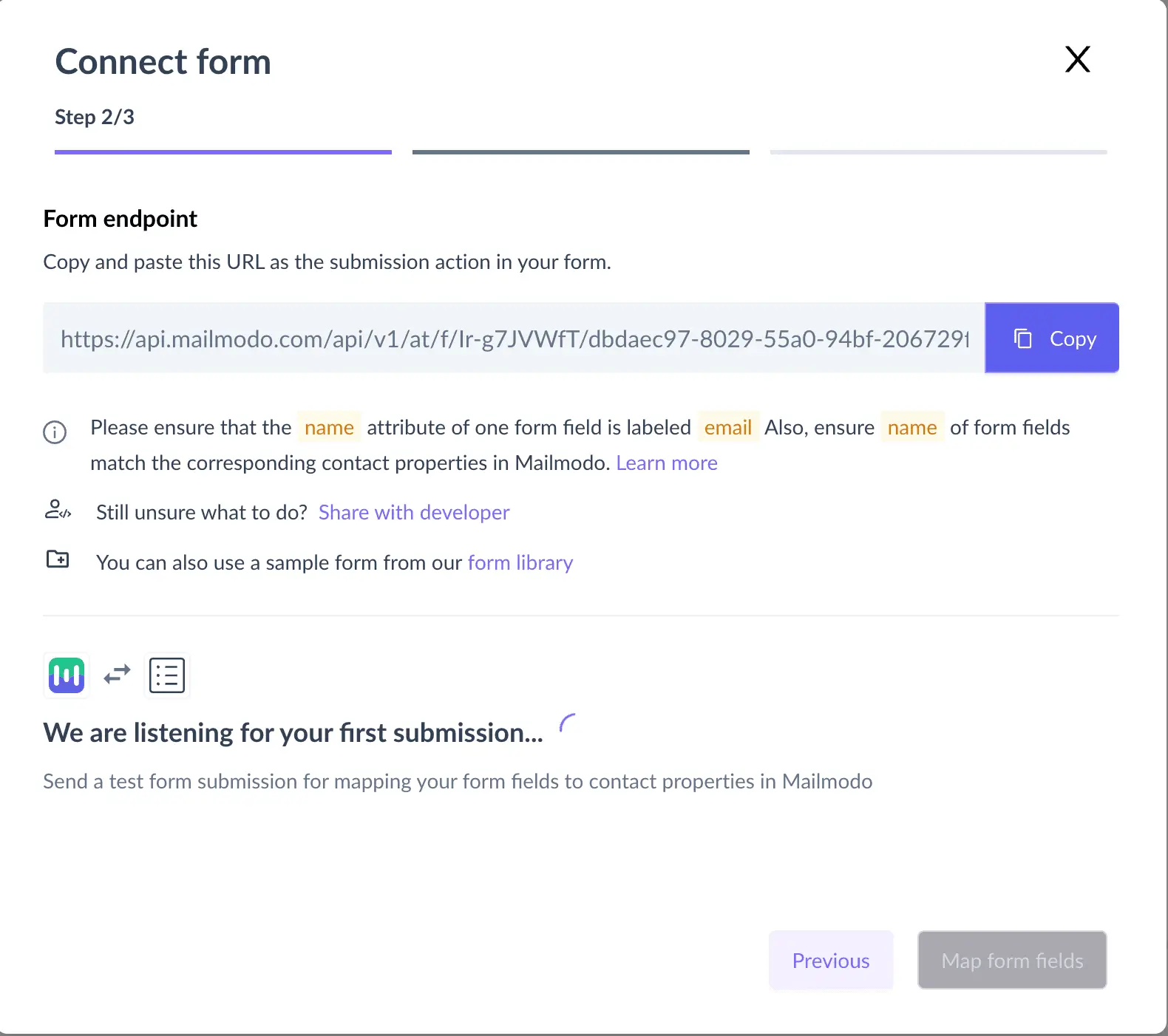 Proceed to add this form action URL in Wordpress forms.
Using Mailmodo, you can set an automated trigger for journeys when a contact gets added to a list. Then, you can head to Journey 👇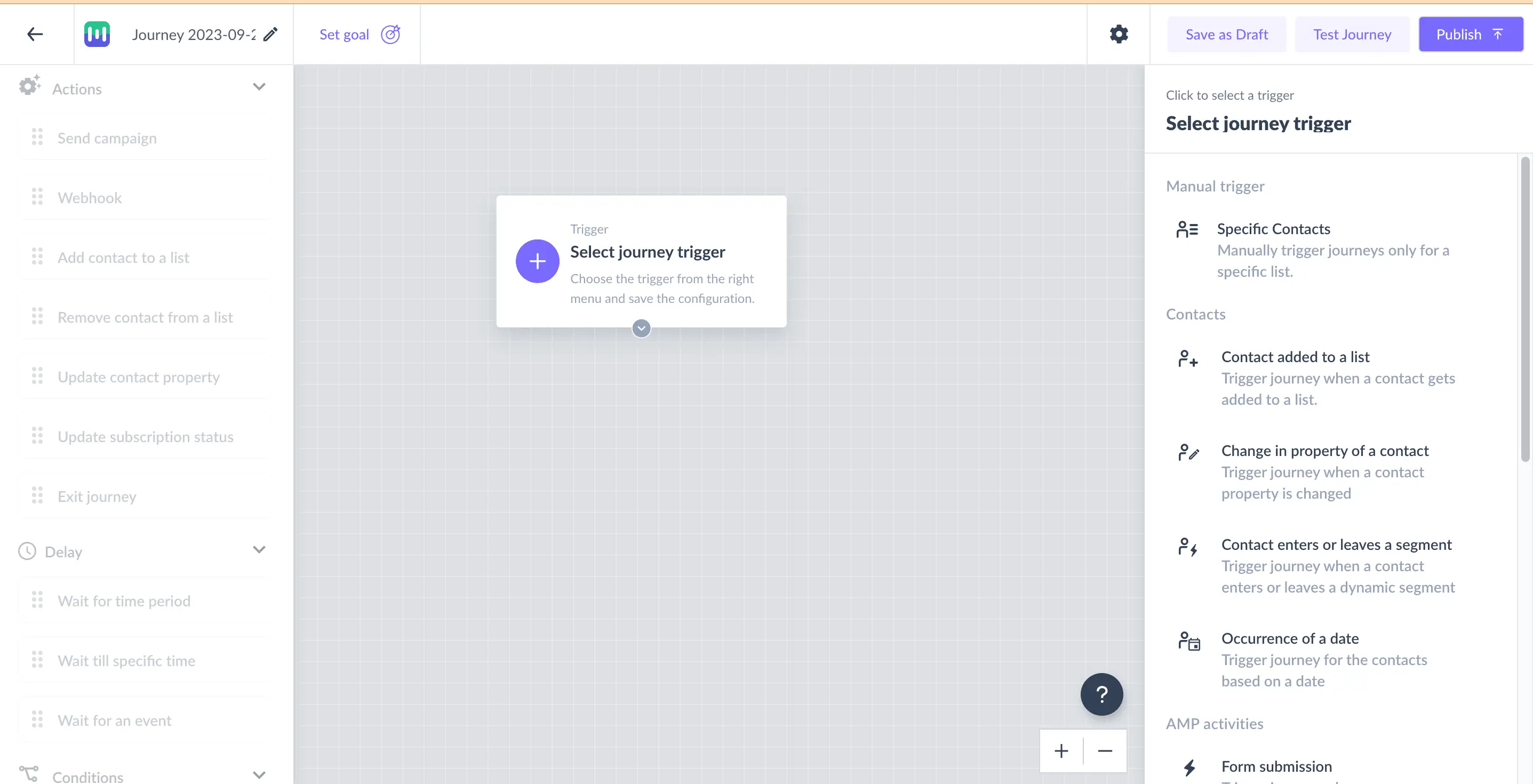 Here 👇 you can select journey triggers.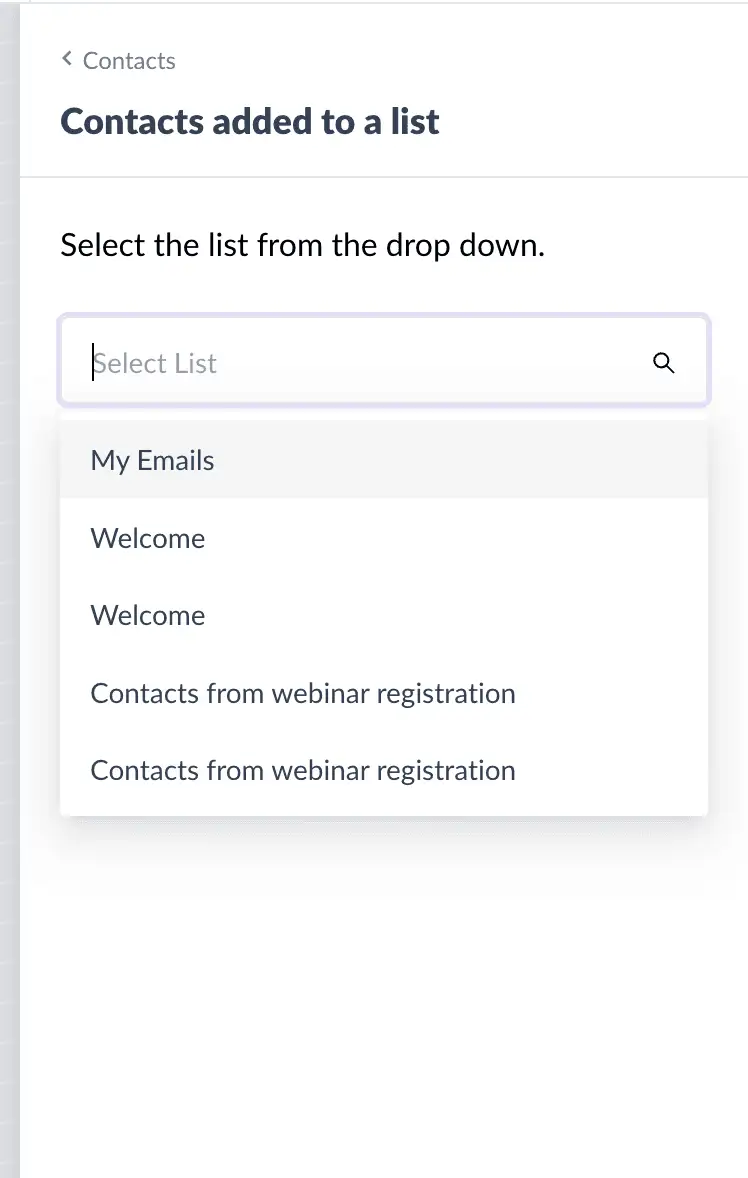 Here 👆You can select journey trigger. You can trigger your journey when a contact is added to a list.From the dropdown you can select your list from these drop-down options. Then,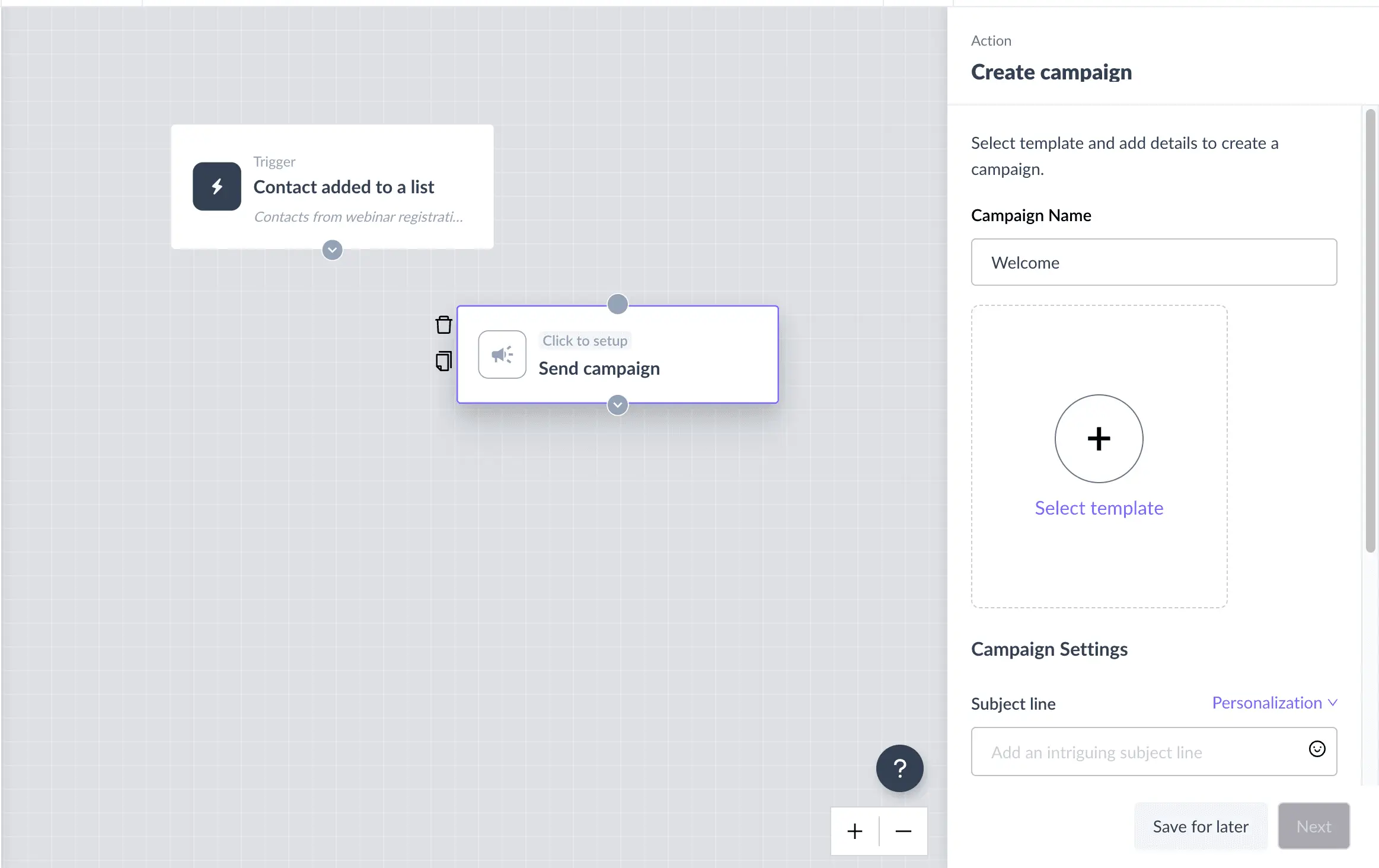 You can continue building on your journey when a contact is added to the list and create campaigns.
You can automate your campaigns on WordPress without plugins with a simple process once they begin.
2. Automate through integrations
Crafting compelling blog posts, promoting on social media, and managing an email list can sometimes seem overwhelming. With the assistance of automation tools such as Zapier, Integromat, and Make, among others, you have the capability to optimize your WordPress content creation and distribution process.
For instance, with Zapier, you can let people know you have posted something new and create an email campaign to inform your recipients.
3. Plugins
WordPress plugins play a crucial role in automating a WordPress website. They provide the necessary tools and functionality to streamline email marketing and communication.
There are several plugins that you can find in the plugins library that will help you ace email automation
To trigger email automation campaigns from your WordPress site, one of these tools will be a great match. You can pick your plugins from the plugin library 👇.

To run an email campaign, it's essential to start by defining your goals. Post that, now you have to think about whether you want to use any SMTP plugins to send emails or you are going to stay back with WordPress. You can consider SMTP plugins if there are complaints that emails mostly land in spam. This helps in improving email deliverability.

Then, you must look at ways to capture the emails to curate your list. You can use forms or integrate paid plugins such as Optinmonster, among others.

Plugins like Mailpoet or Mailster are a good place to begin with for automating your emails.
👆With Mailpoet's free version, you can access a full-featured WordPress that let's you easily start with a free plan and enjoy all key features immediately, knowing that you can scale your emails, subscriber lists, and advanced functionality as your list grows.
Takeaways
WordPress email automation is essential to running a successful business or blog on WordPress. Email automation can save you time, deliver targeted content to your subscribers, and increase engagement and conversions. Whether you choose plugins, form action URLs or third-party app integrations, it helps build relationships. with your audience and drive business growth. Keeping up with the latest trends and the best practices are essential to maximize WordPress's effectiveness in scaling the ecommerce business or blogging.
What you should do next
Hey there, thanks for reading till the end. Here are 3 ways we can help you grow your business: