The ever-evolving landscape of technology calls for new changes to reshape the future of business. With the emerging AI technology, recruitment marketing also presents numerous opportunities. Let's explore how you can leverage AI in recruitment marketing for sourcing, hiring, and retaining top talent in the competitive market.
Table of contents
Future trends of AI in recruitment marketing
1. Enhanced candidate sourcing
It can be daunting for HR managers to review thousands of resumes and shortlist suitable candidates with the given skill set. To make the process of reviewing thousands of resumes and shortlisting suitable candidates easier, HR managers should look for an effective, efficient, and reliable right HR software platform to automate part of the process.
Nonetheless, the emerging AI technology will help screen and analyze huge amounts of data from multiple sources, including job boards and other social media platforms, in a few minutes. Programmatic advertising will further ensure effective targeting by displaying the relevant job Ads based on online activity, user interaction, and browsing history.
The features of advanced tools go far beyond automation. These tools will facilitate matching resumes with Job descriptions. Thus, it will eliminate the structured tasks and directly enlist potential candidates with specific skills, qualifications, and experience.
Subscribe to the Mailmodo Bulletin
12k marketers get these growth tactics in their inbox
AI-powered tools will simplify talent sourcing to a great extent by enabling the hiring of the right candidates at the right time.
For instance, If an organization requires a software engineer, AI-powered recruitment tools will aid the recruiters by scanning the professional networks, aggregating data from various online sources, and providing comprehensive candidate profiles. Tools such as hiretalent.ai and upcoming ones will facilitate talent acquisition by matching individuals with relevant programming skills, degrees/courses, certifications, interests, and professional backgrounds.
The recruiters can save time and effort by automated searching and job profile matching, thereby utilizing the same for targeting and engaging with qualified candidates.
Related guide: 9 AI Tools for Small Businesses to Make Teams More Efficient
2. Personalized candidate engagement
Suppose we assume a scenario wherein a job seeker may visit a company's career website but needs complete information about the application process. Then the AI-powered chatbots will interact with them to provide tailored answers for the specific role, eligibility criteria, and application process. Also, the system will show recommendations of available job profiles across different categories and locations based on the candidate's interests. Won't it add much ease and enhance the candidate experience altogether?
AI-driven chatbots and virtual assistants will be crucial in improving user experience. Bots hold enormous potential for gathering required information and transforming candidate engagement by assisting them at different steps and guiding them through the application process.
"Today, online job search still relies on job seekers typing in job titles and locations. As a result, many people do not find the right job. In the future, conversational AI will help us to have meaningful interactions with our users and to find out what really matters to them. Our goal is to fundamentally change how job seekers discover their full range of opportunities."
-StepStone CEO Dr. Sebastian Dettmers.
Job seekers can get immediate help via conversational chatbots and resolve their queries then and there. It will give recruiters ample time to engage with quality candidates and take strategic decisions accordingly.
3. Data-driven decision making
"Most organizations are feeling the frenzy to lock candidates in, but poor hiring decisions have the potential to seriously hold the business back in the long-run. Today's competitive climate demands that businesses are more deliberate and strategic in their approach to talent management. The expectations of top talent have changed on everything from flexible work to speed of decision making. Businesses need to become more agile and make changes using decisions informed by real time data and insights."
-Abakar Saidov, co-founder and CEO of Beamery (AI-powered talent lifecycle management platform)
AI tools will aid recruiters in optimizing strategies by analyzing existing data and providing valuable insights to accomplish the hiring goals. Like, which recruitment platform will yield better results for the company? Which candidate has more likelihood of success?
Source: Data-Driven Decision Making Using AI
Also, the HR managers will be able to identify the skill gaps and lay down the actions required to upskill the workforce.
4. Bias reduction and diversity promotion
The underlying biases could hinder the companies from building their dream team. There could be potential discrimination during different stages of hiring, which may lead to the rejection of a talented candidate.
If you haven't hired a team of people who are of color, female, and/or LGBT to actively turn over every stone, to scope out every nook and cranny, to pop out of every bush, to find every qualified underrepresented founder in this country, you're going to miss out on a lot of money when the rest of the investment world gets it.
- Arlan Hamilton
AI-powered tools offer a viable solution for reducing biases and promoting diversity in the recruitment process. For instance, machine learning algorithms can screen candidates' data after removing identifiable information, such as names and genders. It will ensure unbiased evaluation solely based on the candidate's qualifications, skills, and experience,
5. Effective candidate selection
Recruiters can streamline the selection process using Natural Language Processing (NLP). The emerging AI tools and video interviewing platforms can even analyze candidates' facial expressions, body language, and tone of voice to assess their suitability for the job. These AI tools can also reflect upon communication skills, EQ, and candidate persona. HireVue is one such automation platform to look out for!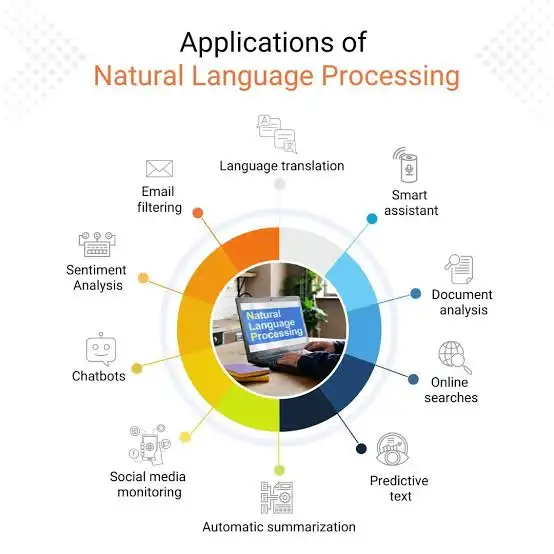 Source: Applications of Natural Language Processing
AI could be used to automate various stages of recruitment, thereby saving huge amounts of time and resources. Also, it paves the way for making more informed decisions during the candidate selection process.
AI tools for recruitment
Though many AI recruitment tools are in the development process, some have already started capturing the recruiters' eyeballs. Let's look at some of the free and paid AI tools for recruitment marketing.
1. MedhaHR for healthcare talent sourcing
MedhaHR enables AI-driven healthcare talent sourcing, covering candidate sourcing, applicant tracking, and analytics.
Speaking about the pricing, individual, professional, and enterprise plans are available. The plans range from $125/Job, $200/Job, and $ 300/Job, respectively. Each has its benefits.
Features
Smart AI - for automating resume screening and profile matching
Target specific audiences and expand the reach
Personalized job recommendations
Cost-effective and time-saving
2 Fireflies.ai for automating recruiting interviews
This AI tool is designed to record and transcribe virtual meetings and interviews. Once integrated with video conferencing platforms, it uses automatic speech recognition (ASR) technology to generate notes for assessment and reference.
Different pricing plans are available for availing the benefits of this tool. There are both; a free plan with limited features as well as other paid plans with additional functionalities.
Features
Keyword search within transcriptions
Collaborative note-taking
AI-powered insights for interview analysis.
3. PeopleGPT for searching people data
This tool is developed by Juicebox (YC S22). Now, recruiters don't need to browse through huge number of profiles on LinkedIn. Using this, recruiters can simply search the candidates they're looking for!
It acts like the search engine for finding people data. Let's take for example, recruiters can input the query - "Project Managers with experience leading a team of 5+ in primary research"? PeopleGPT will get the list of potential candidates for them.
Features
Simplifies research
Quickens the recruiting process
Cost-effective & user friendly
4. Humanly.io for high volume hiring
This AI tool is used for hiring at scale in the organizations. It improves the candidate engagement with the automated chat interactions.
It also serves as an interview assistant by syncing notes and transcripts to the applicant tracking system.
Features
Virtual interview scheduling, screening and note-taking
Analytics and actionable insights
AI-generated email follow ups
Automated conversations and reference checks
It is a free AI-powered applicant tracking system for hiring experienced candidates globally. It helps in managing the complete talent acquisition lifecycle.
Furthermore, it simplifies your recruitment process, from workforce planning to conducting virtual interviews to onboarding the selected candidates —and everything in between.
Features
Automatically matches the right candidates with an advanced AI tool
Improves productivity & reduces time to hire
Attracts diverse talent globally & ensures bias-free hiring
Enhances user experience by sourcing and appointing candidates with a few clicks
<iframe src="https://www.linkedin.com/embed/feed/update/urn:li:ugcPost:7064826234286845953" height="755" width="504" frameborder="0" allowfullscreen="" title="Embedded post"></iframe>

Apart from these AI recruitment marketing tools, there are other tools and softwares such as Happy Recruiter, Careerflow.ai, Atalef.ai, TalentReach, etc. Also, ChatGPT can be utilized for drafting job descriptions, and Lavender.AI for automating email copies.
Related guide: How to Use AI for Small Business Marketing (With Examples)
Wrap up
The future of recruitment marketing is undoubtedly intertwined with AI. As the technology progresses, there is an immense potential for further improvements in recruitment marketing. The evolving AI tools and hiring practices will lead to even more efficiency and effectiveness in recruitment. Organizations that embrace AI in recruitment marketing will stay ahead of the race by attracting and retaining top talent in the market.
What you should do next
Hey there, thanks for reading till the end. Here are 3 ways we can help you grow your business:
Talk to an email expert. Need someone to take your email marketing to the next level? Mailmodo's experts are here for you. Schedule a 30-minute email consultation. Don't worry, it's on the house. Book a meet here.

Send emails that bring higher conversions. Mailmodo is an ESP that helps you to create and send app-like interactive emails with forms, carts, calendars, games, and other widgets for higher conversions. Get started for free.

Get smarter with our email resources. Explore all our knowledge base here and learn about email marketing, marketing strategies, best practices, growth hacks, case studies, templates, and more. Access guides here.