In my early days of personal branding on LinkedIn, like any social media newbie, I searched for tools that might help me create content calendars, generate ideas, and do audience research. Maintaining consistency was one of my goals while searching for relevant tools.
While researching, I realized AI tools would be the best as they can help me generate many ideas in minutes and automate my posts without much hassle. So, I curated a list of tools, and most of the AI tools discussed in this article are ones I have used.
In this article, I will share my analysis of 8 social media marketing AI tools to help you start or enhance your social media journey and generate desired results.
Table of contents
8 AI tools for Social media marketing
Here is a comprehensive analysis of social media AI tools to help you with content idea generation, post scheduling, content repurposing, and multimedia generation. Let's dive into this!
1. Buffer AI
Best use case: Social media posts creation and scheduling
Buffer is a social media management tool helping you create, schedule, and track posts across different social media platforms. With Buffer, you can get a bird's eye view of all your posts across various channels in its calendar view.
The Buffer team recently launched Buffer AI, which is an interesting feature. It helps you generate content ideas for your social media posts. I tried its AI idea generation tool by giving it this information.
This gave me a post idea I can expand on using Buffer's writing assistant.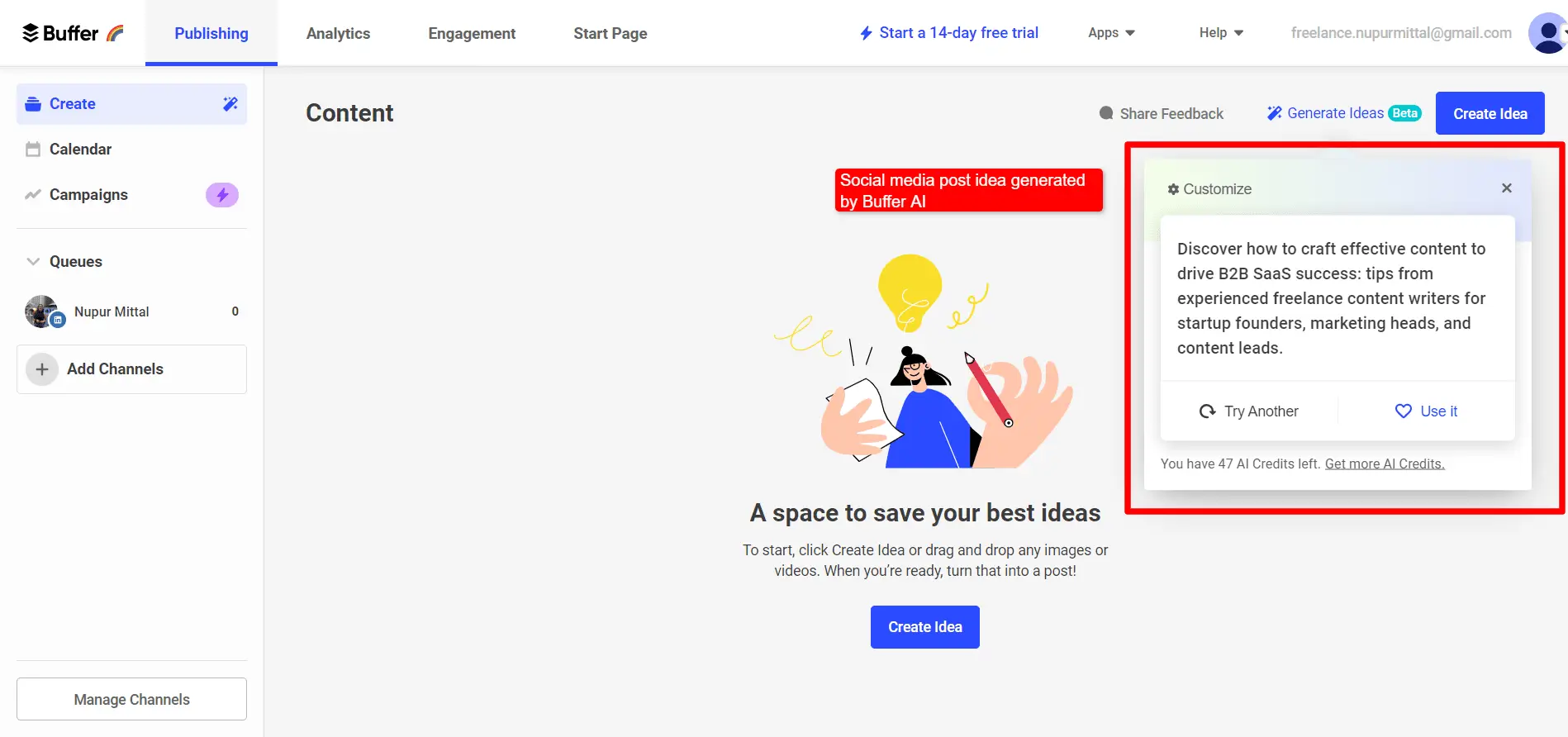 The feature is still in beta, with much room for improvement. For example, the tool doesn't customize content ideas based on different social platforms. Also, the tool doesn't offer ideas in bulk, which can slow down the idea generation process. This feature is only helpful if you're a beginner and want to set up your foundation on social channels.
Buffer AI pros
Free image integration with Giphy, Unsplash, and Canva.

Clean interface, and you can find every option easily without any hassle.

Buffer AI helps expand, summarize, or rephrase content you already have.
Buffer AI cons
No analytics feature is available for individual profiles.

The AI content idea generation feature gives only one idea at a time.

The free plan is limited to posting and scheduling. You can only see the analytics or engagement with a paid plan or 14-day free trial.
Buffer pricing plans
Buffer charges are based on the number of social media channels you connect. It integrates with these platforms: Instagram, Facebook, Twitter, Pinterest, LinkedIn, YouTube, Shopify, TikTok, Google Business Profile, and Mastodon.
| Plans | Pricing per month |
| --- | --- |
| Free Trial | ✅ |
| Free | $0, connect up to 3 channels |
| Essential | $6 per channel |
| Team | $12 per channel |
| Agency | $120 for 10 channels |
2. Hootsuite: Owlywriter AI
Best use case: Generating captions for social media posts and post repurposing
Hootsuite's new Owlywriter AI tool can make your social media marketing less tedious as it takes care of many things:
Instagram captions: The tool helps you generate Instagram captions within minutes.

Content repurposing: The tools analyze your best-performing posts and rewrite them for you to share on social media.

Generate content ideas: The tool helps you generate tons of post ideas if you feed in one or two words or phrases.

Content for upcoming holidays: The tool creates posts for the upcoming holiday to help you avoid last-minute panic about what to post.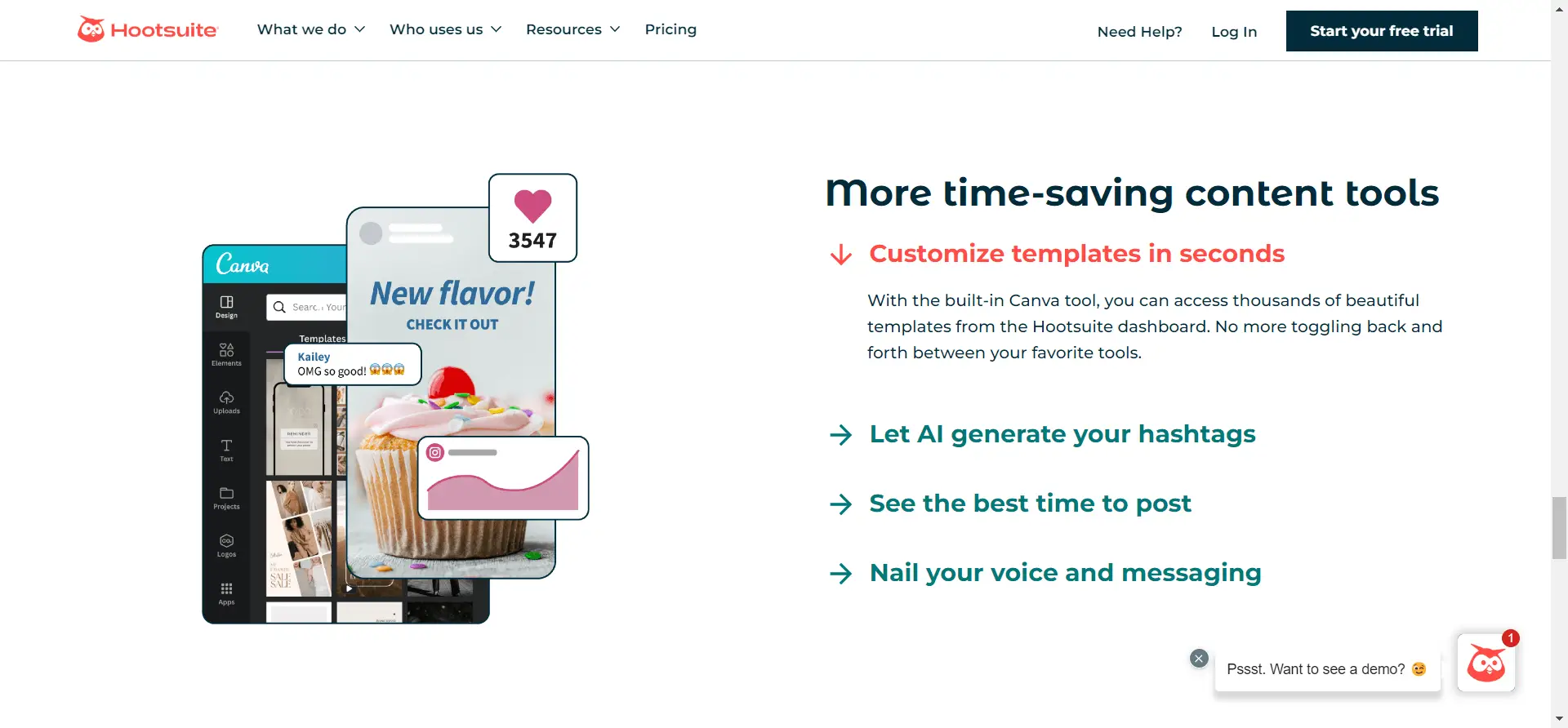 Hootsuite Owlywriter AI pros
You can use it for every social media channel. No need to use different AI tools to create content for different channels.

The tool gives you upcoming holiday posts in advance, allowing you to win social media engagements early.
Hootsuite Owlywriter AI cons
You need to be a Hootsuite paid plan user to get access to this tool. In that case, it might come across as an expensive tool.
Hootsuite Owlywriter AI pricing
Hootsuite offers Owlywriter AI feature as part of their social media management plan. You cannot get access to eat separately.
| Plans | Pricing per month |
| --- | --- |
| Free Trial | ✅ |
| Professional | $99 for one user |
| Teams | $249 for 3 users |
| Business | $739 for 5 users |
| Enterprise | Custom |
3. Authoredup
Best use case: Creating, saving, and previewing LinkedIn posts.
Authoredup is a Chrome extension that connects with your LinkedIn account and entirely changes how you post on LinkedIn. You can do everything from LinkedIn post idea generation to publishing with this extension.
Here's what all Authorup helps you with:
Write and publish LinkedIn posts with a mobile, desktop, and tablet preview option.

Pre-built library of hooks and endings.

Save recurring snippets of text such as CTAs, signatures, etc.

Get a bird's eye view of all your post's performance – impressions, likes, shares, links added, hashtags used, and people mentioned.
Authoredup pros:
Keep a database of all the posts you published using Authoredup. There is an option to export those posts in CSV format.

Detailed post analytics show you everything from impressions to shares. It also gives a graphic representation of the posts' performance.

You get all these features for free.
Authoredup cons:
Even though the tool has a library of hooks and endings, you cannot generate post ideas using AI (yet!)
Price: Free
4. Taplio
Best use case: LinkedIn content creation and scheduling
Taplio is a LinkedIn management tool that helps you create, schedule, and analyze posts. It also helps you with lead generation via LinkedIn by creating contact lists, exporting viral post data, and integrating with CRM tools.
Taplio LinkedIn Chat Assistant is its AI feature based on GPT-4 model, which helps you generate posts, rewrite existing ones, and make contextual comments.
Taplio pros
Super easy to use.

4M+ viral posts library is available to get post ideas without much hassle.

AI-chat assistant based on GPT-4 model. You can use it to generate post ideas and generate comments.

Quickly create a LinkedIn carousel using Twitter threads.
Taplio cons
Doesn't have any free plan for you to try before signing up for a paid plan.

Offers limited integrations.
Taplio pricing
| Plans | Pricing per month |
| --- | --- |
| Free Trial | ✅ |
| Starter | $39 |
| Standard | $55 |
| Pro | $149 |
5. ContentStudio
Best use case: Editing social media posts and generating images for these posts
ContentStudio is a complete social media management tool that eliminates the need for a second tool. Whether you want to create content or find trending topic ideas, ContentStudio got it. It also has a huge influencer library, which helps you find relevant ones to follow.
Here are some of the prominent features ContentStudio has:
AI-generated image captions: Generate Instagram captions, tweet ideas, inspirational quotes, and images with AI.

Automation recipes: Publish, repurpose, or rewrite existing content for social media.

Content feed: Find trending topics in your industry without going anywhere.

Twitter influencer database: Find relevant influencers to follow on Twitter.
I wrote a LinkedIn post in ContentStudio and was impressed with all the options I got regarding publishing. The dashboard was clutter-less, and it was easy to use every option given.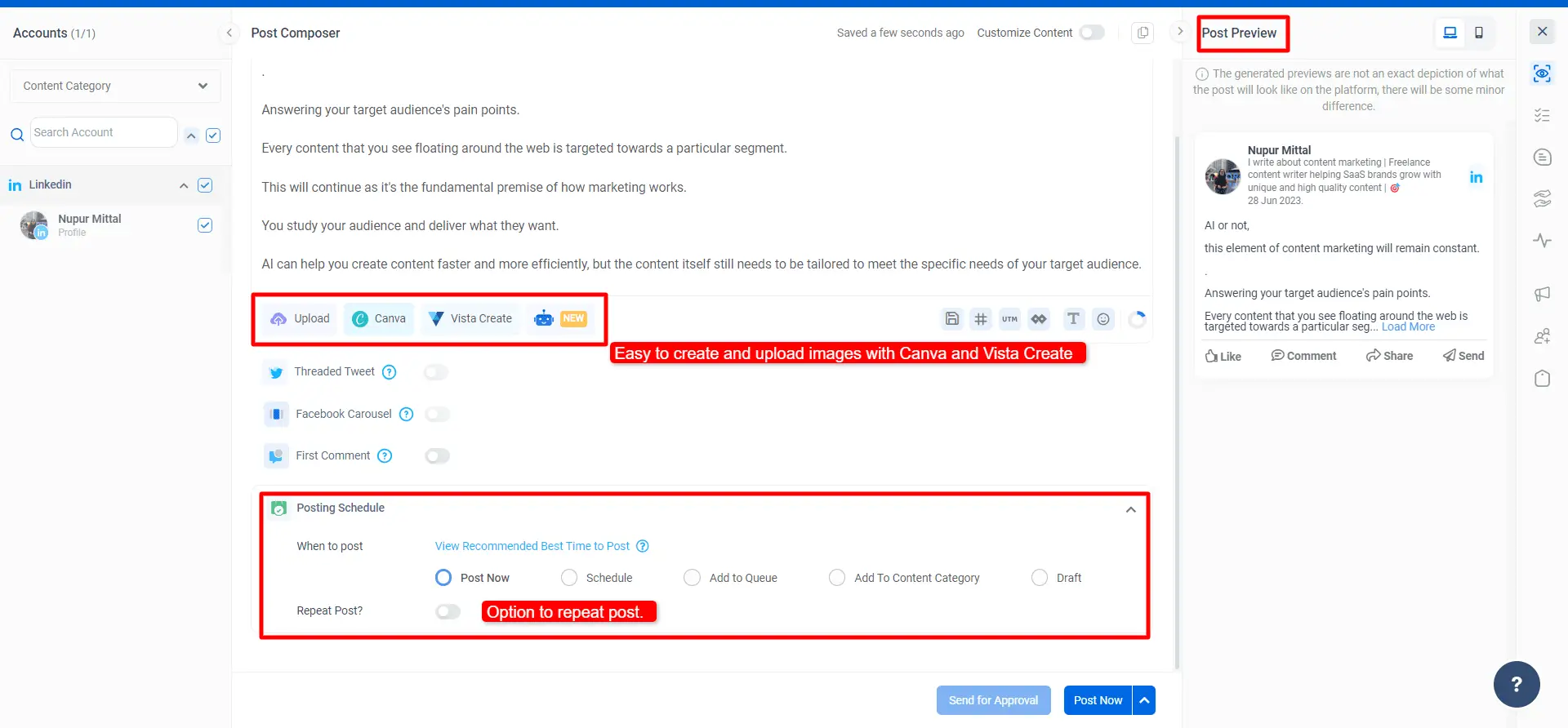 ContentStudio pros
Every feature is available in a single tool. So, there is no need to invest in multiple tools for social media use cases.

Invite team members and work with them on posting, reviewing, and scheduling social media posts. The tool has predefined statuses such as in review, rejected, published, scheduled, and more.

Inbuilt social media Twitter influencer library makes finding relevant accounts easy to follow.
ContentStudio cons
The tool offers many features, so seeing them in one place can be overwhelming. The dashboard seems a bit confusing to me as a beginner user.
ContentStudio pricing
| Plans | Pricing per month |
| --- | --- |
| Free Trial | ✅ |
| Starter | $25 |
| Pro | $49 |
| Agency | $99 |
6. Hypefury
Best use case: Scheduling and creating tweets
Hypefury is one of the best and easiest Twitter management tools, which handles content creation, post scheduling, reporting, and suggesting trending and relevant tweet ideas. Some of its core features include:
Auto Plugs: When enabled, their feature plugin your offer in one of your most popular tweets.
Recurrent posts: Re-post (not retweet) the same content on your chosen schedule.
Engagement builder: You can pick a few of your Twitter creators, and it will show you their tweets as soon as they post and let you have a reply instantly.
Hypefury pros:
Brin up your evergreen (most famous) tweets and retweet them for you freeing your time load.

Post a tweet on different social channels - Instagram, Facebook, and LinkedIn, in one easy click.

The Autoplug feature automatically adds your offers in one of your popular tweets, increasing your chances of getting leads or more money.

Reply to your favorite creator's tweets as soon as they post, giving you more attention and eyeballs.
Hypefury cons:
The interface isn't much user-friendly, and there are overlaps between many options.

Basic reporting dashboard.
Hypefury pricing
| Plans | Pricing per month |
| --- | --- |
| Free Trial | ✅ |
| Free | $0, 1 Twitter account |
| Standard | $29, 3 Twitter account |
| Premium | $69, 6 Twitter account |
7. FeedHive
Best use case: Analyze social media posts and generate hashtags
FeedHive is a social media management tool with an AI writing assistant to help you generate hashtags, captions, post ideas, and new posts and rewrite existing ones. Apart from writing, FeedHive AI does a lot more. It predicts the best time to post, gives post-performance improvement suggestions, and predicts how well your post will perform.
This is a unique feature of FeedHive and is worth a try!
FeedHive pros:
Post on multiple profiles with one single click.

An Inbuilt AI post-performance predictor gives insights into how well your post will perform.

Post-improvement suggestions generated by AI.

Clean interface and easy-to-navigate dashboard.
FeedHive cons:
No option to tag people in your post using @

No native Canva or Pexel integration.
Feedhive pricing
| Plans | Pricing per month |
| --- | --- |
| Free Trial | NA |
| Creator | $19 |
| Brand | $29 |
| Business | $99 |
| Agency | $299 |
8. Vista Social
Best use case: Social media management
Vista Social is a complete social media management tool helping you grow your audience across various social platforms. From post-writing to scheduling, Vista Social got it all. Its new AI assistant helps you generate captions, content ideas, summaries, or hooks for your posts.
And the best part? You can select from Vista Social's prompt library to use its AI assistant.
I checked out its AI assistant using one of the available prompts, and it gave me some good captions.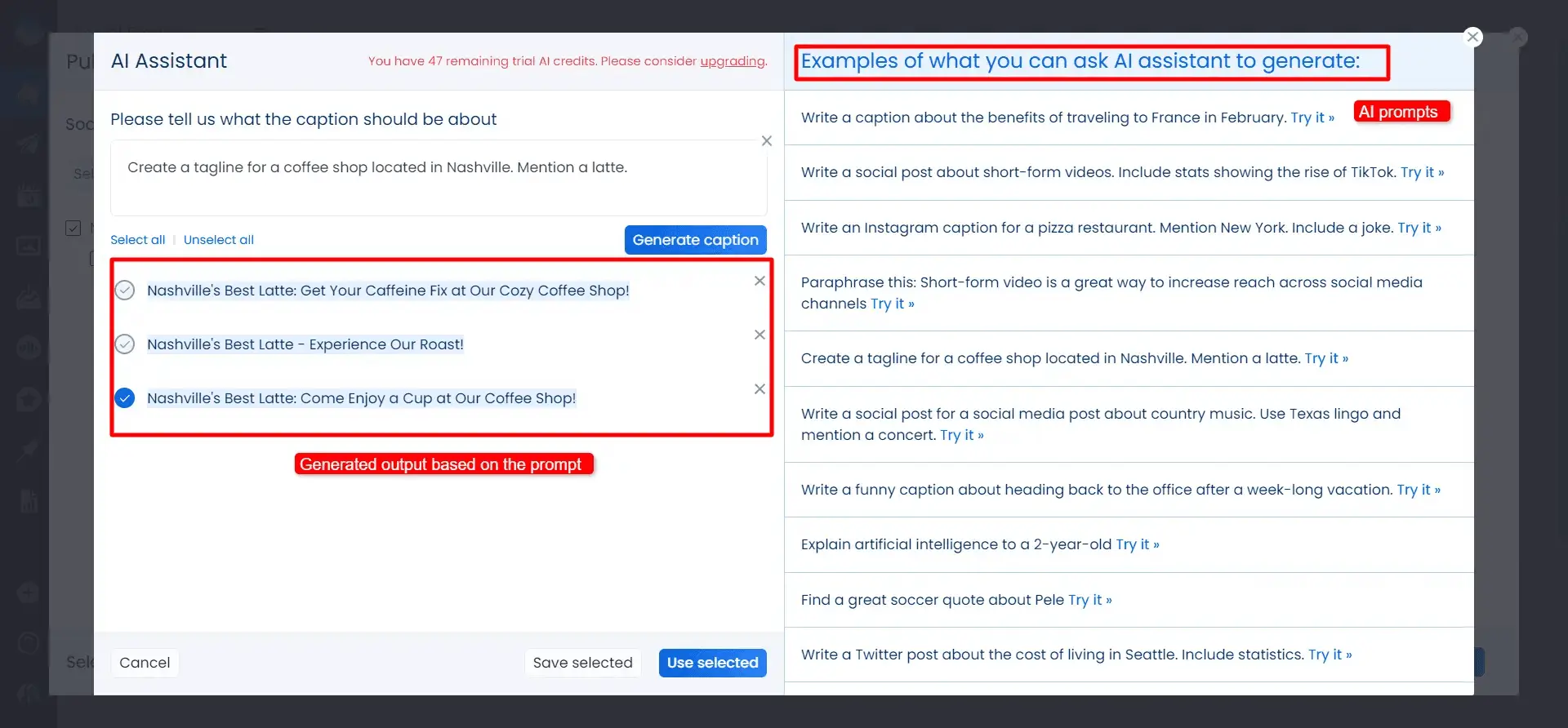 Vista Social pros
Add your first comment and first like on your posts.

Geo and language targeting.

Organize posts by assigning labels to each one of them.
Vista Social cons:
The calendar dashboard easily becomes cluttered and confusing if multiple social channels are connected.

No option to select the thumbnails while uploading videos.
Vista Social pricing
| Plans | Pricing per month |
| --- | --- |
| Free Trial | NA |
| Pro | $44 |
| Teams | $199 |
| Agency | $536 |
Conclusion
Social media AI tools discussed are the best to help you in almost every use case. But explore these tools based on your specific social media needs. Consider the features that align with your goals and the platforms you utilize the most. Experiment with different tools to find the ones that resonate with your brand and audience.
Remember, while AI tools can be powerful allies, they are most effective when combined with your creativity, strategic thinking, and understanding of your target audience. Embrace these tools as enhancements to your social media strategy, enabling you to generate engaging content, improve efficiency, and boost your online presence.