It's a known truth that email is one of the most effective marketing channels. However, the days of manual, one-size-fits-all email campaigns are long gone. To truly harness the potential of email marketing in the present, businesses are turning to email marketing automation agencies.
We will introduce you to the top 5 email marketing automation agencies you can work with in this guide.
Table of contents
What is an email marketing automation agency?
An email marketing automation agency is a specialized marketing firm or service provider focusing on helping businesses and organizations streamline and optimize their email marketing efforts through email automation tools and strategies.
These agencies are experts in leveraging email marketing automation platforms to create, manage, and execute email campaigns that are highly targeted, personalized, and time-relevant.
5 email marketing automation agencies
1. Inbox Army
Inbox Army is all you need for email marketing, from planning to development to execution. Our clients include global brands, agencies, and companies of all sizes.
Interacting with the buyer and guiding them through every step is crucial during the buyer journey. Automation can be overwhelming if you are handling your business end-to-end, but it can prove fruitful to your business on many fronts. From cart abandonment to win-back emails, we do it all. This helps your business turn your engaged customers into the most profitable relationships.
Features
Setting up drip campaigns to increase engagement

Multi-email sequence for increasing revenue

The welcome program lets you communicate your value and build relationships with new subscribers.

Win-Back Program helps you re-engage your subscribers.

Browse History Trigger Programs and urge visitors to make the purchase.

Cart abandonment automation can help boost the cart recovery rate

Logical Product Program helps you purchase a related product

Multi-platform integration allows seamless data exchange.

Multi-ESP support
Pricing : Contact them for pricing
2. Gr0
Gr0 is one of the best marketing agencies in the world. Their work has bagged the likes of COCO Republic, Lashify, TRUFF, and June Shine, among others. Gr0wth could have been maximized if you optimized your email marketing. Our team specializes in reducing churn, increasing lifetime value, and maximizing conversion rates.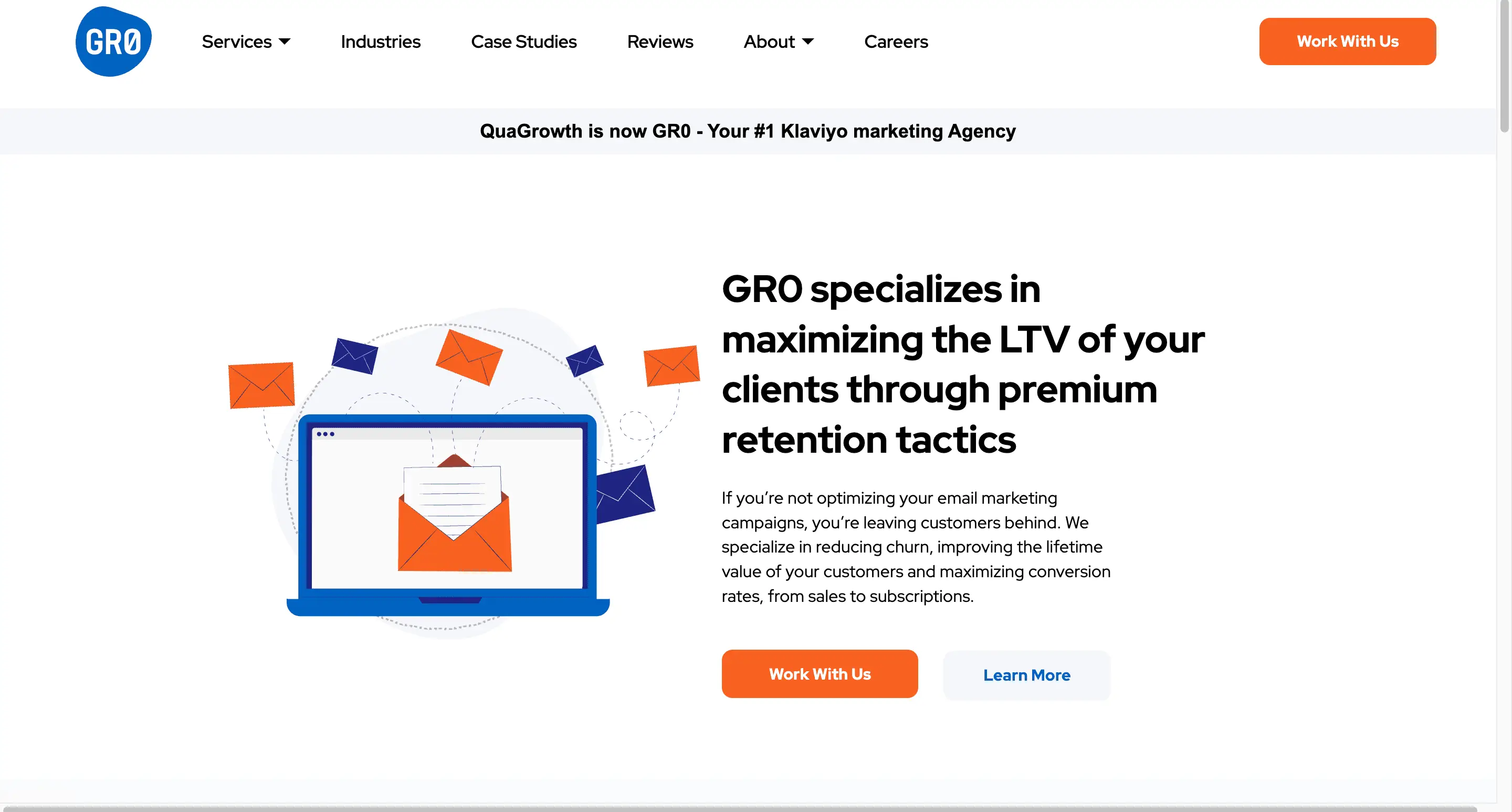 Features
Email marketing offers the following features:
Implement automatic marketing frameworks and build your life cycle strategy from scratch.

Create custom templates and eye-catching emails representing your brand.

Gr0 will craft and execute automated email campaigns tailored to your needs.

Gr0 will design and implement automated email campaigns.

We audit your email campaigns to identify missed opportunities and areas for improvement.

We'll conduct thorough quality reviews and seek your approval before launching campaigns or automated frameworks.
Pricing: Custom pricing
3.Smartsites
Smartsites was born from the visionary minds of brothers Alex and Michael Melen, fueled by a lifelong fascination with everything digital. Through unwavering dedication and innovative thinking, SmartSites has ascended the ranks to become one of America's fastest-growing enterprises.
Their unyielding commitment to our clients has garnered us over 100 5-star reviews since our establishment in 2011. Unlock your brand's full potential by converting website visitors into devoted customers through email marketing.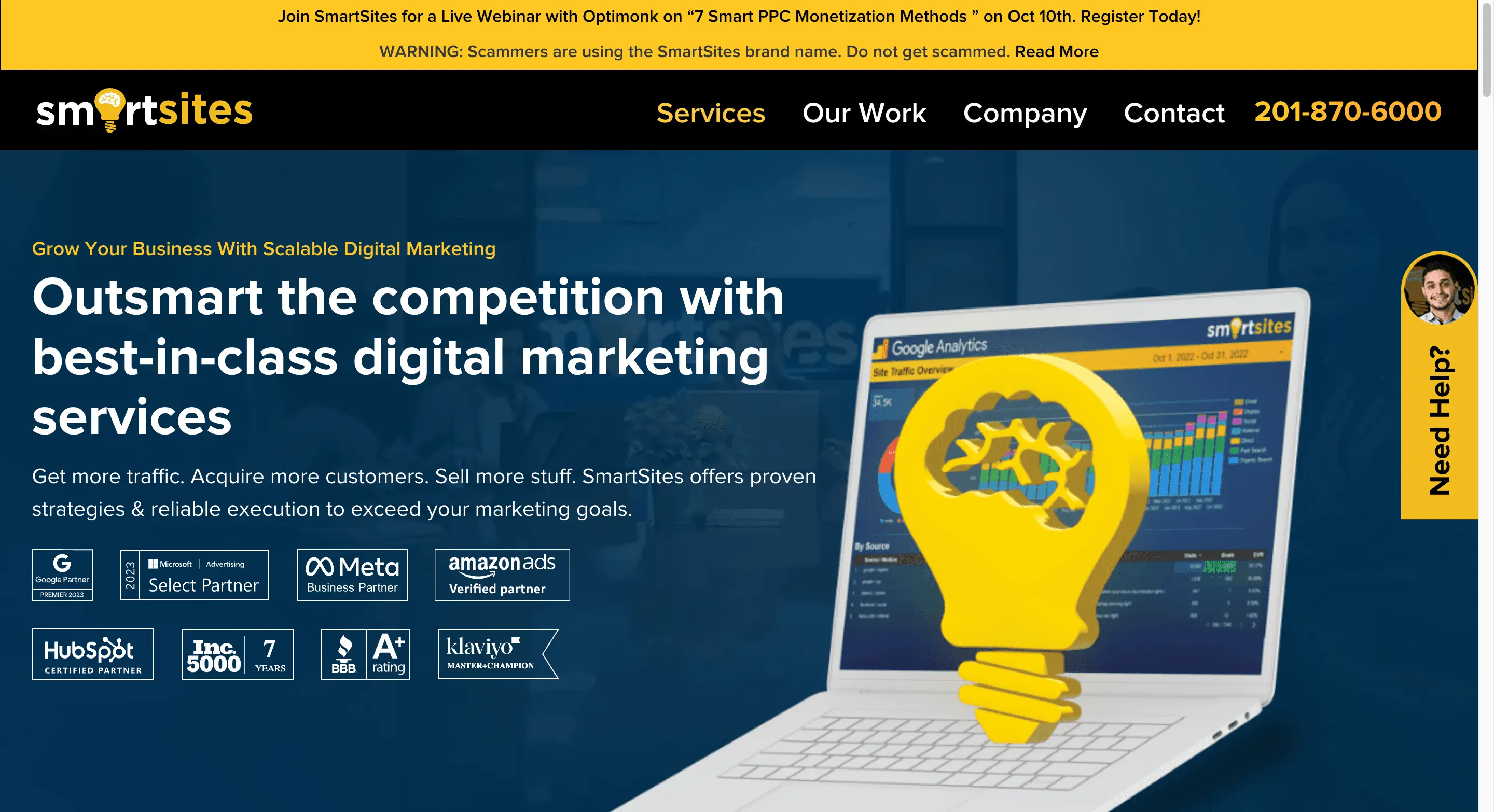 Features:
Build your marketable audience by having a direct line of communication.

SmartSites will increase your reach using email with trust builders, feature highlights, and other relevant messaging.

Exceed your goals with messaging that converts.

Maximize value using marketing automation, behavioral targeting, and personalized messaging.

Turn more visitors into customers by growing your marketable audience.

Elevate your brand with beautifully crafted emails that you can reuse.

With automated email flows, you can curate user journeys that build trust and lead to action.

Constantly improve with routine A/B testing.

Get more messages seen by monitoring & resolving deliverability issues.
Pricing: Contact them for pricing
4. Moburst
Moburst is a prominent, full-service digital agency with a history dating back nearly a decade. They offer comprehensive support in product consulting and organic and media marketing, including end-to-end email marketing services.
Their expertise extends to collaborating with both B2B and B2C companies, where they assist them in concept development, content design, automation, and optimization. For those looking for a broader digital marketing approach, Moburst also provides all-in-one packages, optimizing organic and paid social media channels.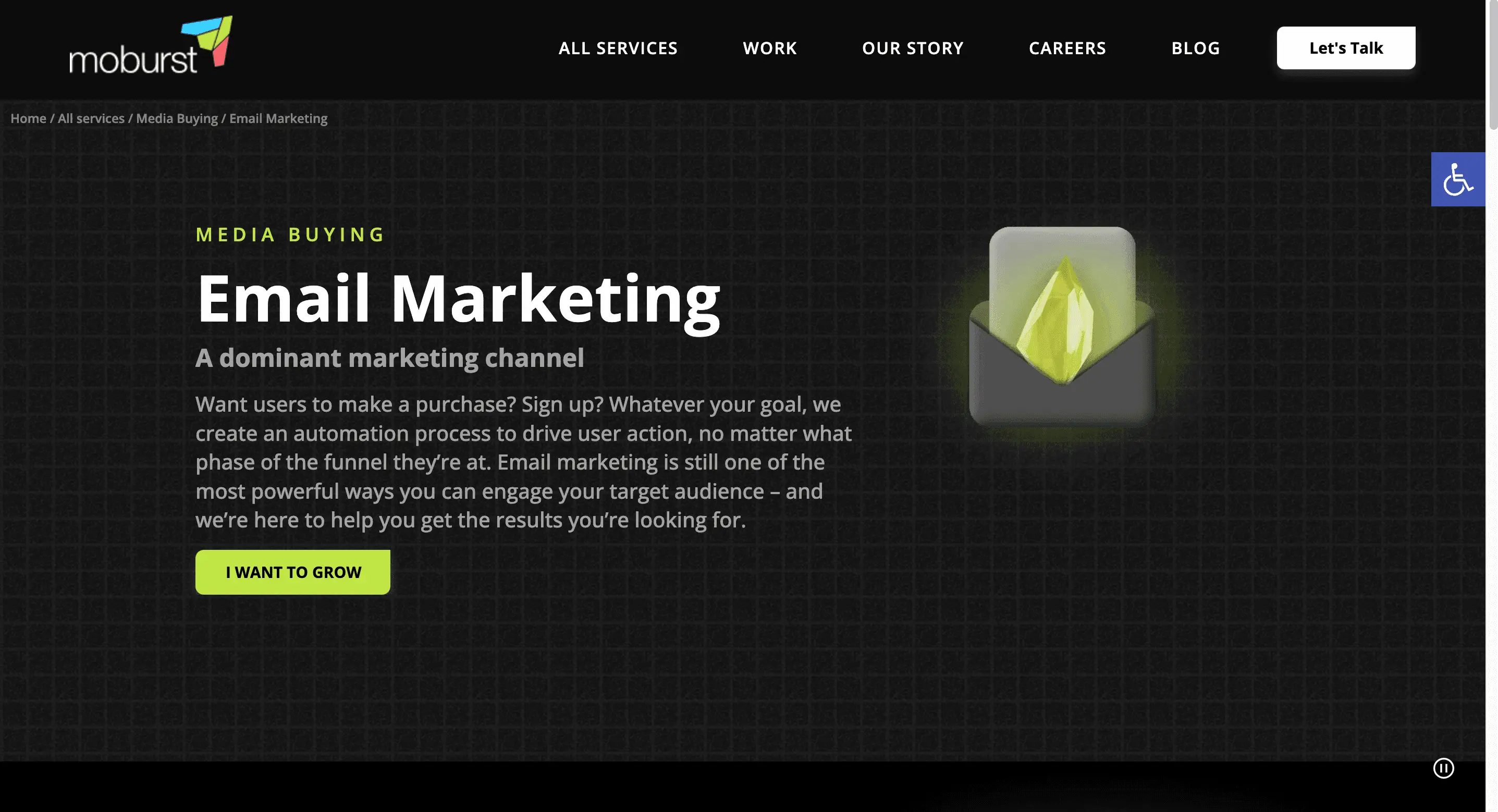 Features:
Email marketing remains a potent channel for engagement.

We design automated processes to prompt user actions, whether purchasing or signing up, catering to all funnel stages.

Harness the power of email marketing to engage your target effectively.

Achieve your desired outcomes with our expert guidance and support.

We begin by formulating the funnel and communication strategy, outlining how we intend to engage with the user

We construct a comprehensive automated process tailored to the user's position within the funnel and our desired path for them.
Pricing: Contact them for pricing
5. Cleverly
In contrast to agencies offering a broad spectrum of digital marketing services, Cleverly adopts a distinct focus – generating LinkedIn leads. Their services encompass cold email lead generation, leveraging data from numerous B2B Campaigns.
Unlock B2B Meetings at Your Fingertips with Proven Cold Email Outreach Leveraging insights from countless outbound B2B campaigns, Cleverly crafts hyper-personalized cold emails aimed at your ideal clients. This strategy consistently delivers high-quality, ready-to-meet leads to your doorstep.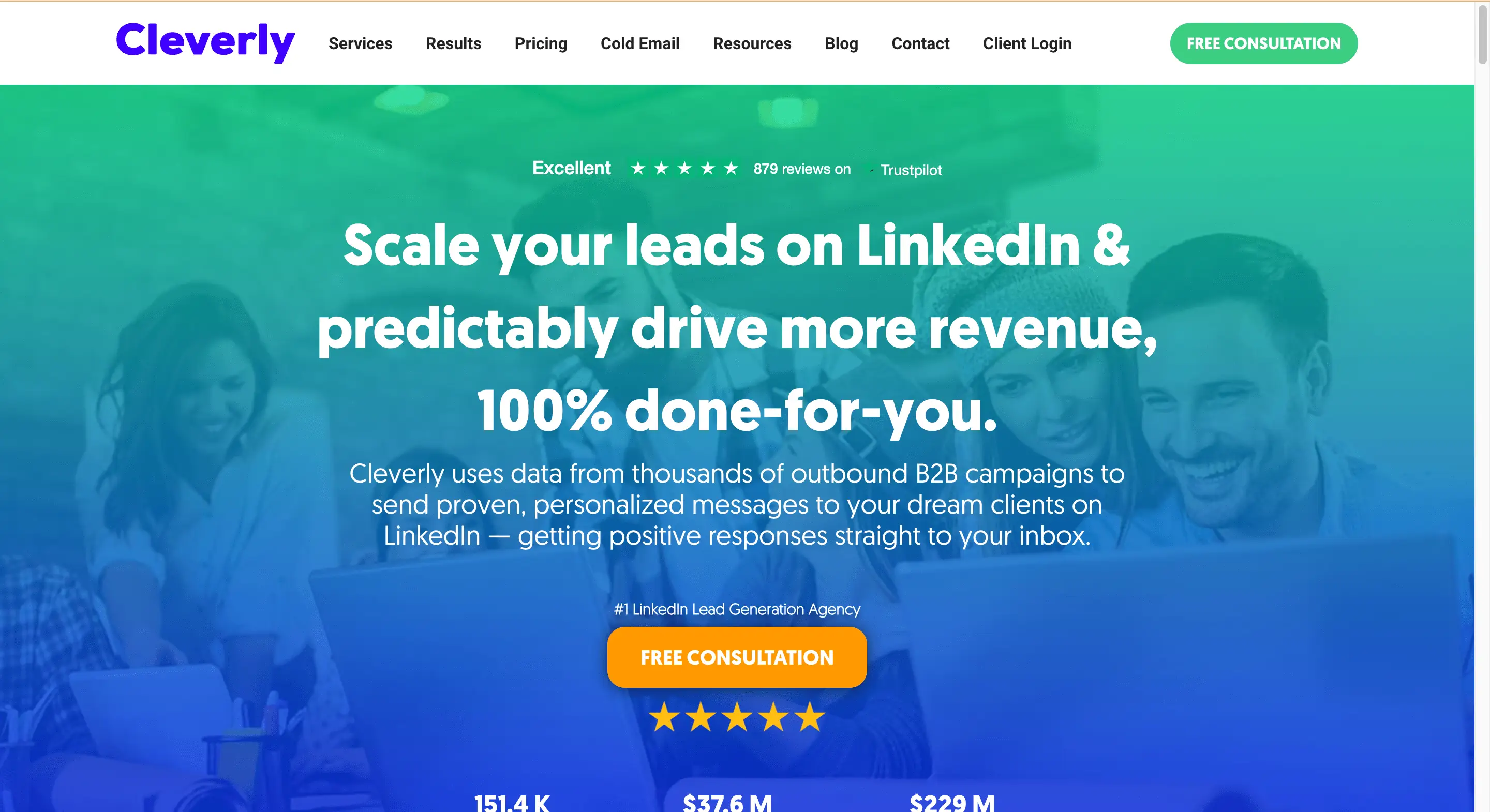 Features
We harness the power of high-performance data acquired through the execution of thousands of successful B2B campaigns across various industries.

They aim to precisely target and engage your most qualified decision makers, guiding them seamlessly into your sales funnel.

Craft targeted and qualified email lists featuring your ideal prospects.

Create precise and highly personalized cold emails that elicit responses effectively.

Execute customized email campaigns to reach thousands of your ideal clients monthly.

Receive real-time notifications whenever a meeting-ready lead is generated, empowering you to seal the deal.

The power of a dedicated cold email expert at an affordable cost.

Our job is to create and implement a cold email outreach system that generates more sales from hard-to-reach prospects.
Pricing: Contact them for pricing
Takeaways
Email marketing is one of the most effective digital channels. If you need more time and energy to find an email marketing automation agency, now is the time. Also, with 4 billion email users worldwide, it's essential to use email marketing automation agencies that help businesses harness the power of email marketing to achieve their goals.
Picking the right agency as your email partner businesses can unlock the full potential of email marketing automation and stay competitive in a rapidly evolving marketplace.
What you should do next
Hey there, thanks for reading till the end. Here are 3 ways we can help you grow your business: