Email marketing automation refers to the use of software tools to automate various aspects of an email marketing campaign. It allows businesses to send targeted and personalized emails to their subscribers based on specific triggers or actions. By automating repetitive tasks, such as sending welcome emails, follow-ups, or abandoned cart reminders, businesses can save time and resources while delivering a more relevant and timely email experience to their audience.
Table of Contents
Why should you use email marketing automation in HubSpot?
Time and Resource Efficiency: Automation allows you to set up and schedule email campaigns in advance, freeing up your time for other marketing activities.
Personalization: With automation, you can segment your audience based on their behavior and preferences, delivering highly targeted and personalized emails that resonate with each recipient.
Lead Nurturing: Email automation enables you to nurture leads at every stage of the customer journey, providing relevant content and offers to move them closer to making a purchase.
Improved Engagement: By delivering timely and personalized emails, automation helps increase engagement rates, such as open and click-through rates, leading to higher conversion rates.
Data-driven Insights: Automation platforms provide valuable data and analytics, allowing you to track the performance of your email campaigns and make data-driven decisions for optimization.
How to integrate HubSpot email automation with Mailmodo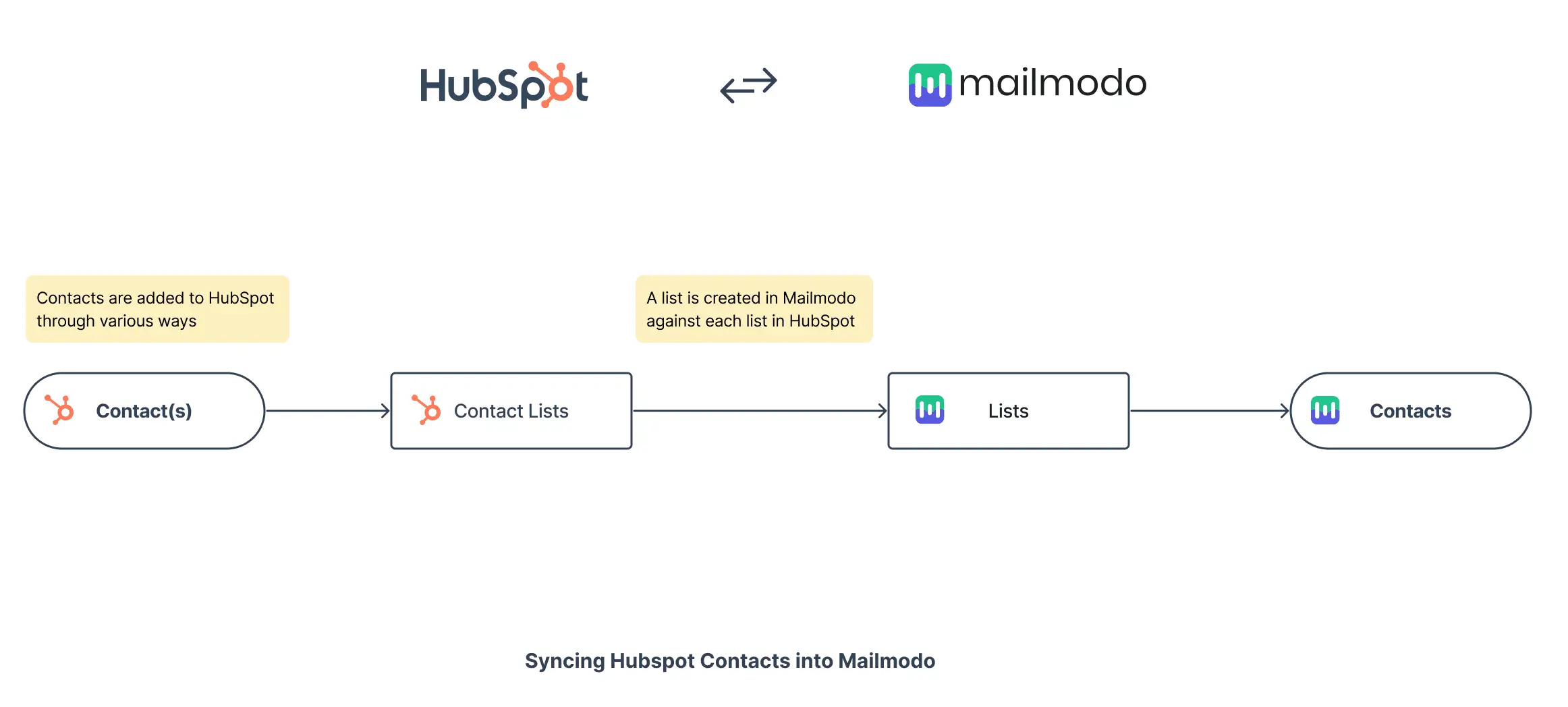 You can integrate any email automation software to HubSpot. It will be more beneficial if you use Mailmodo. Here's a step-by-step guide on how to integrate the two platforms: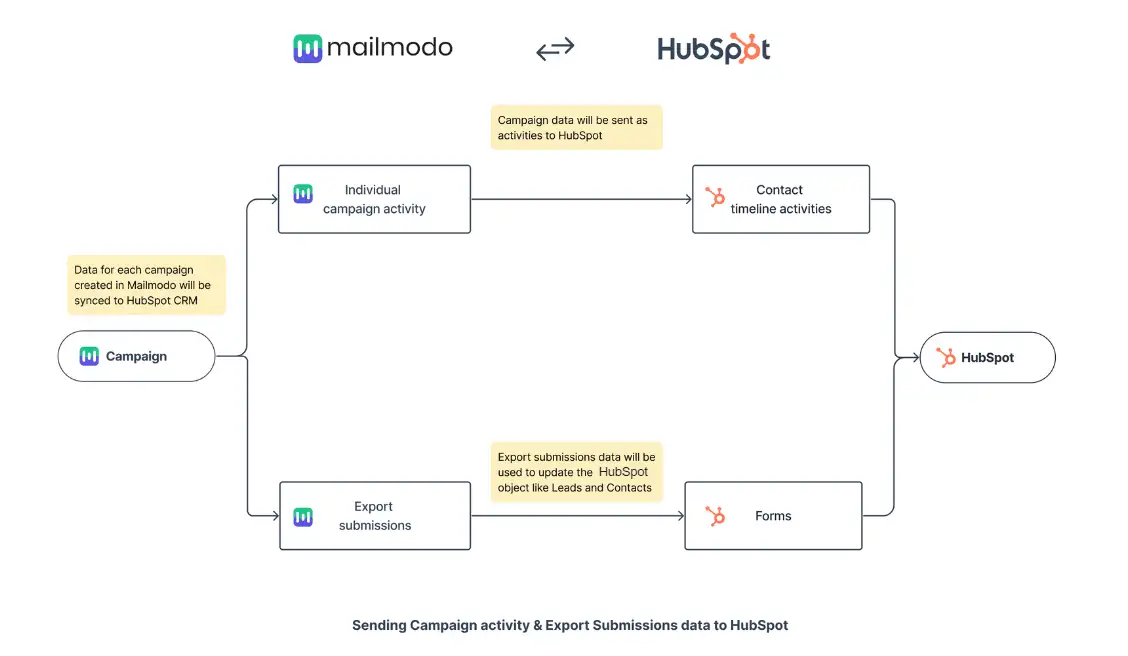 Step 1: Open the left navigation menu and select Integrations.

Step 2: From the Available For Connection column, select "Click to authenticate" on the HubSpot card.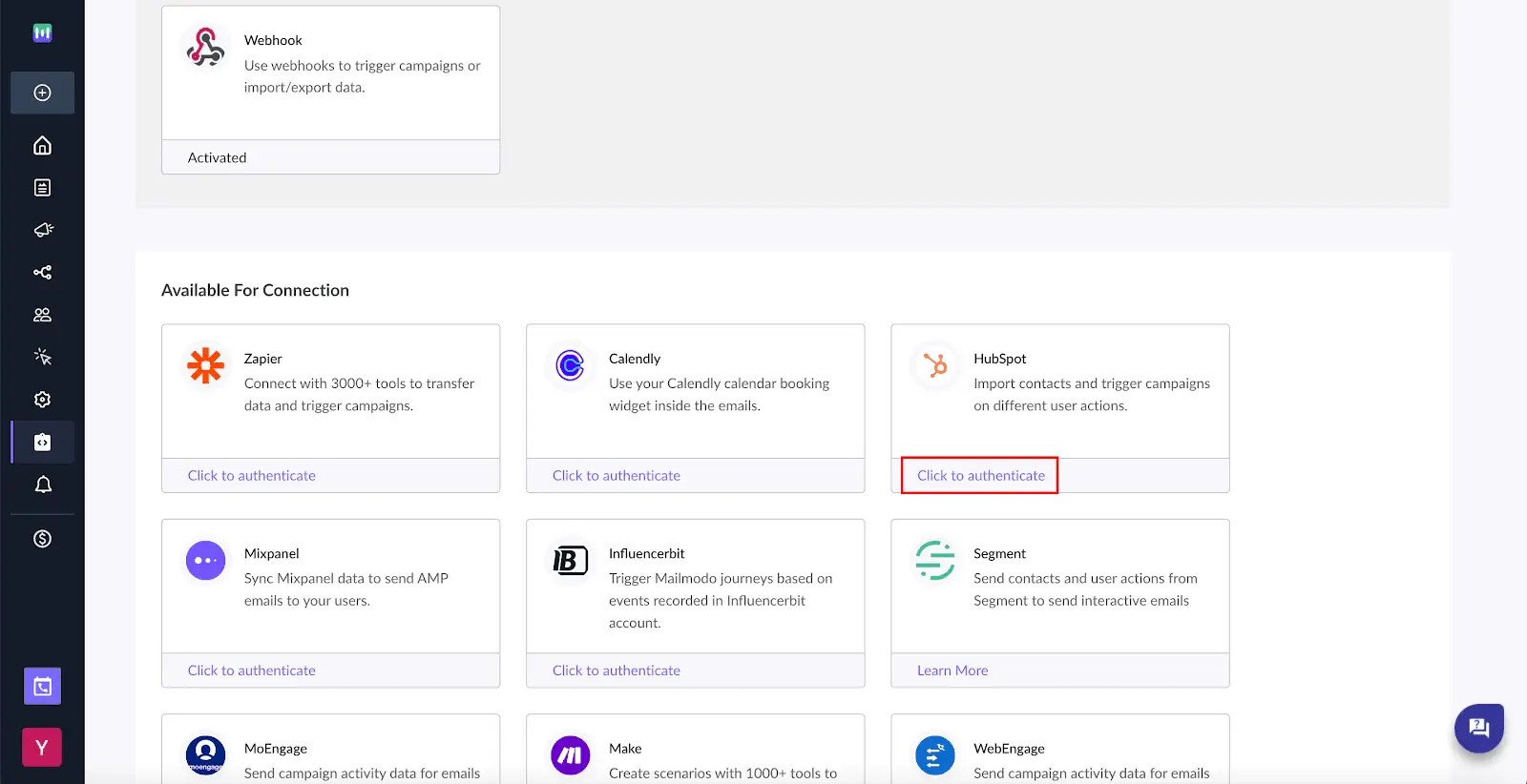 Step 3: On the HubSpot integration screen, select "Integrate"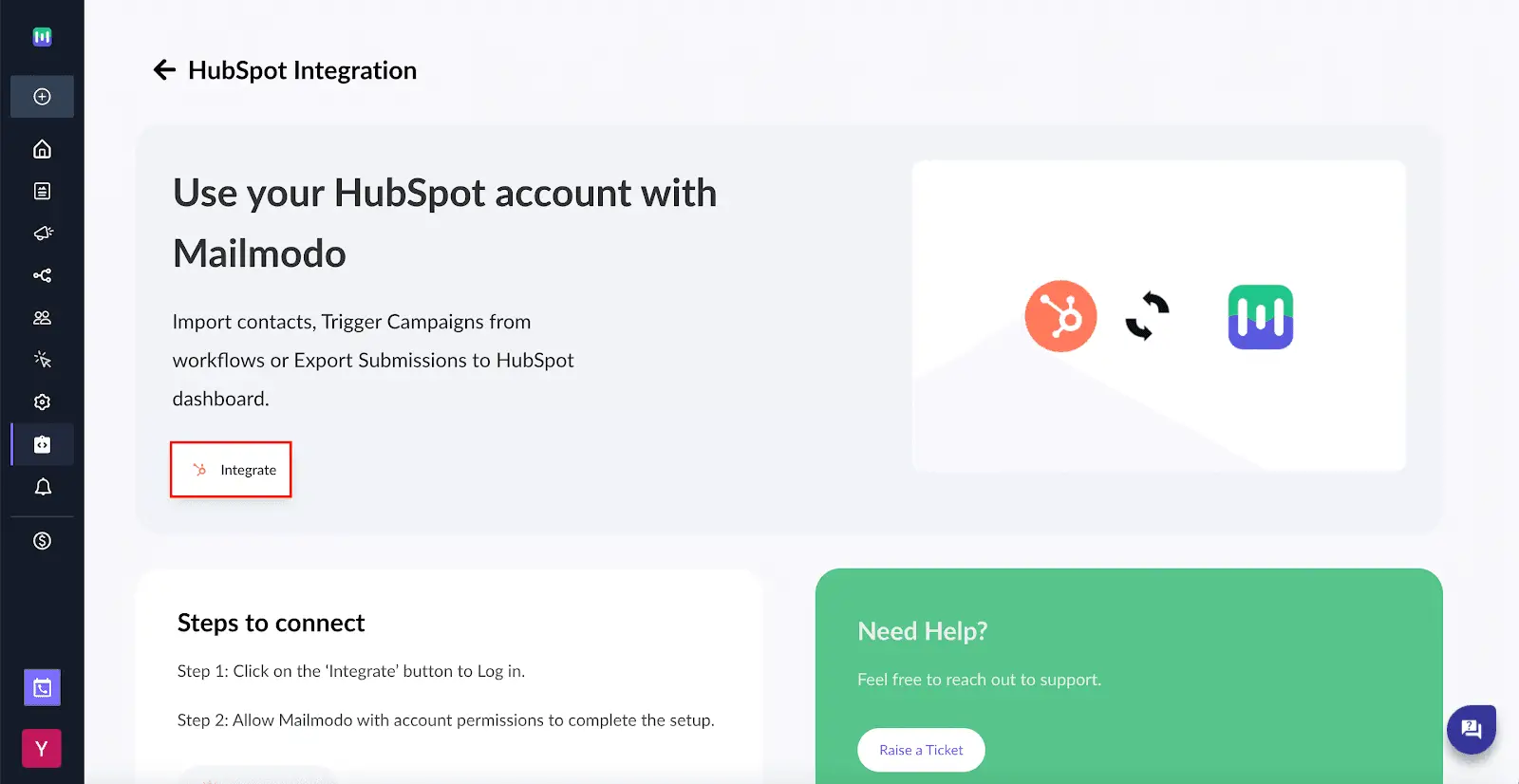 Please make sure that manage.mailmodo.com pop-ups are not deactivated in your web browser.
Please ensure you have not disabled pop-ups for manage.mailmodo.com in your web browser
Step 4: Enter your HubSpot login information in the ensuing pop-up and log in.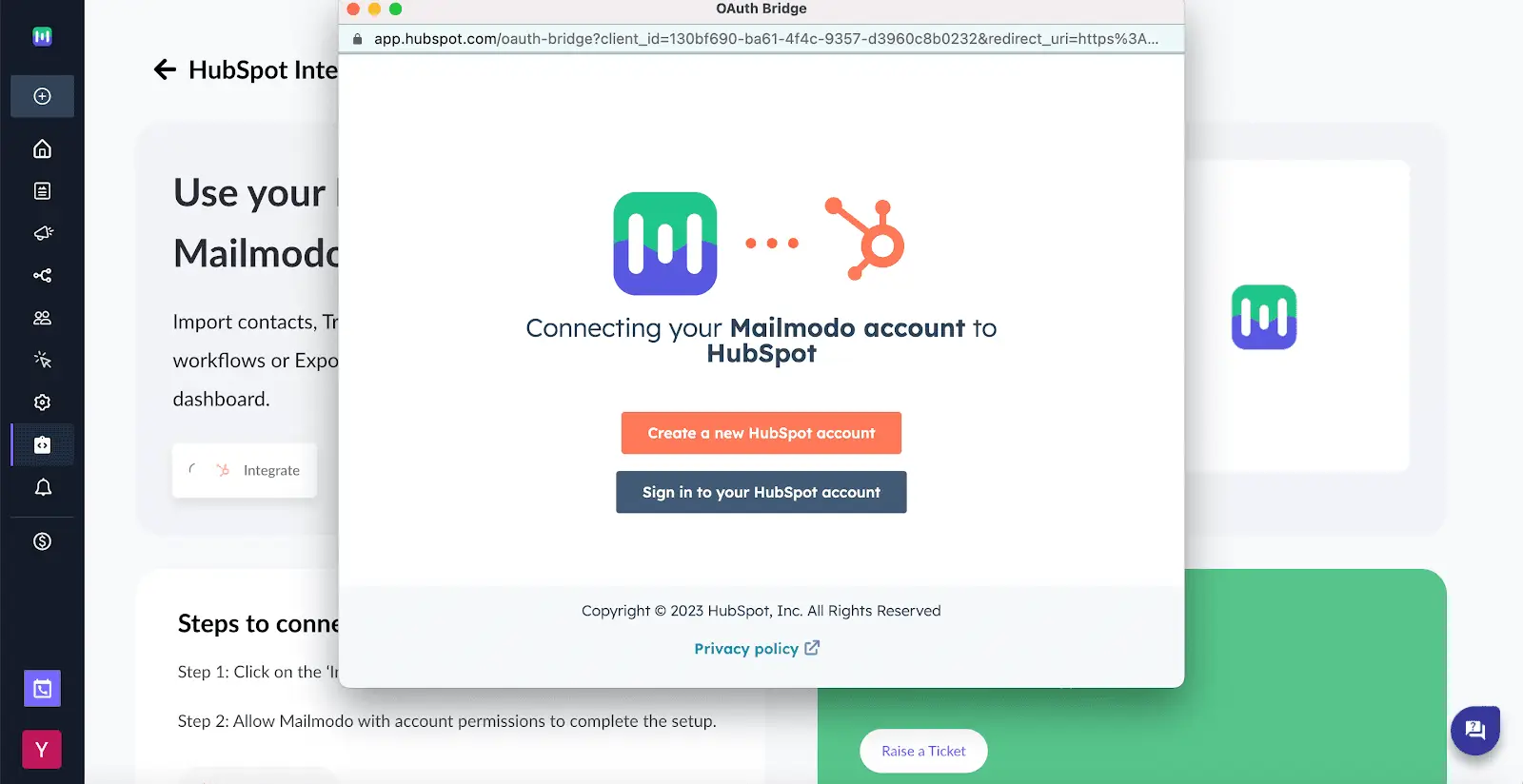 Choose your account in step 4 and give Mailmodo the needed permissions in the following step.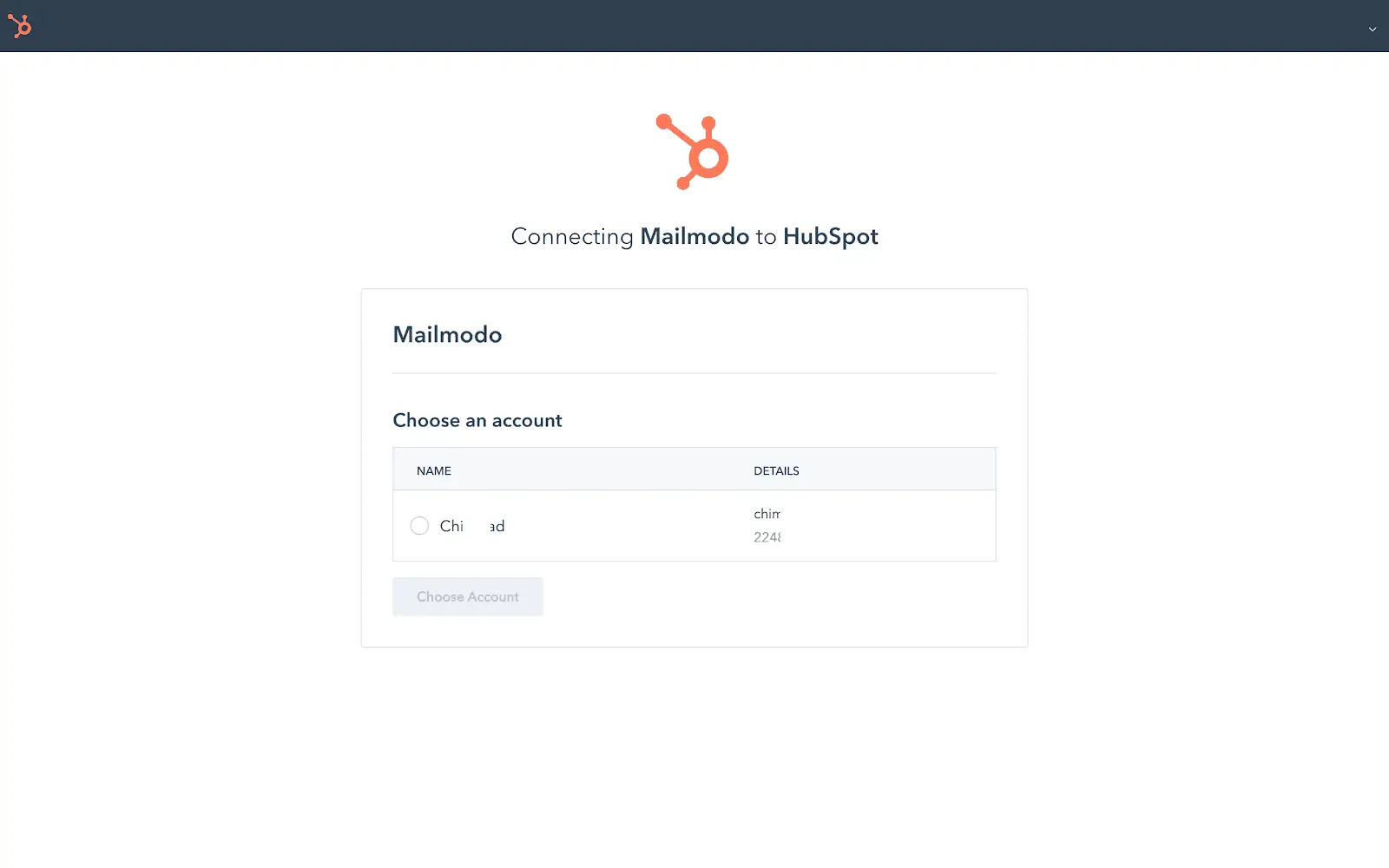 Your HubSpot-Mailmodo integration is now set up.
Wrap up
HubSpot email automation is a powerful tool that can help businesses streamline their marketing efforts and drive better results from their email campaigns. By integrating HubSpot with Mailmodo, businesses can enhance their email marketing strategy and leverage advanced features like AMP emails and personalized automation workflows. With the right strategy and best practices in place, HubSpot email automation can become a valuable asset in your marketing toolkit, allowing you to engage and nurture your audience effectively. So, why wait? Start harnessing the power of HubSpot email automation and take your email marketing to the next level.
What you should do next
Hey there, thanks for reading till the end. Here are 3 ways we can help you grow your business:
FAQs
The cost of HubSpot email automation varies depending on your chosen subscription plan. HubSpot offers different plans tailored to the needs of businesses of all sizes, with pricing and features that scale accordingly.
Yes, HubSpot integrates with various email marketing platforms, allowing you to leverage the capabilities of both systems. However, integrating HubSpot with Mailmodo offers unique advantages, such as interactive AMP emails and advanced automation features.
Email automation can benefit your business by saving time and resources, delivering personalized and timely emails, nurturing leads, and providing valuable data-driven insights. It allows you to build stronger relationships with your audience and drive better results from your email marketing campaigns.
HubSpot allows you to automate various types of emails, including welcome emails, abandoned cart reminders, follow-ups, nurture sequences, and more. The flexibility of HubSpot's automation workflows enables you to create customized email sequences based on specific triggers or actions.
Yes, HubSpot offers plans specifically designed for small businesses, providing them with the tools and features needed to automate their email marketing efforts. The platform is user-friendly and scalable, making it an ideal choice for businesses of all sizes.
What should you do next?
Thanks for reading till the end. Here are 3 ways we can help you grow your business:
Get smarter with our email resources
Explore our email marketing guides, ebooks and other resources to master email marketing.
Do better email marketing with Mailmodo
Send app-like interactive emails with forms, carts, calendars, games, etc. to boost email ROI.
Talk to an email expert
Get a 30-min. free email consultation with a Mailmodo expert to optimize your email marketing.
Was this post useful?