Imagine if a Genie could snap his fingers and double your newsletter subscriber count, leads, or participants! This would be a marketer's dream come true.
Apart from creating top-notch content, the next step for any marketer creating a newsletter, asset, or contest is to find a huge following. The audience size is directly proportional to the brand awareness, relevance of the content, and influence in the niche. And referral programs are a great way to create a huge following. If done right, they can act as a viral loop and become a growth channel with promising returns for your business.
But the big question is, how do you create referral programs?
While many brands do this the traditional way of emails and social promotion, we have an interesting idea to set up your referral program to boost your subscribers, leads, and participants. Let's dive in.
Table of contents
What is a referral program?
A referral program is a word-of-mouth marketing technique that encourages existing customers or subscribers to promote your brand in their network. Referral campaigns help customers share their honest experiences with their circle.
Referral programs empower your subscribers as cheerleaders of the brand. Studies have shown that people are more likely to sign up for something when they hear about it from friends and family.
Some of the biggest newsletters like The Morning Brew, The Hustle, and the Skimm have grown their subscriber base exponentially with the help of newsletter referral programs.
At Mailmodo, we ran a successful festive gifting campaign during Diwali where the participants of the Email Marketing Masterclass could gift the masterclass worth $49 to their friends, for free! The BTS of our referral program was featured by Viral Loops as a case study. Check out the case study here.
We recently also ran a contest referral campaign for the State of Email 2023, where we set up rewards that participants could win once they reached the milestones.
What can you gain from a referral campaign?
Boost your subscriber count
The Morning Brew ran an experiment with various channels to promote their newsletter and saw the highest open rates (35%) from referrals. It makes sense for marketers to leverage the relationship they've built with their subscribers to grow their audience. If they like reading your content, they're more likely to share your work with their network too!
Reaching relevant persona(s)
Reaching relevant personas is essential for any business. When you have niche courses, reports with industry insights, or specific contests, it becomes important to reach relevant audiences who will gain value from your offerings. Referral campaigns help a great deal with this since your existing subscribers/customers would only refer people who would be relevant to the resource being shared.
Boost brand awareness and engagement
The more people read your newsletter, use your free resources, and engage with your content, the more likely they are to talk about your brand and eventually become your customers. Referrals help in making your existing subscribers your cheerleaders and hence your brand reaches more people. Gamifying the referral program also enhances customer engagement.
How to create high-converting referral programs?
1. Creating the referral loop
Figuring out the kind of referral strategy you want to use is important to create a referral loop. Here are some of the commonly used referral strategies that you can use.
Milestone referrals: Milestone referral campaigns track referral milestones and the referrer is rewarded with exciting goodies for reaching each milestone.

Leaderboard referrals: Leaderboard referral campaigns are a great way to gamify the referral program by adding a competitive element. The more they refer, the higher they climb the leaderboard.

Gifting campaign: A gifting campaign aims at getting more people interested in the offerings of your business. Gifting campaigns work well for resources like e-books, courses, etc.
Affiliate referrals: You can also experiment with affiliate marketing for your referral programs where you can collaborate with folks who have a large following. Affiliate partners are paid a commission based on the number of people that subscribe or sign up using their affiliate link.
2. Define milestones and incentives for your referral campaign
If you're setting up referral campaigns on a landing page, whether a report or a course, setting up milestones gamifies the referral campaign and motivates visitors to refer more friends. Incentivize subscribers to become a part of your referral campaign by promising rewards and issuing them when milestones are reached. Here's an example of milestones and incentives we at Mailmodo used during our referral program for The State of Email 2023.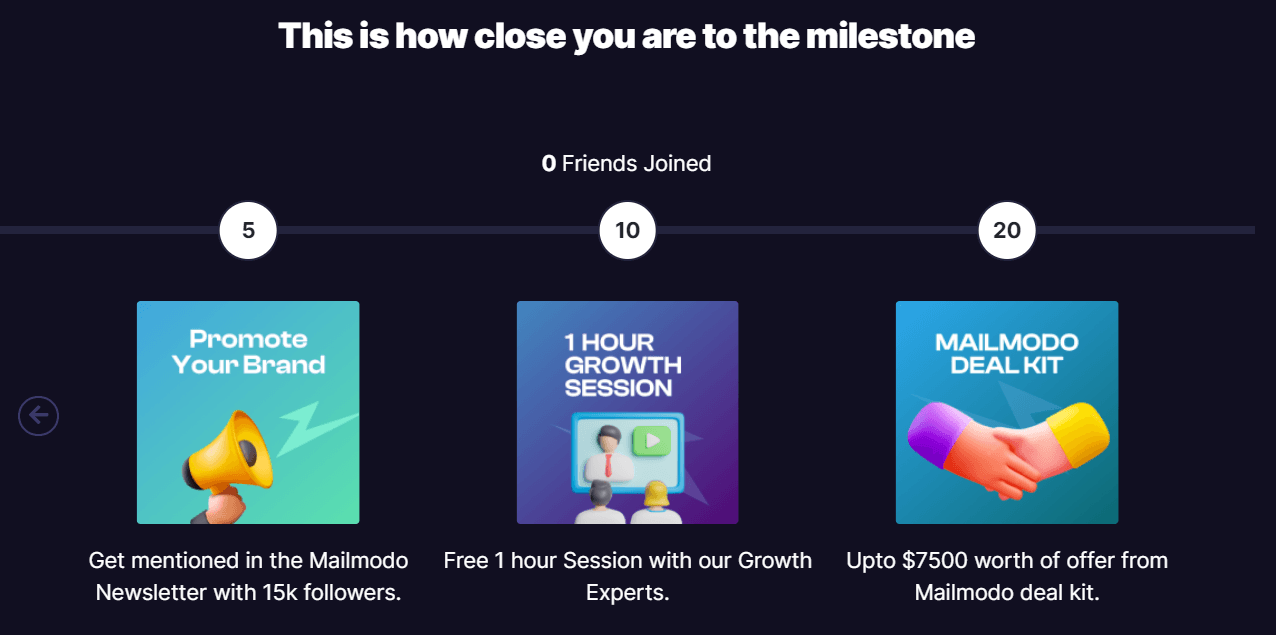 It is important to ensure that the rewards are relevant to your audience, aligned with your business, and cost-effective. People might not be very keen on having a T-shirt with your company logo on it, but an e-book with industry insights that add value would grab their attention.
3. Spread the word
To get more people interested in your referral campaigns, it is important to share your referral campaign extensively. Here are some ways you can do this:
📱Share your referral program across social media, newsletters, and with partners and stakeholders
👯Talk about it in niche communities
🤝Use employee evangelism to get initial referrers
Consistent efforts at spreading the word will help you create more awareness about your referral program and reach more people.
4. Reduce friction in referrals with AMP emails
Make it easy for your subscribers or leads to refer friends. While sending emails/newsletters to your list, add an interactive referral form. AMP forms can help subscribers refer friends while reading, without leaving the inbox. No more annoying pop-ups or forms that take forever to load. Ensure that the form is easy and short. Reducing friction can lead to more referrals.
How to create a winning referral program with emails?
Create two email templates. Create one referral email template (Email 1) and a referral invite email template (Email 2)
In case of newsletters: Create your newsletter with content that is engaging and adds value to your subscribers. Embed an AMP form within, asking people to refer friends if they found it interesting.

For gifting campaign: In case of a gifting campaign, create an attractive and festive template with a form to add details of the recipient of the gift. In the email for the recipient, showcase the value proposition of the resource.
Check out the video to see how you can make the gifting experience easy with our template.
To set this up on Mailmodo, reach out to our team who will take care of the rest, making it easy for you to start your referral programs.

Ensure you have the referral links, referral codes, or any other assets that you want to be shared with the referred folks, ready. Update the same in the contact property of your user.

Map and update the contact properties carefully w.r.t the referral personalization in the email 2.

Create a transactional campaign for the referred email (email 2).
Note: Ensure that the personalization parameters in this template are the same as the name of the contact property in the submission export.
Update the campaigns and share the details with the Mailmodo team to set it up for you.

Your referral campaign will be active in minutes.
Wrap Up
Referral programs, if done right, have the potential to bring great results for your business. They can be a testament to your brand loyalty and help you grow your business by leveraging existing customers.
If you're yet to start a referral campaign, this is your sign to start planning one right away! You can go about your referral campaigns in multiple ways, as discussed above.
Feel free to reach out to us, if you have any questions.
What you should do next
Hey there, thanks for reading till the end. Here are 3 ways we can help you grow your business:
Talk to an email expert. Need someone to take your email marketing to the next level? Mailmodo's experts are here for you. Schedule a 30-minute email consultation. Don't worry, it's on the house. Book a meet here.

Send emails that bring higher conversions. Mailmodo is an ESP that helps you to create and send app-like interactive emails with forms, carts, calendars, games, and other widgets for higher conversions. Get started for free.

Get smarter with our email resources. Explore all our knowledge base here and learn about email marketing, marketing strategies, best practices, growth hacks, case studies, templates, and more. Access guides here.