An ad network is like a real estate agent.
Let me explain.
A real estate agent functions as the middle man between the landlord and the renter. Similarly, in an ad network, publishers like app and website owners are the landlords, and advertisers are the renters. The ad network will connect the advertisers with the host/publisher that suits their requirements.
Now, let's learn more about why ad networks are important, how they work, and some examples of ad networks.
Table of contents
What is an ad network?
An ad network is a digital middleman between publishers (websites, apps) and advertisers that matches advertisers with suitable vacant ad space on websites.
How do ad networks work?
Let's look at how it works and what they do for the publishers and advertisers.
Ad networks purchase the vacant ad spaces from publishers directly, bundle them together and sell them to the advertisers as a package.

Another thing networks do handle the transaction between the advertisers and publishers. They collect the money from the advertisers and pay the publishers their share.

Most ad networks allow you to select certain criteria on what type of audience you want to be shown to, which websites to appear on, etc. Use their targeting features to appear in front of the right audience.

They provide advertisers data on ad views, clicks, total cost, and where the ads are shown. And advertisers can use this data to determine how well their advertising efforts are paying off.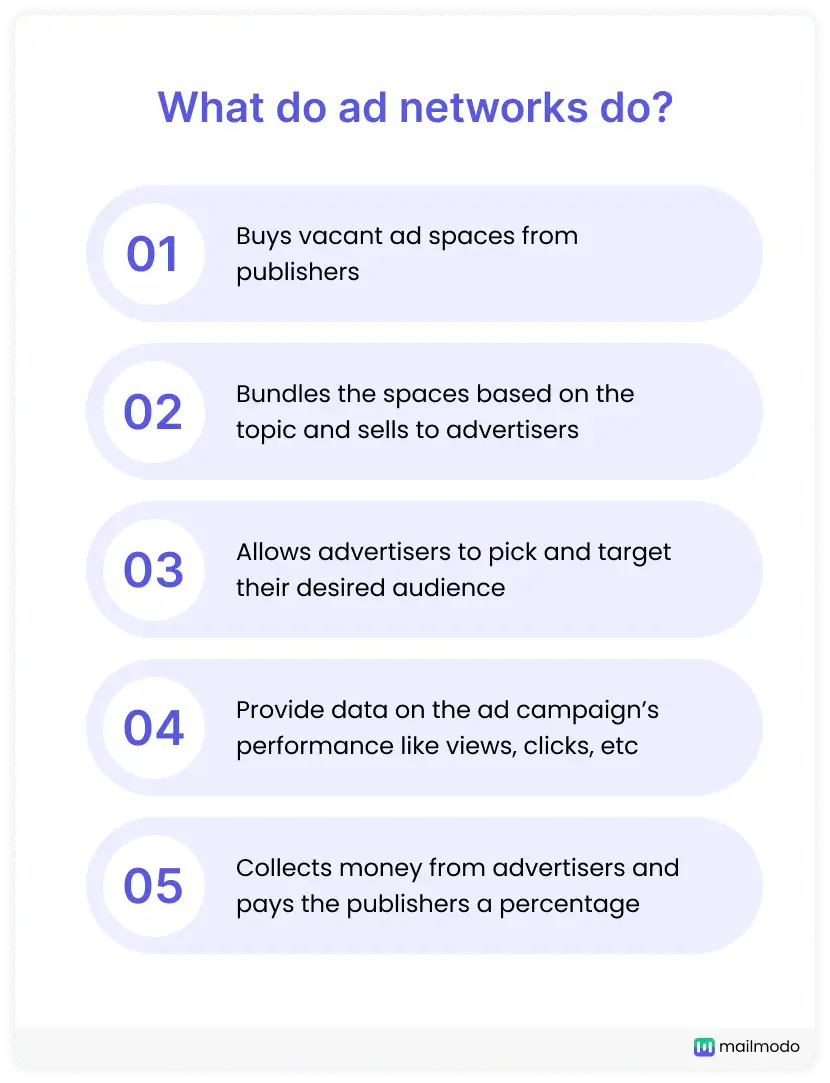 How do ad networks help in advertising?
From reading how it works, you would have seen how beneficial it is, but let me reiterate it. Here's a compilation of the benefits of an ad network.
Prevents the loss of potential ad revenue
Publishers usually find advertisers on their own, but there are times when they end up with vacant unsold ad spaces on their websites. This would be a loss of potential ad revenue for the publishers. By using ad networks, they avoid loss of ad revenue by finding advertisers to host on their vacant ad spaces.
Ad networks help advertisers find all the available ad spaces in one place. This saves them time researching and contacting publishers individually.
Reduces advertisers' workload
Apart from saving time, it also reduces the workload of advertisers. They can simply modify the ad campaign on the ad network, and it would take care of making the changes across all the websites. Advertisers would have to do this individually for every website if they didn't use an ad network.
Types of ad networks
There are various types of ad networks, and they can be broadly classified as:
A premium ad network offers ad spaces from popular publishers. Unlike other ad networks, they have a demand for high-quality ads to be placed on the inventory. They also have high standards where they only accept ad spaces with strong engagement and conversion. Examples of premium ad networks include Google Display Network (GDN), AdCash, Yahoo Gemini, and Google AdMob.
Specialized ad networks work with a particular type of inventory and can even be device-specific. For example, some ad networks can provide you with ad spaces only on mobile apps or allow you only to place video ads, etc.
Affiliate ad networks help businesses connect with influencers or bloggers to promote their products or services. In this type of network, the publishers are usually paid by revenue share, but they can also be paid cost per acquisition (CPA) or cost per click (CPC).
Amazon is a great example of an affiliate network as it connects influencers/publishers with sellers on its platform. The influencers get paid for every purchase made through their affiliate links.
Related guide: A Complete Beginners' Guide to Getting Into Affiliate Marketing
A vertical ad network focuses on specific topics and only contains ad spaces from publishers in that niche. The topics can be anything like fashion, automotive, business, technology, etc.
And since they are topic-specific, they are focused on targeting niche groups of audiences interested in that particular topic. The volume of people you can reach will be lower because it's a narrow group rather than a broad audience.
Horizontal ad networks are the polar opposite of vertical ad networks as they offer ad spaces from a broad range of publishers. The volume of people you can reach is much higher because the targeting will be wide and generic.
Ad network vs ad exchange
When talking about ad networks, most people confuse them with ad exchanges; here's the difference between the two:
| Ad network | Ad exchange |
| --- | --- |
| An ad network collects the publisher's ad spaces, and bundles them together to sell them to the advertisers. | An ad exchange is a marketplace where advertisers and publishers come together to sell and buy ad spaces in real-time. |
| Intermediary | Marketplace |
| Takes time to sell or buy | Real-time purchase |
| Fixed-price | Bidding |
| E.g., Google AdSense, AOL's - Advertising, Yahoo Publisher Network. | E.g., DoubleClick exchange, Yahoo Right Media, MoPub, Nexage, OpenX |
Aspects to consider when choosing an ad network
Now that you have some basic understanding of ad networks let's look at the factors you should consider before choosing your ad network.
Customer devices supported
If you are looking to advertise on certain devices like mobile, then look for specialized ad networks specific to mobile. The device can depend on what time you want to reach your audience.
For B2B customers, you would want to get in front of them during the daytime when they are working. So, you would want to target them on the desktop.
Whereas for B2C or D2C customers, you would have to get in front of them during their free time, likely in the evenings or weekends. And most people don't use their laptops during their free time, so that you can target mobile devices.
You need to know who to reach first to know when to target them, so check out our target audience guide.
Like device support, you need to check if the ad network supports your desired ad format before selecting it. The format can be banner ads, pop-ups, text ads, videos, etc.
If you're unsure which format you should go with, it's best to select a network that supports multiple formats. You can test them over time and understand which ones work best for you.
As noted previously, there are several ad networks, like vertical and horizontal ad networks.
Figure out if you want to reach specific groups of people using vertical ad networks or a broad audience using horizontal ad networks.
Horizontally might be a good option to reach a large audience and create brand awareness. But if you aim to get leads or conversions, you would get better results with vertical ad networks.
You have to consider the technology an ad network has that differentiates it from another.
Is UX/UI user-friendly?

How straightforward is it to set up the ads?

How does their ad management system work?

What is their payment system?

Does it have reporting tools?

Targeting options and limitations (geolocation, demographic, device, income, retargeting, etc.)
7 ad networks to try out in 2022
Now that you know how to choose an ad network, let's look at some ad networks you can pick from.
1. Google Adsense
Let's start with the most famous and largest ad network - Google Adsense.
Premium ad network. So it has high standards to qualify as both a publisher or advertiser on the platform.

Supports various formats

Provides comprehensive targeting options like behavioral targeting

Supports various devices

Sophisticated UX/UI that's user-friendly

CPC pricing model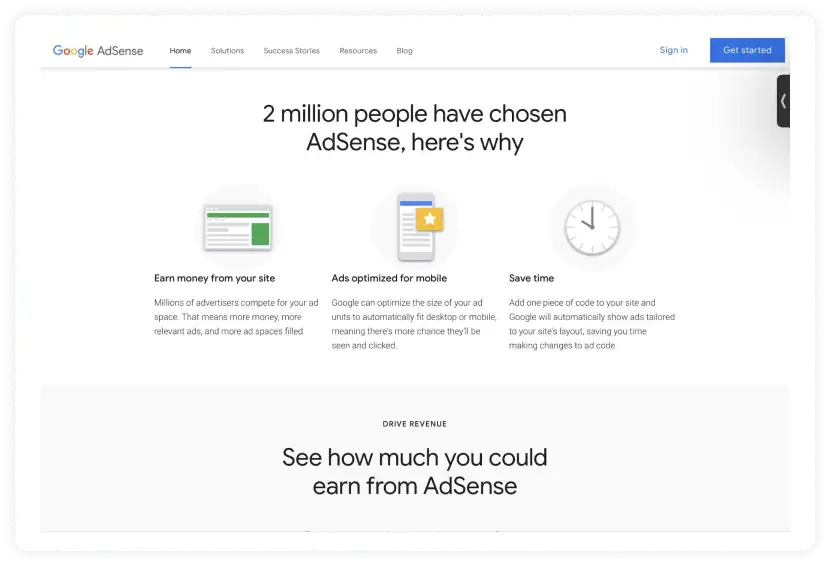 2. Publift
Publift is an Australian company certified by Google as a specialist in ad optimization.
Premium ad network

Processing time - 5 days

Supports various devices

Programmatic targeting

CPM pricing model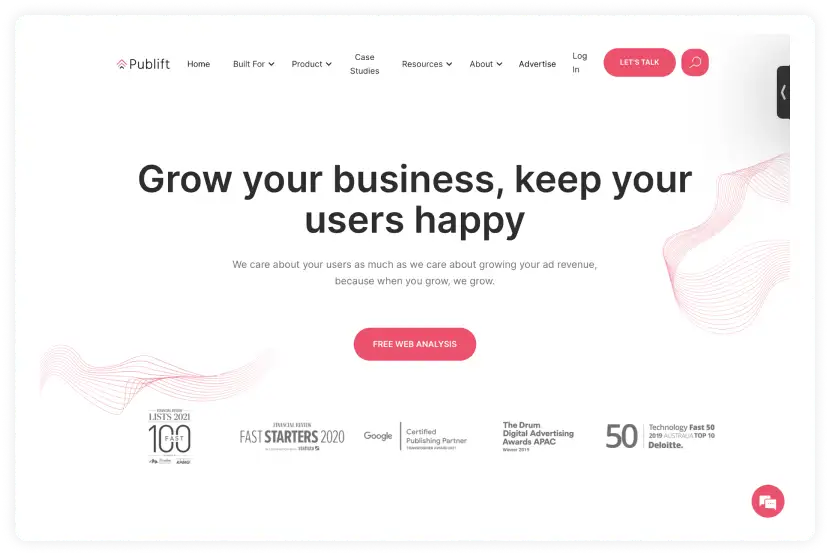 3. Adcash
Adcash is an international ad network connecting advertisers and publishers, running over 10,000 campaigns.
Supports various formats like pop-unders, native ads, banners, push notifications, and interstitial ads

Clean UX/UI, user-friendly

Supports different devices

Their technology helps you bypass ad blockers and fight digital fraud.

CPM, CPC, and CPA pricing models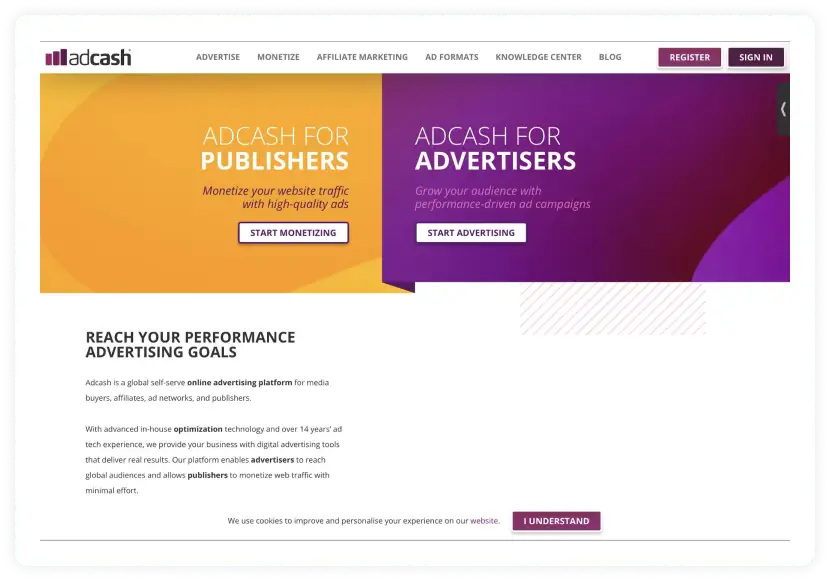 4. Propel media
Propel Media was founded in 2006 as a unique network due to its intent-based technology.
Targeting is based on the intent to connect to customers who have the right intent

Specialization in display and push ads

Supports different formats like contextual text links, display ads

CPV pricing model
5. Epom market
Epom Market was established in 2011 and has since grown to become an advertising ecosystem.
Specialized in mobile and local ads

Supports different formats like banner ads, video, footer, in-text, etc

Vertical ad network

Supports desktop and mobile

CPM, CPC, CPA, and bidding pricing models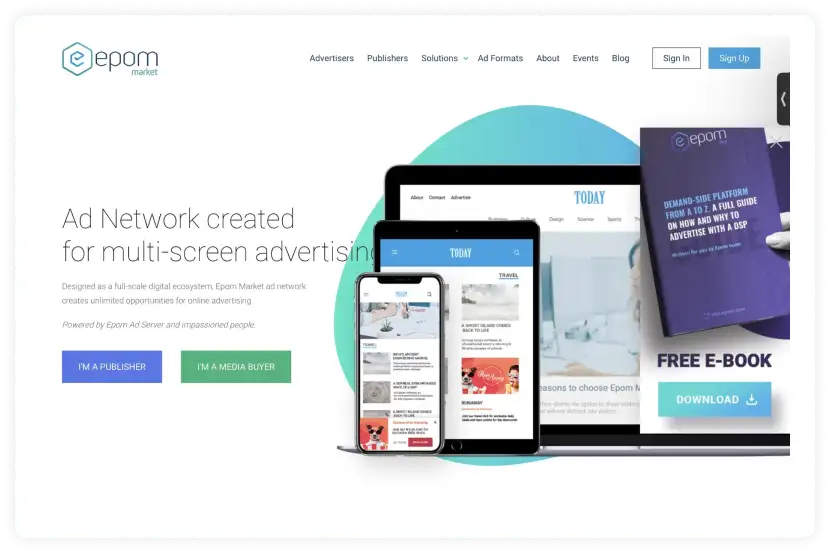 6. Undertone
Undertone is a period company that values every ad and ensures none are forgotten.
Support formats like IAB banner, rich media, video, etc

No cannibalism of existing ads

Processing time - 72 hours

CPM, CPC, CPA, and CPV pricing models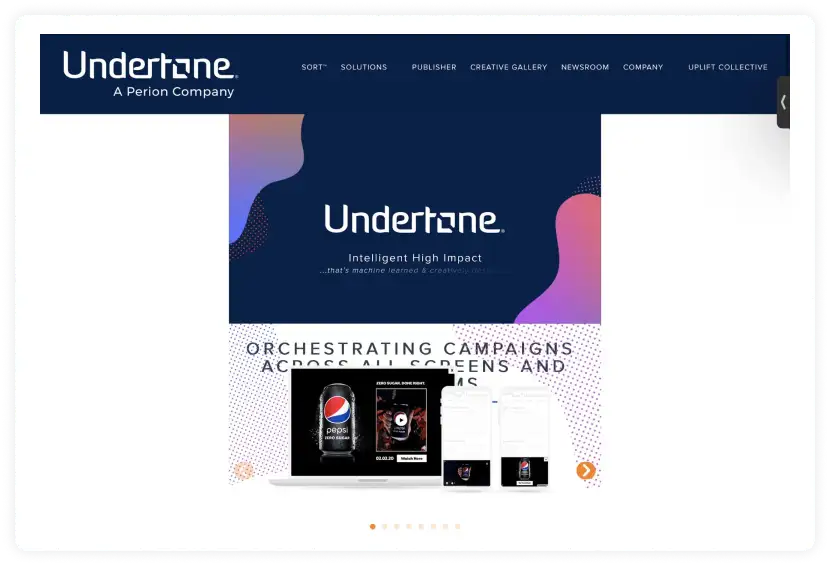 7. AppLovin
App lovin was founded in 2012 and is a mobile ad network that helps developers monetize their apps.
Fraud protection

Specialized for mobile devices

Machine learning and predictive algorithms

Provides analytics on the ads and revenue generated

CPV, CPA pricing models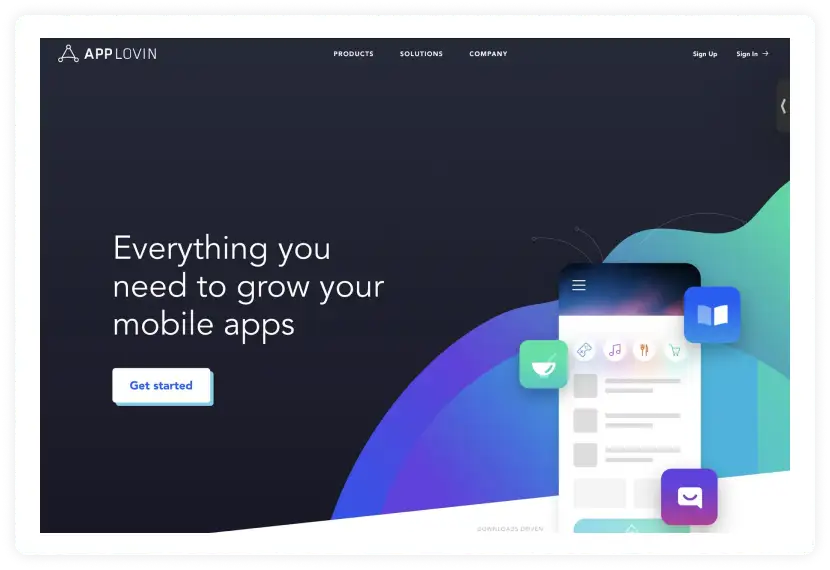 Place your ads in the right place using ad networks
You know what an ad network is and the different networks available to you. Pick one and try it out. If you still can't find the right publisher, keep trying different ad networks.
You have found your ad network, placed an ad on a publisher's website, and started bringing in people to your website. You need to ensure that the people who come through are converting into customers. Check out our guide on landing page optimization to find out how to get more people to convert after landing on your site.
What you should do next
Hey there, thanks for reading till the end. Here are 3 ways we can help you grow your business:
Talk to an email expert. Need someone to take your email marketing to the next level? Mailmodo's experts are here for you. Schedule a 30-minute email consultation. Don't worry, it's on the house. Book a meet here.

Send emails that bring higher conversions. Mailmodo is an ESP that helps you to create and send app-like interactive emails with forms, carts, calendars, games, and other widgets for higher conversions. Get started for free.

Get smarter with our email resources. Explore all our knowledge base here and learn about email marketing, marketing strategies, best practices, growth hacks, case studies, templates, and more. Access guides here.