Unlocking the potential of marketing requires more than just sending out campaigns; it's about building genuine connections. And referral programs have emerged as a powerful tool to build such genuine connections by bridging the gap between satisfied customers and potential new ones.
You can leverage this in email marketing as well to not just expand your reach but also build trust and credibility in an a meaningful way amongst inboxes cluttered with promotions.
In this guide, we give you 10 ideas on how you can leverage referral programs inside the email.
Table of contents
What is a referral program?
Referral programs are strategies where businesses encourage their current customers to recommend their products or services. Traditionally, these recommendations came through casual conversations or online reviews. However, in today's digital age, the approach has evolved. Customers are given a unique referral link to share, and when used, the referrer often receives a reward. This not only benefits the referrer but also helps businesses expand their reach. As the digital landscape evolves, it's essential to explore how referral programs can be integrated seamlessly into our daily interactions.
What is a referral program in email?
Mailmodo's email referral widget brings the power of referrals directly to the inbox. Instead of relying on external platforms, referrals can occur within the email itself. This widget ensures a smooth experience for both parties involved. When used with Mailmodo, tailored email sequences are activated based on user actions, leading to timely engagement and maximizing each referral's impact. This method underscores email's potential as a central platform for modern referral strategies.
Why should you use a referral program in email?
Embedding referrals in emails simplifies sharing, leading to higher participation as customers can refer directly from their inbox.
Referral programs tap into trusted recommendations, significantly boosting conversions. Given that 83% of consumers prefer referrals over ads, such programs offer a cost-effective way to drive impactful results.
By incentivising referrals, you're not only attracting new customers but also valuing the loyalty of existing ones. They feel valued and are more likely to stay engaged with your brand.
10 Examples of referral programs in email
1. Newsletter referral
For those looking to expand their newsletter subscriber count, the referral widget can be a game-changer. By embedding it directly within the newsletter, current subscribers can instantly refer friends. Once a referral is made, user can setup an automated sequence which springs into action, sending a personalized welcome email to the new subscriber, fostering immediate engagement and community growth.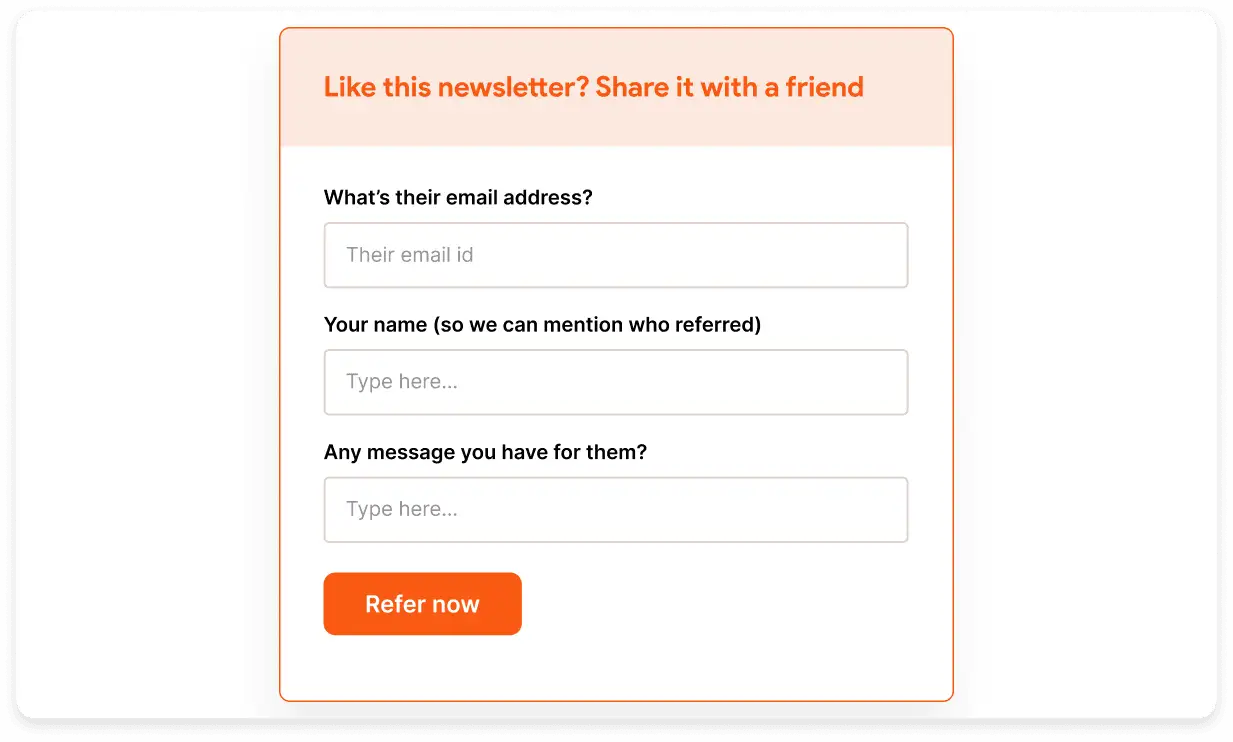 2. Ebook/lead-magnet referral:
Referral can be great to passively distribute a ebook or lead-magnet. After a user downloads the ebook, they'll be sent a goodie email with the ebook and in this email you can embed the referral widget to help facilitat referrals. The friend referred gets a direct download link, and as a token of appreciation, the original user can be given access to additional content, ensuring continuous interaction and value addition.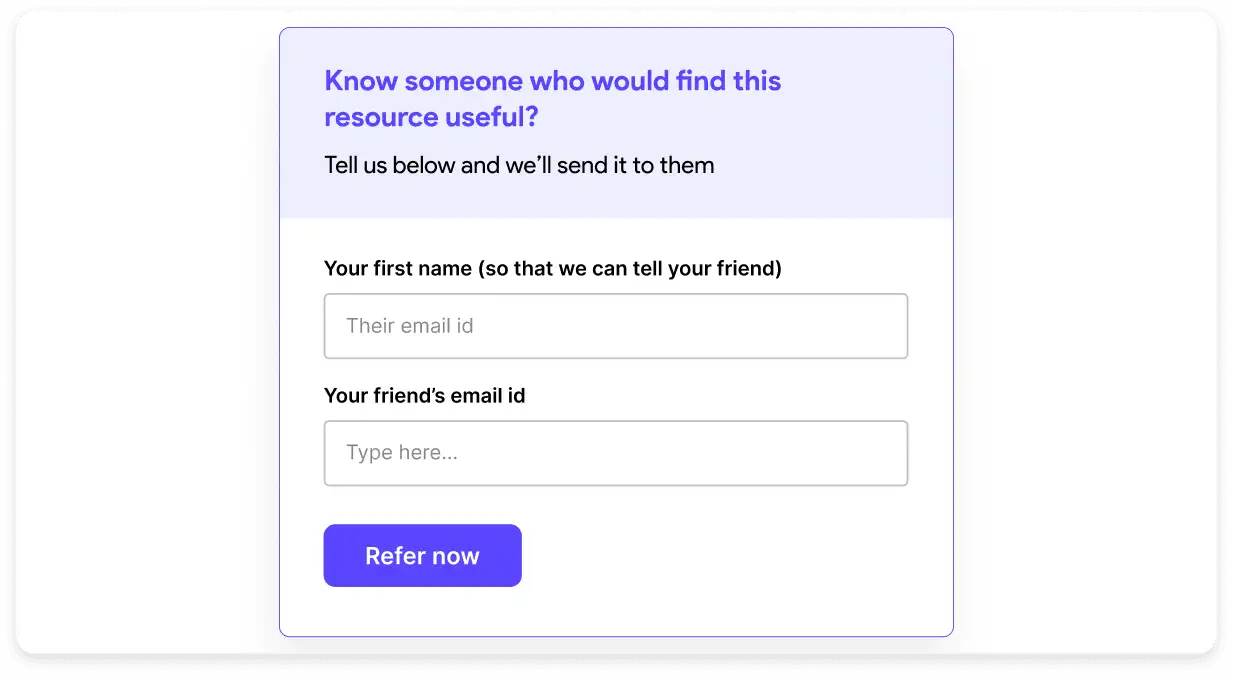 3. Course referral:
For educational platforms aiming to increase course registrations, students or learners can seamlessly refer a course to their peers using the widget. Each successful referral can potentially unlock bonus modules or discounts for the referrer, making the learning journey more rewarding.
4. Webinar invitation referral:
Webinar organizers can amplify their reach and get more registrations with referrals. Attendees, after registering, can be given the option to refer the webinar to their professional or personal network. In return for their advocacy, they might gain access to exclusive post-webinar resources, enhancing the overall webinar experience.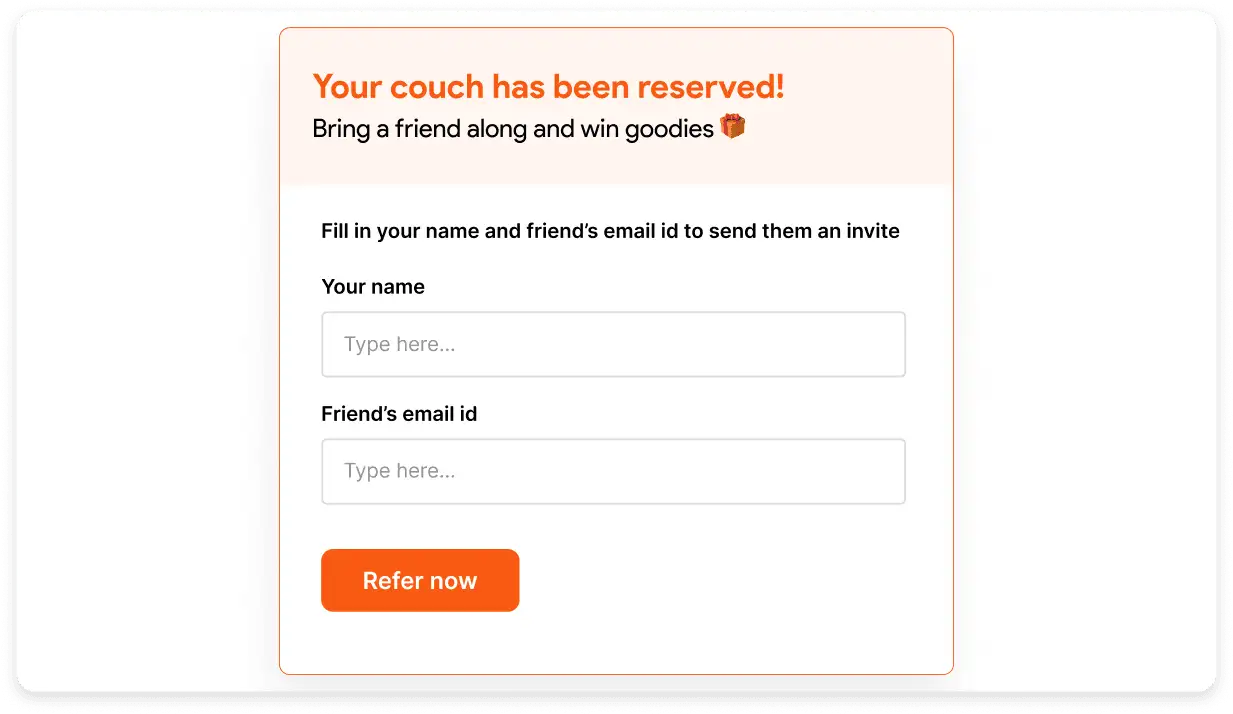 5. Job referral:
Companies aiming to tap into employee networks for job referrals can simplify the process. By embedding the widget in emails, employees can directly refer potential candidates, streamlining the talent acquisition process.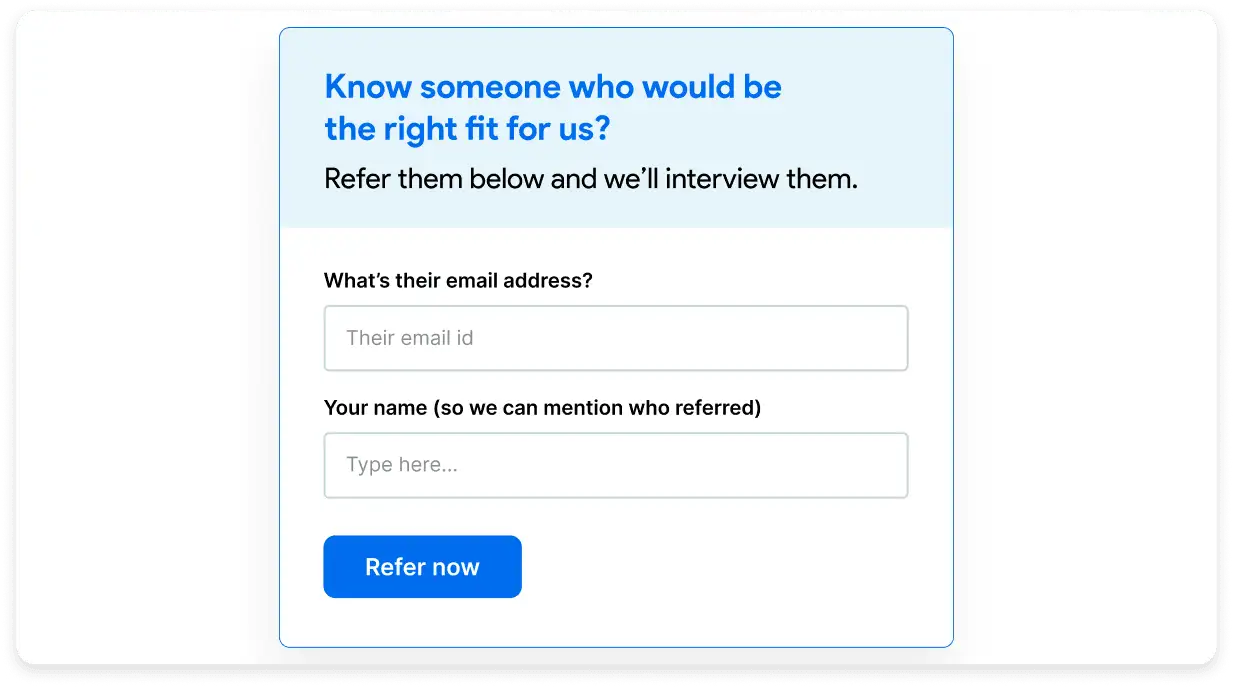 6. Coupon referral:
For businesses offering discount coupons, the widget can be a catalyst. Users can earn a discount coupon once their friend is referred through the recommendation. This dual-reward system, where both the referrer and the referred get benefits, can significantly boost sales and customer loyalty.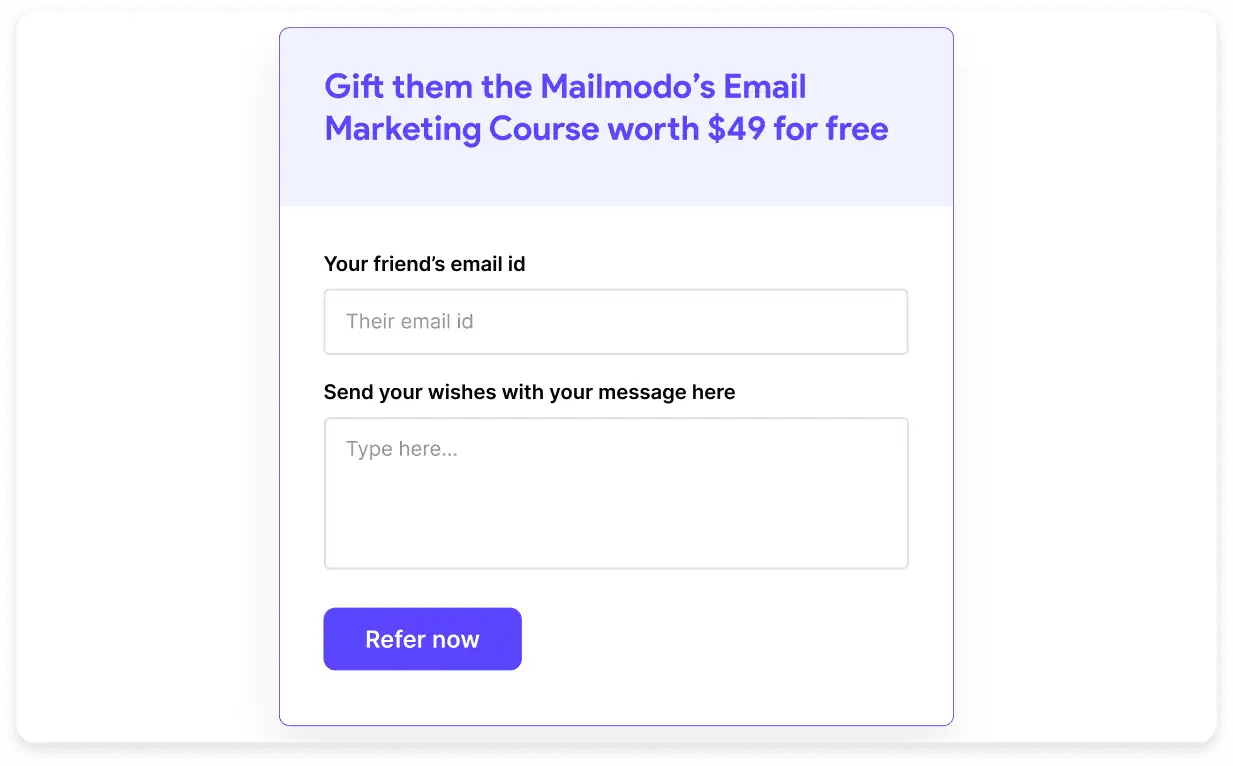 7. Product/Service referral:
Brands aiming to get the word out about a new product or service can leverage satisfied customers. By using the widget, these customers can refer the product or service to friends, unlocking mutual benefits and amplifying reach.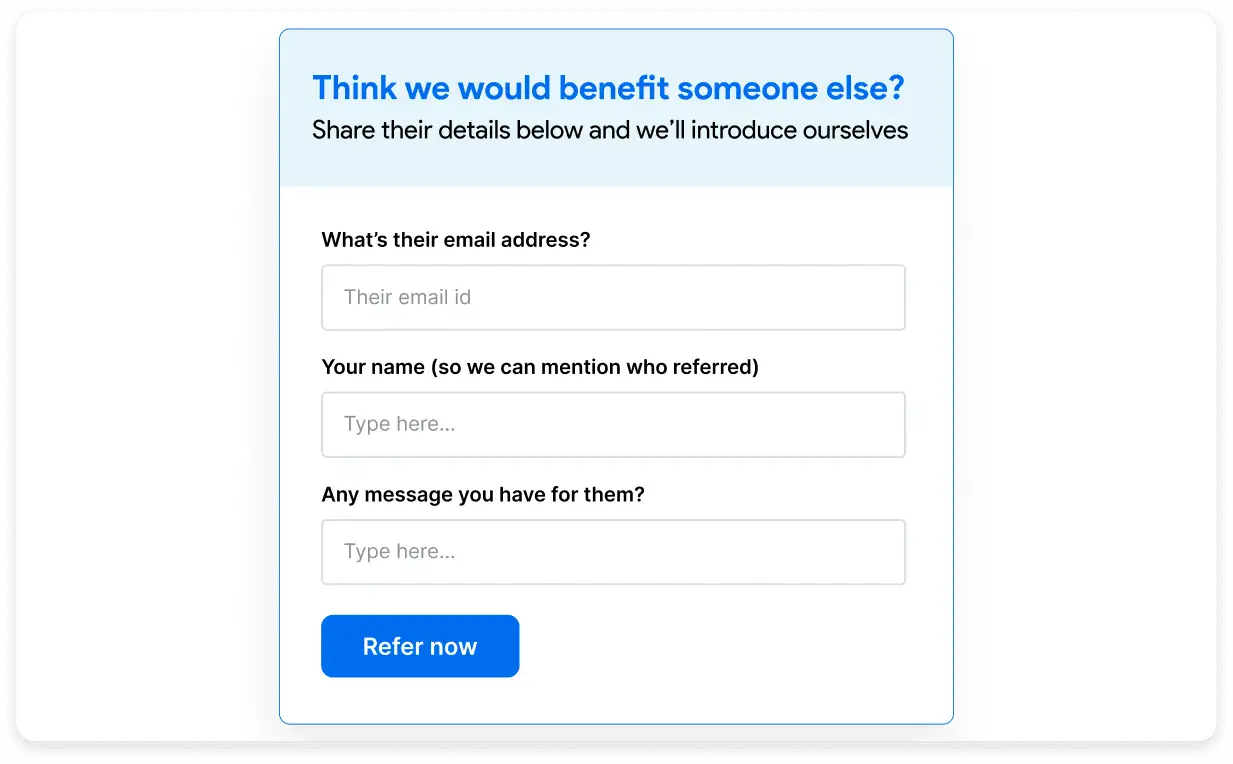 8. Special occasions referral:
During special occasions or festive seasons, brands can embed special referral widgets in their emails. These widgets can offer exclusive deals or early bird access to seasonal discounts, creating a buzz and driving sales.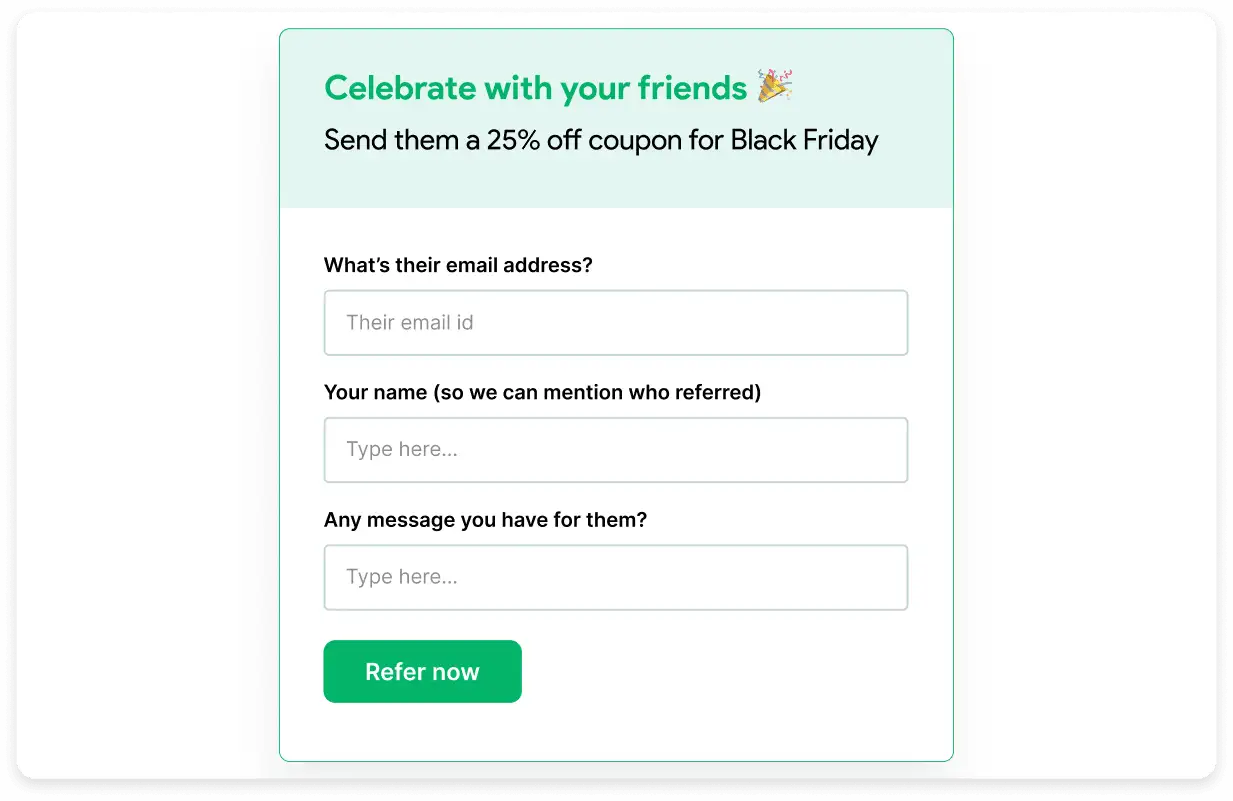 9. Introduce the brand referral:
Overall, if you want to expand your reach and create brand awareness, referral can be beneficial. Users can introduce your brand to their network, and in return, earn rewards, ensuring that the brand message spreads organically and effectively. This way you create awareness and build trust at the same time.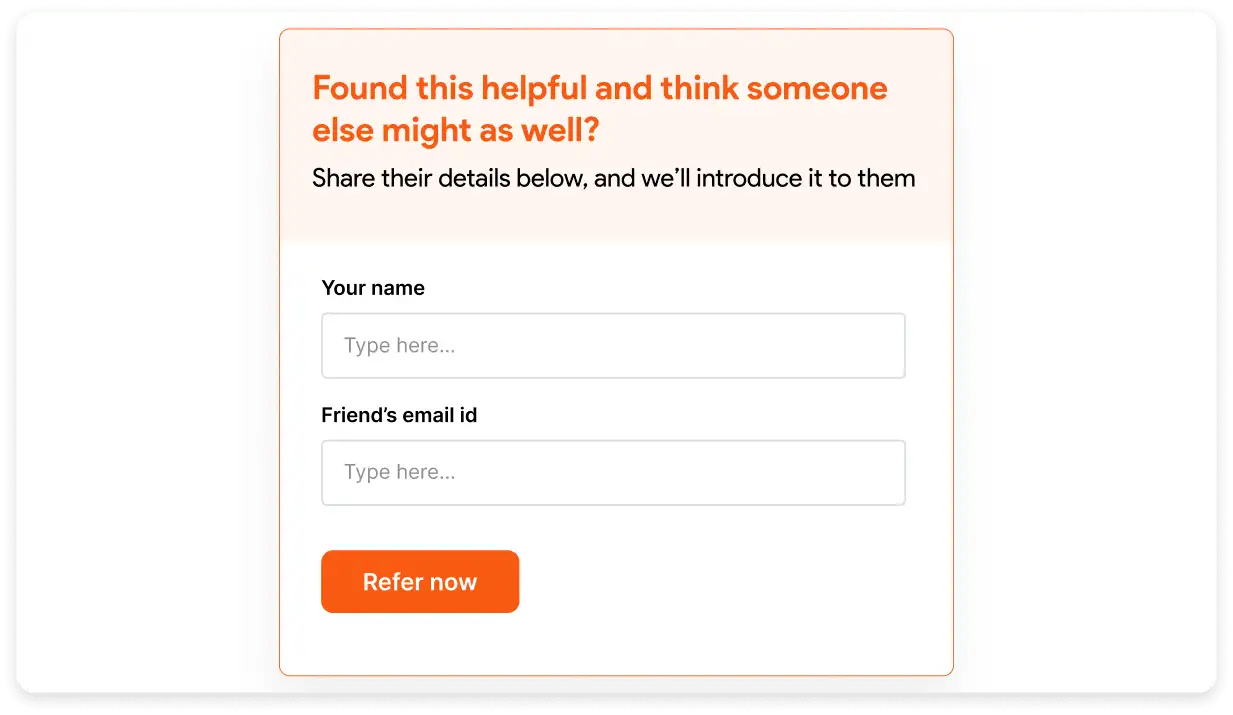 10. Send messages:
Lastly, the widget's versatility extends to personal use. It can be repurposed to send messages to loved ones. By entering their email ID and a personal message, users can ensure their messages land directly in the recipient's inbox, adding a personal touch to digital communication.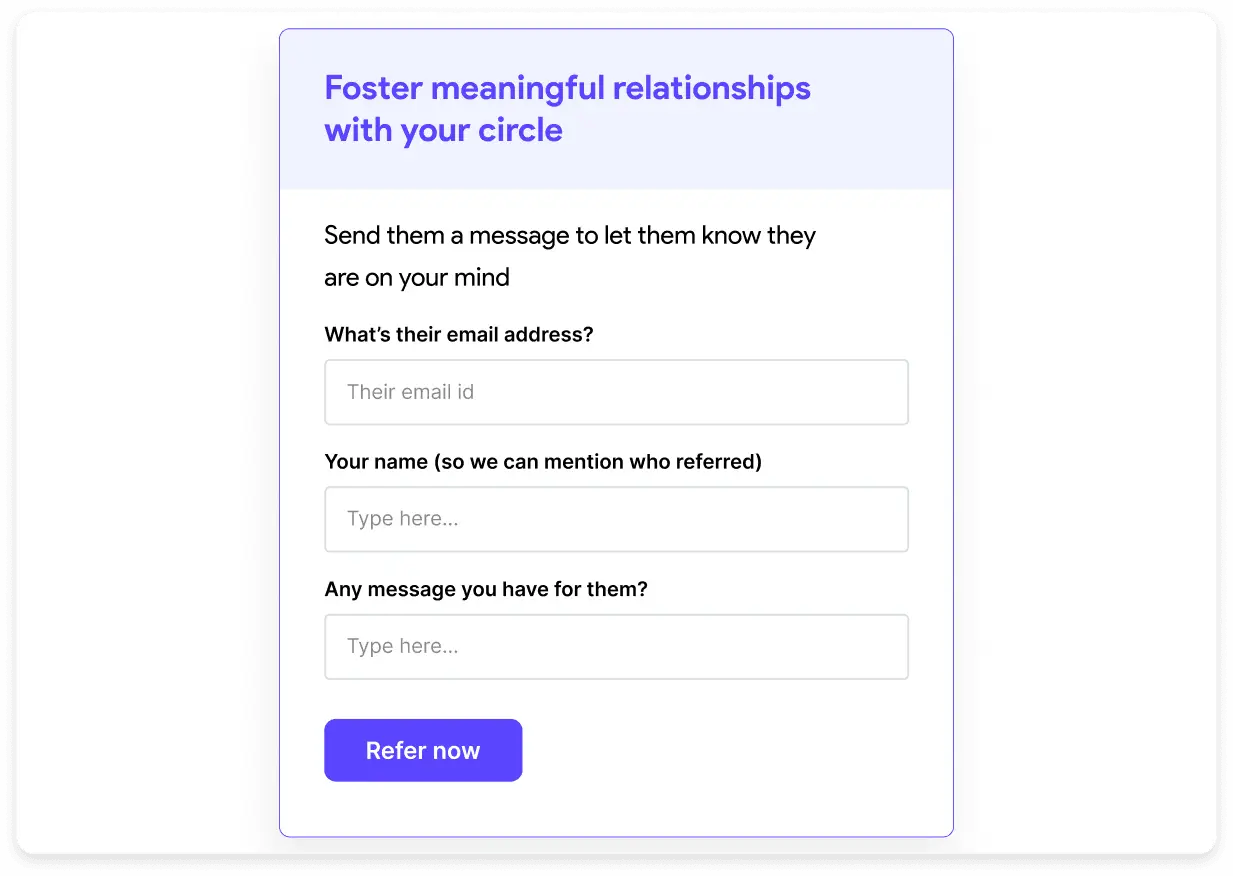 Wrap up
By now, we can understand from the examples mentioned above that referral widget in emails are a game-changer and can be used in so many ways to grow your brand. They provide a seamless avenue for satisfied customers to share their positive experiences with others. By capitalizing on the trust already established with existing customers, businesses can amplify their reach and reputation.
As the digital landscape continues to evolve, such tools will become indispensable for businesses aiming for expansion and success. Embracing these widgets today is not just a trend but a forward-thinking strategy, ensuring that businesses remain at the forefront of customer engagement and growth in the future.
What you should do next
Hey there, thanks for reading till the end. Here are 3 ways we can help you grow your business: