Simplifying Email Automation
The focus of this webinar is on discovering how to accelerate email automation with pre-built journeys, test sequences with simulation and more in this short demo where Vaibhav takes us through how brands across different sectors are leveraging email automation for personalized product recommendations, reducing churn, and collecting profile data.


Ecommerce Store Automations
Here are some of the important sequences you would need as an ecommerce store. - Welcome series - Product recommendations - Browse abandonment - Abandoned cart recovery - Product refills Note: If you are a small business or a startup, the core email series you need to use are the welcome series for non-buyers, the cart abandonment series, and some basic post-purchase flows like thank-you, a how-to-use guide, feedback, etc.
Check out how this ecommerce brand used product recommendation campaigns:
An e-commerce brand segmented users based on product views without a purchase made. They ran a zodiac-themed campaign to collect data like birth dates and personalized experience to make users engage and make a purchase.
Automations in the Fintech Industry
Welcome series and event registration automations are crucial for fintech companies. Engaging users with calculators, browse cart abandonment, payment reminders, and lead magnets within the email is crucial and there are case studies to prove its success.
How a Fintech used win-back email sequence on app uninstall:
Stratzy wanted to win back app uninstall users. Wanted to get more feedback as to why users uninstalled. Here's how they did it.
- Step 1 - User uninstalls the app - Step 2 - Send win-back email - Step 3 - Slack Triggers to support team - Step 4 - Support team reaches out to the users and solves the query
Automations in the SaaS industry
Welcome series, event registration, lead nurture, and feedback series are some of the important automations for SaaS.
Here's an example of a welcome email: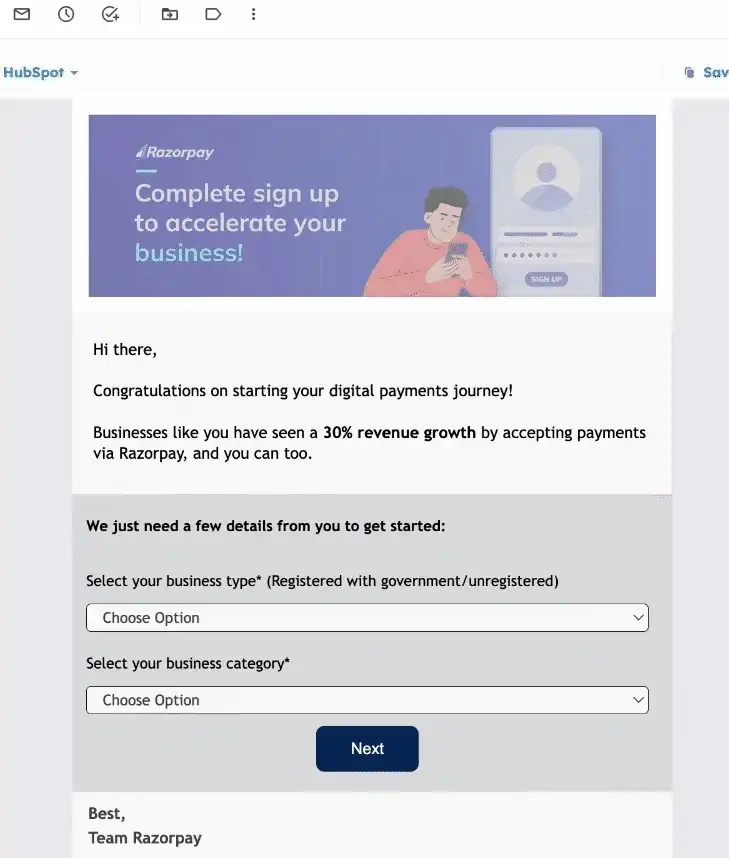 Automations in the Edtech
Event registration and course recommondation automation emails are one of the crucial automations for an edtech.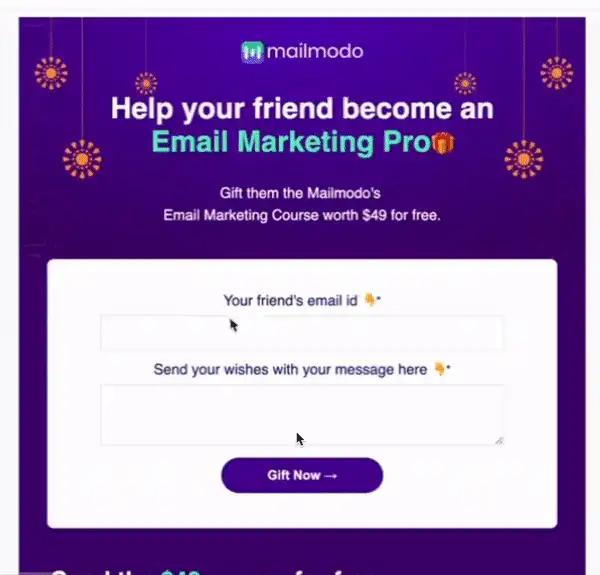 More videos
---
Simplifying Email Automation
Find out how to accelerate email automation with pre-built journeys irrespective of which industry you're in and get inspired by case studies from different sectors. Vaibhav Threja, Growth leader at Mailmodo and Thomas Philip, CRO, Mailmodo share success stories of how interactive emails boosted email automation conversions through better targeting.
---
How to improve targeting and boost conversions of your email sequences
Learn how to optimize your email copy, design, and frequency to improve email conversions. Plus, get ready-made frameworks on target subscribers with advanced segmentation in this in-depth workshop by Kristy McCarley, Founder, Pure Firefly.
---
Ready, set, automate: Frameworks for segmentation and email automation triggers
Learn how to identify the right triggers and master the art of segmentation to effectively nurture subscribers at scale from Lori Feldman, Founder, TheDatabaseDivas.com.
---
Get Results Fast: How to Measure if Your Email Sequences Work
Learn how to set goals and measure the effectiveness of different types of sequences. Identify the differences between micro-goals to macro goals, how to track conversions and more in this short tutorial by Elizabeth Jacobi, Founder, MochaBear Marketing