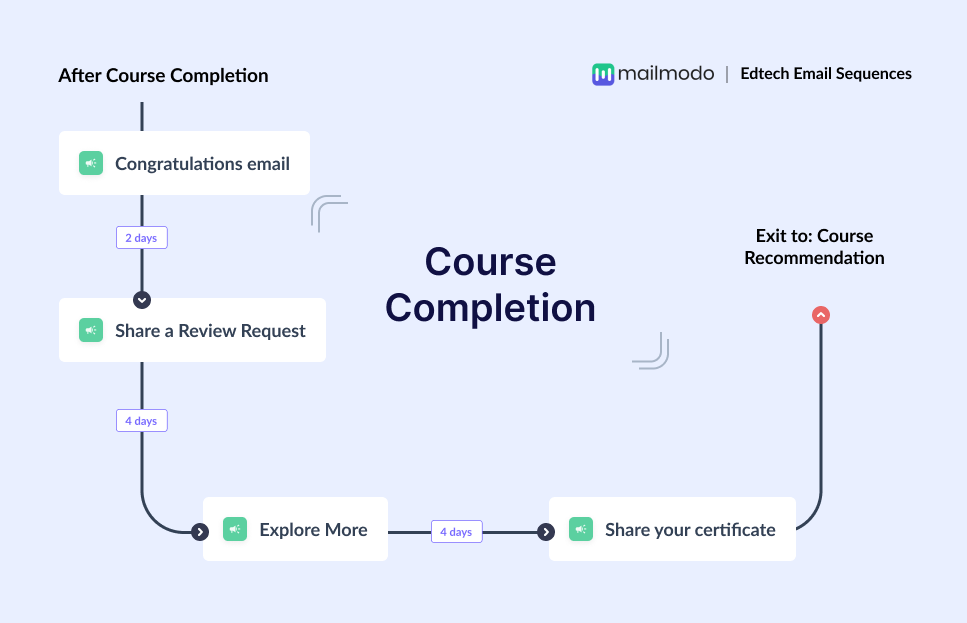 What is Course completion series?
This email flow series triggers after a subscriber successfully completes a course and includes sending the certificate, review request, and an option to explore more of your courses.
🎯 The goal of this sequence
Validate and celebrate your subscriber's learning milestone.
Encourage them to continue their learning journey.
Nudge them to share their achievement with their peers and spread the word about your courses.
**Recommended flows **- 4 emails
Optimum flow time - 8-9 days
Emails in this sequence
Email # 1 : Congratulations Email
📩 Why this email
The first email of the series is sent immediately after a course is completed along with the ceitifcate which the learners can share with their friends and on social media.
Email # 2 : Review Request
📩 Why this email
After the celebratory post, you can trigger a review request email to collect user testimonials. As they're in a positive set of mind, they are more likely to submit a review.
Our Recommendation
Use interactive forms that enable users to submit feedback without leaving their inboxes. This will also help you in getting better response rates.
Email # 3 : Explore More
📩 Why this email
Similar to an upsell/cross-sell email in the eCommerce industry, you can send this email to recommend similar or advanced courses for the subscriber. You can also ask them their preference and suggest courses accordingly.
Email # 4: Share the certificate reminder
📩 Why this email
If a user shares their certificate on social media, they contribute towards strengthening your brand, provide you with user-generated content, and promote your courses to their community. Keep this email light-hearted and guide them about the steps to share the certificate across.
⛔ Sequence exit
Send them to feedback
Talk to an email expert. Need help? Schedule an email consultation. Don't worry; it's on the house.