Do you feel like your marketing strategies are falling short in reaching your target audience and generating leads? Small business owners know how effective marketing plays a crucial role however, limited resources and time can be a constraint in achieving the desired results. This is where AI for small business marketing comes in, offering a powerful solution to help you overcome these challenges and stay competitive in today's market.
Table of contents
What is the role of AI in marketing?
AI is used for boosting customer engagement by automating and optimizing various marketing tasks. The scope of AI technology expands to data analysis, sentiment analysis, predictive analytics, programmatic advertising and personalization based upon the customers' past behavior and preferences. It covers a broad range of tools including, chatbots, recommendation engines, content creation software etc. that help in enhancing the user experience and driving more sales and conversions.
Though AI has been transforming the marketing process across businesses of all sizes, the impact has been huge particularly on small businesses.
Related guide: AI in Marketing: 10 Real-Life Examples and Use Cases
Benefits of using AI for small business marketing
AI enables the automation of various manual tasks thereby improving the overall efficiency and effectiveness of business processes.
SEO (Search engine optimization)
AI tools enable you to improve visibility in search results. How? You must be wondering, right! With the help of content optimization AI tools like frase.io, you can ensure that your website ranks higher in user search queries. Furthermore, the marketers can track content performance, analyze the data in real time and take necessary measures for better results.
A small restaurant can also use an AI-powered voice search optimization tool to optimize their website and local listings for voice search queries, such as "find an Italian restaurant near me."
Content creation
This remains fundamental to any organization. Be it drafting product description, email copies, blog posts or social media posts, small businesses often come across the challenges of drafting, editing and delivering the right content at the right time.
Nowadays, digital agencies are also moving towards combining human expertise with AI for sales and marketing. This helps in creating the content that is tailored to the clients' specific needs and preferences.
Various AI-powered content creation tools are available such as Jasper.ai, Copy.ai etc. These tools come to the rescue by generating high-quality content quickly and efficiently. Marketers can create long form grammatically correct copies within a few minutes.
Video marketing
When it comes to marketing your brand via videos, a lot of factors come into picture such as storytelling, content, portrayal, depiction etc.
There are various tools available which help in captivating the audience with various methods such as text-to-speech generation, animations, realistic AI voices and many more. Hence, video marketers can create more engaging and relatable video content that conveys the brand idea in an appealing manner. Let's take for example, a small fitness studio can use an AI- tool for creating personalized workout videos for their customers, based on the fitness goals and preferences.
Pictory.ai is an easy and cost-effective AI tool with which marketers can automatically create shareable videos from the long form content. It can turn scripts into convertible sales videos in a few minutes!
Designs.ai is another platform which helps small businesses in cutting costs and simplifying the workflow. It uses AI for creating and designing customized logos, videos, mockups, banners and graphics.
Ad targeting
Ads consume huge amounts of money but when you've a limited budget at hand, then this is something you've to be very careful with. The objective remains the same to maximize ROI.
The ad targeting AI tools help in targeting customers who have the most likelihood of conversions as per the browsing data and purchasing history.
Adcreative.ai is one such AI-powered platform using which start-ups, e-commerce businesses and agencies can generate and optimize digital ads. Advertisers just have to provide inputs - target audience, logo, colors, brand description, project size and format etc.
It creates different variations of Ads, including display ads, social media ads and video ads in a matter of minutes and drives conversions. The automated optimization and real-time adjustments to ad elements like headlines, images, and CTAs further improves the performance and streamlines the ad creation process altogether.
Customer relationship management
Addressing the pain-points of your customers and nurturing the relationship at every stage is crucial for any small business. The AI tools provide a deeper analysis into customer insights, like what is the personality type, what are the behavioral patterns, which group of customers is engaging more online, and what kind of content is driving more conversions and so on and so forth!
"By utilising machine learning and AI to monitor and evaluate multiple metrics, businesses can optimise their marketing strategies and improve customer engagement," says Ankush Goyal, Head of Digital Marketing at Coding Ninjas.
A small software company can incorporate chatbots and conversational AIs like verloop.io. It acts as a 24/7 digital assistant and helps you in standardizing messages and providing conversational support services. Hence, you can convert a lead into a loyal customer.
The AI tools aid you in tracking the customer journey from the beginning to the end. You can track customer interactions across multiple channels, such as email, website and other social media channels. Using this information, you can resolve issues quickly and provide personalized support and services.
Overall, you can reduce costs, scale engagement and increase sales.
Email marketing
As per the businessdit, the marketers who utilize AI for email personalization are likely to get an increase in the revenue by 41%, and CTR by 13.44% respectively.
Small businesses can also harness the power of AI tools like Phrasee and generate great marketing messages for delivering across digital customer journeys. You can incorporate a tailor made strategy that suits your target audience by analyzing the customer interactions via email open rates, click-through rates etc.
The tech based B2B companies can also use AI email marketing tools for improving the email campaigns. The marketers can create and optimize subject lines and email copies based on customer behavior.
AI can source content for you from different online sources, then choose which articles to include in your newsletter. Quick trial and testing enables one to send more effective email campaigns.
Become an email marketing expert in 90 mins
On-demand certification to master email marketing
Automated social media marketing
"Brand marketing these days is dependent on Instagram and YouTube, and both these platforms are continuously evolving in terms of algorithms and trends. If any AI tool can analyse the content before it is out and give recommendations, what's better than that?" says Avimee's Managing Director, Siddhant Agarwal.
Given that small businesses have to make the most out of the limited resources, AI tools help in saving both time and efforts. AI-powered tools can automate social media marketing tasks such as creating, designing and scheduling posts. Furthermore, the marketers can analyze the audience engagement and measure performance using different metrics.
Using AI powered marketing tools, social media management apps and platforms, a small retailer can also promote the products on multiple social media platforms easily. One can schedule the posts, track engagement and use the analysis to optimize future social media campaigns.
"To make a reel of a DIY recipe, we just feed the ingredients to ChatGPT. It analyses and makes a recipe for us and, with a few manual changes—adding human emotions here and there—we get ready to be out on Instagram. It designs the content flow for us along with captions," explains Agarwal.
Avimee and Amrutam are among the many SMBs (small and medium businesses) that are turning to AI powered solutions for simplifying and automating tasks, gaining customer insights, and engaging with customers in a targeted manner.
Related guide: How AI in Social Media Is Shaping the Future of Marketing
Every company employs different kinds of digital marketing AI. Some incorporate less advanced apps while others (usually the big organizations) opt for more advanced applications.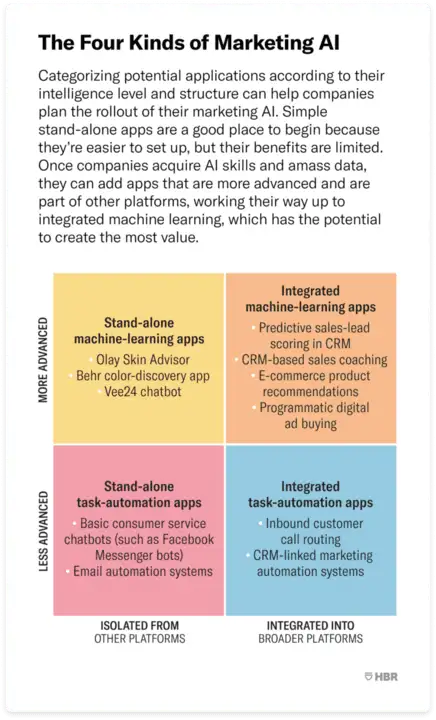 Source: Harvard Business Review
Businesses can consistently improve their marketing strategies and save considerable amounts of time and resources by leveraging AI tools and platforms. Ultimately, this leads to enhanced customer experience which in turn results in more engagement and conversions. Following up with leads, make accounting efficient as well!
Related guide: 10 Free and Paid AI for Marketing Courses to Upskill Your Career
How to Design an AI Marketing Strategy?
Designing an AI marketing strategy is a step-by-step process. CMOs have to constantly look for emerging technologies that would best serve their business needs. Marketers can have a look at the given roadmap and decide how to go further thereon.
Identify Business Requirements
First and foremost, you need to understand the requirements. Marketing consists of numerous aspects such as content marketing, email marketing, social media marketing and more. So, what is the objective that you desire to accomplish with the help of AI tools? It's best that you lay down your goals clearly.
Decide AI framework
As per the business size and scale of operations, marketing executives figure out the framework to adopt. Here, the marketers have to choose whether they would like to go for simple task automation or complex machine learning apps. Furthermore, whether they would like to incorporate these tools as stand alone apps or embed within existing systems as integrated applications.
The right approach
Small businesses possess limited resources and AI experience. Marketers have to consider various factors such as feasibility, affordability, expertise, ROI and others. The reason why, many firms opt for simple task automation softwares in the beginning and slowly incorporate advanced machine learning tools. Deploying the customer-facing apps often comes at the later stages in order to reduce the risk of losing a potential buyer. Hence, CMOs need to weigh the pros and cons and work upon the right approach to adopt AI for their businesses.
Evolve
Market dynamics are constantly changing. Executives must keep an eye out on the competitors and keep a tap on the internal as well as external sources of information. Based upon which, they've to refine the marketing strategies from time to time.
If you desire to learn more about the trending AI tools then make sure you check out this guide as well: 10 AI Tools for Small Businesses to Make Teams More Efficient
Wrap up
Despite the benefits, marketers face a lot of challenges while deploying AI tools at work. For example, there is a growing concern for data privacy and security. Integration of human and artificial intelligence requires careful consideration. Small businesses often lack the expertise and resources to implement the same.
Nonetheless, they must try to unleash the enormous potential of AI for small business marketing and shape the future of their business.
Related guide: 9 AI Tools for Small Businesses to Make Teams More Efficient
What you should do next
Hey there, thanks for reading till the end. Here are 3 ways we can help you grow your business:
Talk to an email expert. Need someone to take your email marketing to the next level? Mailmodo's experts are here for you. Schedule a 30-minute email consultation. Don't worry, it's on the house. Book a meet here.

Send emails that bring higher conversions. Mailmodo is an ESP that helps you to create and send app-like interactive emails with forms, carts, calendars, games, and other widgets for higher conversions. Get started for free.

Get smarter with our email resources. Explore all our knowledge base here and learn about email marketing, marketing strategies, best practices, growth hacks, case studies, templates, and more. Access guides here.