Every business is increasing its content marketing budget to expand its outreach and grow its digital audience. 40% digital marketers in 2022 believe that content is one of the key investment areas. Most businesses falter or fail because they lack a clear content distribution plan.
Let's understand how content distribution and email marketing are interlinked and how to use emails as a content distribution channel.
Table of contents
What is content distribution?
Content distribution is a strategy businesses deploy to make their content reach the target demographic. It can help a business increase engagements, leads, and traffic through owned, earned, and paid distribution channels.
ULTIMATE DISTRIBUTION THREAD

20 of my favorite distribution channels & tactics for spreading B2B content after hitting publish.

These are great techniques for brands who realize the job isn't over when you hit publish.

Dive in, drink coffee, ask questions, & add your own.

— Ross Simmonds (@TheCoolestCool) February 13, 2020
Why is content distribution hard?
One of the biggest reasons content distribution becomes challenging is because most businesses or brands focus majorly only on creating content, as opposed to distributing it. Brands invest billions of dollars in creating content that barely reaches an audience. Ahrefs estimates that 90.63% of all web pages get negligible or no traffic from Google.
Many businesses also find it overwhelming to choose the right format or channel for content distribution. Some aren't fully aware of their target audience, making it tough to reach a business goal.
What worked a few years ago to distribute content no longer works today. Why? Because people's attention spans have decreased, they are more distracted than ever before, and they are bombarded with more content than ever before. To keep up with the changing times, content marketers need to evolve their strategies.
Sreyashi Chatterjee, Content Director at Tripledart Digital
Types of content distribution channels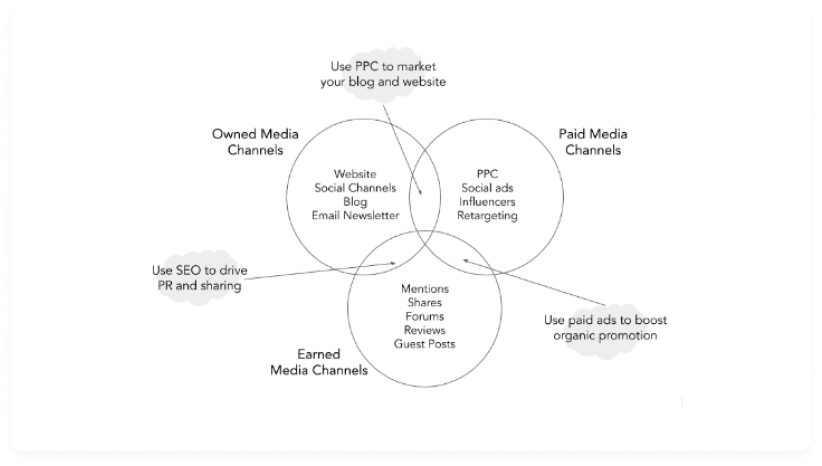 Source: Hubspot
Marketers use a variety of channels, do content syndication and formats to distribute their content. For easier understanding, these can be divided into the following:
Businesses retain ownership and control over channels like their website, social media profiles, email marketing, blogs, etc., where they directly deploy strategies to boost traffic, increase awareness and outreach, and generate leads.
Businesses often use third-party channels for free content promotion to a larger audience. This includes product reviews or mentions, guest blogging, PR, or shoutouts on online communities.
Businesses use paid channels like social media ads, sponsorships, or paid influencers to reach a very niche or targeted audience.
Despite these options, email marketing is one of the most popular content distribution channels. Did you know that 93% of B2B marketers use email to distribute their content? A cost-effective way to distribute impactful and useful content is by using one's own internal email list.
Related guide: 7 Steps to Create a Successful Content Marketing Strategy
Using emails as a content distribution channel
Creating an optimal content distribution isn't rocket science, but it involves a fair bit of perseverance, especially when using email marketing as a distribution mode.
Here are some essential elements to think about when designing your content distribution strategy:
Define your audience: Who are you sending the content to?

Determine a sending frequency: How often will you send your target audience emails?

Create a schedule: How will you use emails to reach your target audience so they can consume your content?
Related guide: Collect User-Generated Content With These 5 Email Templates
Content distribution strategies using email marketing
Let's take a look at how you can distribute different content formats using email marketing to boost brand awareness and improve outreach:
As your business grows, so does your email list. Share value-adding blog content with your email list to retain their attention - share ideas, innovations, products, or facts to keep your audience's interest piqued.
Your audience can use the RSS feed option or click on updated links in an email to access the latest information. The Indian Express did this by bringing a live RSS feed into subscribers' inboxes with the help of Mailmodo.
Indian Express came up with this never-heard-before idea to boost subscription rates, and our team built a custom template to bring it alive. The highlights:
✔️Fresh up-to-date news with dynamic AMP emails.
✔️No more stale news.
✔️ Massive improvement in newsletter engagement.
You can now insert a dynamic RSS feed into your email with Mailmodo and let emails refresh on their post-delivery. Read the full success story of the Indian Express.
Get this pre-send checklist to hit send with confidence
An interactive checklist to send error-free emails
Another great way to improve your content distribution is through newsletters. With Mailmodo, you can add GIFs and bring your newsletters to life, making your newsletters all the more enticing for readers. And you can go a step further to create specific newsletters customized for different audiences based on their interests. Struggling to find newsletter ideas? Read our guide on 12 trending newsletters ideas.
We send a monthly newsletter called The Mailmodo Bulletin, where we discuss all things email and deconstruct tweets about email marketing. If you're an email geek, subscribe here.
Emails are a great way to pitch more content to users who have downloaded your content earlier. With Mailmodo, you can easily create and deliver lead magnets as an incentive to prospects. After all, the idea is to build on your subscriber list. Lead magnets are freebies or items given to prospects or website visitors in exchange for their contact details. Entice visitors with trial subscriptions, free consultations, ebooks, reports, and exclusive content if they opt-in on your website.
Related guide: How to Send Lead Nurturing Email Campaigns With Examples
If you're looking to distribute content to talk about educational content, knowledge management, or courses, use Mailmodo's drip campaigns to nurture relationships with subscribers, and ensure result-driven CTAs.
Once you've made a landing page, you need to let your audience know about it, and an email is a wonderful method. For your landing page, we suggest selecting just one compelling call to action. By integrating your landing page and email marketing, you will be able to:
Make a good first impression by welcoming new subscribers to your email list.

Generate leads and nurture them to increase sales.

Recover abandoned carts to make the sale closure process simpler.

Engage inactive users who might want more product support.
With Mailmodo, you can use personalized buttons to redirect your users to different landing pages. Select the button you wish to personalize and use a personalization tag in the URL field.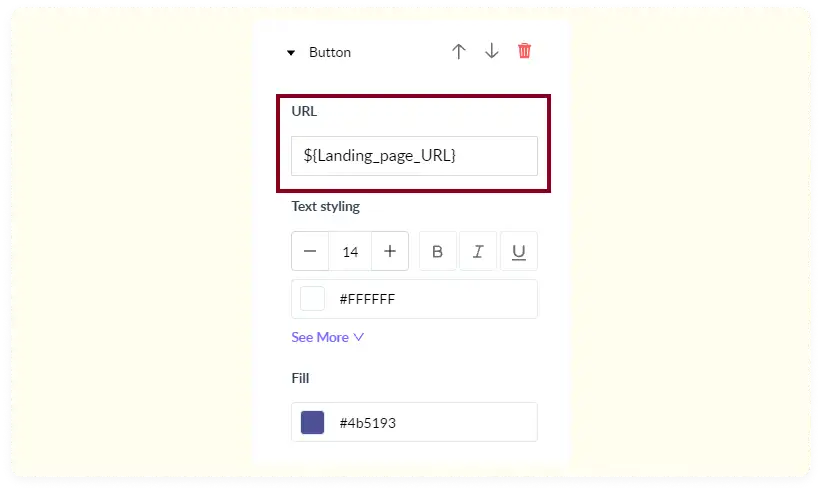 Tip: Go beyond recycled content usually found online to discover and share what works for your business. We spoke to experts and curated their learnings into email flow landing pages, which we promoted via automated email campaigns. Here's what you get with our SaaS email flows:
Ready-to-use email sequences mapped for every stage of the SaaS user journey.

First-hand insights from 100+ marketers and automation experts.

Winning tips, tricks, and best practices for every email sequence.
Best practices for content distribution using emails
Promote content using your email signature
Using your email list to share content is one thing, but using your email signature can be a game-changer. As high as 62% of brands use email signatures to promote content. Email signatures are highly effective (and very unused) features that can easily attract an audience.
Tip: Add a CTA directing recipients to your blogs or link to a blog post on your email signature. Change this frequently to keep your signature dynamic.
9 out of 10 users fail to click on emails because they don't see the value - making all content creation waste. The content you share should be value-driven. What will the user get out of reading the content? Does it have interactive elements? Grab user attention with interactive emails. 81% of marketers believe interactive content is more effective than static content when grabbing user attention.
Interactive emails help users take immediate action - add to a cart, take a quiz, read a post, or watch a video. Add these interactive elements to your emails based on your internal content to distribute it seamlessly.
Encourage readers to share their emails
As an established business, you probably have a lot of content created over time - so make use of your archives every once in a while instead of getting overwhelmed by the pressure to create new content. Pick a popular post, insert an email opt-in or encourage readers to share your emails, and in return, entice them with a freebie, like a guide, audiobook, or ebook.
Get a sample AMP email in your inbox
Experience the power of interactivity right now
Final takeaways
Mailmodo helps businesses engage larger audiences and improve their content distribution through the power of email marketing. Here are some final tips to use emails as a content distribution channels:
Automate your content to free up time for creativity.

Make your content easy to read and understand.

Be consistent with the frequency of the content you send to your audience.
Read our guide on 14 AMP email components to make your email content interactive and achieve your business goal of distributing your content.
What you should do next
Hey there, thanks for reading till the end. Here are 3 ways we can help you grow your business:
Talk to an email expert. Need someone to take your email marketing to the next level? Mailmodo's experts are here for you. Schedule a 30-minute email consultation. Don't worry, it's on the house. Book a meet here.

Send emails that bring higher conversions. Mailmodo is an ESP that helps you to create and send app-like interactive emails with forms, carts, calendars, games, and other widgets for higher conversions. Get started for free.

Get smarter with our email resources. Explore all our knowledge base here and learn about email marketing, marketing strategies, best practices, growth hacks, case studies, templates, and more. Access guides here.