Despite advancements in communication, email marketing holds its own because of outstanding ROI. A strong email marketing strategy helps create consistent and personalized communication with your target audience at unbelievably low costs. Email forms take that a step further, making the interaction more engaging while collecting priceless information.
It is crucial to a data-driven product development process and aims to create a happy and loyal customer base. This guide talks about how email forms take email marketing to the next level of efficiency, resulting in greater conversions, increased sign-ups, and improved product development.
Table of contents
What is an email form?
An email form is an online form sent over email to the intended audience to collect customer responses to specific questions.
As you use email to connect with your target customer segment, the email form creates an opportunity for conventional one-way communication to evolve into a meaningful two-way communication.
Typically, an email would contain a link that takes the reader to a page with the online form. However, a better method is to embed the form within the email body. Eliminating the step of going to another page results in a reduced number of drop-offs.
Why is an email form important?
Here is what an email form helps you to achieve:
Communication that makes your readers feel valued and important, results in an engaged customer. Inputs from a customer who feels involved with your product and brand will be better in quality, as compared to others who are not so engaged.
Emails with embedded forms offer a chance for your reader to immediately act upon the call to action: sign up for the webinar, subscribe to the newsletter, take an NPS survey, ask for a demo, download the ebook, etc. At the end of a convincing email, they can immediately move to the next step of 'action', without a break in the customer journey, resulting in greater conversions.
An organization that values your opinions, feedback, and experience with its products and service immediately establishes credibility with the brand and product. It is especially on point when the consumers can see changes made based on customer inputs. Dynamic and engaging brand content elicits brand and product credibility in the minds of your target consumer majorly.
Types of email forms
There are two types of email forms. Static forms are like digital copies of a typical paper form with some questions. One can fill out static forms in any order of questions. Conditional forms are where some questions may change based on the answers to the initial questions.
AMP emails can have both static and conditional forms embedded within the email body. Email forms can be used for a wide variety of reasons. Here are a few examples of types of email forms:
1. Market research
Market research forms are sent when the product is still in development to people who are not using your product yet. The aim is to understand preemptively what kind of reaction the product garners. The form could have a mix of multiple answers and subjective answers.
2. Demo registration
This is also sent to prospective customers who may have shown an interest in your brand or product at another event. This is to explore if they are willing to understand your product in more detail for their requirement. It is a simple form with contact details and product requirements.
3. Trial version sign-up
This type of form is sent to people who are considering subscribing to the product or service. They have an understanding of how it works and want to explore using it now. Trial version sign-up is akin to onboarding and all the information needed for usage can be entered in the form.
4. Sign-up
This form is similar to the trial version sign-up form. You could have different types of sign-up forms depending on the product/service required. A sign-up form for a webinar will be different from a sign-up form for a SaaS product.
5. Newsletter subscription
A newsletter is like an RSS feed which contains value-driven information your subscribers want.
6. Customer satisfaction
There are different types of customer satisfaction survey forms. They are usually sent to customers who are already using your product. Depending on the type of product and customer segment, these forms can be short or detailed.
Related guide: Conducting Surveys With Interactive AMP Emails
5 email form examples and templates
This is a relatively short form and is sent to a prospective customer to check their affinity to a product or service.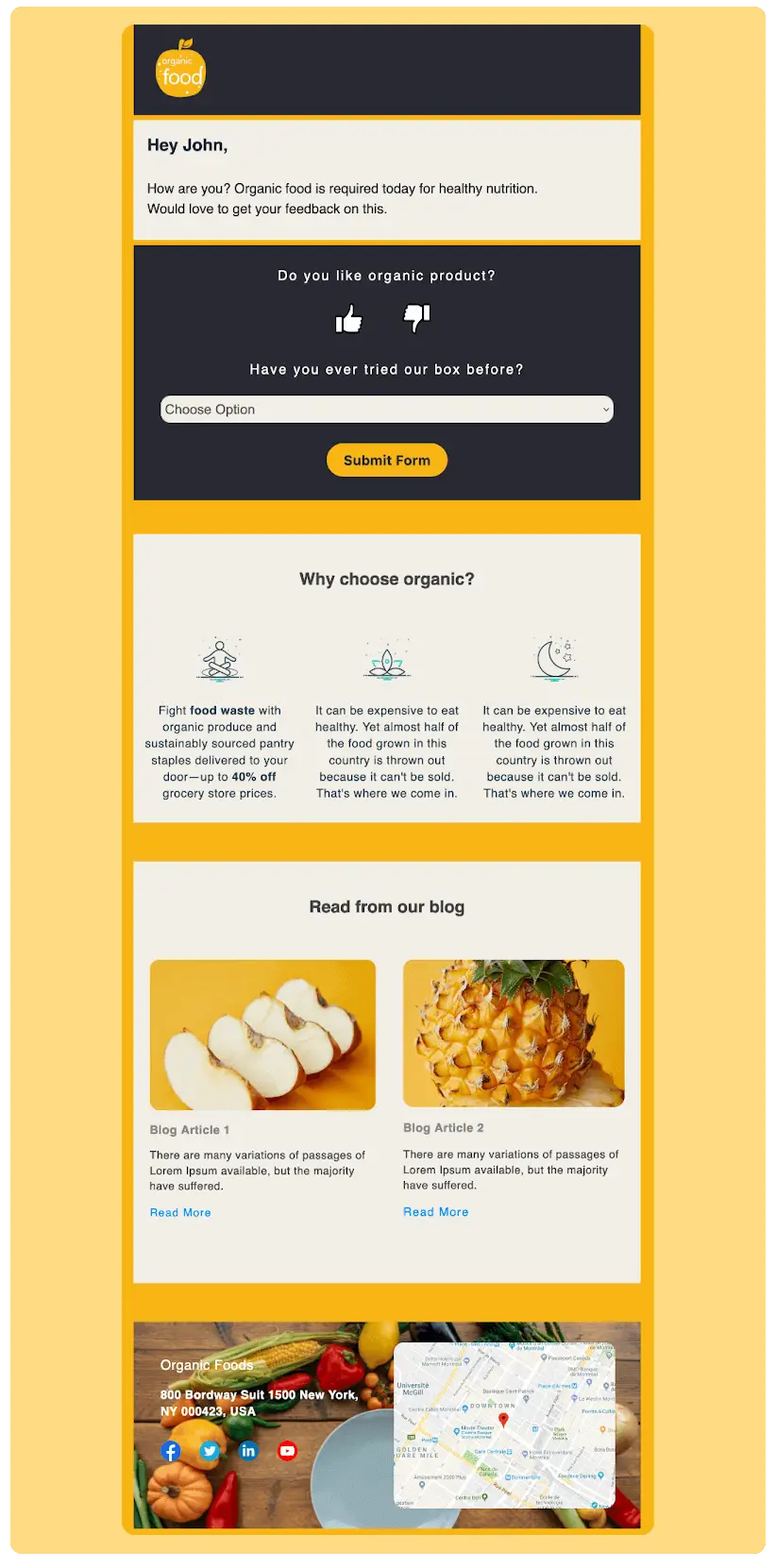 A customer registration form is also a simple form to register for an event like a Zumba class, a webinar, etc.
This type of form would be sent to a customer who has already used your product/services for some time. Such a customer would be in a position to offer some insights about their experience.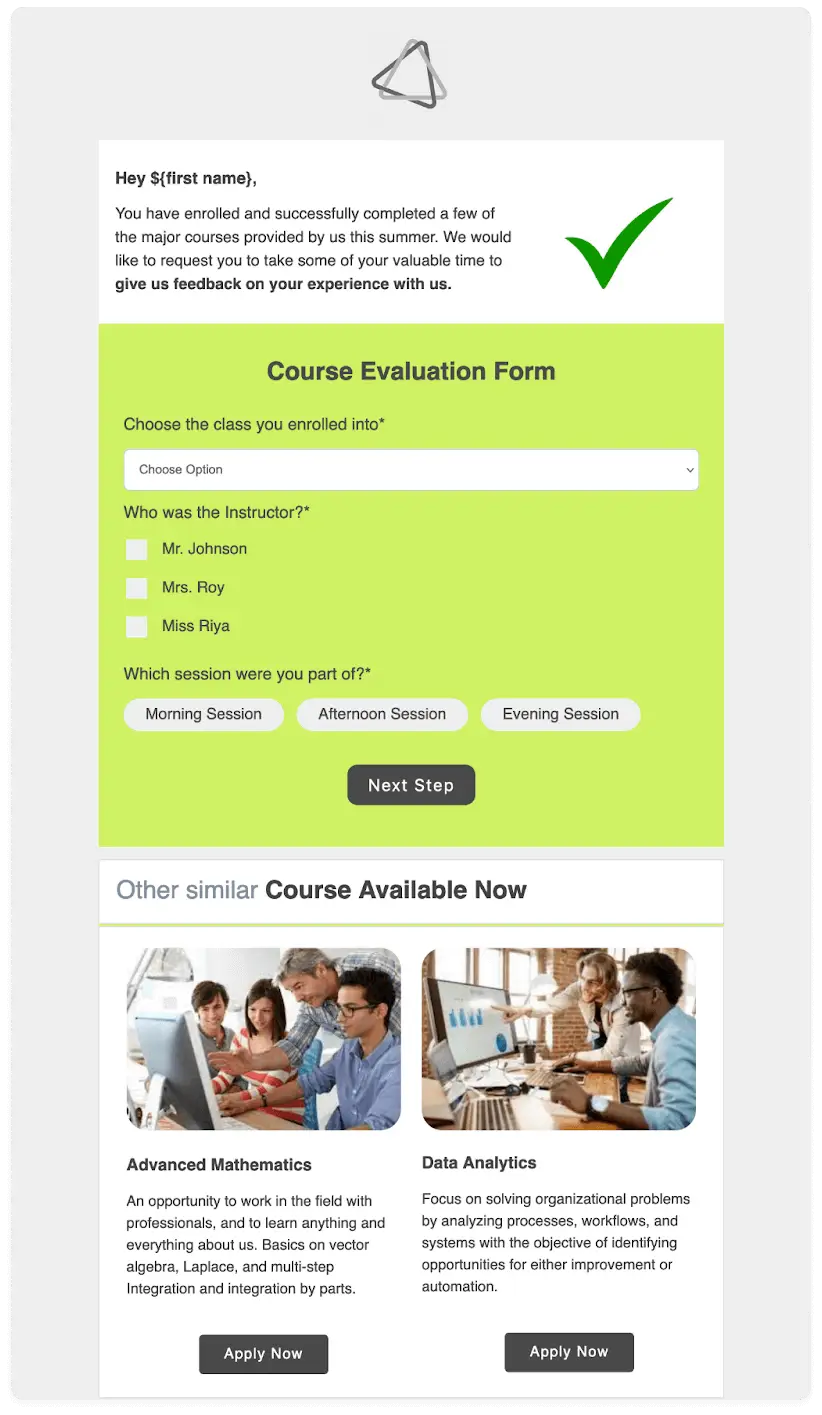 This could be a multi-page, interactive form based on what you are signing up for.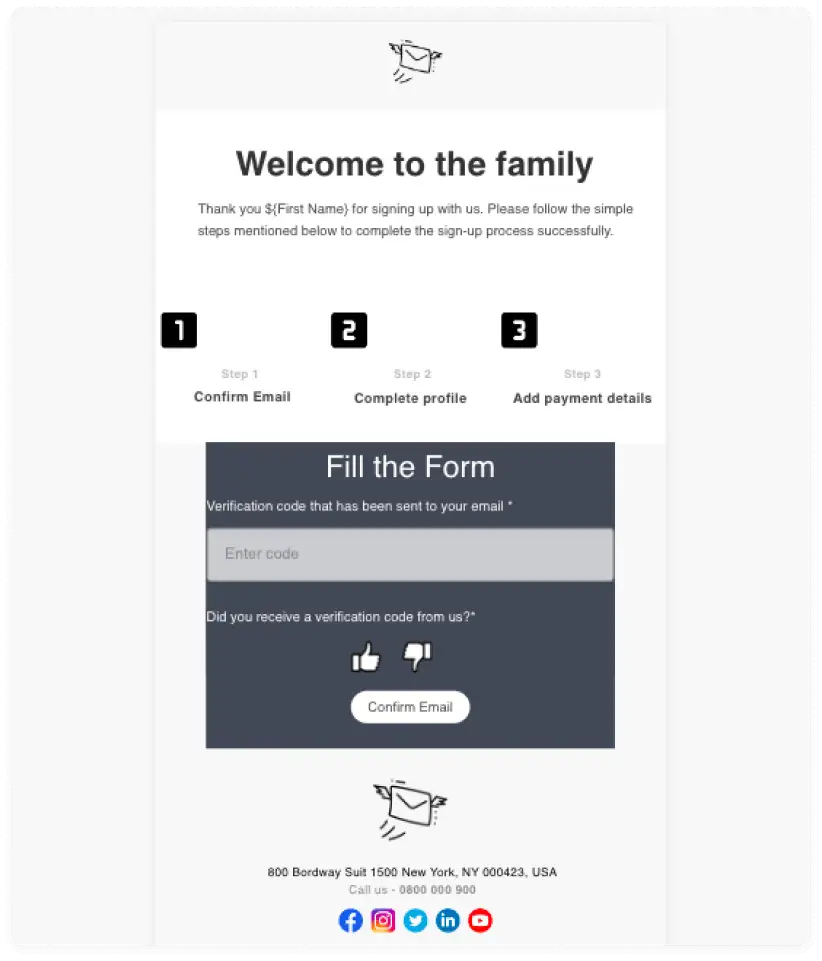 These forms are also predominantly about leaving your contact details for the pre-sales team to find you. Sometimes, it can also have a calendar element within the email to highlight a preferred date of availability.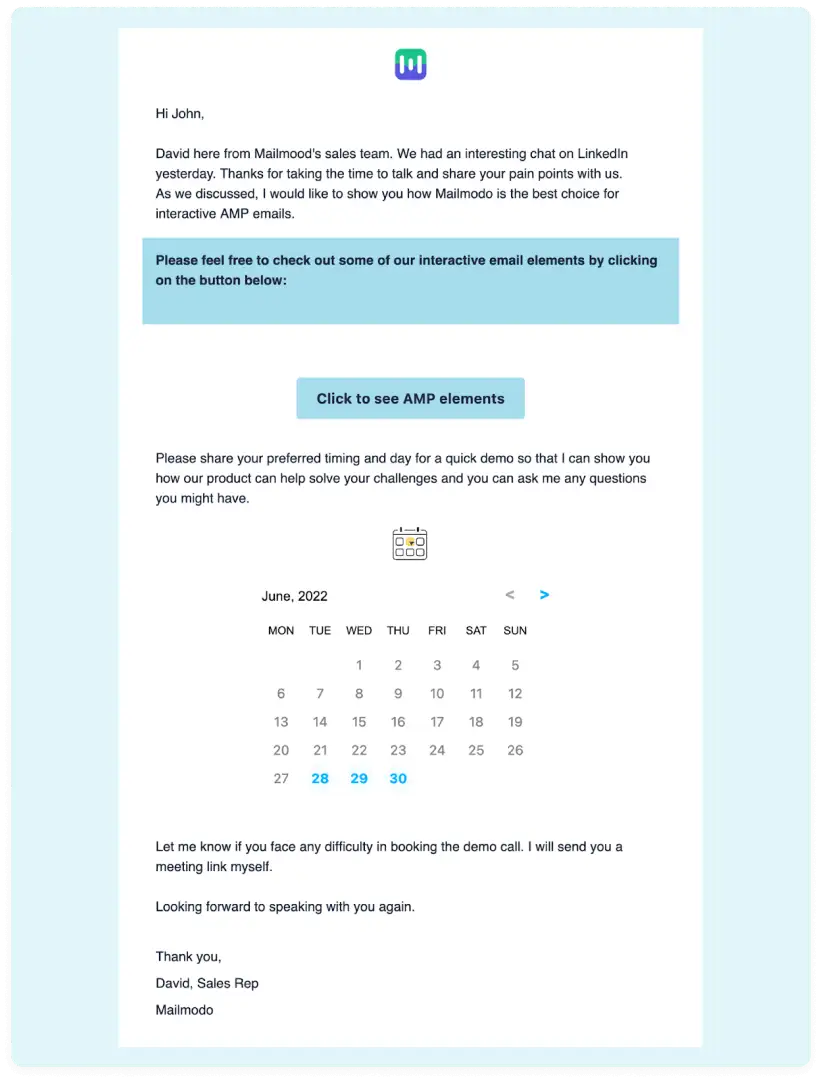 Best practices for creating email forms
When done right, companies have seen a phenomenal increase with email forms. Razorpay got 257% higher response to feedback forms and Mudrex increased registration for webinars by 280%. What can be done to see a similar boost in response to your email forms?
Here are some best practices to help increase email form responses.
1. Embed forms within the email body
Embedding forms in the email itself ensures an engaging, dynamic experience for the reader, resulting in increased responses to the email forms. While it is possible to code the form within the email, the process needs tech know-how. There are many tools and solutions available that help you create AMP forms with ready-to-use templatized content.
2. Create interactive forms
Segment the target audience. Use the information you already have to hyper-personalize the forms to create a more engaging experience for your readers. AMP emails can change the form as you proceed with your answers. Tailor your forms based on user inputs. Create custom survey paths with conditional logic. Add follow-up questions according to the context to get relevant data.
3. A/B test your forms
Always A/B test first. No matter how hard you strategize, always test it out for a smaller audience segment before you send it to everyone.
4. Export your form submissions with integrations
There is data, and there is information. Connect your form submission data with CRM software to make sense of all data that you collect without losing data integrity. You can export your submission data directly via spreadsheets from your campaign dashboard or integrate it with your other systems.
Related guide: How to Use a Customer Data Platform to Deliver Personalized Experiences
What is the best tool for email forms?
A solution that will help you easily implement all the best practices mentioned above would be the best tool for email forms. When evaluating the best tool for an email form, check out the must-haves mentioned below.
No coding knowledge is needed.

You should be able to create your own email template using our intuitive template editor.

Instead of a redirect button, create a form from the choice of interactive element blocks.

Seamless integration with CRMs, webhooks, and other peripheral systems using data.
Listed above are a few abilities that help solutions like Mailmodo to be the best option for your email form requirements.
Use Mailmodo to get more sign-ups
Mailmodo makes it easy to create interactive forms that can collect user data from the email itself. It is a solution used by industry leaders to achieve stunning results. It helps to reduce steps and boost your conversions. So do our surveys. Read how to get ample feedback and user-generated content using our customer satisfaction survey guide.
What you should do next
Hey there, thanks for reading till the end. Here are 3 ways we can help you grow your business:
Talk to an email expert. Need someone to take your email marketing to the next level? Mailmodo's experts are here for you. Schedule a 30-minute email consultation. Don't worry, it's on the house. Book a meet here.

Send emails that bring higher conversions. Mailmodo is an ESP that helps you to create and send app-like interactive emails with forms, carts, calendars, games, and other widgets for higher conversions. Get started for free.

Get smarter with our email resources. Explore all our knowledge base here and learn about email marketing, marketing strategies, best practices, growth hacks, case studies, templates, and more. Access guides here.