John: Gmail is the best because it integrates with Google Calendar and Meet flawlessly.
Rahul: I disagree. Samsung Mail is the best as you can perform essential tasks in the email notifications themselves.
Jessica: Nope. Outlook is the best since the enterprise-grade security of Microsoft backs it.
It is evident from the above conversation that different people have varying needs, so there can't be a single best email app for everyone.
That is why, in this guide, we will walk you through a list of the top 7 android email apps and show you what they do the best so you know each of their strengths and can make a choice accordingly.
Table of contents
7 Best android email apps free and paid to try in 2023
Here are some of the best email apps & clients you can use if you have an android device.
1. Gmail
Gmail is the most popular email app for Android. Designed by one of the best IT companies in the world, aka Google, Gmail is a powerful email client that also integrates with Google Workspace.
Write winning subject lines with our free ebook
Proven subject line framework to get higher opens
Features
Powerful spam filters that keep you safe from potential spam.

Security filters warn you in case of any suspicious material found in emails.

High-quality video calling with Meet and engaging conversations with Chat.

Easy to use as it has a clean and modern UI.

Easily add and sync non-Gmail accounts.
Pricing
Free plan for personal use.

For business use, you need to get a monthly subscription to Google Workspace, which has different prices like $1.67/user, $9.07/user, $17/user, etc.
If you use other Google products like Docs, Sheets, Meet, etc., you can opt for it as it makes your life easier by allowing you to collaborate and join Meet calls from the email app.
2. Samsung Email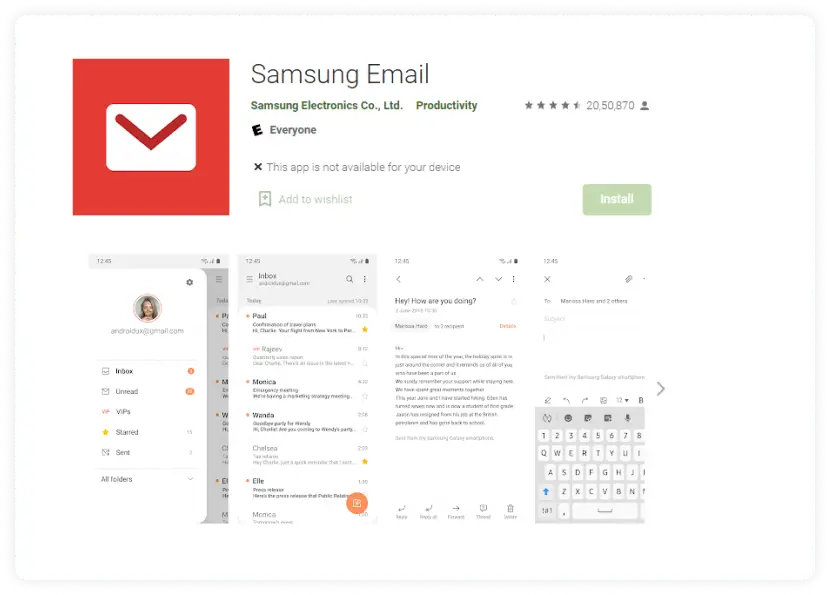 Being one of the most popular Android smartphone manufacturers, Samsung also built its email app, Samsung Email. However, one important thing to note is that Samsung Email is exclusively for Samsung users.
Features
Communication is secured with S/MIME encryption.

Support for emails of most email providers.

Quick actions such as mark as read, reply, and delete are doable from notifications.

Easily read related emails with conversation and email thread view.

Split-view to experience desktop-like UI.
Pricing
If you are a Samsung user who wants to experience interesting features apart from the must-have, Samsung Email may prove to be a great fit.
3. Outlook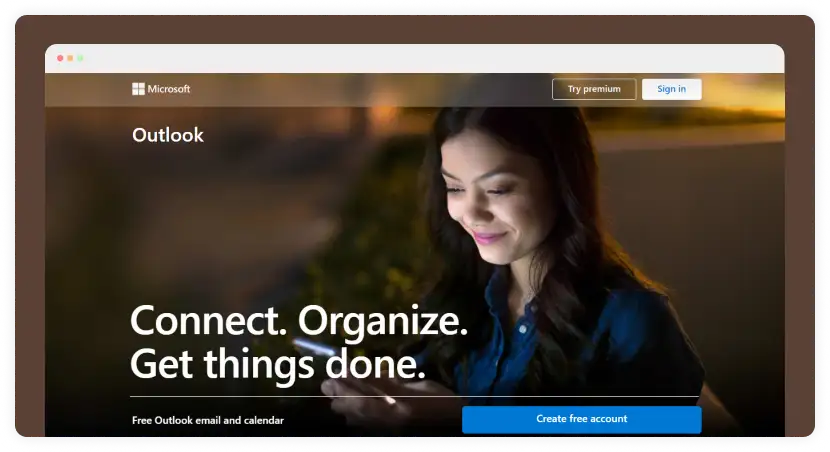 Being one of the favorite options for businesses, Outlook is known for its enterprise-grade security, even for its regular users. Outlook is full of business-friendly features, making it a go-to for many businesses.
Features
Calendar integration to organize schedules and meetings.

Advanced spam filters to prevent email phishing.

Works with Microsoft Exchange, Microsoft 365, Outlook.com, Gmail, and Yahoo Mail.

Access your contacts right from the inbox.

Folders and tags to organize your emails and keep your inbox clutter-free.
Pricing
If you are a business owner or even a regular user who wants security and integration with Microsoft softwares, Outlook is a great option.
4. Nine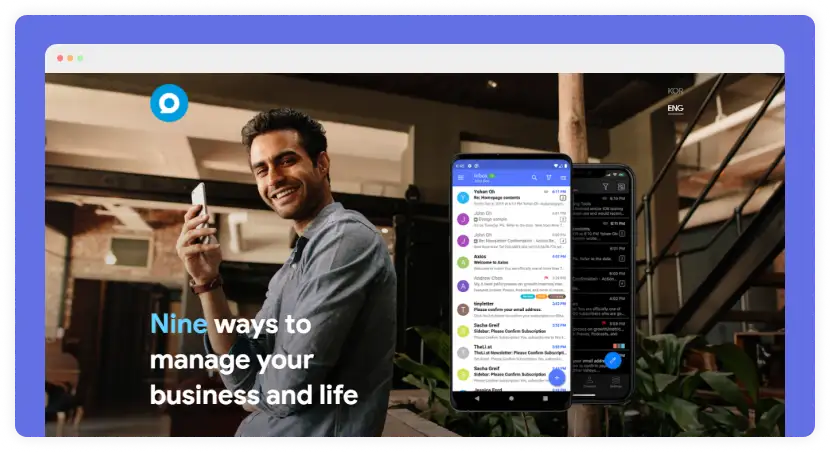 Nine is one of the best-paid email app for Android with a clear and clean interface. It suits individuals and businesses as it can support most email providers.
Features
Doesn't store your information on its servers (it doesn't have any) as the data is downloaded locally on your device.

Supports most email providers such as Gmail, Outlook, iCloud, Yahoo, etc.

Conversation mode is similar to a texting app rather than email threads.

A rich text editor to compose and style your email easily.

Swipe actions to perform common tasks such as Move, Archive, and Delete.
Pricing
$14.99 after a two-week free trial.
Nine is a great option to choose if you're concerned about privacy but don't want to miss the must-have features of an email app.
5. Spark Email
Spark Email will surely boost your productivity with its smart features. It is one of the best cross-platform email clients you can access from Android, iPhone, iPad, and Mac.
Features
Smart categorization into different categories so you can sort through emails easily.

Supports most email providers, including Gmail, Yahoo, Outlook, iCloud, Exchange, etc.

Sleek dark mode to browse through your emails in the dark.

Home screen widget to scan your emails without opening the app.

Uncommon features such as Pin emails, Undo, Send an email, Follow-up reminders, etc.
Pricing
Free plan with limited features.

Premium plan: $6.39 per user/month.

Enterprise: Custom pricing according to your needs.
If you spend a lot of your time in an email app and want to increase your productivity, Spark Email, with its smart features, can make you a productivity ninja.
6. K-9 Mail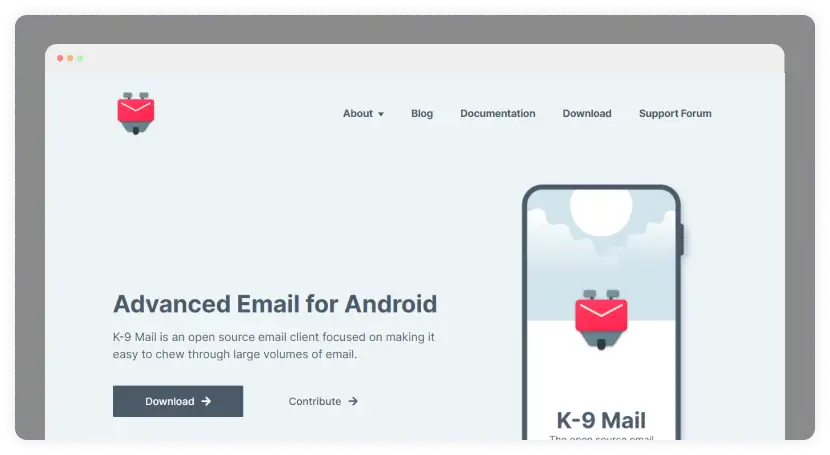 K-9 Mail is one of the most popular open-source email app for Android. It is also privacy-friendly, as you can see in its source code.
Features
Auto-sync easily syncs your emails from your email provider.

Add and manage multiple accounts to manage in a single place.

No trackers are used and only connect with your email provider.

OpenPGP email encryption to keep your data private.

Search your emails with local and server-side searches.
Pricing
If you need a basic email app with transparency on privacy, K-9 Mail is a great option.
7. Blue Mail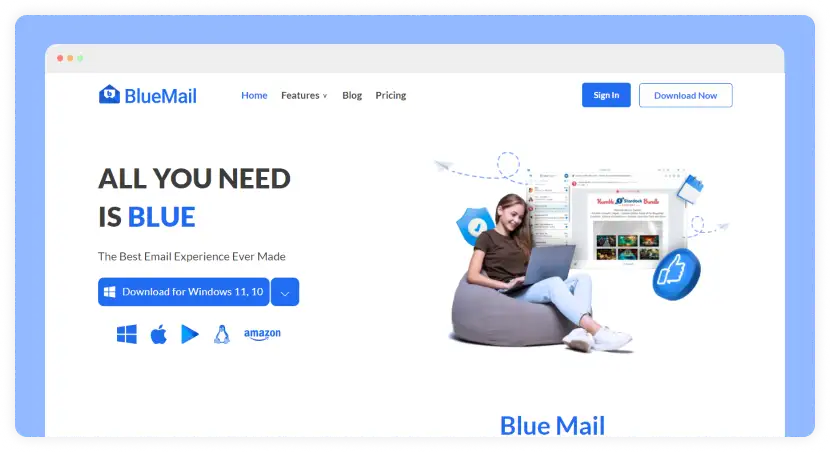 Blue Mail is beautifully designed and has unique features that make you productive.
Features
Find your friends, family, and customers in your inbox using People Switch.

Send emails to multiple recipients with Group Mail.

Integrated calendar to organize your schedule.

Dark mode to ease your eyes in the dark.

Industry-leading security with SSL and STARTTLS.
Pricing
Free plan for personal use.

Blue Mail provides two monthly business plans:

Business: $4.49/user.

Enterprise: $6.99/user.
Blue Mail is a great choice for people who need something modern that works across multiple platforms.
Get a sample AMP email in your inbox
Experience the power of interactivity right now
Wrapping up
The first step to choosing the best email app is determining your requirements. If you want a free email client yet with great spam filter capabilities, you may try Gmail. If you are a Samsung owner and want to try a Samsung-exclusive email app, Samsung Email is the way to go. If you are a Mac user, check out our guide to find out the best email clients for Mac.
What you should do next
Hey there, thanks for reading till the end. Here are 3 ways we can help you grow your business:
Talk to an email expert. Need someone to take your email marketing to the next level? Mailmodo's experts are here for you. Schedule a 30-minute email consultation. Don't worry; it's on the house. Book a meet here.

Send emails that bring higher conversions. Mailmodo is an ESP that helps you create and send app-like interactive emails with forms, carts, calendars, games, and other widgets for higher conversions. Get started for free.

Get smarter with our email resources. Explore all our knowledge base here and learn about email marketing, marketing strategies, best practices, growth hacks, case studies, templates, and more. Access guides here.