Picture this: Sipping your favorite latte at a cozy cafe on a quiet morning, you chat with the barista asking for a refill, and he recommends a freshly baked croissant that pairs perfectly with the coffee. As you finish it, you can't help but think about this pleasant dining experience.
This is how cross-selling works. Cross sell emails double up as that friendly barista, skillfully suggesting products that complement your customer's purchases from the past. In this guide, we'll explore cross-sell emails in detail with some examples from successful brands.
Table of contents
What are cross-sell emails?
Cross-selling identifies the opportunities where you, as a brand, could supplement your customers' purchases by providing them with relevant products or services that work as an add-on or accompaniment to their purchases.
For ecommerce businesses, cross-selling contributes to a significant increase in revenue. Having cross-sell emails in your marketing strategy helps increase revenue and retention.
Benefits of cross-sell emails
The following are some of the benefits of adopting cross-sell emails into your marketing strategy:
1. Increased sales
As brands, presenting complementary products to your customers will significantly increase sales. Through this, people seeking to buy one item go on a shopping spree, increasing revenue and sales.
2. Improved customer retention
Emails that cross-sell can help retain customers as they select additional products or services that complement what they have already purchased.
Cross-sell offers through your emails let your customers know that you cater to their diverse needs while providing additional value.
You can encourage customers to make repeat purchases with complementary products through cross-sell emails, which contribute to ongoing sales and customer retention.
3. Amplified customer satisfaction
Cross-sell emails are pivotal in amplifying customer satisfaction when tailored to the individual customer's preferences and past purchase history. In addition to demonstrating a deep understanding of their needs, you provide additional value to your customers by suggesting complementary items that enhance their purchase by reassuring them that the brand cares about their experiences.
4. Targeted personalization
Incorporating customer data and behaviors makes cross-sell emails a powerful tool to reach a targeted audience. Analyzing previous purchases and browsing history helps you segment their email lists based on customer preferences, which allows you to tailor cross-sell email to specific audience segments.
5. Competitive advantage.
Incorporating cross-sell emails into your marketing strategy gives your brand an edge in the marketplace. In addition to resonating with your audience, it sets your business apart as the strategy ensures that you as a brand meet customer needs and maximize revenue.
8 best cross sell emails examples
1. Backdrop
Backdrop is an excellent example of cross-selling. This is because gathering intel from the analytics help them gauge customer preferences and personalise their emails to feature product recommendations based on previous purchases.
2. Nike
Nike is the king of cross-selling in the athleisure segment. Similarly, as a reminder for cart abandonment, they have also bundled a few of the items to the liking of the user through analytics.
3. Dollar Shave club
For a good shave, it's mostly razor alone. But what about the products that work very well as an add-on? Thus,Dollar Club recommends many other products that go well with it. Add this to your cart and hit buy before it gets shipped.
4. Barnes and Noble
Everyone has a different taste in books. With ecommerce, book websites are constantly on the lookout and curate recommendations tailored to their preferences. Barnes and Noble usually send occasional emails to their customer with exclusive discounts.
5. Brooklinen
The choice of bed linen is a headache in itself. Because with bed linen we need to complement it with sheets, pillowcases and duvet. So Brooklinen has bundled their offers so you don't forget anything while buying everything you need.
6. Crate and Barrel
One of the main cross selling strategies is the post-purchase strategy.You can sprinkle relevant product recommendations tailored to the customer's tastes. Crate and Barrel are proactive in their recommendations.
7.Ralph Lauren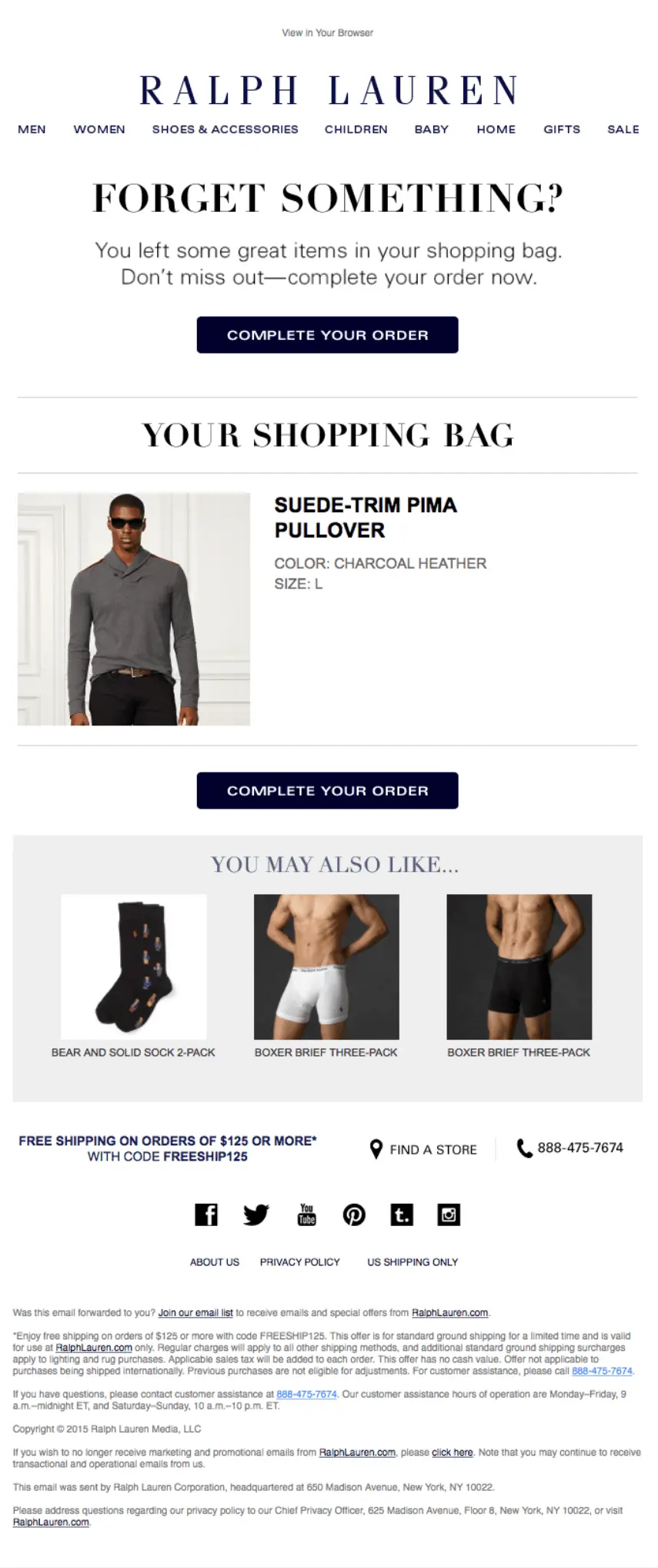 Ralph Lauren curated product recommendations based on customer's preferences. They view this as an opportunity for the customer to think about purchasing the relevant products. You can also use this with your order confirmation and replenishment reminders.
8. Mass Drop
Capitalize on the cart-abandonment emails where you can send your visitors reminders. While encouraging them to checkout, curate recommendations that they can add and checkout with the product.
5 tips for cross-sell emails:
Creating effective cross-sell emails is essential for boosting sales and enhancing the entire shopping experience for the customer. The following tips will help you enhance the whole shopping experience for your customers.
1. Offer Product bundles with exclusive discounts.
Create bundles of related products and offer exclusive discounts when customers purchase the bundle. Since product bundling often goes underutilized strategy for boosting average order values and sales margins. Highlight the added importance of buying the bundle together by giving them a view of the savings breakdown.
You could group the main products with accessories or similar products.
For instance, you can pair an evening dress with accessories such as earrings, bracelets, and shoes.
2. Limited-time offers
You can create a sense of urgency in your offer, encouraging people to take swift action. Because limited-time offers trigger the FOMO(fear of missing out), inclining customers to make quick decisions that ensure that they benefit from the offer before it expires. Also, exclusive offers with a sense of urgency help with customer retention as the customers feel rewarded for the purchase.
3. Suggest upgrades and accessories
As a customer buys a product, you can propose upgrades or compatible accessories that enhance their purchase. Reviewing sales data from repeat purchases helps identify the opportunities for making suggested upgrades. Great upsells are typically crafted from relevant products that sell well, making the offering much more valuable.
4. Replenishment emails
You can send a series of replenishment emails reminding a customer to reorder a consumable on the verge of running out. These effective sales strategies have the highest click-to-open rate of over 50%. With replenishment, you can hit the three elements most customers expect of a brand- anticipation, personalization, and staying relevant. It's a bit trickier to crack as to the time because people might use a product at different speeds.
5. Add Social Proofs:
About 70% of online shopping carts go abandoned as customers fail to follow up and hit the purchase button. Bringing these customers back to make the final clicks on items they're interested in can be seriously profitable.
To bring them back, don't stop by adding a reminder and a link; instead, boost conversion and stand out by being transparent with product ratings and reviews. This is the power that social proof asserts on people against creating a FOMO to check out before they miss out due to stock issues.
Takeaways
Cross sell emails are a powerful tool in your marketing arsenal as they significantly benefit the brand in various ways. Customers can supplement their purchases with relevant products or services, increasing sales and revenue while improving customer retention, amplifying satisfaction, and providing a competitive edge. Harness the potential of cross-sell emails to grow your business and delight your customers.
What you should do next
Hey there, thanks for reading till the end. Here are 3 ways we can help you grow your business: