More than 4 billion people use emails, and this number is expected to rise in the coming years. As a result, it becomes crucial to store and secure user information as a business owner. This is where email hosting comes into play.
Hosting emails can offer you security, enhance accessibility, build brand awareness and trust, and so much more. But you can reap these benefits only with the right hosting providers suitable for your business needs.
This guide will talk about must-have features and the seven best email hosting services you can choose from.
Table of contents
What is email hosting?
Email hosting refers to a server that hosts your emails and stores all the associated files. There are both free and paid to host services available, but the latter indicates better professionalism and provides more security.
Let's look at both free and paid hosting services.
Maximize your email performance with our free ebook
Optimize the right email metrics for higher ROI
What is the difference between free and paid email hosting?
Paid email hosting offers you many features and advantages over free plans. Let's understand both in detail:
Free email hosting
Free email hosting allows you to manage email accounts through webmail (POP) and email client (IMAP). Some free email hosting providers are Google's Gmail, Yahoo, Microsoft's Hotmail, etc.
Pros and Cons
✅ Have adequate file storage for small businesses and individuals.
✅ No need to commit or sign a contract.
❌ Weaker security measures.
❌ As an email address without a domain name doesn't create professionalism, the recipient might doubt your identity or authenticity.
❌ Less cloud storage for big businesses.
❌ It might show you irritating banners or advertisements.
Having paid or professional email hosting can offer many benefits over free plans. Let's discuss the features of paid email hosting services.
Paid email hosting
If your business has a huge audience size or storage requirements, it is recommended to go for a paid email hosting provider. Such a plan will fit the need of your growing business and offer you many advantages over free hosting:
✅ A personalized professional-looking domain name like yourname@mailmodo.com. Such email addresses help build brand identity, awareness and enhance your organization's credibility among users.
✅ More storage space.
✅ Robust antivirus and spam filters.
✅ No advertisements.
✅ IMAP/POP3 protocols.
Different kinds of email hosting
When deciding about email hosting, the first thing to clarify is how you will host your emails. Here are three ways to do choose from:
1. IMAP email hosting
IMAP stands for Internet Message Access Protocol. IMAP email hosting transfers all the emails to your server, but it doesn't get transferred to all the devices you have logged in to.
You can view, organize, and delete the emails stored on the server and decide which emails you want to transfer. That way, you can save storage across devices. Such email hosting is used by businesses.
2. POP3 email servers
It stands for Post Office Protocol 3 and is among the most common email hosting services. Internet services providers often give email accounts along with internet services.
With POP3 email hosting, all the incoming emails will get downloaded to your device. It allows you to access them even when you are offline.
The limitation of POP3 is that you can't access the emails on multiple devices, such as if emails are downloaded on your laptop, you won't be able to access them on your mobile phone.
3. Cloud email hosting
Cloud email hosting is affordable and best suited for small businesses or SMEs. Hosting emails on a cloud server offers many benefits like security, easy access to data, cheap upgrade, and no need to purchase hardware or software, reducing your cost.
Examples of cloud email hosting are G Suite by Gmail and Microsoft Exchange Emails by Microsoft.
What features should you look for in email hosting providers?
Here are some of the must-have features in an email hosting provider:
✅ Offers security
Your subscribers and clients have faith in your business and trust you with confidential information such as their details, financial information, etc. So, your hosting server must-have features like data security, anti-malware, anti-spam, and the likes.
✅ Flexibility and reliability
Email host providers must give you enough flexibility over your emails and associated files. Besides that, it should be reliable and must have a good reputation.
✅ Easy to access
You may access your email via different platforms that require different configurations. So, look for an email hosting provider that offers you access to webmail, IMAP, and POP.
Webmail - Webmail allows you to use a web-based email client, which is very convenient

IMAP - IMAP allows you to read your email from any device without downloading them.

POP - POP, on the other hand, requires that you download your emails before reading them.
✅ Not blacklisted
Having your IP address blacklisted can greatly impact your business activities, and it can take longer to get it non-blacklisted. For that reason, you should avoid email hosts with a reputation for getting domains on blacklists. Why? Because you may end up with a blacklisted recycled IP.
You can check an email host blacklist status on MxToolbox.
8 best email hosting providers to consider
Here is a list of 8 best email hosting providers that you can choose from:
1. Google Workspace
Google Workspace offers a suite of productivity tools like Gmail, Google Docs, and Google Drive, facilitating seamless collaboration and communication in the cloud. It provides businesses with professional email addresses and robust storage solutions for enhanced workflow efficiency.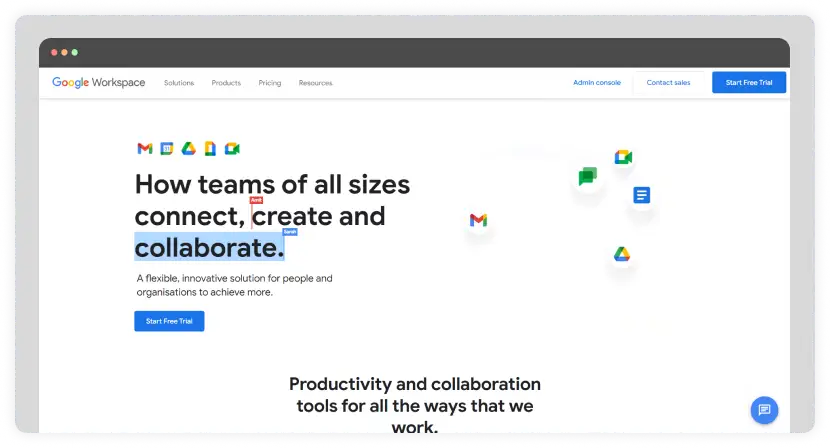 | Price | Attachment size limit | Storage |
| --- | --- | --- |
| Depending on the package, $6 to $18 per user per month | 25 MB | 30 GB to 5 TB |
Pros and Cons
✅ Easy integrations with the other Google Workplace suite like Google Drive and Sheets.
✅ Smart reply and compose features help you write emails faster and with fewer errors.
✅ IT support is not required to backup files.
❌ Higher per-user license costs.
2. Dreamhost
Dreamhost is a reliable web hosting provider known for its commitment to open-source software, offering user-friendly hosting solutions with a focus on website performance and security. Dreamhost caters to both beginners and experienced web developers.
| Price | Attachment size limit | Storage |
| --- | --- | --- |
| Starting at $1.67 per mailbox per month | Not applicable | 25 GB |
Pros and Cons
✅ Low cost most suitable for small businesses.
✅ Large inbox size.
✅ Offers free inbound spam filtering.
❌ The pricing structure of different plans can be unclear.
3. SiteGround
SiteGround is a popular web hosting company ensuring fast-loading websites and robust security features. It specializes in Wordpress hosting, WooCommerce hosting and reseller hosting.
| Price | Attachment size limit | Storage |
| --- | --- | --- |
| $4.99 to $14.99 per month | Not applicable | Unlimited |
Pros and Cons
✅ Unlimited inbox size.
✅ 24/7 customer support.
✅ Amazing customer reviews.
❌ Doesn't provide email hosting exclusively.
4. Neo
Neo is an email platform that provides business email accounts that matches your brand and powerful tools to help grow your business.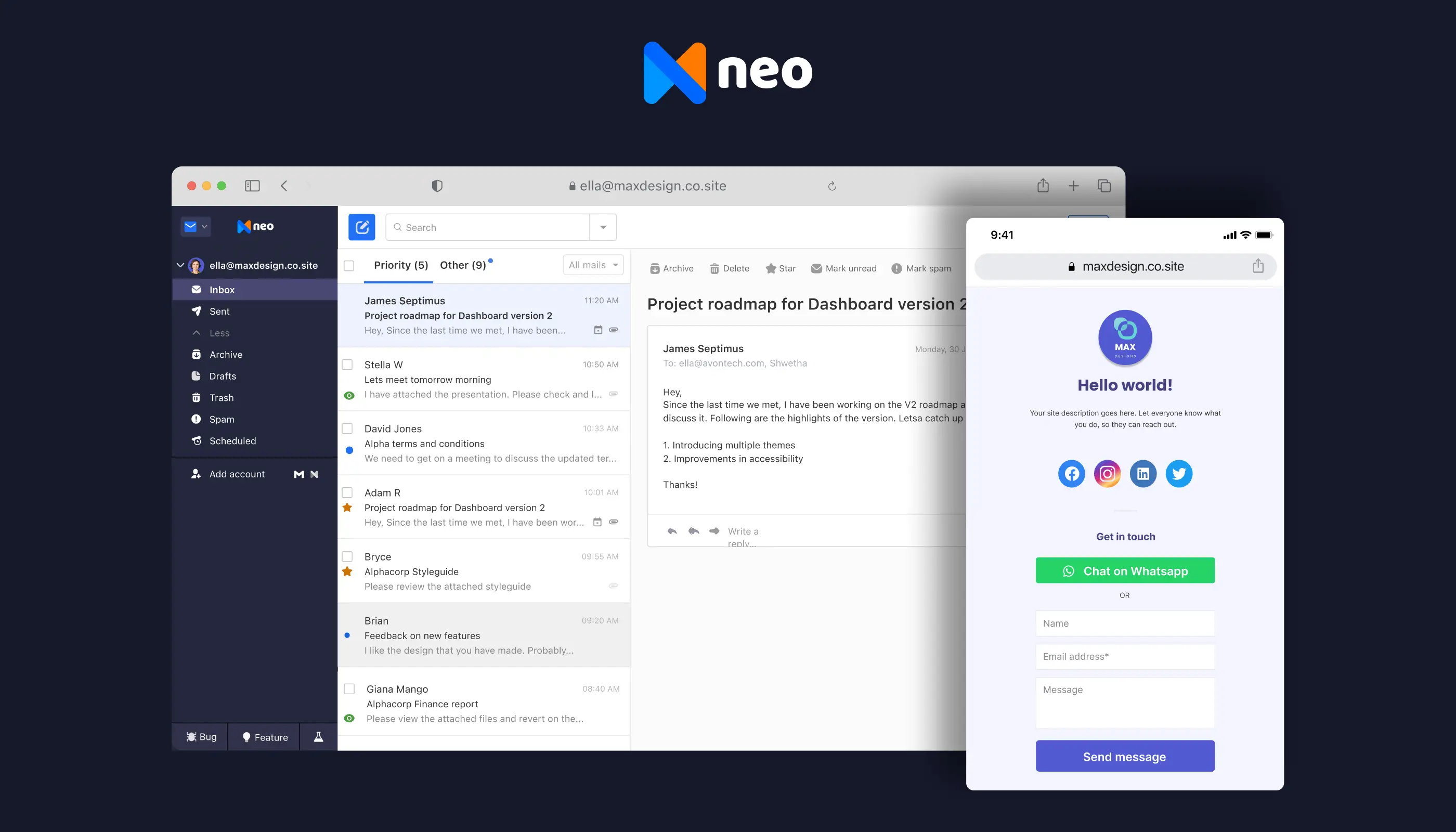 | Price | Attachment size limit | Storage |
| --- | --- | --- |
| Starting at $1.99 per user per month | 30 MB | 10 GB to 50 GB |
Pros and Cons
✅ A complimentary co.site domain and single-page website available.
✅ Compatible across all desktop and mobile devices.
✅ Includes features purposefully created to aid in the success of small businesses.
❌ The email service cannot be accessed offline.
5. A2 Hosting
A2 Hosting is a high-performance web hosting provider known for its developer-friendly features, making it an excellent choice for those seeking optimized website performance. It offers a range of hosting options, including shared, VPS, and dedicated hosting, with an emphasis on reliability and speed.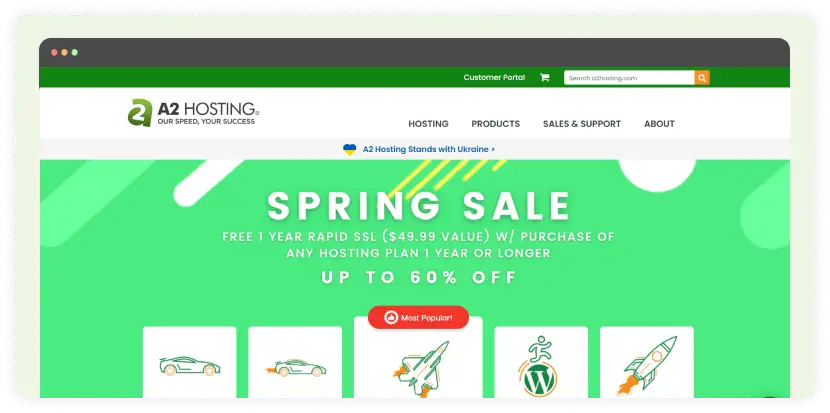 | Price | Attachment size limit | Storage |
| --- | --- | --- |
| Shared hosting to Dedicated server - $2.99 to $129.99 if you opt for a 36-month plan | Not applicable | 100 GB to unlimited (depending on the package) |
Pros and Cons
✅ Unlimited inbox size.
✅ Complete protection against email spam.
✅ Offer a money-back policy.
❌ Email hosting is available only in combo with web hosting.
6. Zoho Mail
Zoho Mail is a secure and user-friendly email hosting service, suitable for businesses looking for professional email solutions with features like integrated calendars and task management. It provides domain-specific email addresses and ensures data privacy through robust encryption and spam filters.
| Price | Attachment size limit | Storage |
| --- | --- | --- |
| $1 to $4 per user per month | 250 MB to 1 GB | 5 GB to unlimited |
Pros and Cons
✅ Send attachments up to 1 GB in size.
✅ POP and IMAP access.
✅ Easy integration with Zoho's optional business productivity apps.
❌ Spam filtering is limited.
7. Hostinger
Hostinger is a web hosting provider offering solid performance and a user-friendly control panel. It's known for its competitive pricing, making it an attractive option for individuals and small businesses seeking reliable hosting services.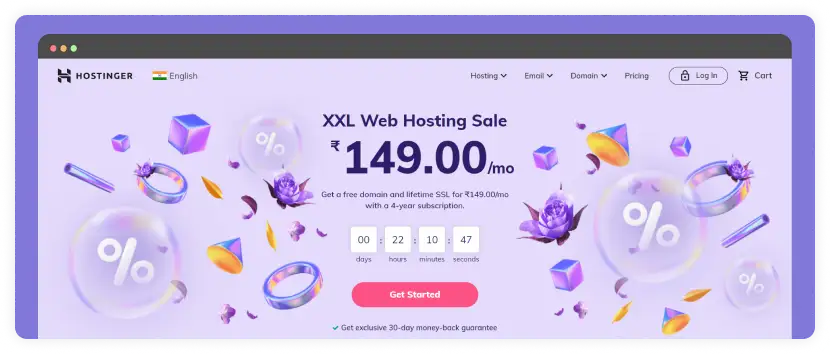 | Price | Attachment size limit | Storage |
| --- | --- | --- |
| Business email - $0.99/month USD | Not applicable | 10 GB |
| Enterprise email - $2.49/month USD | Not applicable | 30GB |
Pros and Cons
✅ Inexpensive and best suited for small business email hosting.
✅ Unlimited email accounts & forwarders.
✅ 30-day money-back guarantee.
❌ No traditional cPanel.
8. Bluehost
Bluehost is a reputable web hosting company recommended for its WordPress hosting solutions, providing users with a reliable platform and 24/7 customer support. It offers a range of hosting plans, domain registration services, and user-friendly website-building tools, making it a go-to choice for many bloggers and small businesses.
| Price | Attachment size limit | Storage |
| --- | --- | --- |
| Basic - $4.95/month | Not applicable | 100 MB per account |
| Plus - $7.45/month | Not applicable | Unlimited |
| Choice plus - $7.45/month | Not applicable | Unlimited |
Pros and Cons
✅POP3 and IMAP4.
✅24/7 support.
❌ Poor backup options.
Get a sample AMP email in your inbox
Experience the power of interactivity right now
Make the right decision
Choosing a hosting email service can be difficult as a wrong decision can affect your email performance and other marketing operations. The services mentioned above are among the best and offer you many features and plans you can choose from.
Besides, every business is different, and so is their requirement. Hence, we suggest you look at your industry, existing IT environment, inbox and attachment size requirements, feature requirements, and more to make your decision.
What you should do next
Hey there, thanks for reading till the end. Here are 3 ways we can help you grow your business:
Talk to an email expert. Need someone to take your email marketing to the next level? Mailmodo's experts are here for you. Schedule a 30-minute email consultation. Don't worry, it's on the house. Book a meet here.
Send emails that bring higher conversions. Mailmodo is an ESP that helps you to create and send app-like interactive emails with forms, carts, calendars, games, and other widgets for higher conversions. Get started for free.
Get smarter with our email resources. Explore all our knowledge base here and learn about email marketing, marketing strategies, best practices, growth hacks, case studies, templates, and more. Access guides here.