Segment your email list for better targeting & personalization
What will this help you with?
Sending only relevant emails to subscribers to improve the subscriber experience.

Being able to personalize the content of the email for each subscriber
How to segment your email list?
You segmented contacts into active and inactive users as part of yesterday's task. Today, we will focus on segmenting your list based on demographic (age, gender, etc.), geographic (city, country, etc.), or psychographic (interest, lifestyle, etc.) parameters.
Here's how you can do this. You can learn more about audience segmentation in this guide here.
If you do not have user data on age, gender, country, interests, etc., you can collect this via surveys, preference centers, data enrichment tools, CRMs, welcome emails, lead magnets, etc.

Once you have the required data, segment your list based on what is important for your brand.
💡 Here are some ideas to get you started-
Segment users as per their timezone to ensure they receive newsletter and other emails during their respective business hours.
Segment our users based on their industry to avoid sending them irrelevant content. For example, we send PLG-related content only to SaaS folks and not e-commerce folks using such industry segments.
You can also classify based on age, gender, etc. A typical use case is sending emails with baby-related products to new moms.
Once you process the required filters, add back the data to your ESP in different lists to send out targeted emails that are specific to each segment for your next campaign.
How can you segment your contacts in Mailmodo?
⚡️ Mailmodo allows you to import contact property data from1000+ tools using CRMs, integrations, Zapier, API, CSV import, etc. Once you have got this data into Mailmodo, here's how you can create specific segments based on these contact properties.
On your Mailmodo account, go to the contacts page and click on 'Create Segment'.

Enter the segment's name and choose a list of contacts you want to segment.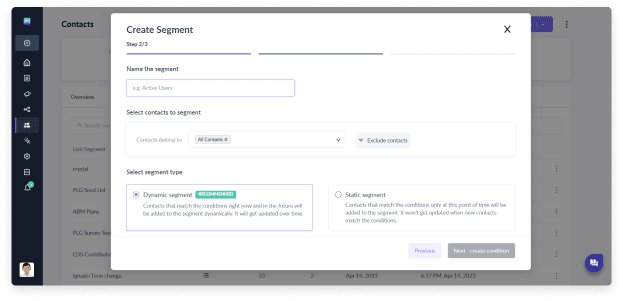 Mailmodo allows you to create static (doesn't update in real-time) and dynamic (updates in real-time) segments. Choose a dynamic or static segment as per your requirement.

Select user property, email campaign activity, or custom events based on how you want to segment your list. Read more about creating email segments in Mailmodo here.

Once you have created the segments, you can send targeted bulk campaigns to these lists in minutes.
What you should do next
Hey there, thanks for reading till the end. What now?
Complete the task with Mailmodo Take action and complete the task to improve your email performance using Mailmodo. Try it for free for 21 days.

Join the challenge If you want to get daily emails with actionable tasks with step-by-step instructions to stay motivated to improve your email performance then register for the the challenge here.

Need some help? If you have any questions about the task, ask us on our Slack community and get answers from experts. Join the community here.
Complete the tasks and improve your email performance using Mailmodo
Take the 21 Day Email Performance Challenge
In association with
Samar Owais
Email Strategist and
Conversion Copywriter