Build an active and inactive contact list
Now that you have a clean list of valid email addresses, you can segment your list to find your active and inactive users based on email engagement.
What will this help with?
Have a list of active users to send the first set of emails of a campaign for better inbox placement.

Get a list of inactive users to build a strategy to activate them.
What is an active and inactive contact list?
An active contact list is a list of subscribers who regularly interact with the emails they receive from your brand.
An inactive contact list is a list of subscribers who have not opened or clicked your emails in the past.
💡 Note that the definition of active and inactive varies a lot depending upon the period you are monitoring for activity (eg. 30 days, 90 days, 1 year, etc.)
How to segment users based on engagement?
To create active and inactive lists you need to create rules/criteria for active and inactive segments and apply it on your existing contact lists. Here's how you can do that.
1. For inactive contact list - Define a time duration after which you call a contact active or inactive if there is no acitivity. This time will be defined by your marketing strategy or brand/product. Usually, marketers use a 90 day window as the threshold. Create a list based on this. These are your inactive contacts.
Here's an example - a brand "Acme" defines 90 day as the threshold for inactivity. Any contact that hasn't opened even a single email in the last 90 days is labelled inactive.
2. For active contacts - Next, define the active contacts criteria depending on how often and how recently contacts interact. You need to define an open/click/submission threshold as well as a window of time to measure it in.
The brand "Acme" for instance, uses a 30-day window to define active users. Any contact who has opened at least 50% of the emails in the last 30 days are defined as super-active.
You will now have three lists – active, inactive and the rest of your contacts.
💡 Tips: ◾️ Always try to send the first set of emails of a mass campaign to the active contacts. These folks will engage with your emails and hence help improve domain reputation for better inbox placement.
◾️ Build a win-back email strategy aroung the inactive contacts after a thorough data analysis of why they became inactive.
How to segment users based on engagement in Mailmodo?
⚡️ Mailmodo's pre-built dynamic segments make it easier to segment your contacts without having to filter and sort contact lists manually. You can create segments based on specific custom criteria for active or inactive. Or you can use pre-built active and inactive segments without much ado. Below is how you can do this.
To segment your contacts based on engagement in Mailmodo, go to contacts and select 'Create Segment'.

Select the preferred pre-made segment from the available options.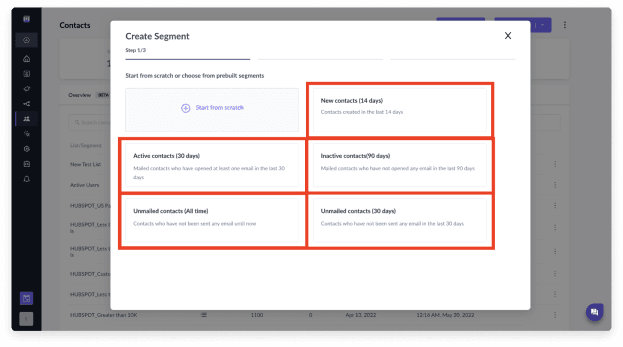 You can select the "Active contacts" or "Inactive contacts" segment and tailor the pre-filled information based on your requirements.

Click on create segment at the bottom, and you are done!

Once these segments are created, they will get updated dynamically.
What you should do next
Hey there, thanks for reading till the end. What now?
Complete the task with Mailmodo Take action and complete the task to improve your email performance using Mailmodo. Try it for free for 21 days.

Join the challenge If you want to get daily emails with actionable tasks with step-by-step instructions to stay motivated to improve your email performance then register for the the challenge here.

Need some help? If you have any questions about the task, ask us on our Slack community and get answers from experts. Join the community here.
Complete the tasks and improve your email performance using Mailmodo
Take the 21 Day Email Performance Challenge
In association with
Samar Owais
Email Strategist and
Conversion Copywriter