April is the perfect time to freshen up your newsletters and captivate your readers with engaging content. As April is the month of Ramadan and Easter, you can engage with your audience to the fullest with your newsletters. This guide explores various April newsletter ideas to work on this Spring season.
Table of contents
Special days in April
April has many special days, like World Health Day, Dance Day, and more. You can create a newsletter for your niche/industry on any relevant day. Here's the list:
| Event | Date |
| --- | --- |
| Ramadan | March-April |
| Easter | March-April |
| April Fool's Day | 1st April |
| World Autism Awareness Day | 2nd April |
| World Health Day | 7th April |
| World Heritage Day | 18th April |
| World Earth Day | 22nd April |
| International Dance Day | 29th April |
5 April newsletter ideas to try this spring
Ramadan and Easter are the highlights of April. You should start to send newsletters in March and continue till April. Apart from that, there are several spring newsletter ideas that you can work on during April.
1. Plan an Easter game
Type: Newsletter
Best for: B2C, D2C
During April, you can plan a game like an Easter egg hunt on your website/app and inform your customers about the same in your April newsletter. You can gamify your emails with interactive emails so your customers can play games in the email itself. You can also offer discounts or gift cards as a reward for engaging with your emails.
Here's an example of this type of newsletter: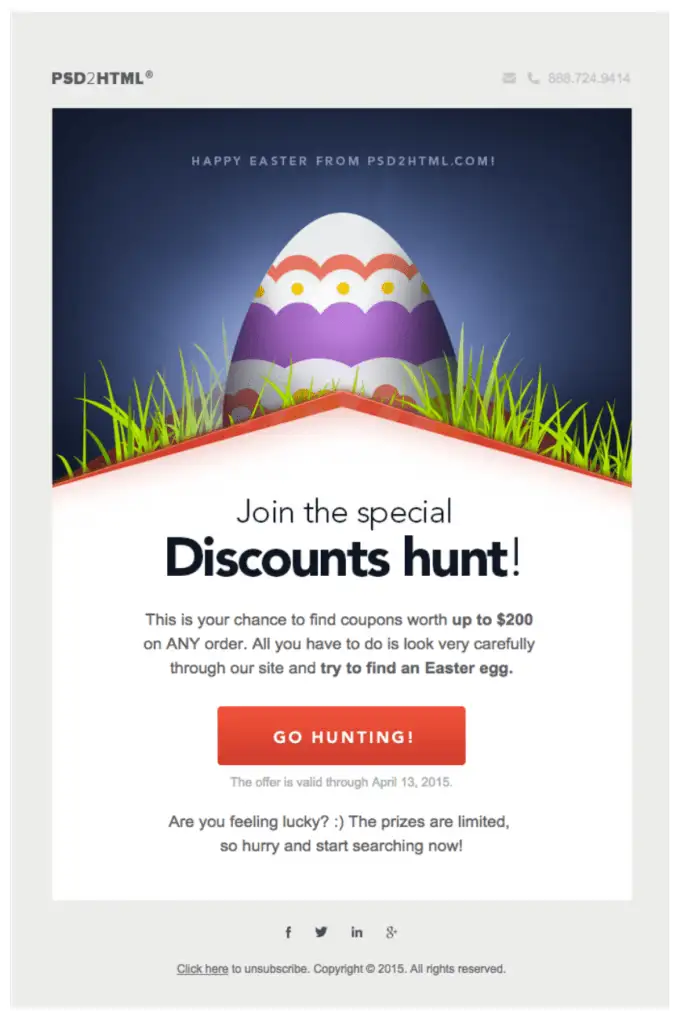 Source: Brevo
To try gamification in your newsletter, try out this Mailmodo Whack-A-Mole template.
2. Send discount emails for Ramadan and Easter
Type: Campaign
Best for: B2C, D2C
Festive months like April are the best time to boost your sales. Especially Ramadan and Easter, where you can send discount emails related to the respective festival. You can make these festive emails special by sending them a week before so customers can receive the package before the festival.
Try out this Ramadan email template to offer promotions and discounts to your customers.
Get this 2023 Marketing Planner
Plan out the year with creative marketing ideas!
3. Feature summer-related products
Type: Campaign
Best for: B2C, D2C
As April arrives and summer is approaching, it's the best time to feature summer-related products in your newsletter. For example, if you are an apparel store, you can feature your newest summer collection and link to your website in your newsletter to get more sales. Here is an example of this type of newsletter: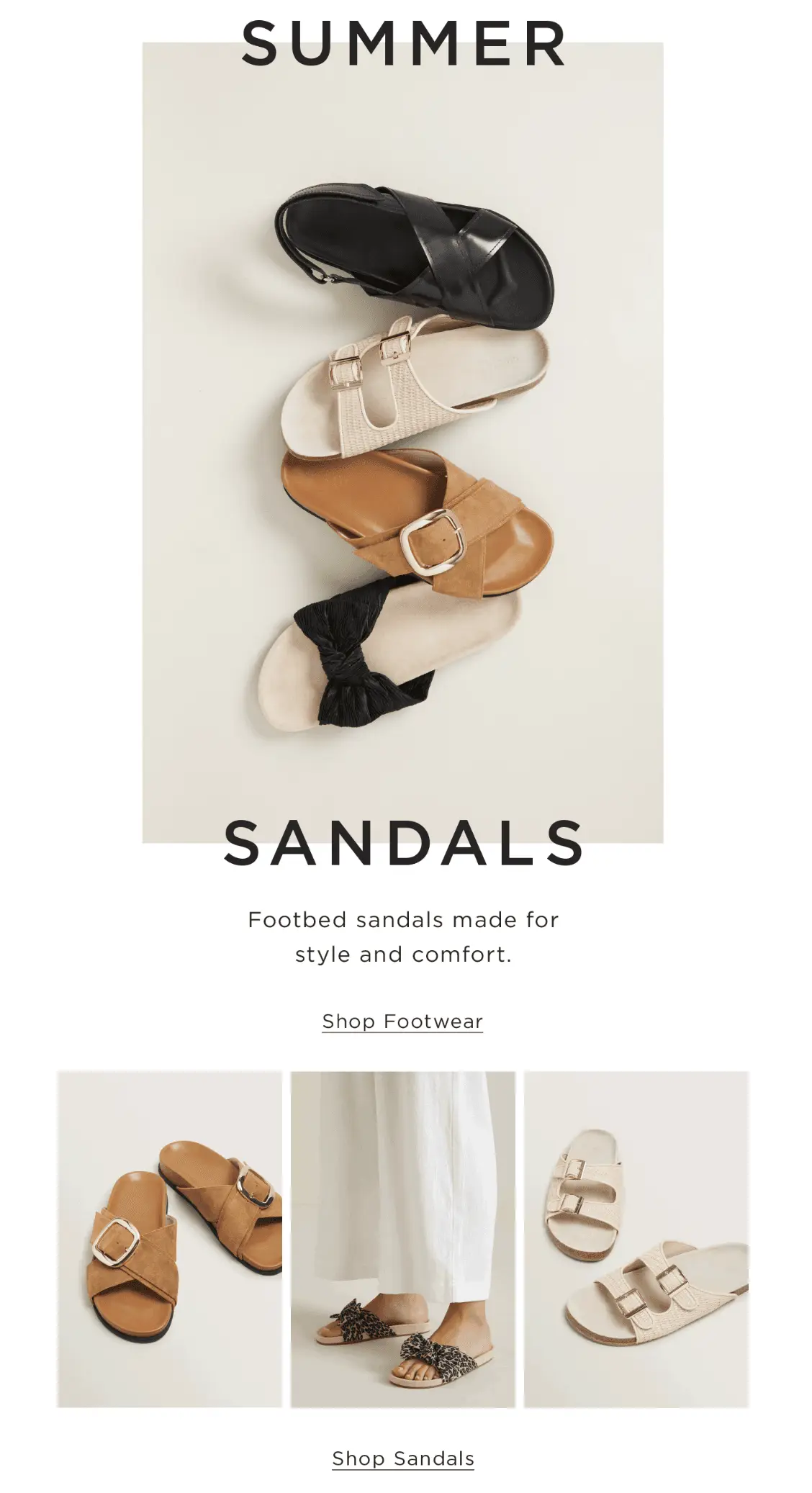 Here's a sample newsletter template to try out this idea.
4. Promote sustainability
Type: Newsletter/Campaign
Best for: B2B, B2C, D2C
As World Earth Day falls on 24 April, you can utilize this day to spread awareness about sustainability. If you already have Eco-friendly, sustainable or vegan-friendly products, that's even better. You can make the audience aware of this subject and ask them to opt for eco-friendly and sustainable products to make the Earth a better place.
An example of this type of newsletter would be:

Source: Mailcharts
Try out this similar Earth Day template from Mailmodo.
5. Start to market around Mother's Day
Type: Campaign
Best for: B2C, D2C
Although Mother's Day falls in May, your April should include gift guides, ideas, and promotions since most people plan gifts and orders. Here's an example of this type of newsletter:

Source: Uplers
You can use a Mother's Day template by Mailmodo to create this kind of newsletter.
Takeaway
Here's a Marketing Calendar 2023 by Mailmodo to help you plan your email marketing throughout the year.
These were some useful and creative April newsletter ideas for your audience. For festivals like Ramadan and Easter, make sure you send a newsletter beforehand or a week before so that people can benefit from your products. You can also add Spring or summer themes to lighten your April newsletter. Happy emailing!
What you should do next
Hey there, thanks for reading till the end. Here are 3 ways we can help you grow your business: