Do you wonder whether there is a way to keep your email server running smoothly without many crashes? Or how about knowing how many of your emails end up in spam and ways to avoid it?
If you want not just to imagine it but make it happen in real life, you must learn email monitoring. When you understand and implement email monitoring in your mail servers, you can troubleshoot many problems, saving time and money.
So let us tell you the email monitoring basics and 5 useful email monitoring software to make your tracking process easy.
Table of contents
What is email monitoring?
Email monitoring is the process of looking up email servers and email transmission to ensure there aren't issues related to security, storage, users, etc. This is a method to find and troubleshoot email-related problems on mail servers. This helps you increase your deliverability and avoids common problems like having a high spam rate.
You can do email monitoring when you see frequent crashes on your SMTP. This is also helpful when some of your users aren't receiving your emails, and you want to fix such an issue.
Why is email monitoring important?
Here are the top reasons why you should do email monitoring.
Secure emails: Spam filters dislike emails that aren't encrypted or secure. So successful email monitoring ensures that your emails are secure for your customers.

Send bulk emails: Email monitoring also helps you in the smooth sending and receiving of high-volume emails by showing you the capacity of your SMTP server so you can adjust your sending volume accordingly.
Related guide: Email Blast Guide – How to Do It the Right Way With Best Practices
Troubleshoot emails: Email monitoring helps you determine problems like low email delivery speed, security risks, handling problematic accounts, etc., so you can fix them quickly before they do too much damage.
Maximize your email performance with our free ebook
Optimize the right email metrics for higher ROI
How does email monitoring work?
Before understanding email monitoring, we've to understand the email delivery process.
When you send an email, your SMTP server, which is like your local post box office, takes that email and initiates the email transfer. Then an internet-based mail delivery agent assigns that email to the right email address. Then finally, the user will receive that email with the help of Post Office Protocol (POP3) or Internet Message Access Protocol (IMAP) protocols.
POP and IMAP are nothing but ways to view your emails. IMAP will allow you to see emails stored on servers. In contrast, POP will allow you to download emails to your local machine.
So now, let's understand how email monitoring works.
In the initial transfer stage, it tells you the capacity of your SMTP so you can adjust your email volume accordingly to avoid crashes.

The internet-based mail delivery agents need to deliver emails at a certain pace. So email deliverability tools help in identifying spikes in email volume.

Finally, when receiving the email, email monitoring software helps you ensure the mail servers are available to avoid delays in email communications.
To make the email monitoring process super easy, we have compiled a list of the top 5 email monitoring software you can use in 2022.
Top 5 email monitoring software in 2022
Here is our list of top email monitoring software for 2022.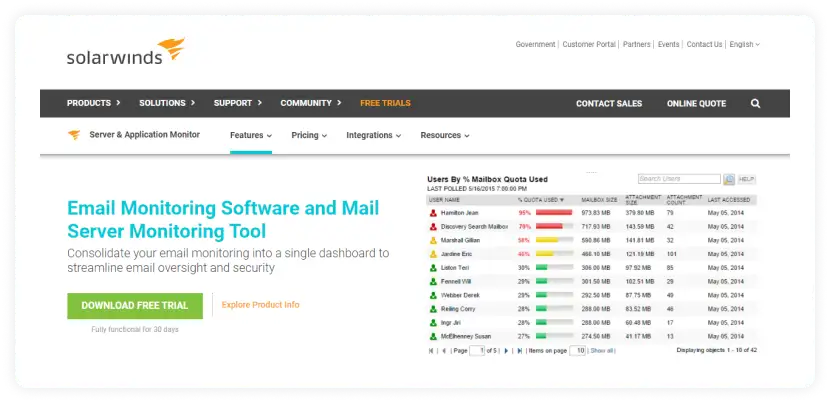 Features
Email server performance monitoring from an end user's perspective.

Plan for mailbox database capacity with a mail monitor.

Troubleshoot email issues with mail server monitoring tools.

Speed email monitoring with automated alerting.

Predict future capacity issues with mail server monitoring.

Set custom alerts for you and end-users with the mail monitor.
Get a sample AMP email in your inbox
Experience the power of interactivity right now
Pricing
30-day free trial.

Starts at $1,663.

Subscription and Perpetual Licensing options are available.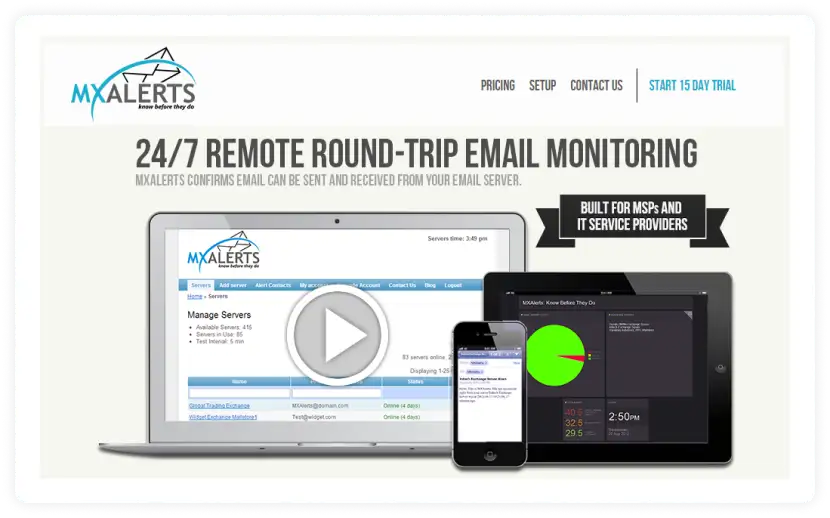 Features
Automatic reporting if something isn't right with your server.

Get notified of any delivery delay issues.

Detects if your emails end up in spam.

Get frequent reports since it sends emails to your server every few minutes to check its health.
Pricing
15-day free trial

Server 0-1: $12/each/month

Server 2-10: $5/each/month

Server 11-30: $3/each/month

Server 31+: $1/each/month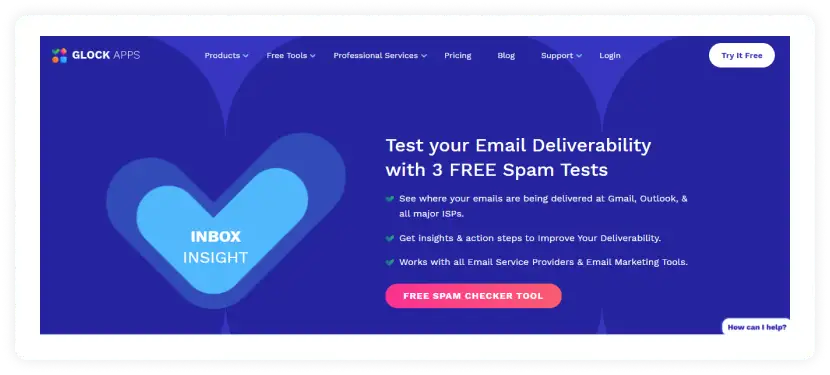 Features
Test every email client with GlockApp's testing tools.

You will get notified if your server or IP gets blacklisted on any databases.

Helps you prevent email and website downtime.

Practical insights into improving your email deliverability.

Helps you detect phishing and spoofing attacks.

Helps you monitor your authentication records.
Pricing
Personal: Free

Basic: $59/month

Business: $99/month

Custom pricing available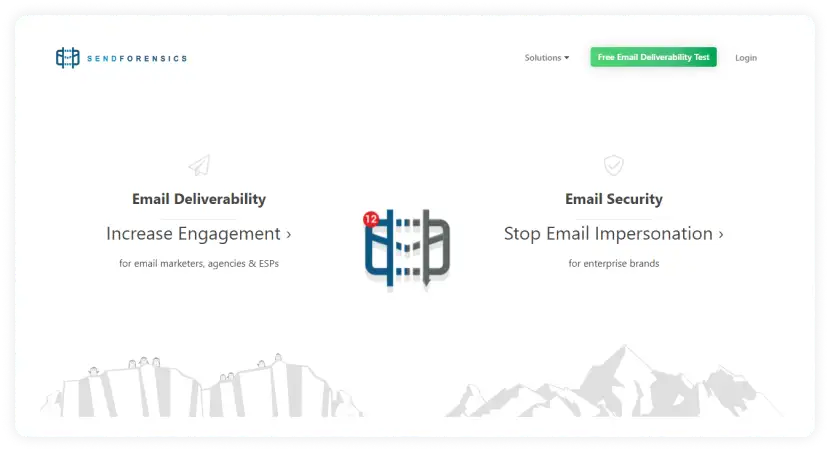 Features
Gives you your deliverability report when you send example emails to it.

Helps you test your infrastructure with deliverability-enhancing developments.

Pre-send optimization tools to optimize before sending.

Post-send optimization tools to optimize after sending.

Helps you stop email impersonation.
Pricing
Solo user: Free

Brand: $39/month

Company: $63/month

Agency: $159/month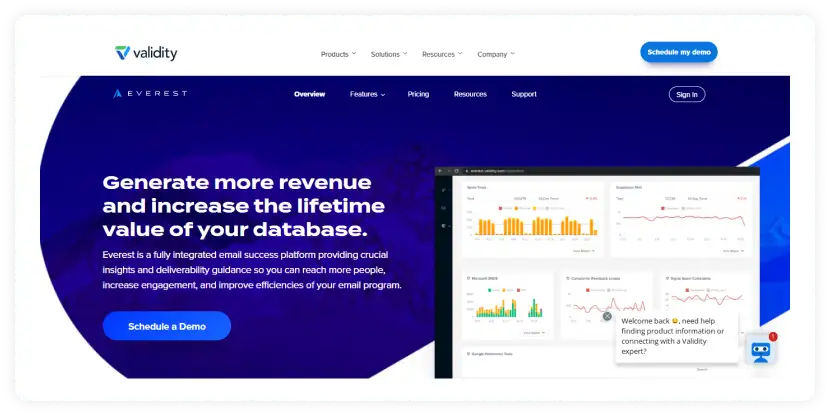 Features
Helps you get visibility of your email marketing metrics and sender reputation.

Helps manage your database in a single unified platform.

Find problematic addresses with integrated list validation.

Optimize sending time with View Time Optimization.

Customizable alerts that provide information about your campaign data.
Pricing
Elements: $20/month

Elements Plus: $525/month

Professional: Custom pricing

Enterprise: Custom pricing
Takeaways
You can't go far without monitoring your email performance. You must constantly monitor their deliverability, spam rate, CTR, etc., and iterate upon them to see accelerated returns.
However, did you know that Google has an email monitoring service that you can use to accurately measure your domain and IP reputation, spam rate, deliverability rate, etc.? Read our guide on Google Postmaster to understand how the tool can help you improve your email performance.
What you should do next
Hey there, thanks for reading till the end. Here are 3 ways we can help you grow your business:
Talk to an email expert. Need someone to take your email marketing to the next level? Mailmodo's experts are here for you. Schedule a 30-minute email consultation. Don't worry, it's on the house. Book a meet here.

Send emails that bring higher conversions. Mailmodo is an ESP that helps you to create and send app-like interactive emails with forms, carts, calendars, games, and other widgets for higher conversions. Get started for free.

Get smarter with our email resources. Explore all our knowledge base here and learn about email marketing, marketing strategies, best practices, growth hacks, case studies, templates, and more. Access guides here.