ConvertKit was founded in 2013 that caters to professional creators, bloggers, and solopreneurs. It's famous for allowing its audience to grow its email list and generate revenue via paid newsletter services and digital product selling.
It quickly became the creator's go-to ESP with its continuous iterations and product enhancement. But despite all the features ConvertKit offers, is it worth the pricing? Let's find that out.
In this ConvertKit review, I discuss its features, pricing structure, and pros and cons based on my experience and user reviews.
Table of contents
What is ConvertKit?
ConvertKit is an email marketing tool for creators that offers advanced automation features with emails and a landing page builder. The tool is focused on helping these creators generate money by monetizing their newsletters or selling digital products. It has paid newsletter subscription, tip jar, and digital product selling features.
Recently, ConvertKit also announced the launch of a new feature, Creator network, allowing different creators to collaborate to grow their email list.
What are ConvertKit's core features?
Here are some of the notable features of ConvertKit with what I liked and disliked about each feature:
1. Email newsletter builder
Email template builder is simple and offers many customization options. For instance, you can embed a video link, and it will get converted into a 10 seconds GIF, plug in your product, or a countdown timer. You also get 20 pre-made email templates that are easy to customize. Many of these are text-heavy templates, while others have images as well.
On the downside, the design flexibility is limited.
It seems you can add images with certain dimensions to fit within the frame, as some images get cut off, and there is no option to fix that.
It gets confusing as there is no clear distinction whether you are updating the spacing or font size of a particular section or the entire email.
There is no option to copy or duplicate a section if you wish to use sections with similar layouts and spacing.
No preview or test option in the email editor.
One interesting feature is reusable content blocks like header or footer blocks which other ESPs offer in their product. But, ConvertKit lets you create your own and add them to any email template you want. It can be a CTA block, question block, event registration block, etc.
Currently, you need to go to send > snippet and create a snippet. Once you have these snippets, you go to the templates and add them to whichever one you want.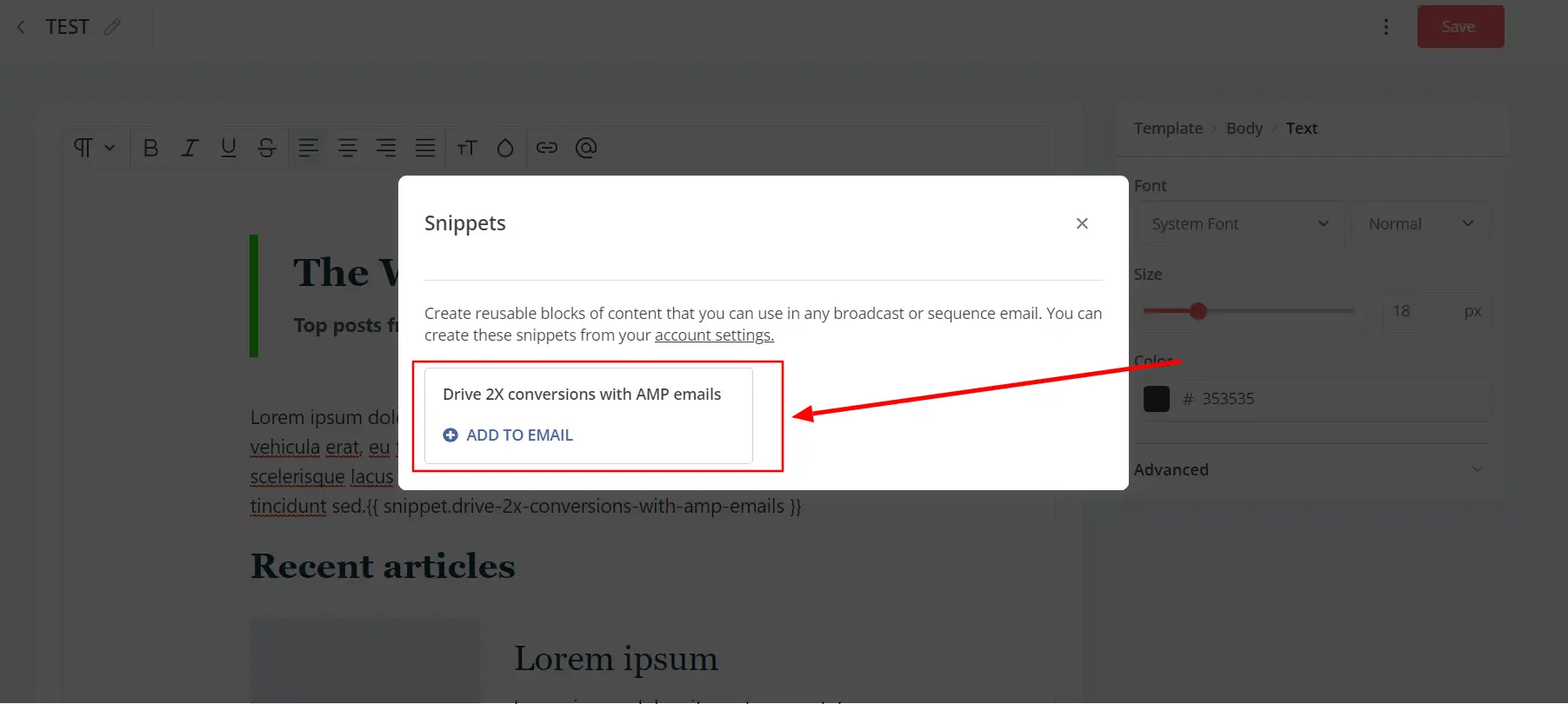 2. Email automation builder
ConvertKit's automation builder has multiple trigger options, events, and actions to create targeted email workflows. They have 4 trigger options (or entry points) to start the sequence, which is as follows:
Joins a form

Is added to a tag

Custom field

Purchase something
You can add up to 5 entry points and trigger the same or different emails for each entry point. It's a pretty interesting feature, as you can target users entering through different mediums with the same email.
Another cool part is ConvertKit has pre-made automation workflows in-product of a unique feature. You'll find pre-made workflows for new album releases, paid newsletter promotion, email list growth with Sparkloop, and many more.
3. Landing page and form builder
ConvertKit offers a signup form and landing page builderto help collect email addresses and grow your email list. The builder is fairly basic and offers in-product images from Unsplash and your Instagram profile. It's useful if you want to create a basic landing page and embed a signup form, but if you want to create more compelling landing pages, it's best to look for other solutions.
On the plus side, you get 50+ pre-made landing page templates which are helpful as you won't have to start from scratch. But on the other hand, there is no option to preview the landing page on mobile devices.
ConvertKit pricing details
| Number of contacts | Free | Creator | Creator pro |
| --- | --- | --- | --- |
| 1K | $0/mo | $29/mo | $59/mo |
| 10k | NA | $119/mo | $167/mo |
| 15k | NA | $149/mo | $205/mo |
| 35k | NA | $259/mo | $363/mo |
| 55k | NA | $379/mo | $519/mo |
| 75k | NA | $499/mo | $663/mo |
| 155k | NA | $979/mo | $1179/mo |
| 175k | NA | $1099/mo | $1299/mo |
| 305k | NA | $1879/mo | $2179/mo |
| 400k | NA | $2299/mo | $2599/mo |
If you have more than 500k subscribers, contact their sales team to get a quote.
Get a complete analysis of ConvertKits' pricing plans
ConvertKit's key strengths and weaknesses
Based on ConvertKit's customer review, we have highlighted the pros and cons of the tool:
ConvertKit's pros
Advanced automation builder: Automation builder is way advanced as you can create multiple conditions to trigger the same emails. But, you need to be on their paid pains to activate the sequence.

Good deliverability rate: ConvertKit performed well in EmailToolTester's deliverability test, maintaining an average rate of 88.2%.

Helps you monetize your newsletter: ConvertKit offers paid newsletter service, helping you generate revenue by sending a copy of your newsletter to paid subscribers. They also have a 'tip jar' option, which asks subscribers to give a tip if they like your newsletter. It's pretty cool!
ConvertKit's cons
High pricing: The tool charges comparatively higher prices than its competitors, such as GeResponse and Sendinblue.

Confusing navigation: The options in the navigation can seem confusing as it's divided based on the task you want to complete, not the feature. For example, if you want to design an email, instead of a campaign builder or email templates, there is a send option, and within that, you'll see an email template option to create emails.
The way Converkit organizes information is confusing. It is very hard to locate some of the content I need to edit. Some choices of how you should connect your content are clunky._ - Jen K., COO.
Is ConvertKit the right tool for you?
Now, the biggest question - should you use ConvertKit as your email service provider? We've jotted down key pointers to help you decide:
When it's recommended
You wish to send digital products and subscriptions: ConvertKit offers multiple options to generate revenue – sell digital products, paid newsletter, tip jar, etc. So, it's a good choice if you're looking to monetize via email marketing campaigns.

You're a creator, solopreneur, or a blogger: ConvertKit is a great tool for creators, solopreneurs, and bloggers mainly because of its list growth feature and easy-to-use dashboards.
When it's not
You don't have a huge budget: ConvertKit's starting pricing is quite affordable, but as your email list grows, the price increases strikingly, making it an expensive tool than its competitors. For example, ConvertKit charges $379/mo and $519/mo for 50k subscribers, while Mailmodo charges only $99/month for 40k contacts and $249/mo for 100k contacts with all the features.
ConvertKit alternatives
You want more flexibility with email builder: Even though ConvertKit's editor helps you create engaging emails, the customizations are limited. You cannot move a section up or down or duplicate them. Moreover, if you wish to delete a section, that option is also not clearly visible.
Check out these ConvertKit alternatives that are much more affordable and might be the right choice.
Mailmodo
Mailmodo is one of the emerging and best email marketing platforms that help you create and send interactive AMP emails, build automated journeys, and create trigger campaigns. Apart from this, the tool is much cheaper than ConvertKit and is also known for its excellent customer support, one of the major issues ConvertKit users face.
ConvertKit vs. Mailmodo: Which one should you use?
Criterion
Mailmodo
ConvertKit
No-code email builder
For both AMP and HTML emails with 200+ pre-made templates
Only for plain-text-based emails with 20 pre-made templates
AMP email support
✅
❌
Transactional emails
Available on all plans
❌
Dedicated support
Email, chat, video & phone support
Email, live chat, community support, in-product courses
Custom template import
Available on all plans
Available on all plans
Email automation
12 trigger options divided into 5 categories:
1. Manual Trigger
2. Contacts
3. AMP activities
4. Custom events
5. External Platform
4 trigger options:
- Joins a form
- Is added to a tag
-Custom field
- Purchase something
Dynamic email & personalization
✅
✅
List Management
✅
✅
Reports and Analysis
✅
✅
Subject line A/B testing
✅
✅
Supported integrations
20+ integrations
70+ integrations
Pricing
For 40k contacts:
- Lite - $199/mo
For 100k contacts:
- Pro - $459/mo
For 45k contacts:
- Creator plan: $319/month
- Creator Pro plan: $447/month
For 105k contacts:
- Creator plan: $679/mo
- Creator Pro plan: $879/mo
When should you choose Mailmodo over ConvertKit?
There are various reasons for choosing Mailmodo over ConvertKit:
When you have a huge email list but a low budget
Mailmodo is a much more affordable tool than ConvertKit and offers similar features. For instance, you can send emails to 40,000 contacts for only $99/month with Mailmodo's Silver plan, while the cost for the same number of contacts is $319/month on ConvertKit's creator plan.
Excellent 24/7 customer support matters to you.
Customer support is our top priority, and we have earned the praise of our customers for being reliable and excellent. CS can resolve your queries and point you in the right direction even if you have a free account.
If you want to embed interactive elements in emails.
Mailmodo is one of the ESP that helps you create and send responsive and engaging interactive AMP emails. It offers 20+ AMP email widgets you can add to your emails using its no-code email editor. So, if you want to create highly engaging AMP and HTML emails, Mailmodo is your go-to ESP.
Other ConvertKit alternatives
Check out these ConvertKit alternatives that are much more affordable and might be the right choice.
1. Mailchimp
Mailchimp wins over ConverKit in terms of detailed and in-depth reporting as ConverKit offers basic metric reporting like delivery rate and open and click rate. Mailchimp is also a better choice if you're a large business or entrepreneur.
2. Campaign Monitor
Campaign Monitor offers the most creative pre-made template library, reporting dashboard for contacts, automated workflows, and campaigns.
3. Mailjet
If you want an affordable email marketing platform that offers all basic features, Mailjet can be a good choice.
ConvertKit's rating overview
Feature
Ratings
Comments
Ease of use
⭐⭐⭐
Most features are easy to use and navigate. It's easy for non-tech-savvy people to get the hang of the tool. But, sometimes you might need some technical knowledge to avail some features.
Email template editor
⭐⭐⭐
The email editor is straightforward to understand. But, it's more inclined towards text-heavy emails and doesn't offer customization to create visually engaging HTML emails. Compared to other ESPs in the market, the editor isn't up to the mark. As for the pre-made templates, there are only 20, and those aren't very creative.
List management
⭐⭐⭐
ConvertKit offers tags that you can use to create various segments of your contact list. It's easy and intuitive to set up.
Signup form and landing page builder
⭐⭐⭐⭐
You can create pop-ups, embedded slider forms, and landing pages. The editor is easy to use and has 50+ creative landing page templates.
Email deliverability
⭐⭐⭐⭐
ConvertKit performed well in EmailToolTester's deliverability test, maintaining an average rate of 88.2%.
Reporting and analytics
⭐⭐
The reporting isn't advanced, showing only common metrics such as unsubscribers, opens, and clicks. The tool doesn't reflect the bounce rate, and you cannot track ecommerce conversions.
Personalization
⭐⭐⭐⭐
You can personalize using If/Then/Else logic, but it requires a coding knowledge base. There is also an option to create conditional logic for a more personalized experience.
Pre-made templates
⭐⭐
The email templates are basic and limited. But you can upload an email template HTML code and customize it.
Authentications
⭐⭐⭐⭐⭐
SPF, SKIM, and DMARC
Own domain
⭐⭐⭐⭐⭐
You can create or customize your domain for landing pages and Contact forms.
Bounce management
⭐⭐⭐
All hard bounces are suppressed immediately, and no further email is sent to them. As for the soft bounces, many attempts will be made, but if the address is still unreachable, it will be classified as a hard bounce.
Blocklist
❌
Not available
Interactive elements
❌
Not available
Integrations
⭐⭐⭐
ConvertKit has 70+ integrations, including Shopify, Bigcommerce, and Zapier. Note that you need to set up these integrations with HTML copy-paste coding.
Languages
⭐⭐
Only available in English
Customer support
⭐⭐⭐⭐
The customer support team is reliable and prompt in answering. You can contact them via raising a ticket or live chat. Additionally, they offer courses and detailed tutorials.
Overall ratings

- 4.4/5 (G2)
- 3.7/5 (EmailToolTester)
ConvertKit offers good list management and landing page builder but, on the downside, lacks features such as spam testing and a good number of email templates.
The verdict
Overall, ConvertKit does well in many areas. For instance, the automation is fairly advanced, with multiple triggers and event options. The landing page builder is easy to use and has 50+ pre-made templates. You can host your page on a custom domain and collect leads to grow your email list. Their monetization feature is also helpful if you want to earn revenue through newsletters and digital products.
On the downside, the reporting dashboard is simple and doesn't offer in-depth insight into your campaign's performance. Moreover, the navigation can be tricky as the features are not typically organized.
Lastly, despite the feature it offers, it gets expensive as your contact list grows, which can be a major pain point for creators.
FAQs
1. Which is better, Mailchimp or ConvertKit?
Neither of the tools is cheap. But Mailchimp wins over ConverKit regarding advanced features, but it gets pricey as your email list grows. Both offer a free plan; ConverKit lets you send unlimited emails and create unlimited landing pages for up to 1,000 subscribers. But Mailchimp only lets you send 1000 emails for up to 500 subscribers and only 5 landing pages. A better alternative to both these tools is Mailmodo, which offers affordable plans starting at $99/mo for 40k contacts.
2. Who should use ConvertKit?
ConvertKit is best if you're a creator - blogger, Youtuber, or solopreneur and plan to monetize shortly. The tool is created especially for such creators, and it has niche features such as product selling, tip jars, etc., to encourage more creators to grow their revenue.
3. What is ConvertKit good for?
ConvertKit is good for creating landing pages to collect subscribers and build advanced automation, as multiple triggers and conditions are available. Also, if you want to earn money via newsletters or digital products, ConvertKit can be a good choice.
4. Can you use ConvertKit as a CRM?
No, ConvertKit doesn't have an in-built CRM, but you can integrate your CRM with it, and it offers 70+ integrations.