Do you know how much an email address can tell about a user? And what can you know from a person's name?
A lot, really.
There are plenty of email lookup and reverse email lookup tools that offer you this service. But, the catch is that information must be publicly available.
This guide will cover the top 7 best email lookup tools to help you begin researching.
Note: Email finder, email search, and email lookup mean the same thing, and I will be using each of them interchangeably throughout this guide.
Table of contents
What is email lookup?
Email lookup is a technique used to find anyone's email address based on personal information.
For instance, you can type the name and the last name of someone, and the tool will give you the email address based on those details.
What is reverse email lookup?
A reverse email lookup is the opposite of an email lookup. Reverse email search helps determine a person's details based on their email address.
For example, suppose you get an email from someone whose email address you don't recognize. In that case, you can use a reverse email lookup tool or service to reveal related information. The information will include:
Full name of the sender.

Full current address.

Their phone numbers - both mobile and landline.

All social media profiles (Facebook, Twitter, LinkedIn, etc.)

Senders' image.
How does an email lookup tool work?
Most email lookup tools collect data from open-source databases (OSINT) - any database with a codebase that is publicly available and is free to use, delete, modify, download, and distribute.
Most of the email lookup tools go through the below process:
First, you enter the email address in the search bar of the respective tool.

Then, the tool will find a perfect match in their database based on the email addresses available publicly on the web.

Case 1: If there is a perfect match in the database, the tool will deliver that result.

Case 2: If there is no definite match, the search will evaluate various data points and deliver the most likely email address.
Note: Before delivering the result, the email search tool verifies each email address or user's details. It is done to ensure that you get accurate and safe information. And if an address can't be verified, these tools use several data points to evaluate the accuracy.
Become an email marketing expert in 90 mins
On-demand certification to master email marketing
What are the benefits of using an email lookup tool?
An email lookup tool reveals vital information and can be useful to individuals and marketers in different industries. Here are major benefits you can get:
1. Ensure the authenticity of an email address
As an email marketer, your heart must ache to see your email getting bounced, right? A higher bounce rate will further hurt your domain reputation.
You can avoid this altogether with an email finder by searching if the email address is associated with a real person. The tool does this by using an SMTP check. Then, the tool sends a request to an email address domain like gmail.com, yahoo.com and asks if the email address exists or not.
2. Identify and protect against phishing emails.
Email search tools helped you identify spoofed, blacklisted, or spam email addresses at the right time. A good email finder tool will let you know if an email id attacker is used in earlier data breaches or phishing attacks.
For instance, if you get an email from an unrecognizable email asking for your bank details, then before opening or engaging, you can ascertain the sender's validity using the email search tool. This way, you will reduce the risk of exposing your private information to the attacker.
3. Run background checks
Running a background check on your prospects, leads, or business contact is one of the most beneficial uses of email search tools. Such checks become important when hiring people, as many applicants may not be fully honest with you regarding their details. So, researching them saves time and helps you get the best candidate.
7 best email lookup tools to try out today
Here is the list of the top 7 email finders:
Snov.io

Seon

BeenVerified

Hunter.io

InfoTracer

Emailsearch.io

Spytox
1. Snov.io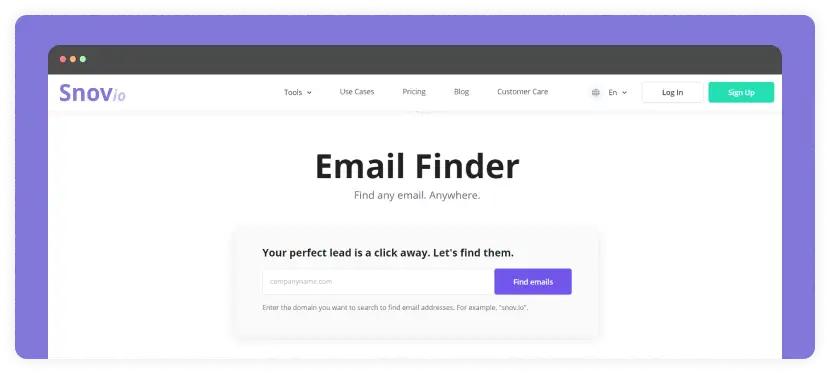 Snov.io lets you find your email address along with other relatable information in a few seconds. Furthermore, each email address is verified using SMTP-MX check to give you a more secure experience.
Features:
Search emails in bulk and export results using CSV, XLSX, or Google Sheet formats.

Find emails using API methods.

Zapier and Pipedrive integration.

Built-in email verifier.
Pricing: Snov.io offers you credit when you pay.
50 free monthly credits when you sign up for the first time.

Five different paid plans beginning from $39/month. If you buy an annual plan, you pay $33/month for the same plan.
You can register and install their web app or chrome extension to try out different features they have to offer.
2. Seon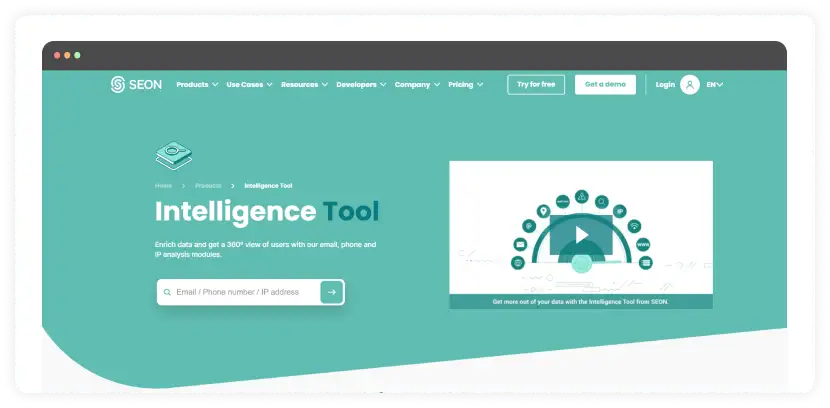 Seon's reverse email lookup tool is the Seon intelligence tool, which offers you a 360 degree view of the user by researching the email address.
Features:
Real-time results from the open-source database.

API integrations.

Social media lookup from 35+ Social media platforms.
Pricing: There are three plans - Basic, Standard, and Custom.
Basic plan - $99/month with up to 1500 checks.

Standard plan - $299/month with up to 5000 checks.

Custom plan - You can book a demo and get a custom plan for yourself or your business.
Seon also has their chrome extension, which you can download and try out the features with a 14 day free trial upon registration.
3. BeenVerified
BeenVerified is a great email lookup tool that goes beyond search engines and through billions of public records to offer accurate results. They also offer many other services like search by phone number, address lookup, etc.
Features:
Offers confidentiality of data.

24*7 Customer support.
Pricing:
7-day trial period: For $1 and $5. You can download the report as PDF; this feature is not available in the $1 plan.

1-Month Membership: $22.86 a month.

3-Month Membership: $14.86 a month.
4. Hunter.io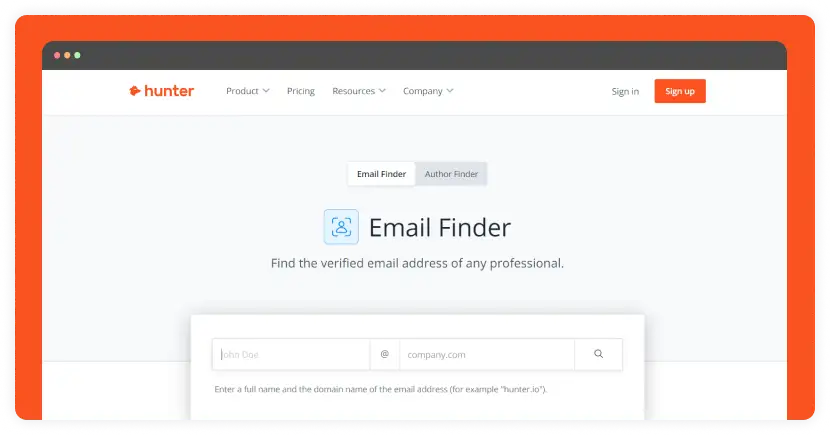 Hunter.io is an email finder whereby you get the email address associated with the person's name and company or domain name. Besides that, hunter.io also offers email verification services.
Features:
Bulk email finder.

Helps you search via API key.
Pricing:
You get 25 searches per month for free.

Starter: $49.00 with 500 searches/month.

Growth: $99.00 with 2,500 searches/month.

Pro: $199.00 with 10,000 searches/month.

Enterprise: $399.00 with 30,000 searches/month.
You save 30% on each plan if you buy a yearly plan. Plus, you can buy a custom plan with Hunter.io.
Get a sample AMP email in your inbox
Experience the power of interactivity right now
5. InfoTracer
Infotracer bundles many searches in its plan, and you can search people by email, phone number, username, and name.
Features:
Delivers accurate data from over 5 million people worldwide.

Affordable and easy to use.
Pricing:
The five-day trial at $3.95.

The monthly membership cost is $19.95 with unlimited searches.
6. Emailsearch.io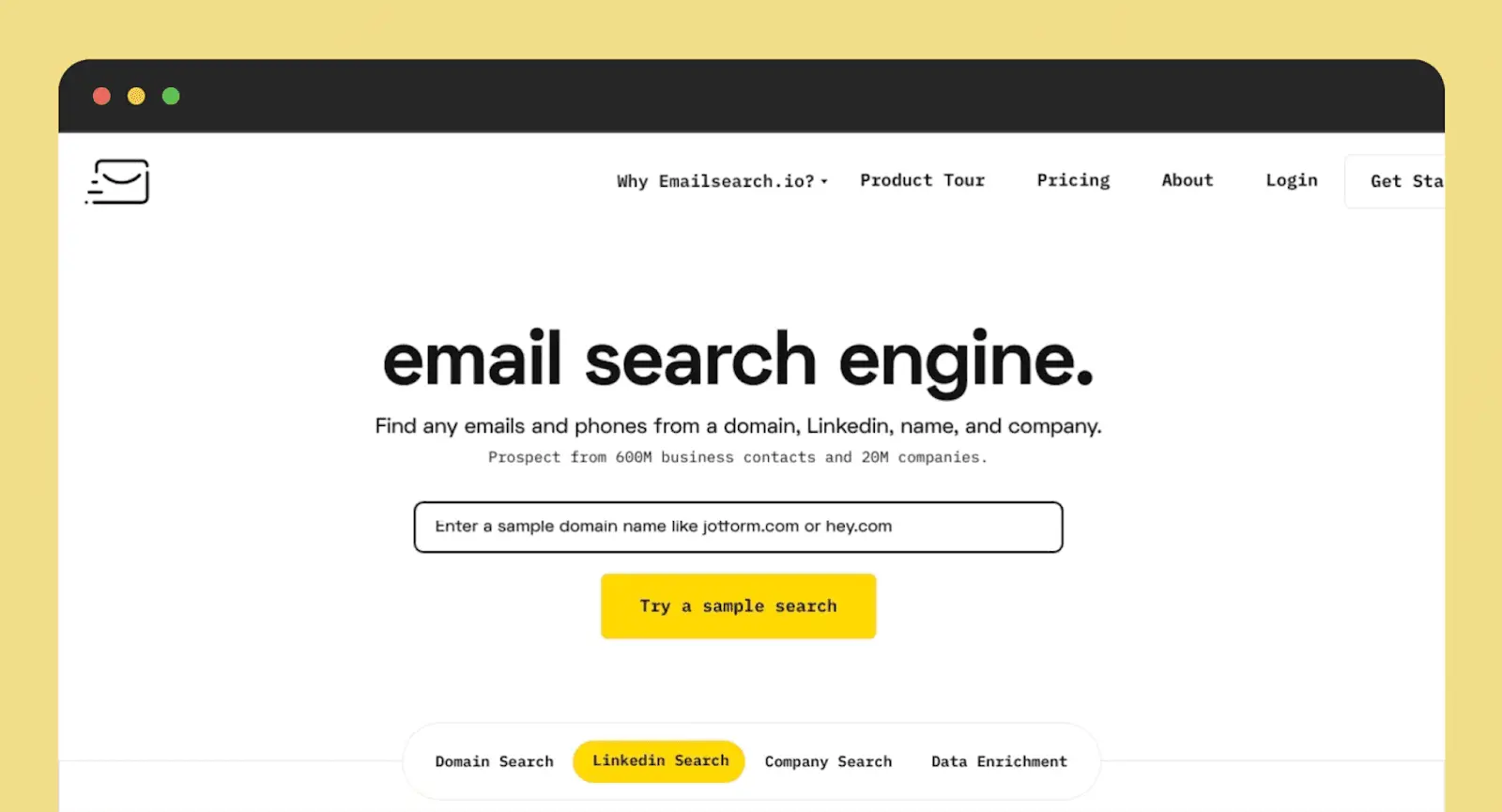 Emailsearch.io is an advanced email finder tool designed to streamline the process of locating professional and personal email addresses, phone numbers, and other relevant information in just a matter of seconds. With a commitment to accuracy and security, It offers a reliable solution for individuals and businesses seeking to access verified email addresses conveniently.
Features:
Empowers users to perform bulk email searches and export.

Provides API methods for integration with other applications and platforms.

LinkedIn email & phone extractor, social media email extractor, domain name email extractor
Pricing: EmailSearch.io provides a flexible pricing model tailored to meet various user needs:
Basic plan: $29/month with 1000 searches

Pro plan: $49/month with 5000 searches

Expert plan: $99/month with 20,000 searches

Agency plan: $279/month with unlimited search
7. Spytox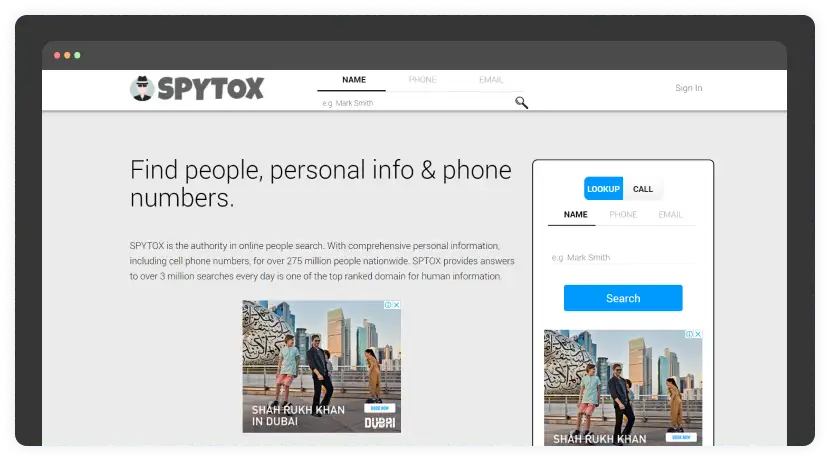 Spytox is a simple email search tool compared to other tools in the market. It offers both email and reverse email lookup services and people search.
Features:
Simple to use.

Offers data of over 275 million people worldwide.
Pricing: No charges; it's entirely free.
The tool doesn't offer 100% accurate results every time, making it unreliable in many cases. But you can test it out if you are looking for a free email lookup tool.
Takeaways
So, now that you have the guide at your disposal, make the most out of it. If you made it to the end, I assume you already have a list of emails or a person's name to search.
The next step is to use any of these tools or test them out by researching and seeing which tool gives you the most accurate data. In my opinion, all of them are reliable tools, but I will leave it to your judgment.