Do your unsubscribed users want to get back in again, but Mailchimp resubscribe is not working?
Don't panic, as we will discuss why it is happening and how to overcome it in this guide.
Table of contents
Why is Mailchimp resubscribe not working?
When you resubscribe your users from Mailchimp, you may find that you cannot complete this task due to unnecessary complications and missing features.
So keeping these things in mind, we at Mailmodo have made subscription handling a breeze (but more on that later).
To help you resolve your issue, let's understand the conditions you must follow to resubscribe users in Mailchimp.
Conditions to resubscribe contacts in Mailchimp
Before we begin to learn how to resubscribe Mailchimp users, it is important to understand its policies. Here is what you need to keep in mind while resubscribing Mailchimp users.
Get the State of Email 2023 Report
150+ email experts share their email tips and secrets
You can't forcefully resubscribe them without their permission. According to GDPR, marketers can email people who have subscribed to their email campaigns. If they don't resubscribe after they unsubscribe, you can't forcefully resubscribe them. If you do so, it will go against the law.

The only scenario where you can subscribe to them again is when you accidentally unsubscribe them while mass unsubscribing. Users still want to be on your email list, so you'll not break email laws if you resubscribe them again.

It is good to send them a confirmation email about the resubscription.
How to resubscribe a contact in Mailchimp?
There are different ways to resubscribe Mailchimp contacts based on different factors. Here are the most common scenarios.
1. When users willingly unsubscribe
When they unsubscribe willfully, you can't forcefully resubscribe them. However, if the user drops you an email saying they want to get back in, you've to send them the link to your Mailchimp integrated signup form again. They can sign up again to get on your mailing list.
Related guide: 11 Most Effective Ways to Reduce Your Unsubscribe Rate
2. If you accidentally unsubscribed users
It is possible to add users again to your list if you unsubscribe them accidentally. You won't violate email laws with this method. Here is how you do it.
Go to https://login.mailchimp.com/ and log in with your account credentials.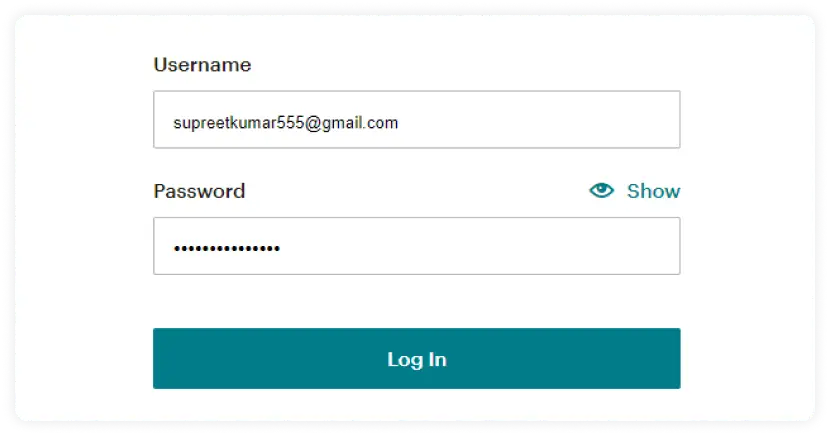 Then in your dashboard, click on Audience > All contacts.

Select the contacts you want to resubscribe. You can check who is unsubscribed in the Email Marketing.

Go to Actions > Resubscribe.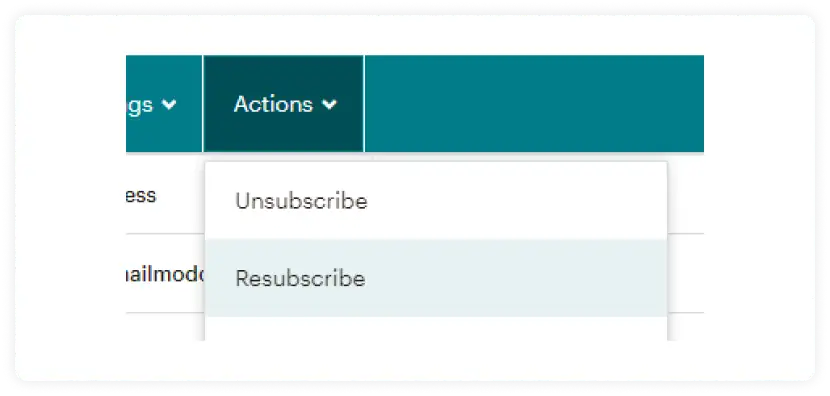 Then click Confirm in the popup.

Your contacts will be resubscribed and you can start sending emails as usual.
3. You add the wrong users to the suppression list
A suppression list is a list that contains people with whom you want to discontinue your email communication. So if you added the wrong users while creating a suppression list, it is possible to add them back to your normal list. Follow the same procedure above to remove users from your suppression list.
Related guide: What Is a Suppression List And How to Make One?
However, importing suppression lists in Mailchimp is a painfully long process. First, you've to create a CSV with a spreadsheet application, import it, map different fields, select them as unsubscribe, and finally unsubscribe them.
But here at Mailmodo, we know that your time is invaluable. That's why we have made it very easy for you to import suppression lists.
Make resubscriptions a breeze with Mailmodo
Here is how you can handle subscriptions quickly.
1. Easily import suppression list
Here is how to do it.
Click on Contacts on the sidebar. Then, click on the three dots in the top-right corner.
From the drop-down list click on 'Import Suppression List'.

Upload the CSV file in the dialogue box that appears. Add the first column for email id and a second column for email type. If the email type field is left empty, then the contact will be unsubscribed from all email types. Uploaded emails will be added to the unsubscribe list for specified email type(s).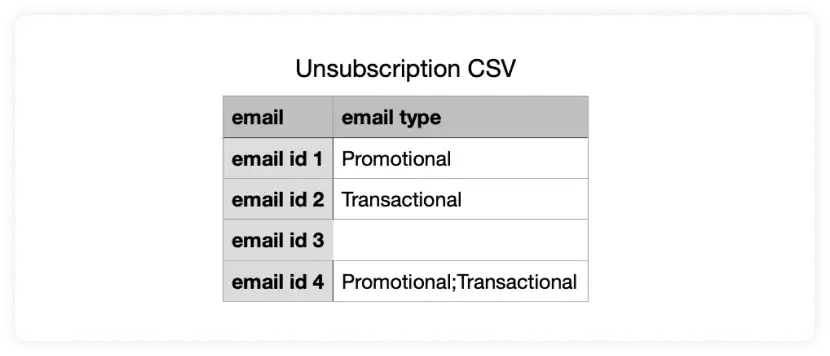 Click 'Next'.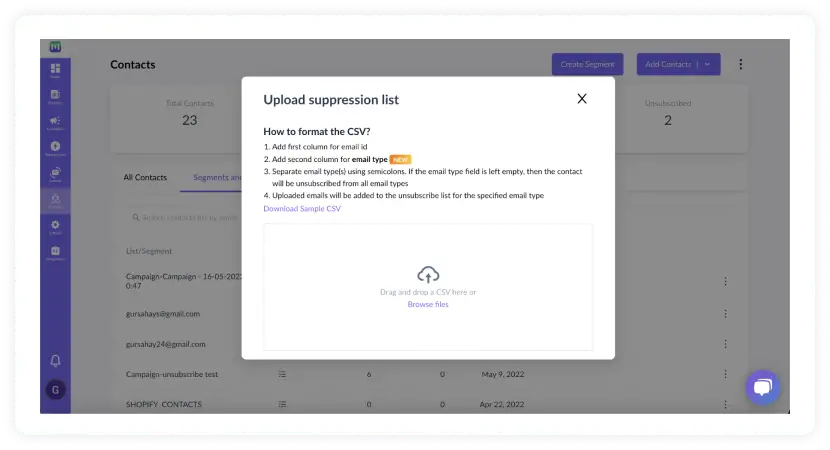 The dialogue box will display the list of email addresses that you just uploaded. Click 'Next'.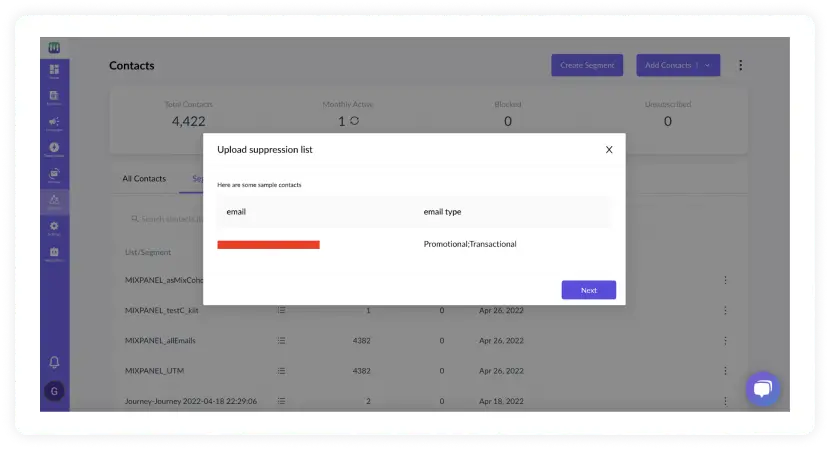 The list of unsubscribed users will be uploaded to Mailmodo.
2. Easily manage resubscriptions
Here is how you can easily manage your resubscriptions.
On the Unsubscribe page, choose the I'd rather stay option.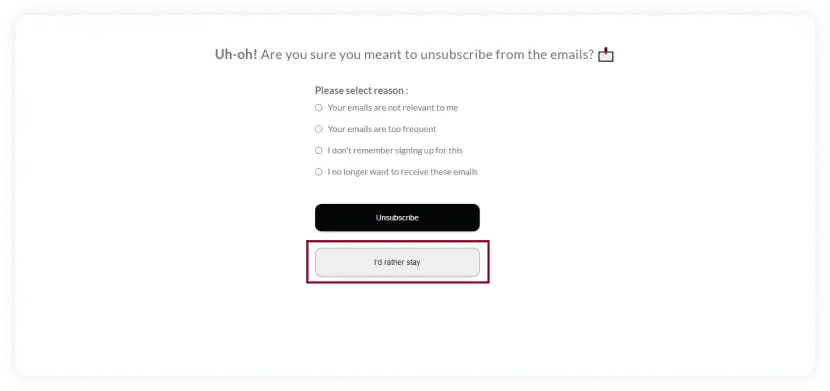 Even if you click the Unsubscribe button, a second page will appear when you can resubscribe.

Once resubscribed, the following confirmation message will appear.

That is how easy it is to manage resubscriptions with Mailmodo. Since many of your users may have unsubscribed accidentally, we give them a last chance to get back in again to receive your awesome emails.
Get a sample AMP email in your inbox
Experience the power of interactivity right now
Takeaways
Managing resubscriptions is an important aspect of your email marketing strategy since it can affect your audience numbers. Read our guide to uncover effective email marketing hacks to boost your engagement and improve your deliverability.
What you should do next
Hey there, thanks for reading till the end. Here are 3 ways we can help you grow your business:
Talk to an email expert. Need someone to take your email marketing to the next level? Mailmodo's experts are here for you. Schedule a 30-minute email consultation. Don't worry, it's on the house. Book a meet here.

Send emails that bring higher conversions. Mailmodo is an ESP that helps you to create and send app-like interactive emails with forms, carts, calendars, games, and other widgets for higher conversions. Get started for free.

Get smarter with our email resources. Explore all our knowledge base here and learn about email marketing, marketing strategies, best practices, growth hacks, case studies, templates, and more. Access guides here.