March, the month of Spring, also comes with awareness days like International Women's Day, Women's History Month, and St. Patrick's Day. This guide explores how to tailor your newsletters to these special occasions. Whether you're a blogger, marketer, or small business owner, our curated list of March newsletter ideas will help you captivate your readers.
Table of contents
Special days in March
Here's a list of special days in March that you can refer to plan out email marketing for March:
| Day | Date |
| --- | --- |
| International Women's Day | 8th March |
| No Smoking Day | Second Wednesday of March |
| Pi Day | 14th March |
| St. Patrick's Day | 17th March |
| International Day of Happiness | 20th March |
| World Forestry Day | 21st March |
| World Down Syndrome Day | 21st March |
| World Poetry Day | 21st March |
| World Water Day | 22nd March |
| World Theatre Day | 27th March |
6 March newsletter ideas
March is filled with awareness days that can educate and empower the audience and create an opportunity to connect with the audience. For example, on Braille and Down syndrome day, which falls in March, NGOs can send newsletters to their audience to raise awareness and support disabled people worldwide.
Here are some great March newsletter ideas to consider with examples:
1. Showcase women empowerment
Type: Newsletter
Best for B2C, D2C
To celebrate Women's Day the right way with your audience, consider sending a newsletter showcasing how your company encourages, empowers, and supports women. You can include an interview with one of your female employees, write about how they contribute to the company and give an appreciation to them.
2. Exclusive discounts for women
Type: Campaign
Best for: B2C, B2B
When creating a March newsletter focused on Women's Day, offering exclusive discounts for women is a fantastic way to engage your readers and show appreciation for their support, especially to women. In this newsletter, you can consider adding the following:
Women-centric products or services

Feature discounted product spotlights

Personalized product recommendations

Social sharing incentives

Limited-time offers
Here's a Women's Day discount and offers a template that you can use to create this type of newsletter.
3. Share an inspiring story
Type: Newsletter
Best for: B2C, D2C
This newsletter idea is super inspiring and captivating. Sharing empowering stories of women in your industry or niche can be a great way to attract your audience. You can interview empowering women and share their stories in the newsletter. In this type of newsletter, consider adding these points:
Women's Achievements and Challenges

Diversity and inclusion

Encourage them to share the reader's story

Provide resources for further exploration of the story

Share links to the work of these empowering women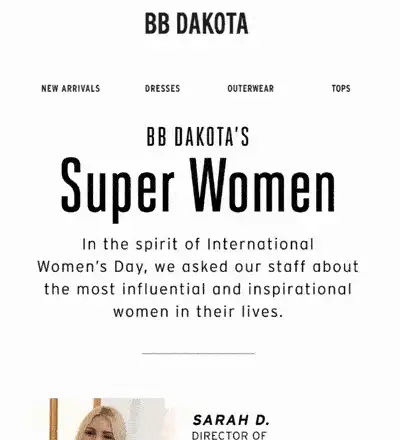 4. Collaborate with Women-owned businesses
Type: Campaign
Best for: B2B, B2C
The best way to celebrate Women's Day is to promote and collaborate with women-owned businesses. This empowers women and helps them grow. You can contact local women-owned businesses or brands that align with your audience's interests. Negotiate exclusive discounts or promotional codes that your readers can redeem during March.
Focus on 'by women, for women's businesses and products.

Make sure to share the story of the business to inspire the readers.

Consider collaborating with local and underrated businesses.
Check this Women's Day newsletter template out!
Subscribe to the Mailmodo Bulletin
12k marketers get these growth tactics in their inbox
5. Share the happiness
Type: Newsletter
Best for: B2C, D2C
As 21 March is World Day of Happiness, you can leverage this day to put a smile on your readers' faces. People love positivity and kindness, and to try this idea out, you can consider the following points:
Create a "Random act of kindness" challenge by providing a list of simple, thoughtful acts they can perform to spread happiness.

Share a moment from your workspace that showcases kindness or happiness, and ask them to share theirs.

Offer discounts as a reward when they complete a happiness challenge or engage with the newsletter.
6. Patrick's Day
Type: Newsletter
Best for: B2C
St. Patrick's Day is widely celebrated in the USA on 17 March, and this is a great opportunity for you to link your products or organize trivia for your audience. Here are some ideas for you to celebrate this with your audience:
Offer exclusive discounts or promotions tied to St. Patrick's Day.

Recommend green-themed apparel to try out.

Share recipes or decorations for St. Patrick's Day.
Source: Email design.beefree
Takeaway
Here's a marketing calendar for 2023 that you can use to ideate campaigns and plan out the year.
March presents a wonderful opportunity to connect with your audience and create engaging newsletters. In these March newsletter ideas around International Women's Day, World Day of Happiness, and St. Patrick's Day, you can tailor your content to align with these themes and capture your readers' attention.
What you should do next
Hey there, thanks for reading till the end. Here are 3 ways we can help you grow your business: