Email lead generation isn't a one-size-fits-all process. You can generate leads in multiple ways. By including a sign-up form or a button in your email campaign, you can gain leads in the form of new subscribers. Another way, albeit controversial, is outbound lead generation. You could also place a display ad in another person's email to capture leads.
Like any other lead generation process, email lead gen requires the use of proper tools to attract prospects. That's why, in this guide, we share our top picks for email lead generation softwares.
Table of contents
What is email lead generation?
Email lead generation is the process of collecting leads by gathering information about potential customers through opt-in forms. By capturing a person's name and email address, businesses can generate leads and build an email list for future marketing campaigns.
14 Best Email Lead Generation Software to try out in 2023
These softwares will help you land leads with little manual intervention.
Email prospecting/lookup
The first step in the email lead generation process is to find potential leads and create their database with the goal of communicating with them.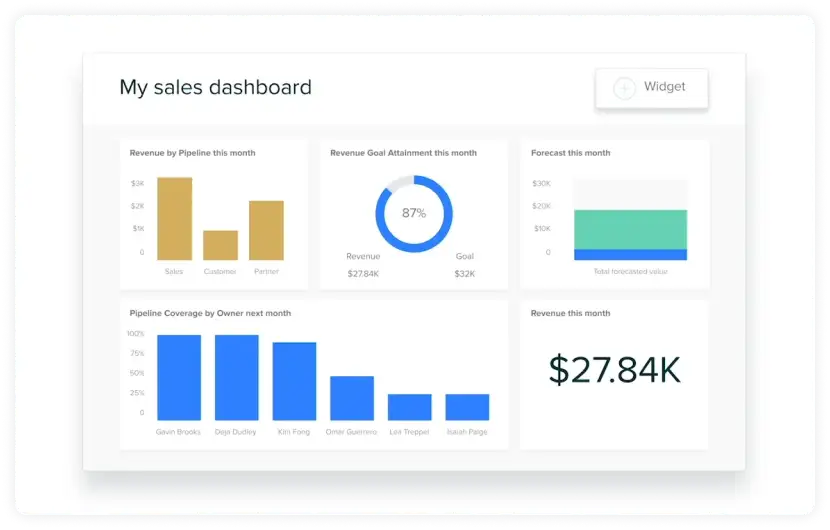 Zendesk Sell is with you at every step of your prospecting process–be it lead qualification, lead management, or contact management. Its interface is simple and convenient to use, so your sales representatives can prospect hassle-free. Zendesk Sell is best suited for startups and enterprise-level businesses.
Read our guide on how to connect Zendesk with Mailmodo by using our Zendesk integration to supercharge your outreach email campaigns. Who wants to miss out on AMP components that drive up lead conversions by 41%?
Features:
Contact database

Contact management

Data import/export
Pricing: Suite Team $49 per agent/mo billed yearly, Suite Growth $79
per agent/mo billed yearly, Suite Professional $99 per agent/mo billed yearly
G2 rating: 4.2/5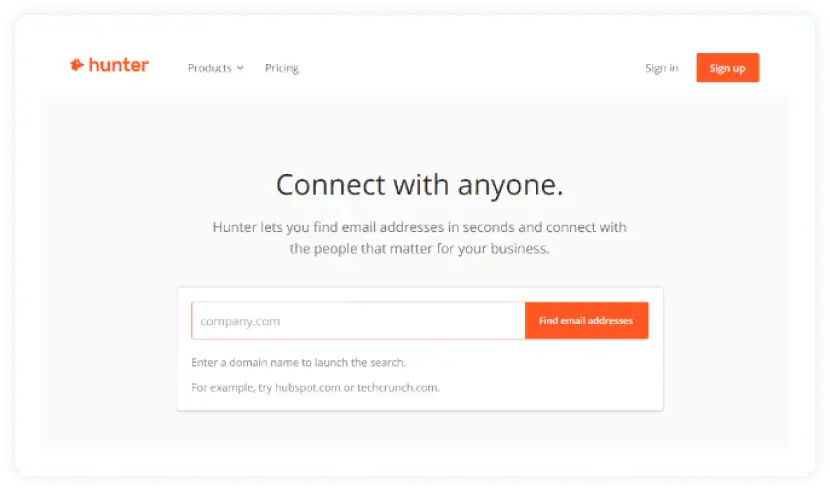 With Hunter, you can find professional email addresses and check their validity in bulk. The tool automatically identifies best-fit prospects for your sales team to go after. The team also provides services such as web research, email list subscriber building (specifically B2B lists), and scaling your existing lead generation efforts.
Features:
Auto responders

List management

Reporting/analytics

Subscriber management

Template management
Pricing: Free for 25 searches and 50 verifications/mo, paid plan $49/mo, Enterprise plan $399/mo
G2 rating: 4.4/5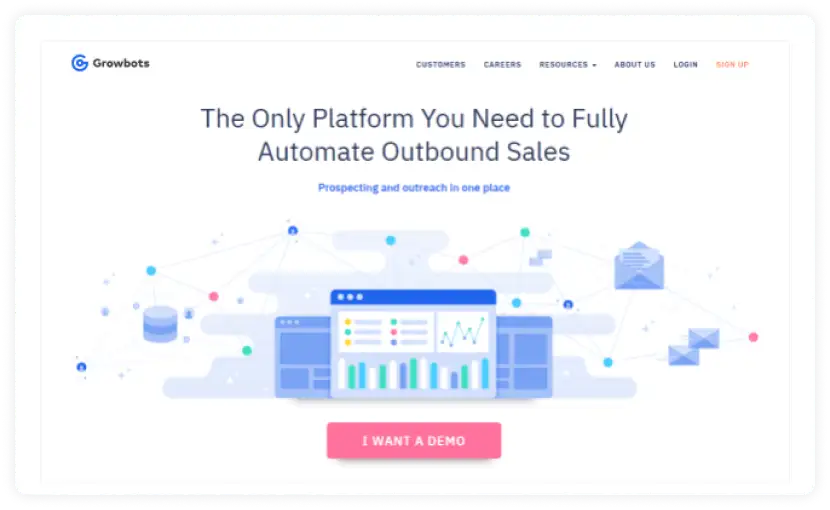 With Growbots, you can tap into a database of 200 mil contacts separated by industry. The platform also enables you to test your outbound sales strategy to assess what works for your business. Their customer support team will train you and your team in prospect status monitoring and field mapping to ensure you get quality leads.
Features:
Contact database

Data import/export

Lead capture

Pipeline management

Prospecting tools
Pricing: Outreach plan $49/mo, all-in-one plan $199/mo
G2 rating: 4.0/5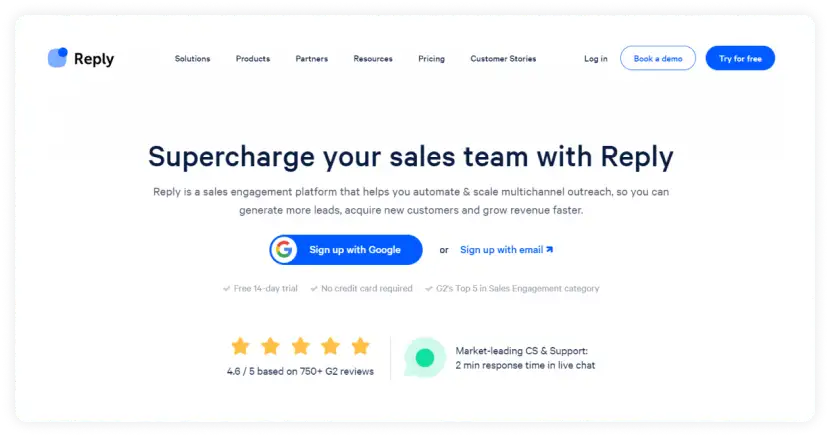 The main differentiator of Reply.io is that it offers multi-channel lead prospecting. You can integrate the tool with Facebook Messenger, WhatsApp, and LinkedIn to scale multichannel outreach. Track the activities of your leads by automatically logging them into your CRM via native integrations.
Features:
Contact management

Lead management

Performance metrics
Pricing: Email search plan starts at $49/mo
G2 rating: 4.6/5
This tool's Chrome extension can come in handy for searching for sales leads on professional websites like LinkedIn. All you've to do is add the name and company of your prospect. AeroLeads will add them to your email list and extract data on them which you can export at your will.
Features:
Campaign management

Sales tracking

Contact management
Pricing: Take Off (for 1200 records) $49/mo, Enterprise (price available upon request)
G2 rating: 4.1/5
Lead capture
You can get leads to opt-in to your email list using surveys, pop ups, polls, and quizzes. We recommend you take consent before sending lead capture emails. Here are the email automation tools you can use to turn leads into subscribers.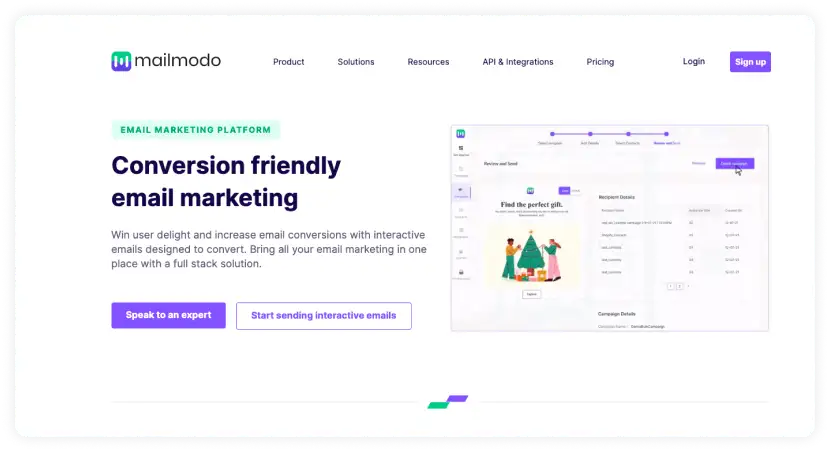 It can be overwhelming to reach out to leads with different preferences, interests and needs. To reduce the steps for capturing them, sign up with us. We offer tools for email segmentation, personalization, and automation. Just add an inline form inside our lead capture email template which your user can fill in the inbox without being redirected. Less friction means less resistance.
You can also get leads to sign up for your newsletter. You can write exclusive content for your subscribers that doesn't go on blogs, so they feel special. Or you can encourage them to opt-in to your email list by creating a free course or an infographic for them. With our Weekly Roundup, we send content we publish week over week to our subscribers and throw in infographics and other valuable material like our guides to capture leads and increase their trust in our product. Drip campaigns with lead magnets also work well to capture leads because you're offering value to your subscribers in the form of a PDF, whitepaper, or a report.
Features:
Click tracking

Contact database

Conversion tracking

Customer segmentation

Data analysis tools

Dynamic content

Email management

Email marketing

Email tracking
Pricing: Silver $99/mo (40,000 contacts), Gold $249/mo (100,000 contacts), Platinum $599/mo (300,000 contacts)
G2 rating: 4.6/5
You'll find useful widgets in Mailmodo's drag-and-drop AMP email editor to get more information from your contacts. When you open the forms section, you find 29 form options to directly add to your email. Easily customize fields, headings, buttons, and colors to make them stand out. - Rukham Khan, Content Lead at Mailmunch
⚙️ One of the best new #emailmarketing platforms, @mailmodo, tested and reviewed. Check results here: https://t.co/I2hcsWSaEq#newsletters #ESP #marketingautomation #freeemailtool #smallbusiness #SMBs #AMPforemail pic.twitter.com/D23I40qoEC

— Miles Date (@emailupdater) May 6, 2022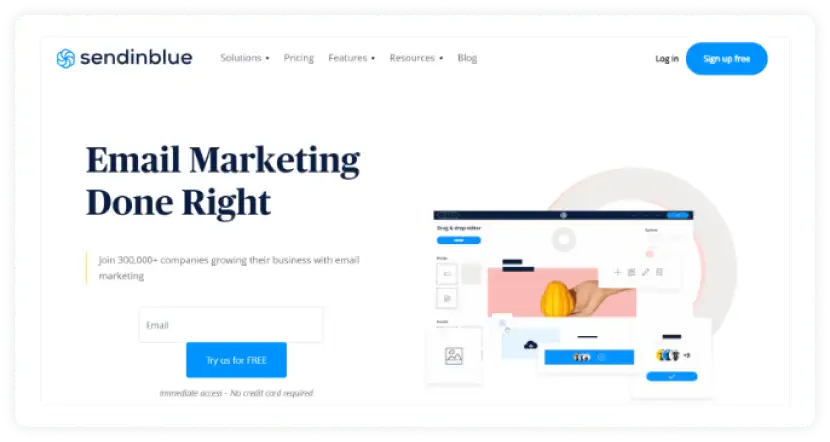 Sendinblue is an omnichannel marketing automation platform that provides email and SMS marketing services. The platform offers a drag-and-drop builder to create emails, automate workflows, and segment leads. Its lead scoring and contact management capabilities are great for outreach marketing.
Features:
A/B testing

Archiving and retention

Auto responders

Campaign analytics
Pricing: Free (unlimited contacts, 300 emails/day), pLite package $25/mo, Lite package $65/mo
G2 rating: 4.5/5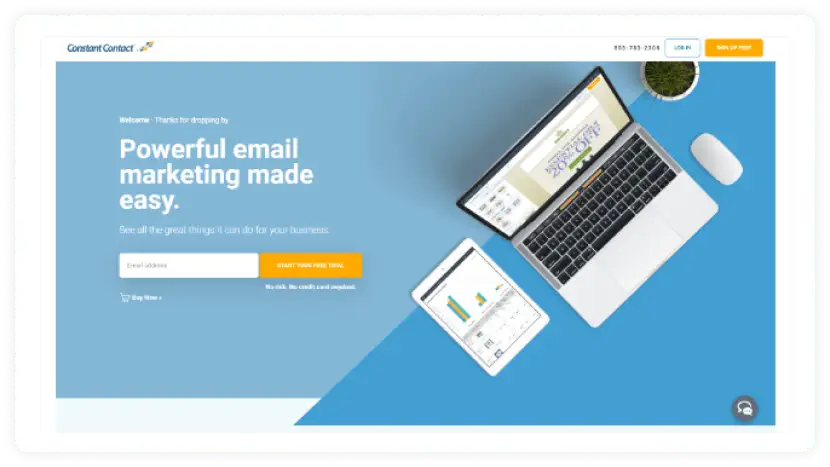 With Constant Contact, you can categorize your leads based on your requirements. Instead of sending an email campaign to all of your prospects, you can segment the group you want to send it to. Their customer support representatives offer ample suggestions on how to improve campaigns and statistics to improve your campaign's effectiveness.
Features:
CRM

Data import/export

Email monitoring

Landing pages/web forms
Pricing: Free trial, paid plan starting from $20/mo, Email Plus $45/mo
G2 rating: 4.0/5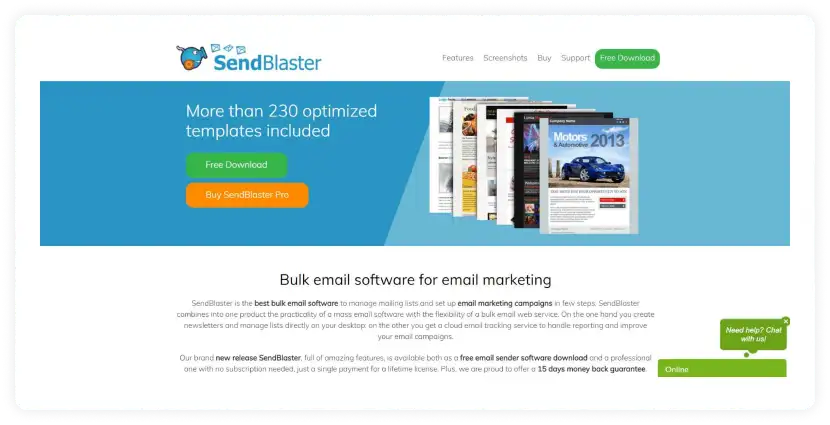 Sendblaster is a lead generation and email marketing solution that allows you to capture new leads through customized mail campaigns. From a single screen, you can send bulk mail campaigns, organize your mailing lists, and track the progress of your campaigns. It's best suited for startups and small businesses.
Features:
List management

Subscriber management

Template management
Pricing: $129 (one-time fee)
G2 rating: 4.1/5
Email outreach
Alternatively, you can choose to run an email outreach campaign to foster relationship-building with your leads. Remember that your chances of landing in the lead's inbox are low because they haven't opted in to receive your emails.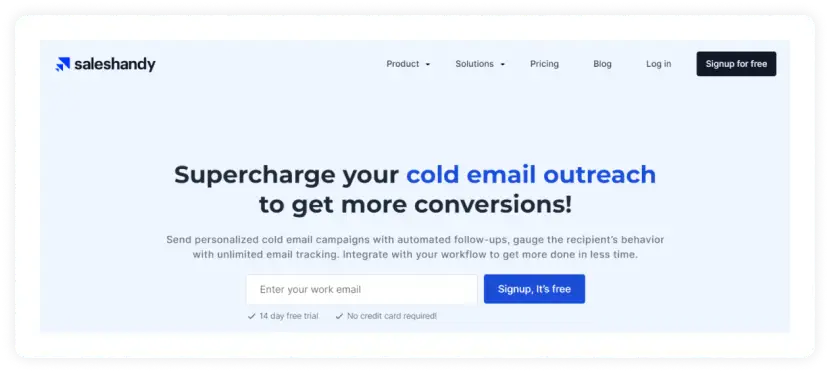 You can directly send outreach email campaigns to leads whose email addresses you've captured using Saleshandy. Duplicate these campaigns and send them to multiple leads without adversely affecting your email deliverability. Set a reminder to follow up with interested leads to move them further down in your sales funnel.
Features:
A/B testing

Campaign analytics

Campaign management

Click tracking

Communication management
Pricing: Regular plan $9 /user/mo, Plus $22 /user/mo, Pro $25 /user/mo
G2 rating: 4.5/5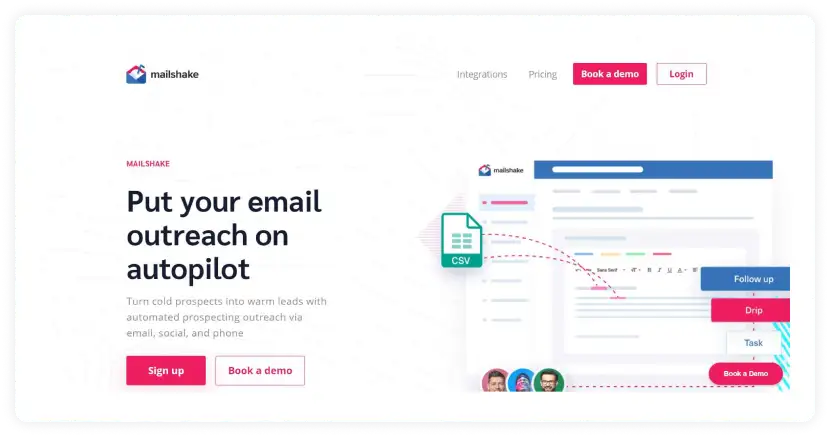 Mailshake provides you a single dashboard view from which you can control your whole outreach email marketing campaign. You can integrate your contact list with Hubspot, Slack, Salesforce, and other CRM applications to collate and compile lead data. Track the status of outreach campaigns with a single click using Mailshake's mail status tracking feature.
Features:
Email distribution

Event triggered actions

Lead management

Mobile optimized emails
Pricing: Starts at $59/mo
G2 rating: 4.7/5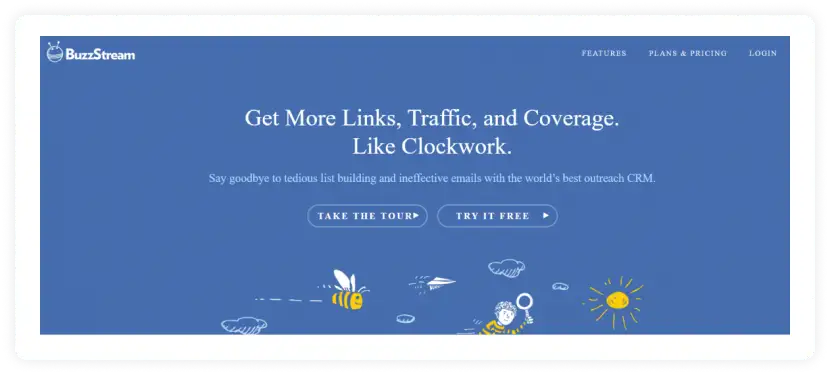 Buzzstream offers a comprehensive range of tools for contact list building, lead prospecting, and outreach email marketing. You can create high-quality leads and qualify them right away by integrating your CRM with Buzzstream via native integrations. You can track the performance of your outreach campaigns in real time with its built-in reporting and analytics feature.
Features:
Contact management

Email distribution

Rank tracking
Pricing: Starts at $24/mo
G2 rating: 4.1/5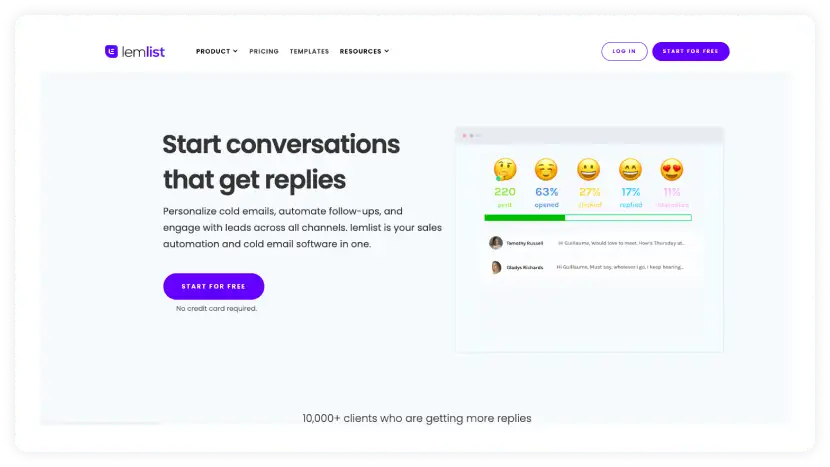 Lemlist is a cold outreach and email automation platform that enables you to generate, nurture, and move leads further down your sales funnel. It can send automatic follow-ups to leads who showed interest in your product or service and schedule cold calls directly in the app to make your outbound process more efficient.
Features:
Event triggered actions

Image library

Web forms

List management

Reporting/analytics
Pricing: Starts at $25/mo billed annually
G2 rating: 4.2/5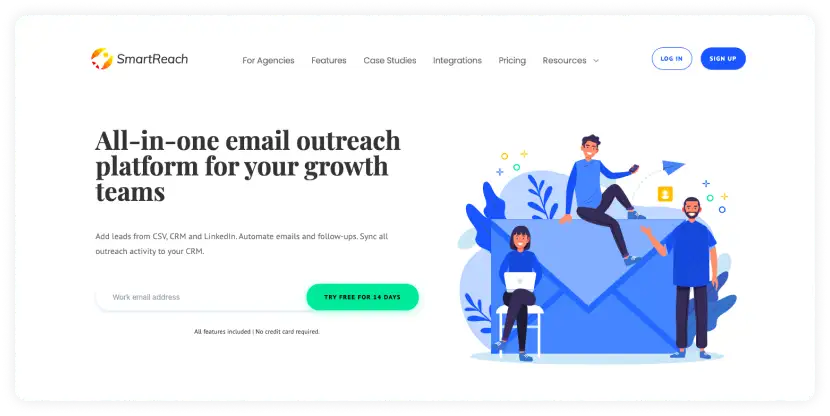 Improve your email reputation and delivery with Smartreach along with automating your outreach emails and follow-up. The platform offers comprehensive spam test reports, built-in email validation, and strategies for domain warm up to improve your chances of landing in the prospects' inbox. You can even use merge tags to personalize your outreach emails.
Features:
A/B testing

CAN SPAM compliance

Communication management
Pricing: Standard $24/mo (1000 prospects/user), Pro $39/mo (2000 prospects/user), Ultimate $59/mo (no limit)
G2 rating: 4.9/5
Nurture leads with Mailmodo
What's next once you've generated leads with email marketing? You can run email campaigns to determine which of them are MQL candidates. Then, you nurture the leads to turn them into paying customers. Wonder how? Check out our guide on lead nurturing to break down the process of cultivating leads that aren't ready to buy from you and learn how Mailmodo can help you create successful lead nurturing campaigns.
What you should do next
Hey there, thanks for reading till the end. Here are 3 ways we can help you grow your business:
Talk to an email expert. Need someone to take your email marketing to the next level? Mailmodo's experts are here for you. Schedule a 30-minute email consultation. Don't worry, it's on the house. Book a meet here.

Send emails that bring higher conversions. Mailmodo is an ESP that helps you to create and send app-like interactive emails with forms, carts, calendars, games, and other widgets for higher conversions. Get started for free.

Get smarter with our email resources. Explore all our knowledge base here and learn about email marketing, marketing strategies, best practices, growth hacks, case studies, templates, and more. Access guides here.