There are many tactics for link building. Some are better than others, but only a few have been proven to be successful over time. One of those strategies is email outreach. In this guide, we're going to talk about what makes it so great and how to craft emails that really work.
Table of contents
What is email outreach?
Email outreach is sending personalized email marketing campaigns to key individuals for seeking a backlink. White hat link-building services guarantee that you will get high-quality links from relevant sites. They enable you to establish your authority and boost your business results.
This helps you generate links consistent with search engine standards. As a result, your website appears higher in Google search results.
How are email outreach and link building connected?
In the past, link building was easy. However, with Google's latest SEO updates, it is no longer a walk in the park to get quality links to your site. A website must do these things to rank well on Google:
All web pages must have high-quality, up-to-date content.

They should not make any technical mistakes.

They must be free of broken links.

They should include references to credible sources.

Authoritative sources should point to them.
Using backlinks will be the best way to achieve your goal if you want to build a website that:
ranks highly in search engines,

receives plenty of traffic every month, and

has an impressive reach across all social channels.
The best way to get backlinks is to reach out directly to the most popular blogs in your industry. However, reaching out to these blogs and getting backlinks from them can be a herculean task. That's where using email outreach comes in.
Meaningful and high-quality link building is now accomplished through methods such as email outreach. Email outreach remains among the most effective strategies for building links. And if done right, it can be highly profitable. In fact, projections indicate the worldwide email marketing market will grow to $17.9 billion in the year 2027.
A great link-building service can help you with this. A link-building service is a process of obtaining backlinks throughout a specific website. Starting from authentic registered sites, blogs, and channels that serve as connecting links to your site. You may need the help of a link-building agency for your clients and customers to arrange these links.
5 email outreach strategies for link building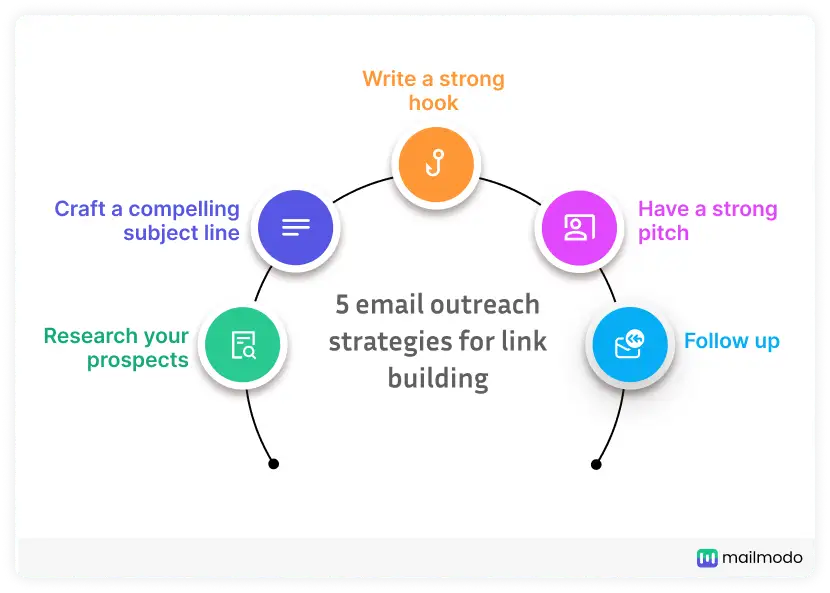 You might be wondering how to get backlinks. The fact is that backlinks are the foundation of any website. If you want to rank high in search engines and get more traffic, then you need to build a large number of backlinks. This section will go over the important aspects of email outreach for effective link building.
1. Research your prospects
The first and most important thing you need to do is to find out more about your prospect. And it's not just about their contact information. At this point, you'll find it difficult to delve a bit further into your prospect's interests. But, as time-consuming as it can be, you must have all of the important information before sending out an email.
Why?
Because it will be hard to get their approval if you send out an email that isn't to their liking. No matter how creative your email is, if they don't find what they're looking for, they can reject your offer.
Researching your prospects guarantees that they have the potential to partner with you. This saves both you and your prospect's time.
You can start by looking at your prospect's "About Us'' page or through their social media pages. Personalized emails have a 20% higher response rate than those delivered in bulk.
Related guide: Customer Data Platform: Definition, Benefits, Uses, Features & Tools
2. Craft a compelling subject line
Write winning subject lines with our free ebook
Proven subject line framework to get higher opens
In 2020, there were an estimated 306.4 billion emails sent worldwide per day. So, how do you make your email stand out so that the site owner opens it?
The key is to create an attention-grabbing and personalized subject line. A/B testing can help you find the best one for your webpage and link-building campaign. You should test different subject lines to check metrics such as open rates, click-through rates, and response rates.
Related guide: 8 Email Subject Line Testers to Elevate Your Open Rate
3. Write a strong hook
The subject line is your first step. Don't waste the recipient's time with a mediocre introduction. Keep it brief and create credibility.
Your email's opening lines should be no more than a sentence or two long. Introduce yourself, stating your position and the company you represent.
4. Have a strong pitch
A pitch or link request is an important part of the outreach email. A playful and customized subject and introduction can draw the viewer's interest. A successful link request should include the six components listed below:
Make your request as straightforward as possible. Site owners get a massive number of link requests daily. Most of them do not have the time to check them all. The pitch should be clear, precise, and scannable to increase the chances of a response.
Each line should contain no more than three sentences. Include a link to the page you're referring to and the resource you're utilizing.
Customize your pitch template
One of the most common mistakes made during outreach is sticking to one template. Using the same template throughout the link-building campaign reduces the chances of obtaining a backlink. This is because the email will appear generic.
Your outreach should sound genuine, from the subject line to the salutation. Personalization requires an understanding of your target audience. It is important to maintain authenticity. It is an essential component of cold email outreach.
The most essential element of a link-building campaign is content. Link building and content go together. You can create the best content strategy in the world, but it will be basically worthless if no one knows about it.
If you don't regularly share in-depth content, you'll have to rely on other methods to expand your SEO strategy. You will need to pinpoint the assets on your website that are valuable. Linkable assets are useful, in-depth, non-promotional, top-of-funnel, and evergreen content.
Related guide: 6 Tips to Write Cold Email That Gets You Response
Bring forth a unique value proposition
In the email, illustrate the value of your content piece. This is about the site offering useful insights to its own audience. In the outreach email, you should discuss how the asset will benefit the prospect's audience.
Related guide: How To Write a Unique Selling Proposition for Your Brand
Your email should end with a clickable call to action. Make sure that there is no ambiguity. Ask the site admin if they are willing to take part in including this resource on their website.
5. Follow up
After sending an email, the next thing you can do is to wait it out. If you haven't received a reply the next day, don't worry. It's not because your email outreach is a failure. You have to remember that everyone is busy.
Even if you have sent out the perfect email, it can get buried under the hundreds of emails they receive. You can send them a follow-up email after a couple of days, but don't bother them too much if they don't respond. Give them enough time to respond.
Allow your pitch to lapse after one of two follow-ups. You can, then, contact them with another pitch later if you still haven't gotten any response.
Get a sample AMP email in your inbox
Experience the power of interactivity right now
Wrap up
This post should give you a solid start on writing high-converting outreach emails. No matter your niche, some people will be happy to help you out. But don't forget to follow up and to stay in touch as well.
You may want to start with a reciprocal link opportunity for others. This will show that you are generous with your content. It could also lead to more backlinks for you down the road. And above all, always take the time to personalize each of your outreach emails. Read our guide on email personalization to create hyper personalized email campaigns for better outreach today.
What you should do next
Hey there, thanks for reading till the end. Here are 3 ways we can help you grow your business:
Talk to an email expert. Need someone to take your email marketing to the next level? Mailmodo's experts are here for you. Schedule a 30-minute email consultation. Don't worry, it's on the house. Book a meet here.

Send emails that bring higher conversions. Mailmodo is an ESP that helps you to create and send app-like interactive emails with forms, carts, calendars, games, and other widgets for higher conversions. Get started for free.

Get smarter with our email resources. Explore all our knowledge base here and learn about email marketing, marketing strategies, best practices, growth hacks, case studies, templates, and more. Access guides here.