January, the month of resolutions, wealth and prosperity presents the perfect opportunity to inspire and motivate your customers to engage with your content. January is all about reminiscing on the past year, setting goals on becoming a better version of yourself, and excitement for what's to come this year. In this article, you will find 5 super engaging January newsletter ideas that will make your customers open that email.
Table of contents
Special days in January
January comes with some interesting days that you can consider to use for marketing ideas. Here's the list:
| Day | Date |
| --- | --- |
| New Year's Day | 1st January |
| Global Family Day | 1st January |
| International Mind and Body Wellness Day | 3rd January |
| World Braille Day | 4th January |
| Republic Day (India) | 26th January |
| World Leprosy Day | Last Sunday of January |
5 engaging January newsletter ideas
To create empathy and relate with your customers, consider including these ideas in your January newsletter:
1. Make New Year's resolutions special
Type: Campaign
Best for: B2C, D2C
We all make new year's resolutions whether or not we stick to them. Most of your customers making new year's resolutions are motivated about their resolutions in January. This is the time to offer deals on the products and services your customers will likely be interested in and make resolutions about.
Source: MailDesigner
You can also motivate and advise on how to stick with the resolutions while giving them an offer or discount.
Here are some subject line ideas for this type of newsletter:
New Year, New You: Exclusive Deals Inside!

Start 2023 Strong! Save on Your Fav Products

Kickstart Your Year with Tailored Deals

Turn Resolutions into Habits

Reaching Goals Made Easier and Cheaper
2. Sneak peek into what's new
Type: Newsletter
Best for: B2B
The holiday season is the best time to disclose what you will soon launch this year in your business that would be exciting to the customer. For example, the latest feature, a new product, a collection, or a brand redesign. You can give a subtle hint or sneak peek into your plans for the year that can be useful or exciting to the customer.
This newsletter depicts this idea well. Havenly is trying to make its customers aware of their new product launch while also creating curiosity so the reader will likely stick to the newsletter and wait for what's to come.
Source: Chamaileon
Need a product launch email template? Try this template!
Some subject lines that you can try for this type of newsletter include:
New Year, New Excitement!

New Year Unveiling: Get Ready!

Don't Miss Out: Launching Soon!"

Level Up in 2023: Coming Soon!

Fresh Start: Be the First!
3. Year recap
Type: Newsletter
Best for: B2C, D2C
Giving your customer a personalized year review of the products wishlisted or ordered can be a great way to reminisce about the previous year because we all love nostalgia.
You might already be familiar with Spotify Wrapped giving a previous year's review of songs you liked and minutes you listened to. This has gained a lot of popularity among the listeners and a whole lot of social sharing too!
Source: Newsletter Search Engine
Here are some subject lines you can try out for a Year Review newsletter:
Rewind to Your Best Year!
Your 2023 Highlights Revealed!
Your Year-End Thrill Ride is Here!
Your Epic 2023 Rewind!
Your Rockstar Year in Review!
Want to try this idea out? Check this sample Year Review email template
Subscribe to the Mailmodo Bulletin
12k marketers get these growth tactics in their inbox
4. Get a feedback
Type: Campaign
Best for: B2C, D2C
While reviewing the year for your customers, you can also ask them about their experience with your products or services. You can give a recap of their previous orders or experiences and ask them an actionable feedback question. This would help you get more customer feedback and create a strong connection with your customers.
Offering rewards like discounts or personalized deals can also encourage your customers to give feedback. Here's an example: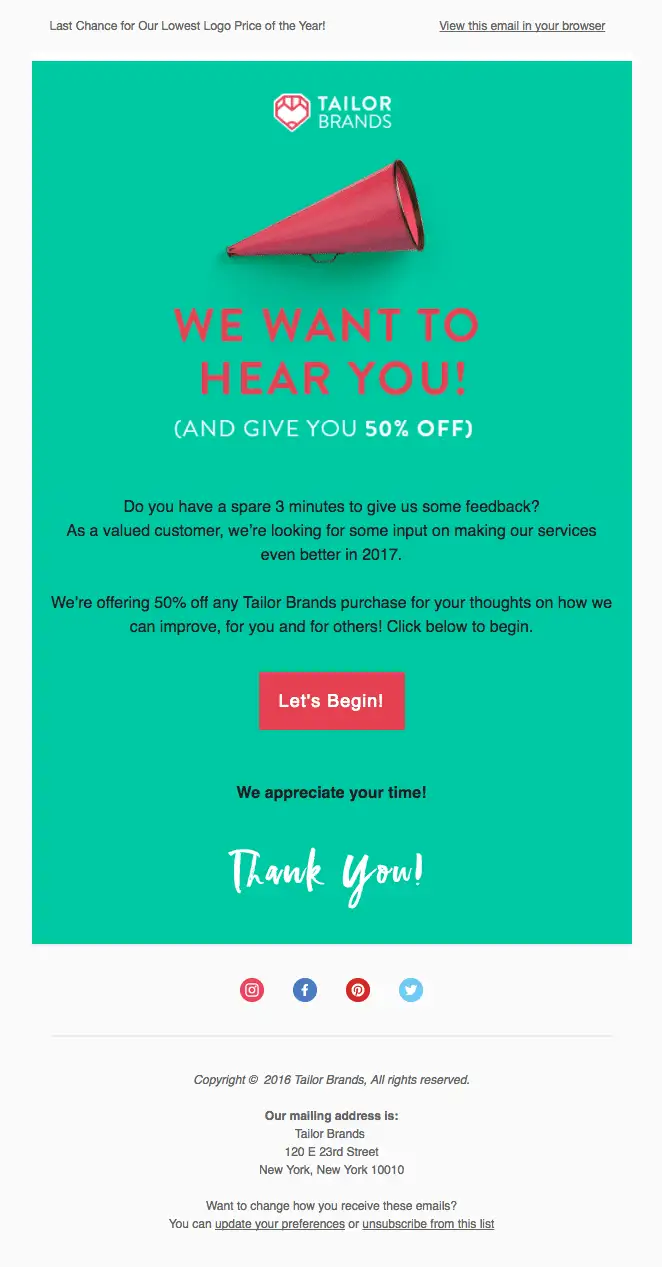 Source: Dyspatch
This is a Mailmodo New Year email template that you can use to let yout audience know that you value them.
Some captivating subject lines for this type of newsletter:
We Want to Hear from You!
Tell Us What You Think: Your Feedback Counts!
We're All Ears for Your Feedback!
5. Chinese new year
Type: Campaign
Best for: B2C, D2C
Chinese new year falls between January end and February. To make this holiday special for your customers, send them a gift card or remind them of a New Year sale. Since January is a Holiday, customers are more likely to buy from your business.
Remember to keep the color palette bright red with a lot of embellishments. Here's an example of a Chinese new year newsletter in January:
Source: Chamaileon
Here are some great subject lines to use for the holiday newsletter:
Swipe Right for Lunar New Year Sale

FOMO No More: Embrace the Festive Deals

New Year, Big Savings: Lunar Style!
Want to send out Chinese New Year newsletters? Here's a template for you!
Takeaway
To sum up, these January newsletter ideas will help you connect with your customers, offer them amazing deals, recollect memories, and share what's new in the store for them. Use engaging subject lines and bright holiday themes to make the newsletter attractive. We have this amazing Marketing Planner 2023 that you can use to create engaging emails throughout the year.
What you should do next
Hey there, thanks for reading till the end. Here are 3 ways we can help you grow your business:
Frequently asked questions
In a New Year Newsletter, you can add an Year Review of your customers, give launch updates for the year or share travel, food, fashion tips or suggestions for the holidays.
In January newsletter, you can add winter wellness tips, travel suggestions, holiday travel recommendations and offer new year discounts or gift cards to the customers.