Before you click on that send button, think about your emails' timings, relevancy, and frequency. Why? Because without thinking, you might make your users overwhelmed, leading to email fatigue.
If your subscribers are not happy with your emails, they will probably stop engaging with your emails, and you don't want that to happen.
So, don't put your subscribers in this situation as it will harm your campaign performance too. To help you, we will discuss the major reasons for email fatigue and actionable steps to fight it off.
Table of contents
What is email fatigue?
Email fatigue is a state when subscribers feel overwhelmed with your emails, and due to this, they stop engaging with your emails. If you keep sending them emails, they might get annoyed, which will lead to lower engagements and higher unsubscribe rate.
What are the reasons for email fatigue?
Email fatigue occurs for two major reasons:
Maximize your email performance with our free ebook
Optimize the right email metrics for higher ROI
1. Sending frequent emails
Your subscribers probably receive emails from different brands other than yours. And if you send them an email too frequently, then it is likely they will be annoyed. In fact, Hubspot reports that 51% say they unsubscribe because emails come too often.
2. Irrelevant and non-personalized email content
Customers expect personalized and valuable emails. If you send irrelevant emails, then it will push them to click on that unsubscribe or spam button.
Before moving forward, you must know about the consequences you may face due to email fatigue.
What is the Impact of email fatigue on your email campaigns?
Email fatigue will have direct consequences on your email marketing metrics which are as follows:
• Decreased engagement
One of the actions resulting from higher email frequency is that subscribers will stop engaging with your emails. They will ignore your emails and delete them without even opening the emails. Hence, you will see lower engagements and click-through rates.
• Higher unsubscribe rate
Another action users will take simply opt-out of your email, increasing your unsubscribe rate. As per Hubspot's 2020 Marketing report, 17% of participants unsubscribe if an email looks spammy or over promotional, and 9% unsubscribe if the content is no longer valuable.
• Increased spam complaints
If you keep sending more and more irrelevant emails, subscribers will be left with no chance to mark your emails as spam. This will cause an increase in your spam complaints affecting your email campaign performance.
• Reduced visibility to all subscribers
Higher unsubscribe and spam complaints will likely impact your sender's reputation and deliverability rate. Mailbox providers will begin to look at your email more diligently, filtering or blocking incoming messages. So, the chances of your emails landing in the primary inbox will decrease. As a result, email exposure to your entire email list will decrease - even the engaged users.
Now that we have discussed the consequences, let's talk about ways to deal with email fatigue and retain your subscribers.
How to avoid email fatigue
The foremost and the most fundamental thing to do is collect the right data using your ESP analytics. Only then can you analyze the user's behavior camping performance and take the right actions to combat email fatigue. Once you have the right data, use it to perform the following actions:
1. Clean your email list
Your list hygiene is what will make or break your email marketing, and for that, sunsetting subscribers at the right time is essential - Apurv Gupta, Co-founder, Mailmodo
The first step you can take is to clean your email list. How? You can execute a sunset policy and add inactive users to your suppression list. With a sunset policy, you can define criteria to suppress unengaged users. Doing so will help you ensure that you don't send emails to such users.
2. Segment your email list
Another step is to segment your email list. You can use the following criteria to create segments:
Past interactions and activities with your brand and email.

Demographical data such as age, gender, occupation, etc.

Geography such as country, pin code, etc.

Lifestyle choices such as habits, interests, etc.
Segmentation will help you identify ways to personalize emails for a better user experience.
3. Use personalization to engage users
A personalized subject line that says, Hey! John, your e-book inside will likely compel users to open the email as it directly talks to him. The subject line is just one part of email personalization.
You can personalize different aspects of your emails - heading, images, CTA, etc. In fact, if brands fail to offer a personalized experience, 45% of consumers say they're likely to take their business elsewhere - The State of Personalization 2021, Twilio Segment.
So, a personalized email experience can keep users engaged and become loyal customers.
4. Use automation to trigger emails
Automation will be your ally in keeping users happy by sending them content when they are expecting it. You can set up automation journeys to trigger emails as users take a specific action. It will help you prevent sending unnecessary emails by tracking users' behavior and sending emails based on their actions.
5. Develop an effective email cadence strategy
You must develop an effective email cadence strategy to ensure your emails' frequency, content, and timing are optimal per the user's preference. To find the right time for your emails, you need to test different timings and frequencies. Then, analyze your findings and stick to one favorable to you that generates value for the recipient.
Related guides:
A Guide to Finding the Right Email Cadence for Higher Engagements
How to Find the Best Time to Send Emails
6. Allow users to manage their preferences
According to MarketingSherpa, 49% of people prefer to get emails and choose the frequency themselves.
So, you can set up a preference center to let users select their preferences, such as frequency, email content, etc. Then, it will help you send only the most relevant email when they want to receive them.
For example, Litmus gives users the following options to manage their preferences: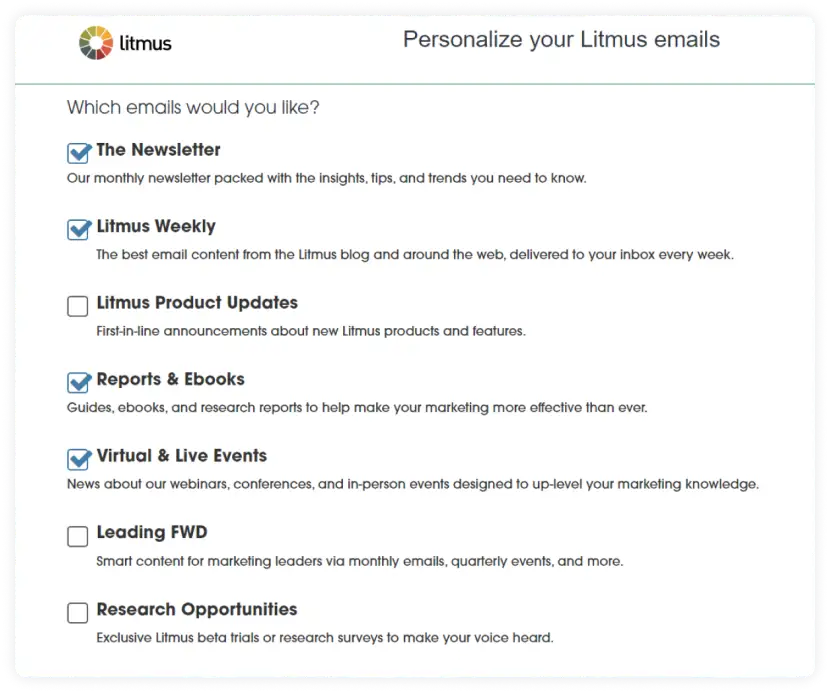 Re-engagement campaigns: Defeat email fatigue and keep your subscribers
One of the best ways to tackle email fatigue is to use re-engagement campaigns to rekindle the spark among your subscribers. Here is a list of ways to re-engage your subscribers:
1. Engage by asking user's feedback
It's a great and straightforward thing to do. Ask users for their feedback and reasons for non-engagements to make them feel special and valued.
You can use AMP emails to send interactive surveys and polls to ask for their feedback. AMP email help reduce the friction and allow users to complete an action with the inbox that looks like this:
2. Attract users with promotional offers
Everyone likes a good deal, so offering one to your subscriber may help them take action and connect with your brand again. While you send such emails, it is crucial to write a subject line that tells users that this email contains a coupon code.
This email by Zapier is a perfect example of engaging users with lucrative deals.
Subject line: Reminder: Save 30% on Zapier in 2021. It clarifies and compels users to open and get the deal.
Source: Really good emails
3. Send product updates
Announcing that your product/services have improved can help rekindle the engagement among your users.
InVision did a great job announcing their product update asking users to check it out.
Subject line: New: Freehand is now better than ever. It at once told users what they could expect within the email.
Source: Really good emails
4. Use "it's been a while" emails
Reminding users about their last visit can help you reconnect with your brand. Brownie point if you pinpoint exact days since their last visit.
Get a sample AMP email in your inbox
Experience the power of interactivity right now
An example of win-back emails can be this:
Source: Zoho
Conclusion
Email fatigue can damage your email campaigns if you don't take action to fight it off. With the right data and direction, you can develop strategies that will help you combat this and keep your valuable subscribers.