Trying to crack Google's algorithm to understand which of your Mailchimp emails go into the recipient's inbox vs the Promotions tab is a waste of your time. Email deliverability expert Chris Lang claims that Gmail has 450-550 quality indicators that determine the fate of your emails.
If Gmail considers your emails to have marketing or promotional content, it'll send them to the Promotions tab. But email marketers dislike this category due to its low engagement rates. If your recent Mailchimp emails are going to the Promotions tab, keep reading to find out the reasons behind it and how Mailmodo can be your helping hand.
Table of contents
Why should you avoid the Gmail Promotions tab?
While the US audience actively checks the emails that arrive in their Promotions tab, the same cannot be said for other countries like India. So there is an inconsistency in engagement rates with the emails in the Promotions tab.
Furthermore, Gmail scans each email using algorithms. The filters will be triggered whenever you send marketing or bulk emails from Mailchimp, including bargains, offers, and other promo content. This is why your emails end up in the Promotions folder. The Promotions tab receives 84.5% of the messages triggered as promotions, yet only 19.2% of them are read. This demonstrates that arriving in the primary inbox is far more important for your product or service than you may believe. As a result, moving your email from the Promotions page to the Primary tab of Gmail is critical if you want to raise your open rate and conversion rate.
But despite the continuous effort you put in, few of your Mailchimp emails will still end up in the Promotions tab. The following section lists the most likely causes for it.
Get the State of Email 2023 Report
150+ email experts share their email tips and secrets
Why do Mailchimp emails land in the Promotions tab?
Here are the likely reasons why your Mailchimp emails end up in the Promotions tab.
1. Sending too many marketing and bulk emails
According to Statista, Mailchimp is one of the widely used ESPs and has also become one of the largest senders of marketing emails. Gmail has some parameters on the basis of which it sends mails to the primary and promotions tab. If you send bulk emails and emails with subject lines like 'offers', there are higher chances of your emails landing in the promo tab.
2. Not asking your users to add you to their contact list
If you don't ask your subscribers to add your email address to their Google's contact list, the probability of landing in the Promotion tab will increase.
That's because when a subscriber adds an email address to their contact list, it signals to Gmail that the address is relevant to them. So, Gmail put that email address in the Primary inbox. Hence, the emails received by this sender are less likely to end up in this user's Promotions tab, decreasing your engagement rates.
3 ways to stop Mailchimp emails from going into the Promotions tab
Follow these steps to avoid being in the Promotions tab.
1. Remind your users to whitelist your email address
Set up a triggered email with your ESP that'll be sent when a user signs up to your mailing list. This email should ask them to add your address to their email list and move the email to the Primary tab if it ends up in the Promotions tab.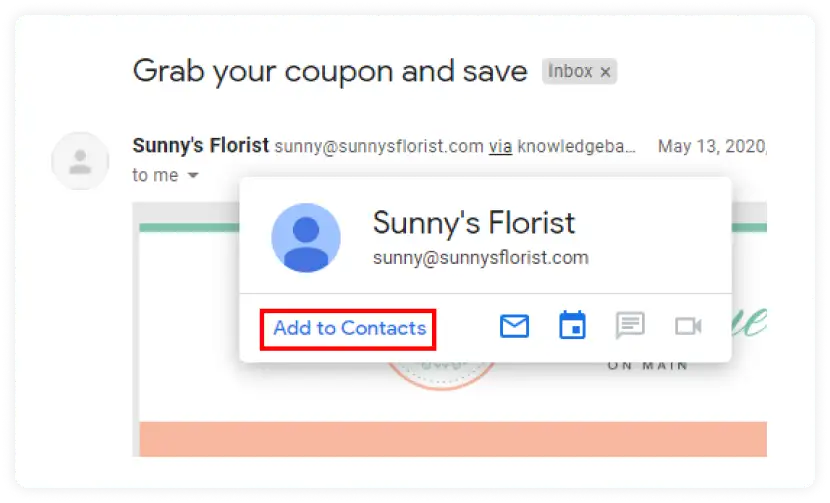 Source: Sales Handy
2. Warm up your email list
When you opt-in for a new IP address or switch to a different ESP, you must warm up your list before sending emails at scale. This gives a good impression to email clients and presents you as a legitimate sender, not a spammer who bought a new IP to spam email users.
3. Switch to Mailmodo
It's not all about you. Even if you put all the work into creating a great email marketing campaign, your results may still be "meh" if your ESP isn't on the same page. That's where Mailmodo comes in.
Reduce your Promotions placement rate with Mailmodo
Using Mailmodo will ensure your campaigns follow the best deliverability practices, which will increase the chance of your emails getting to the Primary tab.
✅ Improve email deliverability
Mailmodo's custom mail server domain increases your domain reputation, which helps with boosting your email deliverability. Read our guide on Mailchimp's poor deliverability and the benefits you get when you switch to Mailmodo.
✅ Help with domain warm-up
The quality of your domain warm-up will decide if your new IP will have a great head start. And that's why it can be hard to do it right when you haven't done it before. That's why our experts will reveal the nitty-gritty of domain warm-up and guide you on doing it right—even if you have never done it before.
✅ Expert consultation on email deliverability
Great email deliverability requires much more from you than just avoiding specific words in your subject line or sending personalizing emails. It involves setting up authentication systems and your domain tracking, monitoring campaign performance, and more.
To help you get through the confusion, our experts are always happy to help if you aren't seeing your desired email deliverability rates. They will diagnose the causes and provide you with steps to fix them.
Get a sample AMP email in your inbox
Experience the power of interactivity right now
Summing up
To avoid your emails from going into the Promotions tab, keep the following things in mind:
Maintain the right frequency and avoid sending only marketing emails.

Use a mix of different emails to boost engagement.

As soon as someone sign-up write them a short email asking to add your email address to their contact list.
While you can, and should, incorporate tactics mentioned in this guide in your marketing strategy, a diversified ESP like Mailmodo will help you amplify your email marketing efforts. Read our guide to accelerate your email marketing goals today.
What you should do next
Hey there, thanks for reading till the end. Here are 3 ways we can help you grow your business:
Talk to an email expert. Need someone to take your email marketing to the next level? Mailmodo's experts are here for you. Schedule a 30-minute email consultation. Don't worry, it's on the house. Book a meet here.

Send emails that bring higher conversions. Mailmodo is an ESP that helps you to create and send app-like interactive emails with forms, carts, calendars, games, and other widgets for higher conversions. Get started for free.

Get smarter with our email resources. Explore all our knowledge base here and learn about email marketing, marketing strategies, best practices, growth hacks, case studies, templates, and more. Access guides here.