You can not know how far you have to go and how far you have come without measuring your performance. It's the same thing if you want to upscale the performance of your email marketing campaigns.
Tracking your progress is non-negotiable, as without it won't know which campaign is working and which is not. Only after tracking can you work on optimizing them.
So, let's take a closer look at email tracking and how to track your email performance with the 7 most effective tools.
Table of contents
What is email tracking?
Email tracking is location, frequency, and time-based analysis for a detailed reporting of how often, for how long, and what actions are taken on an email sent out by you.
You can find email metrics like email open rate, clicks on links and attachments in the email, delivery rate, etc. Tracking offers a clear picture of the subscriber's response to your email communication and removes the guesswork for planning and optimizing your email marketing strategy.
Let's say you plan to test a set of discount codes for your eCommerce business. With in-built email tracking, you can pinpoint your audience's response to your communication. You can easily determine whether your customer base is more inclined to upsell or discount-driven offers. Along with many other features, you can confidently leverage email tracking to enhance your business goals.
Get this pre-send checklist to hit send with confidence
An interactive checklist to send error-free emails
How does email tracking work?
Emails are tracked by integrating a pixel in the email. This pixel is coded in the email and captures crucial data like email opening, clicks, and duration a user spends engaging with your emails.
Innovative email service providers, like Mailmodo, have the email tracking software built into the platform and display a granular view of your email campaign's performance within seconds.
Email tracking is done by:
1. Adding a pixel code to email
Emails are tracked using a pixel, which is a 1x into 1s square piece of the image often embedded in the email header, footer, or the body. When the email containing the image is opened, and the tracking pixel is loaded, the image sends a message to the server indicating that the email has been opened.
Email marketers use this pixel to track their subscriber's behaviors with all their emails. This is how the email analytics in your respective ESP shows you data for open, click, etc.
2. Trackable links
Marketers can also use tracking links in their email links to content stored in a cloud-based content repository. This approach is useful in getting reliable click rates as it specifically tracks when and which links users click on.
By using email tracking software that encodes your links, you can get the click-through rate and create more relevant and targeted email campaigns.
Why should you track emails?
Email marketing without insights into the previous batch of communications is like taking a shot in the dark. Without email tracking, you will always be clueless about how to improve the performance of your email marketing plans. The immense benefits of learning how to do email tracking are:
• Saves time and efforts
You can devise email campaigns based on past results with a clear picture of the user's response. This means you can clear up countless rounds of follow-up communication and close the leads in less time.
Suppose you plan to test out an offer in the B2C space or pitch potential B2B clients. You can smartly tweak your offering based on the initial response and save time instead of blindly going about the next round of follow-ups.
Related guides: Your One-Stop Guide For B2B Email Marketing to Drive Sales
• Identify the right timings to send emails
By tracking your email metrics, you can assess the best timings to send your emails. As your audience consists of unique individuals, they might not check your emails simultaneously. But, with email tracking tools, you get insights into their email engagement timing, based on which you can analyze the best time to send emails for higher engagement.
• Send more impactful follow-ups
Once email tracking is enabled in your campaigns, you can plan the email follow-ups in a way that gets you higher conversions. Since you can see the audience's response in a granular manner, you can smartly communicate with them in the future to cater to their needs and convert the leads by looking at the smallest actions taken.
Related guide: How to Write a Perfect Follow up Email to Engage Your Subscribers
• Optimize your email campaigns
Email tracking is also helpful when conducting a/b tests on your emails. After you deploy the test, your respective email marketing tracker tool will collect the test data. Based on this data, you can assess which version resonates most with your subscribers and implement those changes in your future campaigns for higher engagement.
Top 7 email tracking software
We have curated a list of the top 7 best email tracking software based on their features and pricing. Most of these are ESPs that track emails across all email clients, while some are specific to Gmail and Outlook email tracking.
Out of many options available, a few names stand out in the field of email tracking services.
1. Mailmodo
Mailmodo has an in-built email analytics functionality allowing you to track the performance of your email campaign. It helps you check email metrics like opens, CTR, submissions, bounces, blocked, etc.
The entire tracking data is collected in its in-depth analytics, which offers numerical and visual representations of your emails' performance.
Here is a snapshot of our email campaign's analytics dashboard: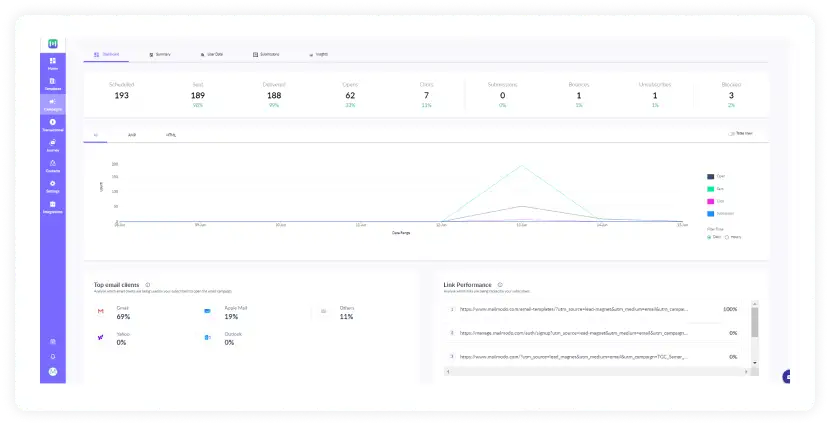 Key features:
Easily export your campaigns, click, and form submission data in .csv format.

Track data on an hourly or daily basis.

Visualizes all your data - opens, clicks, unsubscribes, bounces, and submissions in a line graph and tabular format.

Analyze which email clients are being used by your subscribers to open the email campaign.

Gives you an overview of the most clicked links in your emails.
Pricing:
Silver plan: $76/month with a limit of 75,000 emails per month.

Gold plan: $230/month with a sending limit of 2,50,000 emails per month.

Platinum plan: $512/month with a monthly limit of 1 million emails.
Checkout Mailmodo's detailed pricing page
2. Hubspot
Hubspot is among the best CRM and marketing software and offers free email marketing software. It works with Gmail, G Suite, and Outlook or Office 365.
Email tracking is easy to set up in Hubspots' free tracking tool. Install the HubSpot Sales email extension for Gmail, Outlook, or Office 365, or embed the tracking pixel within your signature, and you'll start tracking emails immediately.
Key features:
Seamless analytics dashboard that offers detailed insights into email performance.
Track the email opens, clicks, or download instantly and send follow-up emails at the right time.
Desktop notifications that let you know the moment someone opens a message.
Built-in email sequences allow you to follow up with the right prospect automatically.
Tracks email opens, and engagement automatically loads that information into each prospect's CRM data.
Pricing:
The email tracking tool is free to use but with limited features. If you have a small list of subscribers and send limited campaigns, it's the right fit. But, for more advanced features, you need a paid plan.
Hubspot has the following paid plans:
Starter: Starting at $45/month with a 5X contact tier email send limit per month.

Professional: Starting at $800/month with a 10X contact tier email send limit per month

Enterprise: Starting at $3,200/month with a 20X contact tier email send limit per month
Checkout Hubspot's detailed marketing hub pricing
3. Zoho Campaigns
Zoho provides various email tracking services along with SalesIQ and CRM features. With Zoho email tracking services, you can drill down the user's response to every tiny detail to help in planning and optimization.
Key features:
Offers several solutions, including SalesIQ, CRM, and Campaigns.
Track the location of your users through a geolocation report.
Track the device ideas to open your emails.
Supports A/B testing so that you can find the most effective subject line, CTAs, and more.
Pricing:
Zoho offers different plans for businesses and agencies. The pricing for plans varies depending on the number of contacts you'll reach in a month.
Plan for Business:
The free plan allows you to send 6,000 emails/month to 2,000 contacts
The standard plan starts at $1.4 with unlimited emails to only 500 contacts per month
The professional plan starts at $4.4 with unlimited emails to only 500 contacts per month
If you buy a plan for a year, you will get 25% off on each plan.
Plan for agencies:
Zoho only offers a single paid plan starting from $448 annually with unlimited emails to 10,000 contacts.
Checkout Zoho Campaign's detailed pricing
4. EmailAnalytics (For Gmail and Outlook)
EmailAnalytics helps you track your email activities and visualize the data in easy-to-understand graphs. It gives in-depth data on the number of emails sent and received and changes in email traffic by day, hour, and via Gmail and Outlook.
Key features:
Seamless integration with Google Workspace and MS365.

Add team members for better email management.

Visual representation to better understand the email performance.
Pricing:
Individual: $5 per month.

Pro: $10 per month

Enterprise: $15 per inbox per month
Check out EmailAnalytics' detailed pricing page
Get a sample AMP email in your inbox
Experience the power of interactivity right now
5. Mailtrack (Gmail only)
Mailtrack allows you to track email activity in Gmail as soon as you send an email. It tells you about different email metrics such as opens, clicks, etc.
As soon as you install this tool, it will show a single and double tick next to every email you send. A single tick means the email is delivered, and a double tick means the email has been opened by the recipient.
Key features:
Simple and easy to install and seamless integration with Gmail.

Shows you the number of times your email was opened.

Real-time notification pop-up for updates on emails sent.

See email delivery activity within Gmail.
Pricing
You can sign up for a free plan without a credit card and get basic features like email tracking, email alerts, follow-up alerts, etc.
By getting the paid plan, you unlock all the paid features, including CRM and Zapier integration, CSV export, etc.
The Pro plan costs $1 per user per month.

The standard plan costs $ 2.49 per user per month.
Checkout Mailtrack's detailed pricing
6. Rightinbox (Gmail only)
Rightinbox is a free email tracking tool that works with Gmail. After you install this tool, it will start fetching data as soon as you send the email. You can see the tracking data by clicking on the eye icon in the email you want to track.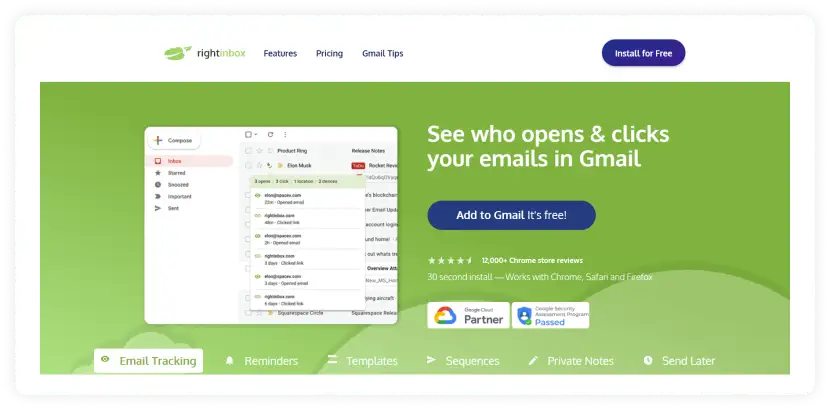 Key features:
Easy to set up in any search engine - Chrome, Firefox, and Safari.

Real-time insights on who reads your emails and who's ignoring you.

A timely reminder to follow up with those who haven't opened your emails.
Pricing
Rightinbox also offers paid plans at an affordable price for professionals and teams.
For professionals, it costs $7.95 per month with access to all the features.

For teams, it costs $6.95 per month with access to all the features.
Check out the RightInbox pricing page
7. Mailtracker by Hunter.io (Gmail only)
Mailtracker is a free Google chrome extension offered by Hunter.io that helps you check the opened status of your emails.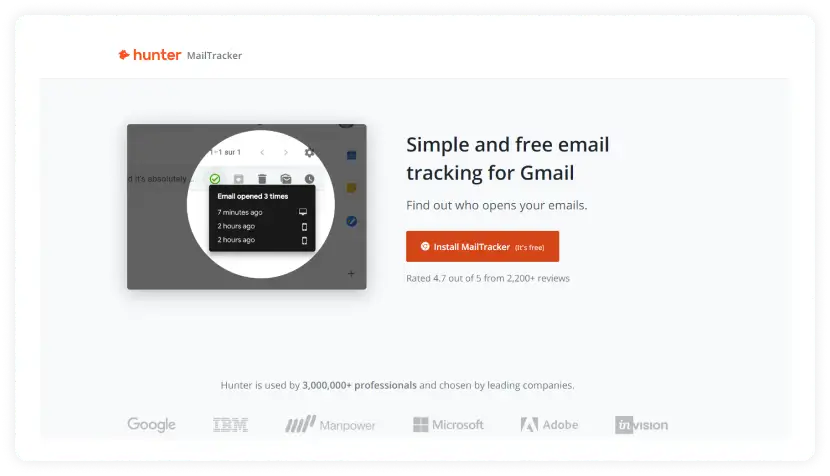 Key features:
Tells you the number of times an email was opened

Easy to use and integrate with Gmail

Shows the devices on which emails were opened.
Track emails advantage with mailmodo
With intelligent insights gathered through Mailmodo's email tracking, you can engage your audience. To draw better insight from the data, you must be acquainted with different email metrics and how to analyze them.
We have written an extensive guide on useful email metrics you should track and industry benchmarks to ensure your email performance.