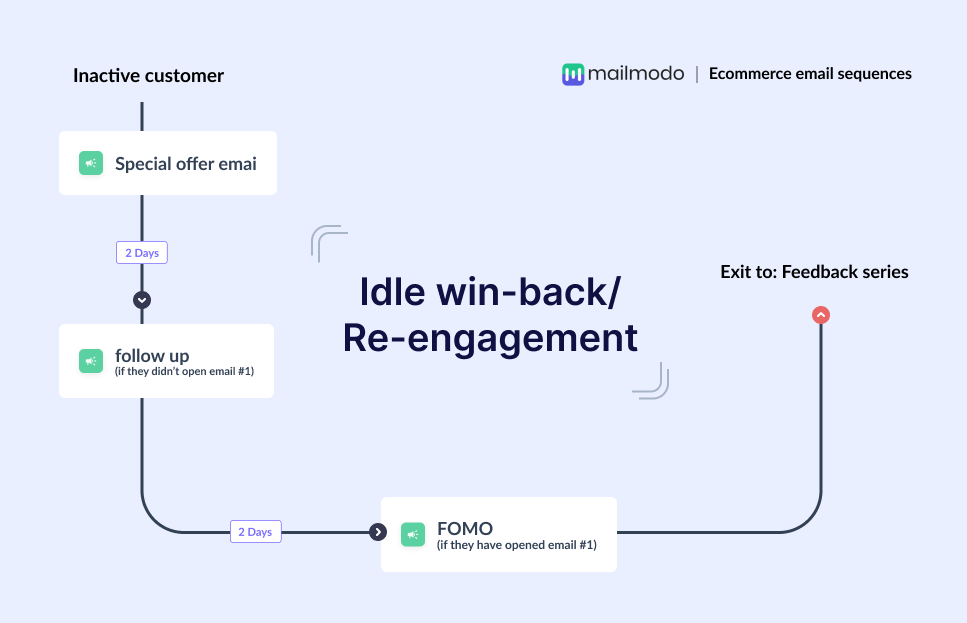 What is Idle win-back email flow?
The idle win-back series is a sequence of emails sent to inactive customers to get them to visit your shop and buy from you. Inactive can be people who created an account but have not checked out your products in the past month or week. Or, it can be customers who have bought from you in the past 6 months but have not been active in your shop after that.
🎯 The goal of this sequence
Capture the attention of inactive customers

Get them to re-engage with your brand, and check out your products on the website or app

Get them to make a purchase or repeat purchase
Recommended emails in this sequence: 2-3 emails
Optimum flow time: 1 week
Emails in this sequence
Email # 1: Special offer
📩 Why this email
Send inactive users an email with a special offer to grab their attention, entice them and get them to check out your products. This email will help people remember that you exist, and the offer will hopefully prevent them from simply ignoring your email.
💼 Expert tip
Use curiosity in the email's subject line as it influences people to open your email. You don't have to be clickbaity; just get them intrigued.
Email # 2: Follow up (if they didn't open email #1)
📩 Why this email
It has been a while since they have heard from you, so your email could have gone unnoticed or even landed in spam. So, send them a similar special offer email again with a better subject line to capture their attention. And, check if your emails are landing in spam and fix it.
Email # 3: FOMO (if they have opened email#1)
📩 Why this email
If they've opened your first email and haven't taken action, your offer wasn't compelling enough. It's time to bring the big guns out. "Limited Offer," "Selling fast," and "Last Chance." Create FOMO to get people to act immediately and check out your shop.
💼 Expert tip
"From my experience, incorporating FOMO tactics into your email sequences can work wonders for many online brands. Promote products which may be running out fast or limited in stock. Or, run a flash sale for a popular product. There are many tactics you can try. It's important to continually test, and rotate, various FOMO tactics to drive more sales and increase AOV."
-Dan Siepen, It's Fun Doing Marketing
⛔ Sequence exit
Based on user actions, send them to the feedback series.
Talk to an email expert. Need help? Schedule an email consultation. Don't worry; it's on the house.